Ya Wang JB
Restoran Ya Wang is strategically located on Jalan Segget, off-the-road of Jalan Wong Ah Fook and just 6 minutes' walk away from JB City Square.
The reason why people frequent JB Ya Wang is because of their signature dish, namely their HERBAL ROASTED DUCK (double thumbs up!)
Compared to other shops which sell roasted duck, their dish stands out because:
It is doused with Angelica Herb gravy which gives its that special oomph to their roasted duck
It has Ten Wonder Herbs gravy option which is just as spectacular
Its meat is tender and juicy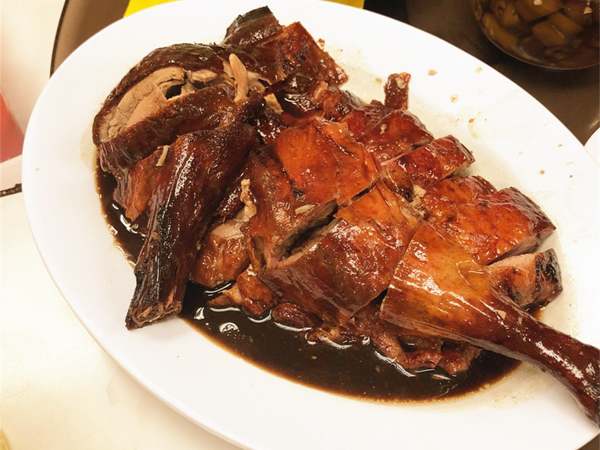 While you are there, top your taste bud experience with other meat dishes such as their sweet caramelized char roast meat (char siew) and crispy aromatic roasted pork (siu yoke).
They also serve wonton noodles (springy egg noodles served in a special made sauce), thick noodles (hor fun) and fried rice that compliments well with the meat dishes.
Other worth to try dishes are their roasted crispy skinned chicken, claypot beancurd served with seafood and vegetables in savoury sauce,
Tips:
Although the restaurant outlook is old, it is air-conditioned which makes it comfortable to dine in.
Go an hour before lunch time to avoid the crowd.
Bring as many friends along because there are only the options of half or whole duck for their signature Angelica Roasted Duck and Ten Wonder Herb.
Their normal crispy roast duck (non-herbal) may taste a little bland for some
Ya Wang JB Price
| | | | |
| --- | --- | --- | --- |
| No. | Menu | Price (RM) | Price (SGD) approx. |
| 1. | Roasted Duck with Angelica Herb (Half) | 33 | 10.70 |
| 2. | Roasted Duck with Ten Wonder Herbs (Whole) | 64 | 20.80 |
| 3. | Roasted Duck with Ten Wonder Herbs (Half) | 34 | 11.00 |
| 4. | Roasted Duck with Angelica Herb (Whole) | 66 | 21.50 |
| 5. | Pipa Roasted Duck (Half) | 29 | 9.50 |
| 6. | Pipa Roasted Duck (Whole) | 56 | 18.20 |
| 7. | Roasted Pork (Siu Yoke) – 1kg | 80 | 26 |
| 8. | Char Pork (Char Siu) – 1kg | 75 | 24.30 |
| 9. | Roasted Chicken (Half) – 1kg | 16 | 5.20 |
| 10. | Roasted Chicken (Whole) – 1kg | 32 | 10.40 |
| 11. | Wonton Noodles | 1.50 | 0.50 |
Note: 1-2 pax option is available with price ranging from RM5 to RM22 (SGD 1.70 to SGD 7.20) for single meat type or mixed meat variety.
Ya Wang JB Opening Hours
Daily 8:00am – 6:00pm
Ya Wang JB Location (Map)
Exact location shown in the map below:
28, Jalan Segget, Bandar Johor Bahru, 80000 Johor Bahru, Johor, Malaysia
Location: https://bit.ly/RestoranYaWang
Ya Wang JB FAQ
Q1: Is duck served in Ya Wang JB Halal?
A1: No, it is Non-Halal
Q2: What to eat near JB City Square?
A2: Other than Ya Wang's famous herbal roasted duck, you should also try the popular curry fish head at Kam Long restaurant or take-away the aromatic banana cake JB at Hiap Joo Bakery & Biscuit Factory.
Q3: How To Go Ya Wang JB?
A3: Restoran Ya Wang JB will just take you around 6 minutes' walk from City Square JB:-
From City Square JB entrance – turn left into Jalan Wong Ah Fook
Go straight along Jalan Wong Ah Fook (you will pass by Kam Long Curry Fish Head restaurant on your left)
Turn right at the junction into Jalan Segget
Walk straight and you will find Ya Wang JB on your right
How To Get To The Places?
Want to get to these places but don't know how?
Worry not!
You can now travel smoothly with EK 168 Transport – a comfortable and trustworthy private car service that is renowned for its excellent service!
What's more, you wouldn't need to get off the vehicle when crossing the Singapore-Malaysia border for the customs check. Leave your passport to the driver and he will do the work for you.
Also, you'll be pick-up from any point in Singapore to these places in Johor at your desired time.
Our professional drivers ensure your safety with prompt and quality services to fit your needs.
Contact us or book online today, it's convenient with EK 168 Transport!