Top 3 Tangkak Attractions
1. Everlasting Food Industries Sdn. Bhd. (Tangkak Brown Rice Factory & Bird Nest Factory)
Eating healthy food is a way to healthy lifestyle. Here at Everlasting Food Industries, they provide healthy food without preservatives and other chemical additives to promote healthy living.
They specialized in brown rice based products but at the same time offering a wide range of other natural food such as;
Brown rice
Natural honey
Vinegar
Bird nest
Royal jelly
Brown rice instant drinks
Brown rice snacks
Also read: 31 Things To Do In Johor Bahru (JB)
This company has expanded its markets not only locally but also internationally, especially the bird nest and natural honey products. The reputation has grown so much over the years that they even offer tourist visits of up to 50 groups per day!
In addition, if you will like to buy some of their healthy products, they will deliver right to your doorstep, how convenient! This saves you the time of getting out of the house. So, now you know where to look when you need some delicious healthy food!
2. Piyaram Buddhist Temple (比亚南佛寺)
Buddhist devotees can pay homage to Buddha in Piyaram Buddhist Temple located just about 8 mins away from the town of Tangkak.
This temple comprises of various buildings that surround this 4 acres of land, which is the Main Hall (Dai Miao), Temple of the Four Sides, Temple of the Old, Guanyin Mountain, Water Temple, Budhhist Pagoda and the Temple of the Land.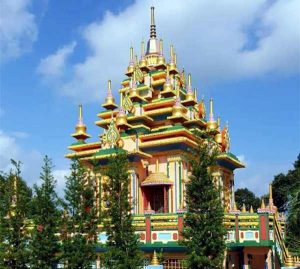 Not to mention, the traditional Thai architecture is beautifully carved and built on the temple which attracts many visitors from locals and tourists.
The sculptures of dragons, elephants and other unique sculptures are seen around the temple that it is a waste not to visit this place!
3. Mount Ophir (Gunung Ledang)
Either you're a mountain climber or someone who prefers a relaxing afternoon having a picnic with your family- there is always something for everyone at Mount Ophir.
Also read: 7 Captivating Hills in Johor For Weekend Hiking
There are many points of interest for visitors to get close to the flora and fauna at the Legendary Forest Park, and here are some of them:
Observation Tower
Summit of Mount Ophir
Puteri Lake
Puteri Waterfall
Twin Falls
Orchid Park
Mahligai Peak
Ayer Puteh Falls
Whilst at 6 mins away from the park, you can enjoy family-bonding at a more calming pace by going on a short trek, camping out in the forest and having a swim at Sagil Waterfall.
This is a great place to immerse yourself in nature- away from stressful city life.
9 Tangkak Famous Food
1. Restoran Kuang Fei Tangkak Beef (东甲牛腩面)
The famous restaurant Kuang Fei has expanded over the years to other states like Malacca, Kuala Lumpur and Kluang while its first shop is located here at Tangkak.
A bowl of beef noodles comes with, of course, beef of different cuts or you can opt for beef balls or tendons, along with kway teow noodles, shallots, and salted cabbage. The broth itself is clear and savoury with a hint of spice.
The restaurant is only 15 minutes drive from the toll gate as you enter Tangkak town. Remember to check out this place as your must-eat restaurant or you'll be doing yourself a disservice for not eating the juicy and tender beef!
2. Restaurant Do Do Do (东甲肥仔牛腩面)
Another beef noodle that is worth to try is at Restaurant Do Do Do. What makes it special from the other beef noodles restaurant is that it comes with different style of cooking and has a wider range of flavours than just beef noodles.
You probably may not have try it any other place, as this type of cooking style is what makes them unique.
Stir fried beef in rice wine
Steamed beef
Claypot beef
Clear beef soup
The clay pot beef is rather similar to bah kut teh but rather just replacing the pork with beef, while the steamed beef is one of their specialty where it was thinly cut that it melts in your mouth! Hence, it required a pre-order through the phone to taste that mouth-watering beef!
3. Tangkak Tom Yam Mee Hoon Kueh (食得福东炎茶餐室)
Enough about beef and beef soup, why not try something different that tickles your throat with sour and spice? You may have eaten mee hoon kueh with its natural clear broth, but have you tried Tom Yam flavoured mee hoon kueh?
Here, in Tangkak, you can find scrumptious tom yam mee hoon kueh and it doesn't only come with the typical ingredients you see in other stalls but this is mixed with fu zhuk (beancurd skin), meat balls, squid and also fish balls!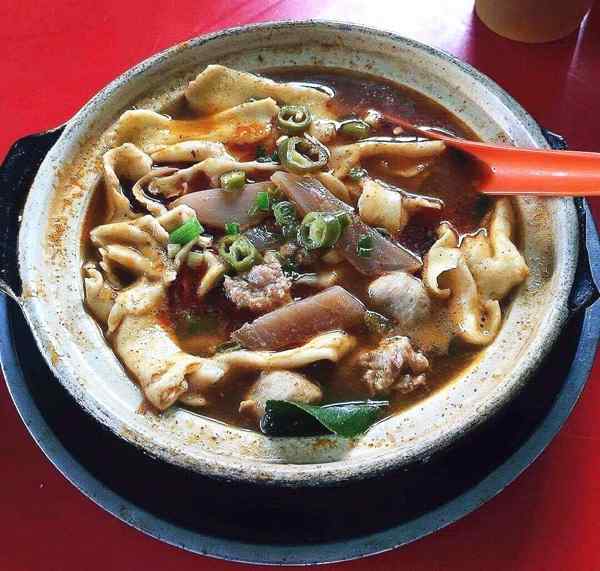 For those who love spicy food, this is the place for you! However, do not be sad if you can't handle the spiciness, they also offer non-spicy food like wanton noodles and the normal clear broth mee hoon kueh.
4. Kedai Mee Dan Nasi Chew Kee Tangkak (秋记面饭店)
This traditional homemade wantan mee has been under the Ng's family since the 1940's and is still serving the public now!
Currently, the 3rd generation, which is the grandchildren of Ng Whye Chow is handling the restaurant and the deliciousness of the noodle never cease from the beginning. The recipe has been passed down from generations to generations, exuding a taste of delight.
You will get a bowl of noodles either flat or round that is really springy, topped with roasted char siew and mixed with their own homemade soy sauce and fried onions oil along with a side bowl of wantan.
Not forgetting their signature roasted pork belly with crispy skin and juicy meat that each bite will leave you wanting more!
5. Kedai Makanan Kim Yuan (金源號醬油鸡饭)
Grab yourself a plate or maybe extra more plates of the appetising Soya Sauce Stewed Chicken Rice in Tangkak with a history of more than 30 years!
Tee Kok Hua, the founding of Kedai Makakan Kim Yuan first begun his journey of selling chicken in a mobile stall since 1980 and progressively,the locals gave good response to his food. From there onwards, he then expanded his business from a stall to a chicken rice shop that you see today.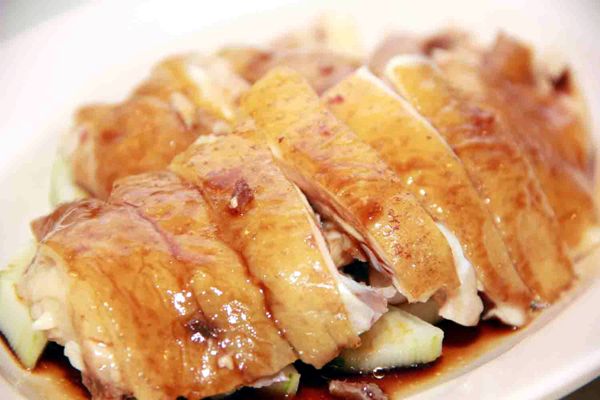 Don't forget to order their specialty; which is the signature Chicken Rice that is stewed in soya sauce soup made up of 10 ingredients and the Pork Mix Soup that is cooked inside a pot of mixed herbs and ingredients to make it tender and juicy.
6. Restoran Nasi Ayam Ali (东甲阿里鸡饭)
Another shop that sells delicious chicken rice is none other than Restoran Nasi Ayam Ali. The chicken rice has attracted many customers from far and wide!
The owner, Ali is a self- taught chef and he can sell about 30 chickens per day! The flavourful chicken rice is best fit with the 5 chilli sauce that is provided in the restaurant.
Customers are able to choose 4 flavours of chilli sauce that are already set; black soy, ginger sauce, sweet sauce and sour chilli sauce. The 5thchilli sauce is the final best piece where the chef will only bring them out when someone personally request for it.
7. Jia Jia Bak Kut The Restaurant (东甲家家肉骨茶)
We know Bah Kut Teh in Klang but what about this pork meat stewed in herbal broth in Tangkak? Jia Jia Bak Kut Teh is a food haven that is not to be missed if you ever come to this town.
Also read: 7 Best Bak Kut Teh 肉骨茶 in Johor Bahru
Locals highly recommend this meal and they are not wrong! The meat is boiled in a herbal soup which makes the meat soft and tender to chew. The meat and herbal soup are then placed in a clay pot where you will see a whole lot of ingredients, such as:
Enoki mushroom
Pork belly
Pork liver
Beancurd skin
Cabbage
Pork lean meat
The soup usually comes together with white rice and sometimes you may opt for fried fritters where you can dip them into the soup to absorb the herbal taste.
8. Warong Roti Canai Terbang
You may have heard and tasted roti canai but what about flying roti canai? Something amazing and unique, isn't it?
Well, here at Warong Roti Canai Terbang, Pak Ari, the owner of the stalls wows the crowd with his wonderful stunt of roti canai terbang. Not only you get a visual treat of his act, you also get to taste the simple but delicious roti canai.
Aside from roti canai, the shop serves mee soto which is another one of their crowd loving meal as well as other food such as;
Kari kambing
Mee rebus jawa
Soto ayam
Soto kambing
Mee goreng and many more
9. Tangkak Hua Bee Bakery (和美饼家)
There are a few snacks store around Tangkak, but the one that you should try is the traditional Chinese cakes and biscuits in Hua Bee Bakery. You can buy them to eat on your way home or pack it back as souvenirs for your relatives and friends.
This bakery has been running for more than 60 years which is now managed by the family's 3rd generation. Since this is a family business, you can see that everyone in the family are involved in making the biscuits- moulding, pressing and brushing in process.
As for the biscuits, they have two different flavours which are sweet and salty, where you can choose either the red bean paste or the black bean paste. So, remember to check this bakery before leaving Tangkak to bring home a momento!
3 Best Tangkak Homestay
1. Tangkak Greenville Homestay  (东甲绿园民宿)
A newly built bungalow located close to the main road of Tangkak and also conveniently near to the town. Hikers that are keen to hike Gunung Ledang (Mount Ophir) are recommended to stay here as this is a great place to rest after the climb.
Price Starting From:
RM 80 @ SGD$27
Homestay Highlight:
7 bedrooms
Able to fit up to 16 people
Close to Gunung Ledang
Complimentary parking
Wireless internet
Cooking utensils are provided to cook your own meals
Free toiletries
Good To Know:
Close to a lot of eateries and convenience shop
A 3 minutes drive to Tangkak town
There is a bus station at the main road
The owner grows an organic farm in the garden
You can buy the organic vegetables for 3 bunches at only RM10
2. Rainbow Homestay Tangkak (东甲民宿)
As the name is given, the rooms are in a multitude of colours giving the feel that you are really staying on a rainbow. The vibrancy that this homestay gives off is the perfect weekend or vacation for you and your family to relax.
Price Starting From:
RM176 @ SGD$ 60
Also read: 15 Best Homestay In Johor Bahru
Homestay Highlight:
10 minutes drive to the foot of Gunung Ledang
Can fit up to 14 people
There are 4 bedrooms and 3 bathrooms in one homestay
Astro cables are provided
Free WIFI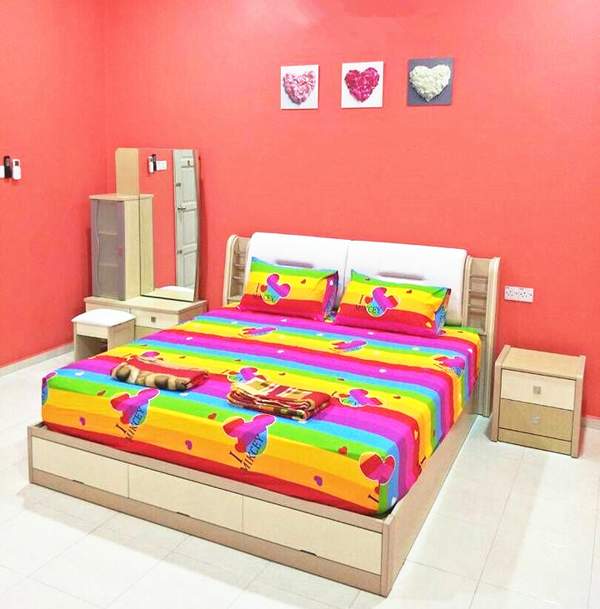 Good To Know:
About 100 meters walk to convenience stores like; 7/11 store, car mechanic and telephone shops
3 B&B homestay situated in the same row for the convenience of the guests
Can accommodate up to 42 people in all the 3 homestays
Facilities such as kitchenware and toiletries are provided
3. Lakeside Village Homestay (水乡民宿)
An exquisite homestay with its strategic location and beautifully designed garden provides a relaxing peace of mind to vacationers. The suitable place to throw a birthday party, wedding ceremony, company events and also family gathering.
Price Starting From:
RM300 @ SGD$ 120
Homestay Highlight:
Conveniently located to 7/11 store, banks and pharmacy
30 kilometre from Muar town
50 kilometre from Melaka Central
Equipped with karaoke system that comes with various languages
Can accommodate up to 20 people
Able to host a BBQ party
Free WIFI
Good To Know:
Required to pay rm100 as booking fee
Once you cancel the booking, the confirmation fee will be forfeited
Required to pay RM100 for security fee
A beautiful pond is found in the garden for some zen mode
2 Best Resort & Hotels In Tangkak
1. Gunung Ledang Resort (金山度假村)
Located at the foothill of Gunung Ledang, this is the perfect place for hikers to get fully rested after and getting ready before their climb at the mountain. Not to mention, you get to be closer to nature, surrounded by the beauty of flora and fauna.
Also read: 8 Best Desaru Resorts & Hotels In Johor
Price Starting From:
RM 50 @ SGD$17
Resort Highlight:
There are various packages to choose from; mountain expedition, student adventure camp, leisure and soft adventure
Really close to the famous Puteri Waterfalls and Twin Falls
There are a few rooms to pick from; jungle cabins, standard rooms, deluxe rooms and family deluxe rooms
There is room service
Parking lots are spacious
Meeting rooms with 3 seminar rooms
TV and fridge are provided in each room
Swimming pool
Daily newspaper
Good To Know:
Enjoy outdoor activity such as mountain biking, blowpipe, night trekking, team building programs, archery, and rock face climbing, flying fox, rope courses
You can rent a bicycle for RM5 per hour
Get to explore the oil plantation on a bicycle
Drive up to the mountain top on a 4x wheel drive vehicle
You can get to arrange a transfer from Segamat train station to the resort
2. Remember Hotel Bukit Gambir
Remember Hotel is located in the town of Bukit Gambir which takes only 10 minutes to Tangkak. Guest can feel right at home in their elegant rooms- complete with basic amenities and convenience of eateries around the hotel.
Price Starting From:
RM 51 @ SGD$17 (include hotel tax & service fee)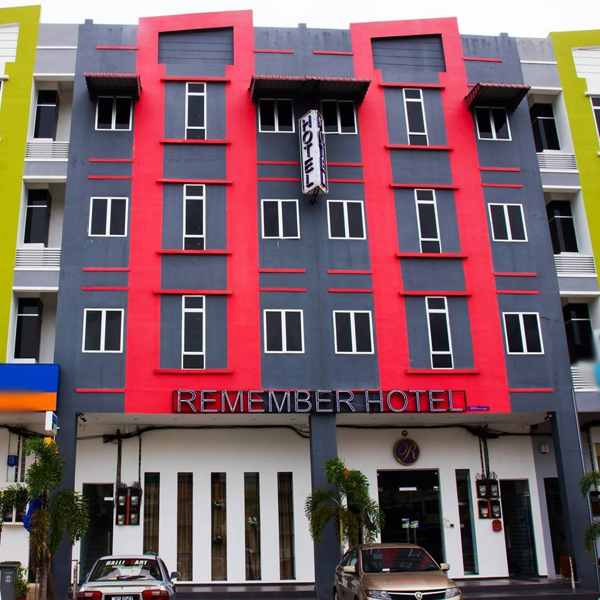 Hotel Highlight:
Free WIFI
Able to store your luggage for you
Ample carpark space
3 mins drive to econ save
Close to many eateries such as; KFC, Marrybrown and Pizza Hut
25 mins to Gunung Ledang
Many choices of rooms to choose; single, deluxe, family room, family deluxe and VIP room
Also read: 13 Best & Cheap Hotels In Johor Bahru
Good To Know:
Required to pay RM22 for an extra bed at per bed/night
If you cancel your room within 48 hours, the first-night charges will be imposed
Wifi is rather weak in the room but considered strong in the lobby
There is a vending machine if you are hungry for some late-night snacks
How To Get To The Places?
Want to get to these places but don't know how?
Worry not!
You can now travel smoothly with EK 168 Transport – a comfortable and trustworthy private car service that is renowned for its excellent service!
What's more, you wouldn't need to get off the vehicle when crossing the Singapore-Malaysia border for the customs check. Leave your passport to the driver and he will do the work for you.
Also, you'll be pick-up from any point in Singapore to these places in Johor at your desired time.
Our professional drivers ensure your safety with prompt and quality services to fit your needs.
Contact us or book online today, it's convenient with EK 168 Transport!