1. IT Roo Café JB
Though not entirely new, this name will ring a bell with those familiar with the area, as this outlet has been around since the early 2000's and with good reason too.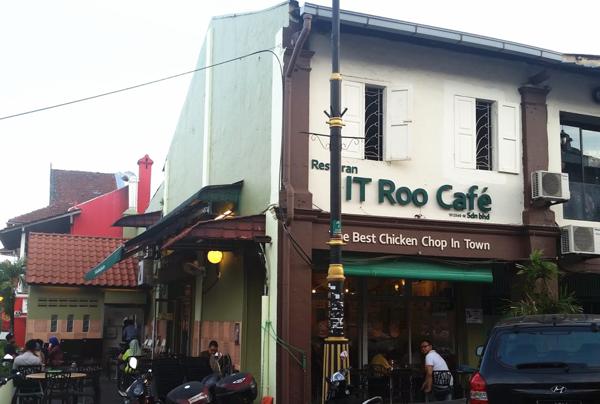 Most notable and a must try for any visitor is the famous Hainanese Chicken Cbevcafehop. Visitors have travelled for far and wide to have a bite of this dish.
This dish shot to fame when it was named Best Chicken Chop in Malaysia by The Star newspaper back in 2003. Just on the droves of people heading here, we're sure this famous dish is still highly sought after.
2. Salahuddin Bakery
Along Jalan Dhoby, Salahuddin Bakery is one of the oldest in Johor Bahru, and it's evident from the use of a wood oven the size of a room, dating all the way back to 1937. Still run by the same owners' family, this bakery has not changed much since the beginning, and even has the original signage.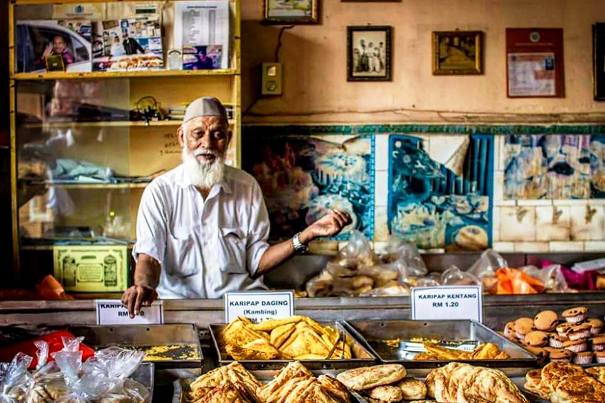 You can find a large selection of freshly baked pastries, bread, puffs and the most popular Indian curry puffs with a range of fillings. The curry puffs of course are best eaten hot and fresh from the oven, get their crunch from the flaky pastry used.
Before you leave though, make sure you've bought some Bengali puffs and loaf bread if you haven't already done so!
3. The Replacement – Lodge & Kitchen Johor Bahru
You can't not notice this establishment, an all-white facade with a large signage of The Replacement as it stands on a lane corner in the Jalan Dhoby area.
This all white corner lot maintains the clean and light feeling inside, and upstairs, which is The Replacement Lodge means you can stay here as well.
What you'll find past all the decadent cakes on the main counter is their menu which lists all day brunch dishes, and if you've space left for dessert there are their tasty churros that come with a choice of dipping, with salted yolk dip being one of the most ordered.
4. Flowers In The Window Café JB
This quaint café is just over a year old, is named as such for the outlet incorporates edible flowers in their dishes and the café is decked out with flowers, making you feel as if you're dining in a garden outdoors.
The menu here includes brunch options as well as a small selection of bread, which you can order with a side dish of your choice. Dishes on the menu lends its color from the edible flowers and mostly dishes are a  mix of western and Asian cooking styles.
5. Bev Cáfe
Do not be alarmed as once you entered this shop, you'll be invited by an array of clothes- like a clothes boutique. Go up the staircase and you'll be greeted by the whiff of aromatic and alluring coffee and the pleasing-to-the-eye of selections of cakes in their cakes chiller.
The interior designs are simple with a cool rustic feel. It is dark and cooling with a homey ambiance. One of the few main specialty are the mint chocolate slice that is served on a wooden plate. Each savoury bite brings you to cloud 9 as the taste of chocolate and mint gives off a smooth texture.
Another not-to-be missed is the Espresso Ice Cubes that are actually frozen ice cubes from espresso shots. Milk is served at the side which you'll pour into the cup and watch it melt. It is rather interesting than normal espresso latte you see in other cafes in liquid form.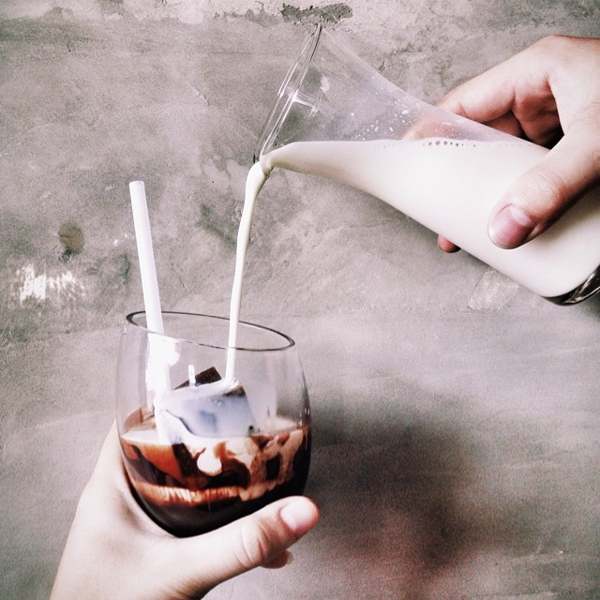 Top 5 Best Food & Café At Jalan Tan Hiok Nee JB
6. Hiap Joo Bakery
The oldest café in Johor, this classic café has been in operations since 1919. The café has also maintained its use of a fire wood oven and the outlet is a family business, involving three generations of the Lim family till today.
Each family member has a specific task it seems, keeping the bakery highly organized and efficient.
The best times to visit Hiap Joo Bakery is between noon and 2:00pm daily, as the morning bake is hot and taken fresh from the oven, so ensure you do try their signature banana cake, a hit even with the Johor royal family.
7. Chaiwalla & Co. Container Café Johor Bahru
Upcycled from a container, this café is truly one of a kind. Serving up an array of bubble tea you'll find a favorite among the various tea and chai mixtures.
The container being outdoor may not be so suitable for chilling out, with many customers preferring their drink to go. The food here is kept simple, with a few pastries and cakes on offer.
8. Amphawa Boat Noodle Downtown
All the way from Thailand, this famous boat noodle is traditionally served from boats hence it is originated from the floating market in Bangkok, named, Amphawa!
There are different variants of flavour for you to pick to suit your taste; both spicy and sour broth, herb broth for those who can't eat spicy and Tomyum broth for the daredevil.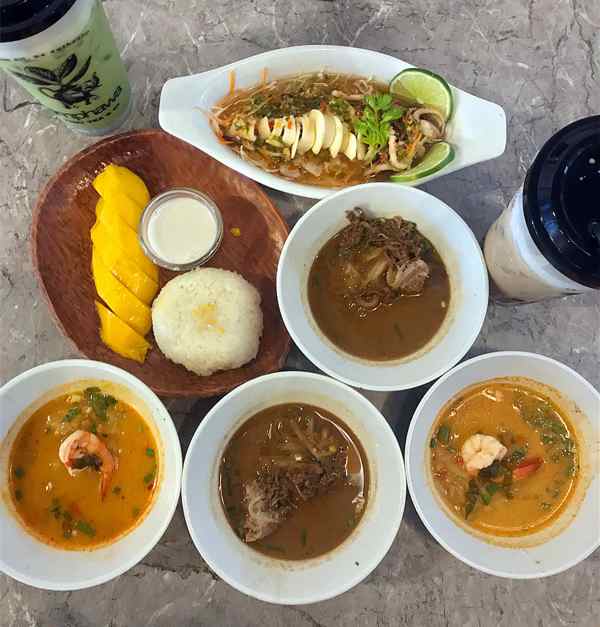 They come together with beef or chicken, shredded or in a meat ball. If red meat is not to your liking, you can opt for prawn in Tomyum Prawn Boat Noodles.
This delectable food is definitely not to be missed, especially if you're a Thai-food lover! Also, you don't need to travel all the way to Thailand just to get a taste. It is now closer to you and much more convenient!
9. Shakespeare Milkshakes JB
The café is a fairly new addition to the cafes that can be found along Jalan Trus. A dessert cafe, Shakespeare milkshakes serve up soft serve ice- cream and freshly made waffles, not forgetting the specialty here which are of course milkshakes.
Decadent milkshakes here come in classic flavors and six specialty flavor mixes, topped with a variety of sauces and toppings. Chocolaty, sweet or tangy, there's a milkshake or waffle dessert to satisfy your sweet tooth.
If you prefer waffles, the Chocolate Banana waffle dish is one that'll hit the sweet spot, with chocolate sauce, more chocolate based toppings atop fresh waffles.
10. Red House At Jalan Tan Hiok Nee
Not to be confused with Red House Seafood Restaurant, the corner shop house of Red House cafe is reminiscent of former Dutch buildings, with its bright red and white façade, still keeping to its traditional look and has become quite the photo spot for visitors.
This building is mainly used as a venue for cultural events, which makes for a nice spot for a quick bite or coffee. The food here is heavily influenced Nyonya cooking and dishes, and desserts.
How To Get To The Places?
Want to get to these places but don't know how?
Worry not!
You can now travel smoothly with EK 168 Transport – a comfortable and trustworthy private car service that is renowned for its excellent service!
What's more, you wouldn't need to get off the vehicle when crossing the Singapore-Malaysia border for the customs check. Leave your passport to the driver and he will do the work for you.
Also, you'll be pick-up from any point in Singapore to these places in Johor at your desired time.
Our professional drivers ensure your safety with prompt and quality services to fit your needs.
Contact us or book online today, it's convenient with EK 168 Transport!