1. You Kee XO Restaurant (有记XO烧腊之家)
With two eye-catching urns at shopfront, You Kee XO boasts the first restaurant in JB using urns to boil soup under charcoal fire.
Simmering for around 15 hours, the nutritious tonic soup is overloaded with various herbs and ingredients. Many ordered roasted meat, the combination of roasted duck, chicken and pork to complement with the soup. Every bite has the right balance of sweetness and juicy.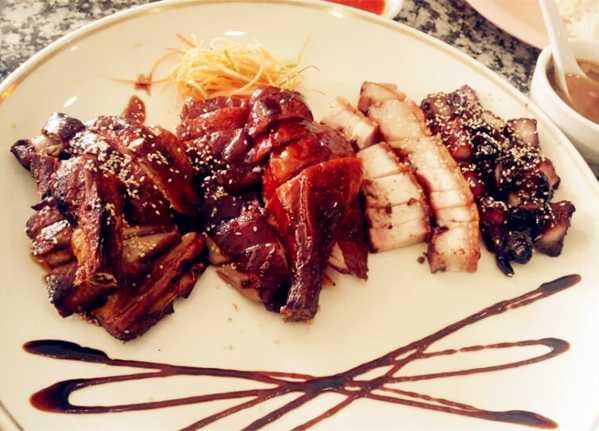 2. D'Laksa @ KSL City
Serving asam laksa in a takeaway bowl, D'Laksa does provide seating area beside their stall. But if you wish to take away, the workers will pack your noodles and soup separately.
Packed with great serving of ingredients such as onions, pineapple, cucumber and mints, the light sourish soup tastes flavourful in overall. Instead of beehoon, they use thick rice noodles that offer more springy bite.
3. Kinsahi Japanese Restaurant @ KSL City
Kinashi Japanese Restaurant prides themselves in presenting almost all kinds of Japanese food on their menu.
Using only fresh fish, their sashimi is truly the must-try dish here. It is cut in perfect thickness and the most enticing part is, it melts in your mouth once you bite it.
Sushi, Japanese style lunchboxes and desserts are also served here. Take note that some items have seasonal price.
Seafood Near KSL JB
4. New Lucky Seafood Restaurant (新运海鲜酒楼)
Take pride in offering in-house recipe menu, this humble restaurant serve various seafood that exceeds visitors' expectations in every possible way.
Top recommendation dish by the founder is their signature – Soup Lobster which offers an exotic and unique taste. Other signature dishes would be Garden Chicken, Scallop Fish Lips Soup and Steamed Lo Tan.
Also, try out their Char Kuey Tiao which was the most ordered dish recently.
Bak Kut Teh Near KSL JB      
5. Soon Soon Heng Bak Kut Teh (顺顺兴肉骨茶)
In front of KSL lies a restaurant that serves exceptional Teo Chew version of Bak Kut Teh. Before enjoying it, try out their picked vegetables as an appetizer.
Soon Soon Heng serves customised Bak Kut Teh to suit everyone's appetite. Side ingredients such as pig innards and fried beancurd can be added with additional charges. Kindly ask for soup refill if you think that their soup tastes excellent.
Korean Fried Chicken Near KSL
6. K Fry Urban Korean Holiday Villa
Craving for Korean fried chicken? Then you probably wouldn't want to miss out the K Fry Urban Korean that located inside the Holiday Villa Hotel. The Korean fried chicken they offer could have beaten the KFC and McD!
Cosy ambience, spacious seating, lively background music. The atmosphere is ideal for a pleasant dining experience.
They offer different flavours of crispy Korean fried chicken, such as soy, spicy and soy garlic. Besides fried chicken, Korean desserts and other traditional Korean dishes are offered too.
The boneless fried chicken may look dry, but it is tender and juicy once you bite it. They even have Cheesy Korean Fried Chicken Bumbak that makes us drool over just looking at the menu.
Hence, just enjoy and feel yourself in Korean while dining here!
Café Near KSL City    
7. Sweet Blossom Coffee Roasters
Sweet Blossom Coffee Roasters is a good coffee cafe with lively modern deco and vibe. The cafe has a special selection of coffee, really good quiche and snacks to satisfy your cravings.
Some of the signature drinks and snacks served,
Suke Quto – Exciting orange juicy at the front and smooth floral carry on gave an amazing experience in our White and Black
Finca Santa Teresa – super unique experience in grapes and raspberry was also been served in our Filter coffee for days.
Nensebo – Beautiful pineapple notes with punching strawberry sorbet, follow by soft roselle flavor.
Quiche Lorraine – Bacon, onion and spices with crispy crust.
Apple Cinnamon Cake
For coffee lovers, it is worth to revisit because of its carefully hand-crafted unique indulgent cake and coffee and good customer service.
8. Foodie Foodie
Foodie Foodie (or Foodie Wedding) combines a bridal boutique with a café in the same building.
Initially, the owner just wanted to serve his clients hearty breakfasts before their pre-wedding photography shoots!
The contemporary café is on the second floor and the menu has a delightful selection of Western-style breakfasts of generous portions!
You can book out the whole café for a private party too!
Dim Sum Near KSL JB
9. Restoran Kak Kak (佳佳点心茶楼)
Right beside Plaza Pelangi, Restoran Kak Kak offers daily fresh made dim sum at affordable price.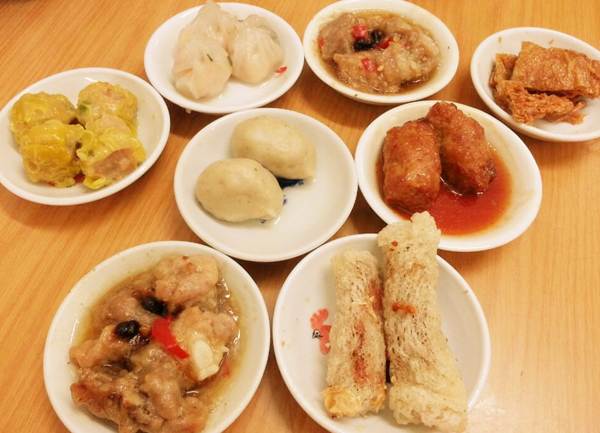 Pushing a trolley overloaded with enticing dim sum to your table, you'll be mesmerized by how plentiful of dim sum they offer. All have rich fillings and most of them taste sweet and savoury. You may notice some dim sum that never seen before, try them all!
10. D' Shanghai Dim Sum (大上海点心) @ KSL City 
Want to try the authentic and tantalizing dim sum which has almost the similar taste as in China? Then you must come to D'Shanghai.
Shanghai Xiaolongbao is their must try. The tender pork fillings inside are rich in flavour and it tastes better if you pair up with the sauce provided. Never forget to try their Dumpling soup and Fried Fenpi which will linger long in your taste.
Thai Food Near KSL
11. Carabao Authentic Thai Restaurant
At Carabao Authentic Thai, the experienced chef from Thailand, Sakkara Lamwanna, Sawai Chareonwong and Tony Ongpaidih serves you the authentic Thai cuisines in a contemporary atmosphere.
Start your list with their Thai Mango Salad which accompanied by crispy salad fish Thai style. Mix them well and it gives you an appetizing sweet yet sour flavour. Their Tom Yam soup comes in either red curry broth or clear broth. Both serve your generous amount of seafood, especially prawns.
Chinese Restaurant Near KSL City
12. Restoran Teck Sing (德星茶餐室)
Teck Sing Restaurant is a lovely family based restaurant located at Taman Sentosa. The restaurant served more than 70 Indo-Chinese-based dishes.
Some of the special dishes from Teck Sing's menu are,
Paper Baked Herbal Chicken
Curry Fish Head
Indonesian style curry prawns
The restaurant has a pleasant warm service and comfortable place while you enjoy your delicious meal. The prices are very reasonable too.
Kway Teow Soup Near KSL City
13. Ah Hua Kuey Teow Thng (亚华粿條汤)
Teochew version of Kway Teow Thng is offered at Ah Hua. In order to serve high quality Kway Teow Thng, the cook prepares only one bowl a time despite the long order.
Topped with pig's liver, the lard-coated noodles have a smooth texture and springy bite. And for the clear soup, it tastes a little salty and the handmade fish balls inside are tasty.
Wanton Mee Near KSL Mall
14. Yit Foh Restaurant (益和云吞面)
Run for over 40 years, Yit Foh's wanton mee is definitely the crowd-pleaser dish in Johor Bahru.
The wanton mee served may lack in presentation but it tastes excellent. Made from factory, the noodles are coated with great amount of sauces, resulting in extremely smooth texture.
Served in soup, the wantons have extremely smooth skin and it comes with rich fillings which can definitely satisfy your cravings.
Pasar Malam Near KSL
Get ready to squeeze through the crowds at Pasar Malam (night market)! There are wide array of stalls or mobile vendors selling food ranging from local delights to international dishes.
The children's favourites – chicken chops and hotdogs are available here. In terms of local delicacies, the street offers cendol, Penang laksa and satay. In short, you get to sample a lot of food in just one street at a cheaper price.
How To Get To The Places?
Want to get to these places but don't know how?
Worry not!
You can now travel smoothly with EK 168 Transport – a comfortable and trustworthy private car service that is renowned for its excellent service!
What's more, you wouldn't need to get off the vehicle when crossing the Singapore-Malaysia border for the customs check. Leave your passport to the driver and he will do the work for you.
Also, you'll be pick-up from any point in Singapore to these places in Johor at your desired time.
Our professional drivers ensure your safety with prompt and quality services to fit your needs.
Contact us or book online today, it's convenient with EK 168 Transport!