1. Teochew Chendul City Square
You do not need to travel all the way to Penang for their famous Teochew Chendul because it can be found here!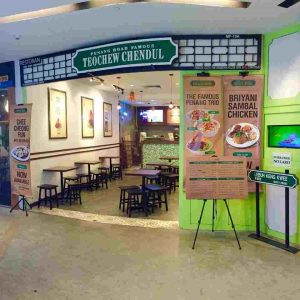 This Asian JB City Square food is a MUST to have in your list as they serve these yummy foods:
Wide variety of flavoured chendul (you can even find Durian flavour!)
Assam Laksa
Rojak (more to the sweet side compared to the tangy taste rojak in Singapore)
Fried Popiah with Laksa Dip
2. Bornga, JB City Square
This is a place I will go to when I miss my Korean barbeque food because although Bornga can also be found in Singapore it is quite pricey there.
Don't miss trying this good food in JB City Square with recommended food such as:
Grilled Beef or Pork
Banchan (Rice served with many small portioned dishes)
Bibimbap
Spicy Tofu
Kimchi Pancake
Tips: Don't worry about grilling your own meat because the friendly staff there would do it for you.
3. Meng Meng Roasted Duck City Square
Meng Meng Roasted Duck is one of the famous Chinese based City Square JB food.
They really prove their restaurant's name worthy because their roasted duck is amazing and you must also try the dishes below:
Char Siew (marinated to perfection)
Roasted Pork Belly
Beancurd (served with curry)
Fish Head Curry
Chicken Feet
4. Ming Ang Confectionery City Square
Usually, before I head back to Singapore, I will stop by Ming Ang Confectionary City Square branch to purchase their pastries.
What I love about their pastries is that it is freshly baked daily and these are the items you should try:
Heong Peah (durian flavour available!)
Tau Sa Peah
Chicken Siew Pau
Instant White Coffee
Crispy Silver Anchovy Chilli Sauce
Tips: Staff in this shop will normally offer you samples, so do try them out!
5. Din Tai Fung City Square
I will surely pay a visit to this City Square JB food restaurant Din Tai Fung to fix my craving of dim sum because it costs half the price here compared to Singapore!
There are too many delicious dishes but I would recommend these:-
Xiao Long Bao
Pork Chop or Shrimp Fried Rice
Braised Beef Noodle Soup
Spicy Egg Tofu with Minced Pork
Crispy Shrimp & Pork Wontons
Tips: You might need to wait for about 20-30 minutes for your table.
6. Ho Seng Kee Wanton Mee
If you are still asking me what City Square JB food that you must grab, hands down I will tell you to go to this Chinese restaurant Hong Seng Kee.
Their signature dish is their wanton mee because the noodles are handmade with duck and chicken eggs with wheat flour and no preservative used.
These are the variation of their noodles:
Dry Noodles (Original/Black Sauce/Spicy)
Soup Noodles
Served with minced pork, char siew and wantons
7. Dontaku City Square
Another good food in JB City Square is this quaint little Japanese restaurant called Dontaku City Square.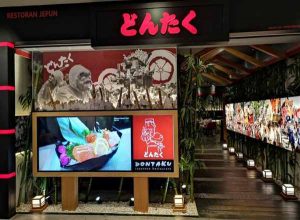 They serve reasonably priced food with a vast variety of fresh Japanese cuisine and I would recommend for you to try these out:
ANY of their ramen! (the broth that they used are top-notch yummy served with springy noodles)
Bento sets (very generous portion)
Tips: This is the place to go if you want privacy while you are having your meal.
8. Miyakori Coffee
And to end my "What To Eat At JB City Square" journey, I will be going for my dessert break! If you have a sweet tooth, this is the place that you want to be in!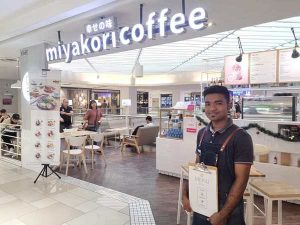 Their cakes and drinks come with cute cartoon imprints and you should definitely try their signature Peanut Chocolate Cake, Waffles and Matcha Latte.
What To Eat Near City Square JB
If you feel like exploring out to taste more delicious JB City Square food, I have a list of places on what to eat near city square JB.
9. Hiap Joo Bakery & Biscuit Factory
This pastry shop has the BEST JB Banana Cake baked in an oven using charcoal which gives the cake an aroma you can't resist.
Other than their famous banana cake, I highly recommend you to try the below:
Coconut Bun
Peanut Bun
Otak-otak Bun
Butter Cake
Coffee Cake
Tips: They do not provide tables, so you would need to take-away your orders and try to be there before 12pm as their banana cakes sells out really fast.
10. Kam Long Restaurant (Curry Fish Head)
I am not kidding you when I say this is by far the best curry fish head I have ever tasted! Be ready to add on another plate of white rice.
This flavourful thick sauce is not too spicy that it overwhelms you and it is served with tau kee, long beans, cabbage and ladies fingers.
11. Restoran Ya Wang
This Chinese Restaurant which is also known as Duck King is the pioneer for their herbal roast duck with its juicy tender meat and crispy roasted skin.
They do serve other dishes which is worth to try such as:
Roast Pork
Sambal Kangkung
Tofu
Lotus Soup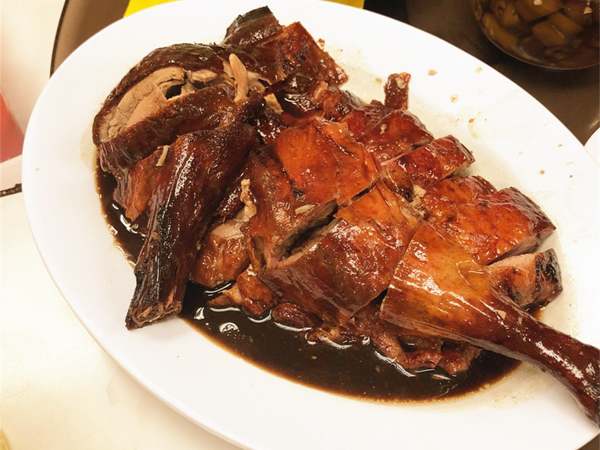 12. The Replacement – Lodge & Kitchen
Feel like going for something 'Wester-ny'? Then you can head on to this Melbourne inspired restaurant for your brunch especially.
I really like this place for its famous Breakfast Platter (oh so yummy!) but you can also give it a try on this recommended food:
Crab Meat Aglio-Olio
Crispy Sweet Potato Fries
Churros with Chocolate/ Salted Egg Dip
Tips: Take note that their bed & breakfast lodge closed down recently
13. IT Roo Cafe Famous Chicken Chop
Hands down this is the best Hainanese Chicken Chop I have ever had due to its tender meat coated with crispy chicken skin served with either black pepper or mushroom sauce.
You can also opt for their grilled version if you don't want to have their deep fried chicken and each dish is accompanied with a portion of potato wedges and coleslaw.
14. Salahuddin Bakery
Salahuddin Bakery is another well-known JB City Square food located along Jalan Dhoby and has been operated for four generations now.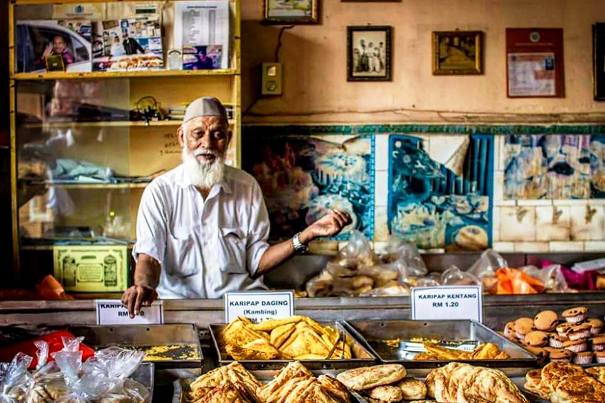 They are known for their delicious triangular curry puffs stuffed with a generous filling of either mutton, chicken or potatoes as well as their freshly charcoal baked bread.
15. Amaya Food Gallery
Amaya Food Gallery is a mixed Asian & Western Restaurant with a Thai background and I really love the concept of being able to view the chefs in action.
They have a wide variety of ala-carte dishes and buffet menu covering the taste of food around Thailand, Indonesia, Malaysia and Western Food.
Recommended dishes would be:
3 Tier High Tea Set
Sous Chef Kanokwan Pungjaroenkijkul signature dishes (Phad Thai Goong, Thai Green Curry & Gai Pad Mamuang)
All of their buffets!
Café Near City Square JB
You can go café hopping near City Quare JB as they have many different types of the cafe around.
16. Flowers In The Window
Flower In the Window is where I will go when I feel like having a healthier meal.
I love the ambience of this place which makes me feel like I am eating in a little flower garden and their dishes have a generous portion of vegetables such as:
Cauliflower Super Breakfast
Whole chicken leg served with mashed potatoes, roasted vegetables with oregano gravy
Homemade herbs and spices drinks (you either love or hate it but you must try it once)
17. TIP, The Ice-Cream Project
Talk about fresh thick creamy and smooth ice-cream! It's no wonder why some people are willing to wait for their precious scoop of ice cream.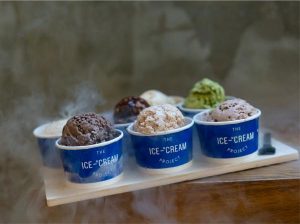 TIP sells liquid nitrogen ice-cream which is just perfect for the taste bud and you must definitely try their Matcha Ice-cream.
18. Restoran Hua Mui
"Don't judge its book by its cover" is a suitable phrase to define Restoran Hua Mui which is well known among the local patrons.
Tucked inside this vintage looking restaurant is the most delicious Hainanese Chicken Chop as well as other recommended food such as:
Kaya & Butter Charcoal Toast with fresh soft boiled eggs
Hainanese Coffee
Mongolian Chicken
Salted Egg Chicken Chop
19. Kedai Kopi Xuu Yau
This is a 'kampung' styled shop with just 6 tables available and serving only Wanton Noodles with the options of dried original flavoured or with chilli sauce.
However once you have tasted their homemade egg noodles served with char siew, spring onion and pork lard, you will surely be back for more!
20. Restaurant Kin Wah
You can head on to Restaurant Kin Wah for a nice hearty local breakfast to have their thick aromatic coffee with the right amount of sweetness to it.
Remember to top it up with their crunchy kaya butter toast and soft boiled fresh kampung eggs (don't forget to try their nasi padang and local kuih delicacies)
Dim Sum Near City Square JB
Getting dim sum in JB is so much cheaper than getting it in Singapore, so that's a definite plus point!
21. Hock Chiang Hin
To get my dim sum cravings fixed, Hock Chiang Hin is where you would find me which is very near from City Square JB.
What's different about their food compared to the Hong Kong styled dim sum is that their handmade dumplings are meatier and more filling. You must try their:
Big Pau (with tasty meat fillings inside)
Loh Mai Gai (Glutinous Rice with well marinated chicken)
Char Siew Pau (Pork Pau)
Vegetable Pau
Tips: Dip your dim sum dumplings with their chilli sauce for that nice kick of the food.
I have now already shared with you 21 things to eat in JB City Square!
All you need to do is to bring along this list when you are at or near JB City Square and you are set to go enjoy the good food.