1. Reel In Some Fish At The Kukup Fishing Village
Your trip to Kukup isn't complete without a fishing experience.
They offer various seafood restaurants, water activities and even have homes built on stilts over their waters.
Simply looking around the island is a great enough time in itself. If you're wondering where to head over to do so, look out for the Century Fishing Village!
Highlights:
Buy fresh fish caught by local fishermen at the Pontian Fish Market
Take boat rides to parks and fish farms for a cheap cost
Tip: You can bring along your own fishing rod or rent one in the area.
Location: 74 Kukup Laut, 82300 Kukup, Johor
2. Stroll Around Pulau Kukup National Park
As one of the largest mangroves in the world, it would be a special experience to visit Pulau Kukup.
When you're figuring out what to do in Kukup, you have to visit this park!
Here, you would be able to find beautiful green sceneries from the mangrove forest that covers the Kukup island.
Highlights:
5-storey observatory to give you a full view of the mangroves in the area
800 meter-long boardwalk
Tip: Prepare an hour or two of your day to walk through the mangroves, it's definitely something you'd want to spend time in for much longer.
Location: bit.ly/kukupnationalpark
Opening Hours:
Monday to Saturday: 9:00am – 5:00pm
Sunday: 9:00am – 1:30pm
3. Satisfy Your Stomach At New Kukup Restaurant
Known to be one of the oldest floating seafood restaurants in Kukup, dining at New Kukup Restaurant offers you a beautiful view of Kukup National Park and the sea.
This restaurant is known even among the locals for the comfortable environment they provide, which is an air-conditioned and non-air-conditioned area.
They truly bring out the best of the freshly caught fishes, shellfish and other sea creatures without causing too much trouble to the animals of the waters.
Highlights:
Great balance for unique dishes
Must try: Baby sotong, Salted egg crabs
Tip: This restaurant is also halal-friendly.
Location: No.1, Kukup Laut, 82300 Pontian, Johor Malaysia
Opening Hours: Daily: 10:00am to 8:45pm
4. Feast On Local Delicacies At Medan Selera BBU
Head over to Medan Selera at Bandar Baru Uda to get a recharge after all the sightseeing and strolling.
Feast on a variety of local delicacies that are sure to keep your cravings satisfied.
Whether you're looking for a morning meal, a late afternoon snack or even a place to have dinner at, Medan Selera BBU will have the right dish for the day.
Highlights:
Affordable dishes with wide variety.
Must try: Lontong, Nasi Lemak, Roti Canai, Mee Siam, Roti Bam.
Tip: Try to avoid the peak hours as it can get pretty crowded.
Location: No. 1, Jalan Padi Ria, Bandar Baru Uda, 81200 Johor Bahru, Johor, Malaysia
Opening Hours: Daily: 10:30am – 10:00pm
Facebook
5. Shop Fresh Seafood From Pontian Fish Market
Pontian Fish Market is a popular place for you to find fresh seafood.
The stalls cater to small quantities or large wholesale quantities catered to fishmongers or restaurants.
Though the popular item would be fish, you can also find various types of sea eels, grouper, stingrays, snappers, squid, prawns, and more!
Fun fact: everybody has to bid by whispering for the freshest fish!
Highlights:
Find unique fishes that are uncommon
Bid among other customers for the best fish
Location: 12/13, Taman Suraya Indah, Jalan Kukup, 82000 Pontian, Johor, Malaysia
Opening Hours:
Daily: 6:00am – 4:00pm
Closed on: Monday
6. Exercise Your Way Up The Aery
Just at the end of the boardwalk from the Pulau Kukup National Park, you will be able to find the Aery tower.
It's approximately 6-storeys high and about 30 meters tall. Climbing up here gives you a mesmerizing bird's eye view of Kukup Island.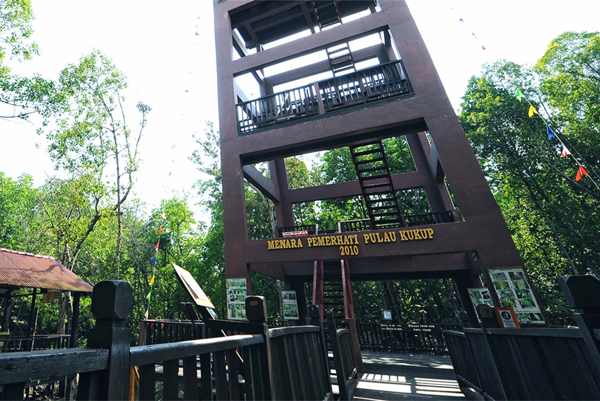 With this wonderful view as it is, you can even catch one of the most memorable views of a sunset!
Highlights:
One of the best sceneries on the island
Finish up your board walking trip by stopping by at the tower
Tip: Bring a pair of binoculars if you're into birdwatching.
Location: bit.ly/aerytower
7. Be Mesmerized By The Kong Ming Lantern
At Kukup, you can spend the night by playing with kong ming lanterns.
These sky lanterns hold significant meaning in terms of history, as it had been used in wars during ancient times.
These lanterns are used at carnivals and festivals as a symbol of letting your worries float away.
You can either watch as the parade of lanterns slowly fill the sky, or you could purchase your own lantern at a cheap cost!
Highlights:
Experience the unique sight of a clear night sky full of lanterns.
A tradition usually used during festivals.
8. Float Together With Fishes At Floating Fish Farms
Kukup Island continues to provide you with special experiences with their floating fish farms, also known as kelongs.
It'll be pretty interesting to learn how fishes grow from small hatchlings with different growth rates.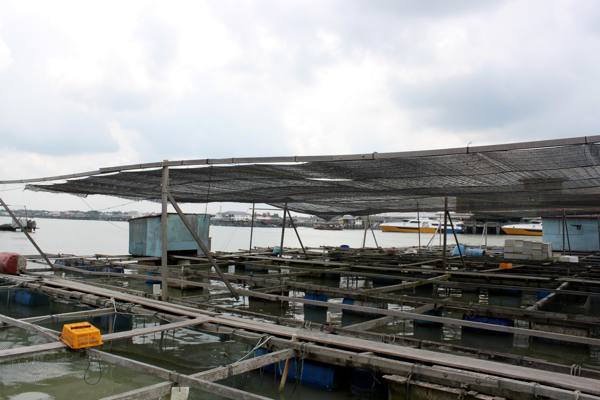 You can take a kelong boat tour which costs RM5 from the jetty.
Highlights:
Take a boat ride around the sea
Get an up-close look at the marine life in the area
Tip: Live seafood can be directly bought from the fish farms.
Location: bit.ly/kukupkelong
9. Walk Among Mangroves At Tanjung Piai
If you need a little break from the city, walking among this peaceful park could ease your mind from all the stress.
You can walk along the many boardwalks while observing various animals such as monkeys, seagulls and more!
Highlights:
Interesting flora and fauna can be seen at Tanjung Piai such as Pong Pong plant
Numerous platforms and observation towers to get good views of the park
Tip: Though the park closes at 5:00pm, you can organize night walks and firefly trails beforehand.
Location: Taman Negara Johor Tanjung Piai Mukim, 82030 Kukup, Johor
Opening Hours: Daily: 8:00am to 5:00pm
For your next trip with your friends, consider heading down to the humble Kukup, Johor!
With our list, you won't be scrambling away trying to figure out what to do in Kukup!
How To Get To The Horse Riding Places In Johor
Want to get to these places to learn or experience horse riding in Johor from Singapore but don't know how?
Worry not!
You can now travel smoothly with EK 168 Transport – a comfortable and trustworthy private car service that is renowned for its excellent service!
What's more, you wouldn't need to get off the vehicle when crossing the Singapore-Malaysia border for the customs check. Leave your passport to the driver and he will do the work for you.
Also, you'll be pick-up from any point in Singapore to these places in Johor at your desired time.
Our professional drivers ensure your safety with prompt and quality services to fit your needs.
Contact us or book online today, it's convenient with EK 168 Transport!