1. Zenxin Organic Park Kluang
 Where to visit a farm that does everything without any chemicals or pesticides? Zenxin Organic Park does all that plus all the 'juicy' information of how our food source come about and their functions.
This farm offers a bunch of engaging activities that are both educational and fun which are not only for children but adults as well.
Get the chance to touch, smell, feel and observe the plants while you explore. Don't forget to look out for some interesting fun facts that can be found around the park.
From vegetable farm in the greenhouse, big patch of herbal gardens and fruit farms petting, feeding and playing with the animals; you can spend the whole day here at the park.
What's more, if you take the walking route instead of cycling route, you'll receive more free gifts!
Before your tour ends, get a panoramic view of the whole park at the viewing pavilion before heading back for a meal at their in-house restaurant, which serves organic meals that are produced from the farm itself.
2. Gunung Belumut
Get that muscles flexing and climb one of the mountains in Johor. Gunung Belumut, rich in flora and fauna is a great weekend away from the hustle and bustle of Singapore city life.
Gunung Belumut standing at 1010m and located 18km east of Kluang is the second highest mountain in Johor. It can take about 2 days and one night to finish the entire trek. There are 3 campsites near the summit where you can camp or pay for a chalet for an overnight stay.
Do note you'll need a below 2000m trekking experience prior to climbing this mountain because you'll be trekking for good long hours. At some points, the treks are steep, so you'll need a good level of fitness.
Also, is best to avoid trekking during the dark especially descending, hence is best to trek early in the morning to reach the summit and have a good return time in the afternoon.
3. Kluang Coffee Powder Factory
Are you a coffee connoisseur? Get charmed away to this original aromatic brew that will leave you wanting more.
The Kluang Coffee Powder Factory has produced its aroma since 1966 with mixtures of 3 coffee beans, has used the television set as it's branding due to the fact that television sets are considered prestigious in the 60's.
What's more, the coffee is also approved by the Sultan Iskandar of Johor when the sultan was surprised by its taste after drinking it. His Highness has even placed an order to form the factory to have it delivered to the palace. Hence is dubbed "Sultan Coffee".
The great thing about the factory, it is absolutely free to visit! A lot of tourists and school children visit the factory to learn and gain some knowledge about coffee making. Just give a ring to make an appointment or visit their Facebook page for further information.
4. Kluang UK Farm
Get the opportunity to feed, pet and play with the sheep and goats at an agriculture farm, Kluang UK Farm that produces freshest sheep and goat's milk, goat's meat, goat's feed, and medicine and even offers sheep and goat farming courses!
Immersed yourself in the beautiful scenery of green land stretching far and beyond with, of course, the whiff of manure. While in the farm, get the chance to learn about modern sheep farming; you'll never see sheep farming the same way again.
Of course, the farm has more than just sheep and goats. There are mushroom farms that give you an insight into how mushrooms are grown. There are lots of different things to see; such as Ostrich Park and a mini zoo that you can pet and feed them and also herb sanctuary of 100 herbs species.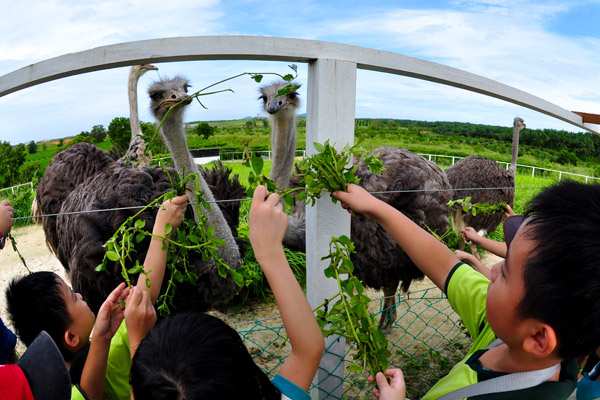 Not forgetting climbing a real tree-house at Jakun Village which is an eye-opening experience. Get amazed by the "Orang  Asli" ethnic culture with their unique hunting traps, hand-built houses and blowpipes by understanding how they used to live.
5. Kluang Mall
Stop at the local shopping mall to do some shopping with cool outlets selling clothes, shoes, glasses or jewelry that are much cheaper compared to Kuala Lumpur.
Comprises 160 shops of fast food chains and other national chain stores, this is a good place to shop and eat! You can get your necessities and uncooked food from Pacific Hypermarket, watch your favorite movie MBO Cinema or even make a strike at Ampang Super Bowl bowling alley.
Not to mention, the food court, Kluang Food Street, located on the lower ground floor is actually one of the main attractions where you'll get the old school vibe with pushcarts as stalls and the interior with ancient Knick Knacks that will give you a flashback of the 50's.
Don't forget to try the beef noodles from the infamous Yean Kee and of course Kluang's famous milky white coffee. The food court offers a range of gastronomic delight that will definitely satisfy your craving.
6. Gunung Lambak
Get some fresh clean air and get close to nature by hiking Gunung Lambak, translated as "Flea Mountain". This mountain is an eye-catching tourist spot that is also a good choice for the first-time climber.
You can reach the peak of the mountain in less than 2 hours, especially the higher one (there are two peaks) via 3 different paths. There are 3 different trekking paths to the middle of the mountain and also another 3 more to the summit. Each path has different difficulty levels and steepness.
The 3 paths are; Asphalt Road, Concrete Jungle and Jungle Track which leads to the middle of the mountain whereby the Asphalt Road is the steepest and Jungle Track being the least advisable to trek.
Once you've reached to the middle of the mountain, you can either take the South, Vertical or North Track to reach to the top. The birds-eye view will leave you breathless and is worth every climb!
7. Kluang Street Art (Bat Town)
Are you a street art lover? Kluang now has 25 artistic mural paintings that are excellent use as backdrops for photographs.
Spanning across 100 meters at a small back lane, each mural is said to have taken 8 hours to complete. This was a project by the Klang Municipal Council president to beautify the area and attract more tourist and locals to the area.
It showcases the attractions in Kluang, namely, the infamous Kluang coffee, Kopitiam scenes, and railway while depicting the history, lifestyle and culture as well. Aside from that, superheroes and famous cartoon characters are added to bring more quirkiness to the environment.
So, bring out your inner artistic soul to strike a pose and test your photography skills to bring the pictures to life.
4 Best Kluang Food To Eat
1. Fendy Burger
Delicious patties soak in hearty sauce, Fendy burger is the kind of burger you wouldn't want to miss in Kluang! It is so well-known that it was featured on the newspaper and don't be fool by its small stall, it has a daily sale of up to 700 burgers.
Every night the stall is visited by throngs of tourists coming from far and wide. Even the local Malaysians came all the way from other states just to get a bite of the juicy burger.
The cook isn't stingy on the ingredients either; the burger is packed with lettuce, onions, seasonings, delicious mouth-watering patties and eggs. What's more, the cook is health conscious to make it less salty and less MSG.
Price range from MYR1.70
Best dishes: Double mixed special burger
2. Midnight Chicken Rice
All that walking and visiting exciting places will lead to hunger. Lucky there's this mouth-watering chicken rice that sells in the middle of the night for those hungry night owls.
This small stall is run by a couple for more than 30 years located beside a basketball court at Kampung Paya. Aside from chicken, they sell steamed barbeque pork and roasted pork too, which you can choose to mix an unlimited variety of meat and body parts that charges accordingly.
Their business has attracted so many youngsters traveling from other parts of the city, even all the way from Singapore just to get the chance to eat this chicken rice. There are customers willing to drive all the way to Kluang and many are faithful customers that keep coming back for more.
Best dishes: Chicken rice
3. Kluang Lim Kopitiam
Have a short tea-break to fill your energy by filling with a variety of local snacks at the lesser-known shop. Kluang Lim Kopitiam offers yummy traditional snacks like ondeh-ondeh, tapioca cake, and the signature fried prawn crackers.
They served all kinds of Chinese and Malay pastries from breakfast to afternoon tea. A few of customer's top choices are roasted or steamed buns, half-boiled eggs, and coffee.
If you're not a coffee lover, the delicious Hainanese the-c (evaporated milk tea) can be your cup of tea to quench your thirst and wash down your throat.
The food is really cheap compared to other parts of the city and they taste great too! Where else can you get good and cheap food in Johor Bahru?
Price range from MYR2.50
Best dishes: Fried prawn crackers
4. Shangri-La Ais Kacang (Traditional Ice Kacang)
Savour some refreshing sweet dessert with Shangri-La Ais Kacang. The traditional ice shaved desserts mix with sweetened milk, syrups and jellies will definitely quench your thirst and bring you to shangri-la.
The shop not only sells shaved ice but also another sweet dessert called chendol, an ice dessert that contains green rice flour with coconut milk and palm sugar syrup.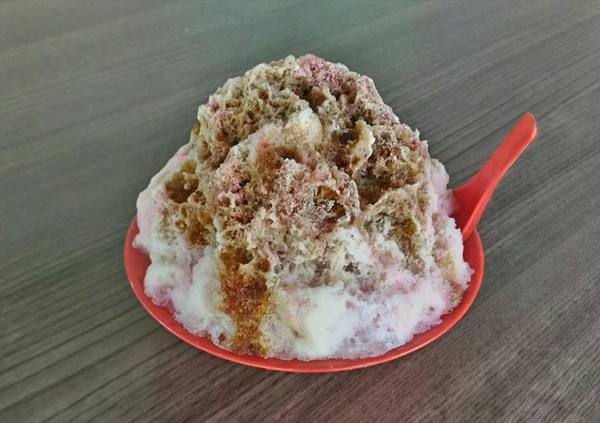 The shop has no air-conditioning nor as any of those hipster décor but the shaved ice cream will definitely not just melt in your mouth, but also your heart.
Not to mention, the prices are really reasonable. This place will leave you wanting more.
Price range from MYR2.50
Best dishes: Ais kacang
There are more than just these 4 fantastic food to eat. Check out these best local Kluang food to have a gastronomic experience.
4 Best Homestays In Kluang
1. Hana House
Got a big group of friends or family and want some privacy to have a place on your own? Why not try Hana House, a big holiday home comprises of 4 bedrooms that are suitable for 10 people or more.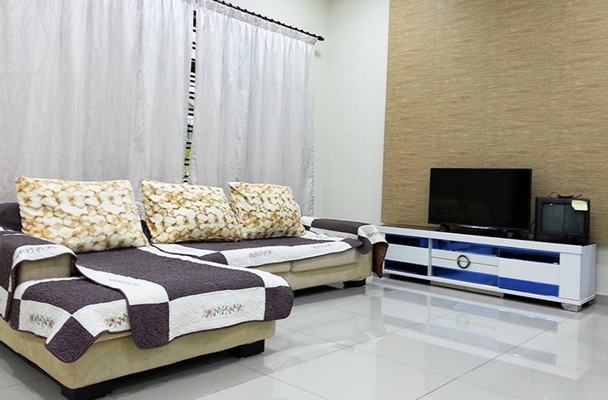 Price Starting From:
MYR370 @ SGD$124
Homestay Highlight:
Whole house to yourself
Four bedroom house
Air-conditioning
Fully equipped kitchen
Flat screen TV
Minibar
Refrigerator
Free WIFI
Free parking
English speaking staff
2 km from Senai International Airport
4 km from Kulai
 Good To Know:
Big house that can fit more than 10 people
Surrounding an area with good neighborhood
Clean and comfortable
A security deposit of MYR100 is required upon arrival which will be refundable if no damages found
Pets are allowed on request but with charges apply
Only accept payments in cash
The booking process is quick
2. Casa Bianca Villa
Planning for a pool party or wishes to relax and unwind in a luxury villa? Casa Bianca Villa is the right place to be! With a driving distance of only 8 minutes by car from Mount Lambak, you can catch the scenic view of the mountain!
Price Starting From:
MYR585 @ SGD$196
Homestay Highlight:
4km away from Gunung Lambak
Huge swimming pool
Kids pool
Great view of the mountain
Minibar
9 comfortable and beautiful rooms of different themes
Room themes: Berlin, Paris, Amsterdam, Florence, Venice, Rome, Santorini, Budapest and Zurich
Good To Know:
The swimming pool is open to the public with charges of MYR 15 (adult), MYR7 (child)
To host birthday parties, wedding banquets, business parties, and other events
Jacuzzi inside Budapest rooms
Payment via cash
3. Garden Kuan
Breathe in the fresh air from the mountains and embrace the beauty of nature with this European-style chalet away from the hustle and bustle of the city centre.
Located at the foot of the famous Mount Lambak, the comfortable cottages and wide selection of food provided will make you feel awe.
Price Starting From:
RM250 @ SGD$84
Homestay Highlight:
Bed and breakfast
Serene and calming location at the foot of the mountain
5 small fully equipped cottages
Surrounded by fresh vegetables, fruits and pond of lotus
Get close to animals as they wander around the green lawn
Great experience to explore and feel the nature
European-style chalet
Good To Know:
Get to taste delicious coffee brew by the boss himself
Try the wild chicken meat congee for breakfast
Handmade breads and other delectable food
4. Kluang Container Swimming Pool Homestay
Have you ever tried staying in a container? Containers being used as hotels or homestays have been quite a trend lately and where else can you get to enjoy a party full blast without any complaints? Kluang container swimming pool homestay of course!
With its uniquely modern design and comfortable, cosy rooms suitable for group gatherings, young travellers and locals, this is the perfect party getaway!
Homestay Highlight:
Large swimming pool
Jacuzzi
KTV lounge
BBQ
Beautiful garden for outdoor events
Good To Know:
Suitable for birthday party, bachelor party, wedding events
Can accommodate up to 22 people
Best to book early
7 Best Hotels In Kluang
1. Starz Hotel
Distance From Kluang:
1.6km (4 mins drive)
Price Starting From:
RM121 @ SGD$40 (include hotel tax & service fee)
Hotels Highlight:
Coffee bar
Wide selection of room types
Complimentary daily newspaper
Coffee and tea-making facility
Fitness centre
Internet centre
Business centre
Jogging and recreation tour
Kukup and Farm resort tour package
Good To Know:
Request for an executive king bed if requires more bed space
Strategic location, near to rail coffee shop, seafood café and ninso
In-house guard to safely guard guest's vehicles
Better make an early reservation
Get the deluxe room if travelling with kids as it has bigger space
Best to request rooms with window or you might feel claustrophobic
2. RS Boutique Hotel
Distance From Kluang:
1.1km (3 mins drive)
Price Starting From:
RM133 @ SGD$45(include hotel tax & service fee)
Hotels Highlight:
58km from Senai International Airport
Free car park
WIFI in public areas
Wide selections of rooms; Jacuzzi room, family room, grand deluxe room, deluxe king room, superior room, deluxe room
Daily newspaper
Solar water heating system
Nearby to Kluang Mall, Mount Lambak and Kluang Bus & Taxi Terminal
Writing desk and chair
Bedroom slippers
Good To Know:
There's a spacious Jacuzzi in the Jacuzzi room
Every room comes with standing rain shower
No breakfast when book via booking and agoda site
WIFI is slow
Room that faces the west gets warmer in the evening
The hot water in the shower isn't very hot
Provide food voucher at the restaurant next door
3. Hotel Anika
Distance From Kluang:
750m (2 mins drive)
Price Starting From:
RM63 @ SGD$21 (include hotel tax & service fee)
Hotels Highlight:
Located in the city centre, near to kluang mall and other convenience store
WIFI in the rooms and public areas
Taxi service
Guarded car park
Laundry service
Luggage store
Newspapers
Postal service
Family room
Meeting and conference packages
Good To Know:
Breakfast available for RM10 per head
Low water pressure and water control problem
Park at the basement for safety purposes as they lock the gate
Car park is limited
Higher floor has great view of the city
Room numbers of 9 and 10 has good view of Mount Lambak
Tap water is has rustic smell
4. GL Hotel
Distance From Kluang:
1.2km (4 mins drive)
Price Starting From:
RM63 @ SGD$21 (include hotel tax & service fee)
Hotels Highlight:
Storage room
In-luggage safety box
Less than 5 minutes to Kluang attraction spot
Private parking access into the room (executive king room only)
Coffee and tea making facilities
Daily newspaper
Internet station at the lobby
Executive chair and table
Good To Know:
20 mins drive from Ayer Hitam Tol Plaza
Have to pay RM50 per night per room for deposit by cash only
WIFI is slow in the room but works better in lobby
Suggest for the room with Mount Lambak view
Ample car park space
5. Sin Lien Hotel
Distance From Kluang:
2.0km (6 mins drive)
Price Starting From:
RM98 @ SGD$33(include hotel tax & service fee)
Hotels Highlight:
Complimentary toiletries
58km from Senai International Airport
Flat screen satellite TV
Quite close to malls and other convenience stores and bus terminal
Wake-up service
Good To Know:
There is no lift, only stairs
Only one soap dispenser in the toilet
Tourist tax of RM 10 is applied to all foreigners guests upon check-in
Requesting for towels or sheets require an extra fee
6. The Imperial Hotel
 Distance From Kluang:
700m (3 mins drive)
Price Starting From:
RM103 @ SGD$35(include hotel tax & service fee)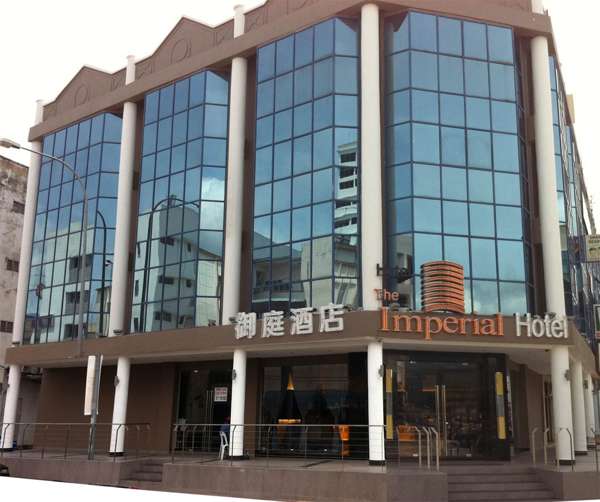 Hotels Highlight:
On-site bar to unwind and relax
Strategic location, nearby to the mall and KTM Kluang
5 minute walk from Kluang Parade Mall
10-minute drive from Mount Lambak
5 hour away drive from Senai International Airport
Free WIFI
Rain shower
Coffee and tea making facilities
Complimentary toiletries
Free daily newspaper
Good To Know:
The elevator is quite slow
No in-house restaurant in the hotel
Eatery and 7/11 store is right beside the hotel
Parking is limited as it is shared with the public
RM100 deposit is required upon check-in
7. Hotel Setia
Distance From Kluang:
3.0km (7 mins drive)
Price Starting From:
RM88 @ SGD$30 (include hotel tax & service fee)
Hotels Highlight:
Airport transfer
Golf course (within 3km)
A wide variety of rooms
Free WIFI in all rooms
5km away from the city centre
Rain shower
Coffee and tea making facilities
Complimentary water bottle
Good To Know:
There's no elevator in the hotel
Hot and cold water dispenser at the hotel corridor
Get the room at the end for more space
Cheaper rooms are windowless
Great place to stay for hikers climbing Mount Lambak
How To Get To The Places?
Want to get to these places but don't know how?
Worry not!
You can now travel smoothly with EK 168 Transport – a comfortable and trustworthy private car service that is renowned for its excellent service!
What's more, you wouldn't need to get off the vehicle when crossing the Singapore-Malaysia border for the customs check. Leave your passport to the driver and he will do the work for you.
Also, you'll be pick-up from any point in Singapore to these places in Johor at your desired time.
Our professional drivers ensure your safety with prompt and quality services to fit your needs.
Contact us or book online today, it's convenient with EK 168 Transport!