1. Grand Bayview Seafood Restaurant (金海湾海滨楼)
A lifetime event at Grand Bayview Seafood Restaurant is sure to create a splash. Located by the marina bay overlooking the Straits of Johor and beautiful white yachts, couples can enjoy the splendid view with their closet family at the most relaxing ambience.
Despite the breathtaking view, the decorations spruce up the romantic atmosphere. The red carpet could make a memorable walk down the long aisle.
With a stunning backdrop, the ballroom can hold up to 1600 guests with 160 tables. The wedding banquet serves large menu selections of fresh yet delicious seafood under the warm lightnings.
Follow the wedding ceremony with ultimate warm hospitality, they are sure to make the guests feel pampered. And for the couples, your wedding celebration here is definitely a glamorous one.
2. Grand Straits Garden Seafood Restaurant (新湖滨花园海鲜楼)
With a lovely garden that can be styled and catered according to preference, Grand Straits Garden offers a perfect outdoor wedding option for couples to recite wedding vows. Imagine how elegant the wedding photos would turn out.
Featuring an elegant indoor dining, the restaurant is well-known for the freshest seafood specialities created by renowned chefs. Combined with other delectable Chinese cuisines, the menu offers more than 100 choices to ensure a top-of-the-notch culinary experience.
The grand ballroom holds up to 1000 guests. It is newly renovated to be surrounded by lush greenery. As a bonus, 7 secluded VIP rooms that well-equipped with karaoke facilities are offered too.
3. Pekin Restaurant (北京楼)
With a long history, Pekin Restaurant is yet another intimate and elegant wedding venue. Couples can just relax and leave all wedding details to the care of their experienced wedding coordinator.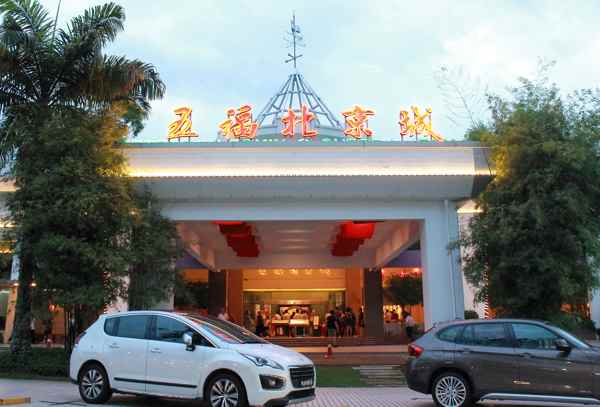 Featuring 3 chains in Johor, the restaurant serves one-of-a-kind Chinese cuisine by using the same-day-purchased ingredients. To meet local Malay taste, they even prepare Chinese cuisines that follow all Muslims regulations.
Succulent seafood dishes will only be prepared upon order. Seafood dishes include lobster, codfish, prawn, sea cucumber, abalone and oyster.
The exquisite fine dining is enjoyed in the plush interior and modern furnishing. The wedding banquet will truly be a warm affair celebrating your union.
4. Taison Seafood Restaurant (太子楼海鲜酒家)
The signature luxurious furnishing of Taison Seafood Restaurant offers a charming atmosphere for a perfect wedding banquet. The decorations are all set and the place takes a wonderful turn when all lights are switched on.
The grand indoor ballroom that serves as the main dining area can accommodate up to 28 table. For outdoor dining, it can accommodate up to 12 tables. Guests can look out to the amazing sea view while savouring the delicious cuisines.
Expect a refined menu of exquisite Chinese cuisines as well as excellent seafood dishes. To facilitate Malay customers, they do not serve any pork or lard.
5. Maedo Restaurant (美都海鮮酒樓)
Housed in a beautifully designed shophouse, Maedo Restaurant truly lives up to its reputation.
The spacious interior has a very welcoming furnishing. Yet the warm and cosy ambience is ideal to create an unforgettable wedding banquet. Combined with traditional and contemporary Chinese cuisine, it truly sets the mood for a memorable romantic event.
Different styles of Chinese cuisines are served here. It can be Hong Kong style, Teo chew style and many more. Hence it definitely meets the taste from grandparents to younger generation.
The restaurant also boasts a big stage where guests can perform singing or dancing for the couples. All these arrangements can be made with the staff.
6. Cathay Restaurant (新國泰冷氣酒家)
Featuring large premise with dedicated parking areas, Cathay Restaurant serves as an elegant wedding venue for couples.
The wedding banquet can be held either in the afternoon or at night. Food offered are scrumptious Chinese cuisines as well as seafood dishes. Their attentive staff will pamper the guests throughout the meal.
The restaurant could readily be spruced up with different decorations to meet couple's preference. Plus, the price is quite reasonable hence it often receives booking calls from couples.