1. Black Dragon Cave Temple
Be mesmerized with the architecture and sculpture of this 2-storey tall temple that is mainly devoted to the three gods; Zhang Gong, Xiao Gong, Hong Gong among the other gods.
The temple has increasingly become popular among local Malaysian and foreigners, especially Singaporeans. The temple is seen mostly for tourist who is worshippers and for those who are seeking for a quiet retreat.
Since temple stay has become widespread, the temple provides 24 rooms including other facilities for temple stay programmes which are available for booking.
Also, the temple has Jacuzzi and wading pools for children under 12 that can enjoy in the hot weather but it closes on Tuesday.
2. Tian Pao Kong Temple
Standing at 68 feet, Malaysia is proud to have the tallest statue of Che Kung or Crazy Monk in Tian Pao Kong Temple.
Che Kung was well-known for his ability to suppress uprising and epidemics and is famous as a military commander during the Southern Song Dynasty.
The temple has also boost the tourist economy recently with busloads of visitors coming into Yong Peng to worship him and other gods; including Guan Gong, General Wu Ye and more.
Aside from the statue, the temple also awes the tourists with a Prosperity Pond and a Bridge of Peace along with a 200-foot wall in scripted with Jigong's life story.
3. Fortune Dragon At Che Ann Khor
Enter the mouth of a mythical creature (literally) that spans over 106.9m, sprawling more than a hectare on the gardens of Che Ann Khor Yong Peng Association. This is the longest dragon tunnel in South East Asiawhich is dubbed as the Prosperity Dragon!
The interior of the hollow dragon structure is filled with Chinese cultural and religious paintings. Walking through the dragons, you'll find 24 paintings that portrays the teaching of Buddha and another 18 paintings depicting the afterlife.
Tourist will be required to pay a minimal fee when entering the fully air-conditioned tunnel to view the paintings. It was said that by entering the dragon mouth and exiting through its tail will change the luck of a person by dispelling bad luck or changing the luck to a better one.
4. Wansern Organic Farm & Eco Park
Want to learn, eat and buy some organic vegetables? Wansern Organic Farm & Eco Park is a 7-acre farm that meets strict organic standards without any chemical substances that produce high quality and high nutrition crops.
Visitors can get to learn the differences between organic plantation and non-organic plantation. Aside from vegetation, they have homes of swiftlets that you can get closer to their habitat and learn their behaviour.
Also, visitors can visit the production department to get a great visualization of the whole process. At the end of the day, you can get to buy the vegetables that are grown on the farm and their bird nest products.
5. Claytan Ceramics Store
If you have never heard of Claytan, then you probably don't wash the toilet or even the dishes! Upholding its legacy of 100 years, this brand is really well-known with sanitary ware and then it branches out to kitchenware, tableware and also drainage systems.
Amazingly, they've set up a factory here in Ayer Hitam, 20 minutes drive from Yong Peng town and it bears so many fond memories for the past factory workers.
Presently, the factory is open to public and holds many tour visits for schools and any other organizations. You'll get to learn and see the whole process from designing, production, colouring packaging to shipping.
It is an eye-opening experience to visit the factory and you can get the chance to buy some pretty Claytan products as memorabilia.
5 Best Yong Peng Local Products
1. Eng Hin Bakery
One of the famous local delicacies would be Ho Chew biscuit that is still deliciously handmade for 3 generations. The Ho Chew biscuit is also known as kompyang which is made by flour yeast and fermentation is judged by experience.
There are so many different types of kompyang that you can choose from to satisfy your taste bud; the traditional no filling, sweet sesame, and peanut filling kompyang.
The shop not only sells biscuits, but they also make Ho Chew noodles, wanton noodles and Mee Hun too which is not added with any preservatives hence it only lasts 3-4 days!
2. Hock Chew Mee Factory
Yong Peng is famous for making noodles, and it is not just any noodle but Fu Zhou noodle with family own recipe that has been passed down from generations to generations!
Hidden somewhere behind the main road, away from obvious signboards, visitors may find it hard to locate the factory but it is all worth it when you catch the glimpse of the process.
They used to use a big wooden stick to flatten the noodle by adding high gluten-flour and tapioca starch to preserve the noodle's tenderness. Nowadays, they used modern machinery to increase production volume.
Aside from the visual visit, visitors get the chance to buy the noodles and other produces too.
3. Kacang Permata Krystal
Started from a small humble business at home to owning a shop and having the own brand while getting dubbed 'Peanut King'!
The best part is, the owner insisted to only use natural and healthy ingredients without additional preservatives or colourings, which this had made the business boom over the years and also the main feature of the product.
The best-seller products are Peanut Biscuits, Chicken Pie and Almond Biscuits. Due to no additional preservatives, the products have short shelf-life, hence the products are sold on the day they are being made.
4. Taiwan City
Don't forget to pull over at this quintessential rest stop that sells many types of Taiwan and Malaysia products.
Some of the few famous products from Taiwan are;
Tamsui Iron Eggs
Pineapple Cakes
Daxi Bean Curd
Hsinchu Rice Vermicelli
Bull Head Barbecue Sauce
You'll get to enjoy these imported products without the hassle of flying all the way to Taiwan.
There's a huge transparent glass that showcases the process of baking so visitors can have a visualization of how the products are made. Don't forget to purchase the freshly baked Pineapple Cake and Mung Bean Cake!
5. YOYO Native Food Product
If you're looking for local food products to take back as souvenirs, YOYO is the best place to get them. Rows and rows of products that comes with 29 types of biscuits, 11 types of seasoning, 10 types of beverages-you'll be stuffing your bags with all these amazing goodies.
Tired from all the shopping, why not sip a cuppa and while people-watching. They have a small coffee shop inside to rejuvenate and recharge from all the walking and shopping.
What's more, they provide free testing to promote their new products, so you can shop while you eat!
4 Best Yong Peng Food To Eat
1. Atap- OD
Famous for the local to have their morning energy, Atap-OD serves delicious Fok Chew style traditional Loh Mee and Dry Fried Noodles that are the main highlight of the menu.
The owner has been making the noodles using the house recipe for the past 15 years that has made them undeniably mouth-watering. Fook Chew Egg Soup and Singapore Fried Mee Hun are also the two sought-after noodles from the menu.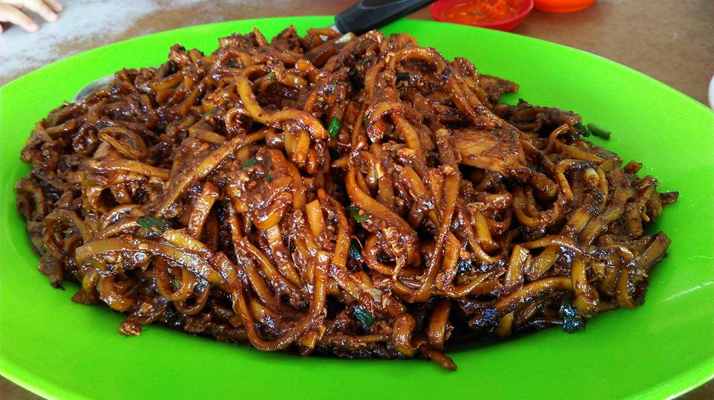 Your trip to Yong Peng is not worthwhile if you miss the chance of even having a slight taste from Atap-OD.
2. Restaurant Rong Cheng
Getting a lunch or dinner break with your family or friends but doesn't know where? At Rong Cheng, you'll get to enjoy their specialty Hock Chew Noodle.
Aside from the noodle, there is, of course, other delicious dishes in the menu that shouldn't miss out either such as;
Claypot Keow Teow
Steamed Pork Belly
Cereal Prawns with Mayo and Honeydew
Steamed Tipalia Fish
Wrapper Herbal Chicken
Good service and reasonable prices, what more can you ask for? Head on down to Restaurant Rong Cheng to get your tummy filled now!
3. Restaurant Hock Swee Hin
Still looking for more Fuzhou style dishes? Here at Restaurant Hock Swee Hin is one of the restaurants that specialize in Fuzhou dishes which you'll want to come back for more!
Fu Zhou fishball noodle is one of the highlights of this restaurant. The fishballs are stuffed with pork filling and also not forgetting the red rice wine chicken. The chicken is immersed in the mixture of red wine, rice wine, red date, and other ingredients to bring out the fragrance.
These dishes make your mouth waters and are being loved by the locals.
4. Thai Aroy
Why not try some add some interesting flavour to your tastebuds? Thai Aroy serves authentic Thai dishes that are appetizing to many locals.
The stall is located at the former site of Yong Peng Cinema. The owner's wife is originally from Thailand and the business has been running for more than 10 years.
The few favorites are Hot and Sour Pork Noodles, Thailand Curry Fried Noodles, Meatball Noodles, and Thai Rendang Chicken. After finding out the locals couldn't handle the spiciness as Thai people do, the owner cooked at a mild level and allow customers to add chilies provided at the table.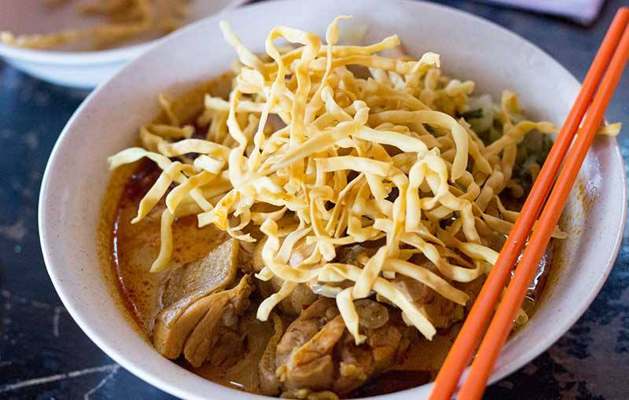 These 4 mouth-watering food can't satisfy your taste buds? Check out the more local best food in Yong Peng.
Best Hotel In Yong Peng
1. Hotel Meng Hong
Finding a place to relax while visiting Yong Peng? MH Hotel is strategically located and at a minimal rate, you'll still get to enjoy a three-star standard service!
Spacious high-quality suites inclusive of breakfast and comfortable recreational facilities- this makes it the first choice for travellers.
Price Starting From:
RM88 @ SGD$30
Hotel Highlight:
4 types of rooms; standard, superior, deluxe and junior suite
Close to attractions such as; Yuen Yean Fishball Eating house in 1km, YOYO Native food in 1.3km and Organic Farm & Swiftlet House in 2 km by driving
Coffee- tea making facilities
Karaoke room
Complimentary bottled water
Free ample parking spaces
Good To Know:
The rates in the website are inclusive of breakfast
Check-in time starts at 2:00pm
Check out time is 12:00pm
Additional RM15 for every additional hour will be imposed on late check-out
Full rate will apply for check-out after 6 p.m.
Credit card or cash deposit is required
Government issued ID is required
Pets are not allowed
How To Get To The Places?
Want to get to these places but don't know how?
Worry not!
You can now travel smoothly with EK 168 Transport – a comfortable and trustworthy private car service that is renowned for its excellent service!
What's more, you wouldn't need to get off the vehicle when crossing the Singapore-Malaysia border for the customs check. Leave your passport to the driver and he will do the work for you.
Also, you'll be pick-up from any point in Singapore to these places in Johor at your desired time.
Our professional drivers ensure your safety with prompt and quality services to fit your needs.
Contact us or book online today, it's convenient with EK 168 Transport!