1. Labis Hot Spring (Pusat Rekreasi Kolam Air Panas)
Dip in to relax and revitalize at the popular hot spring in Segamat, Johor that attracts a lot of visitors throughout the year. Labis Hot Spring has located about 11 km from the main town.
Also read: 31 Best Things To Do In Johor Bahru
This is a good place for locals and visitors to have a family bonding time, to soothe themselves in hot water after a tough week and engage in any other leisure activities. Visitors don't have to worry about finding parking as there's a huge amount of space that can even park your lorry!
The pool is really large and is divided into 4 pools, where 2 pools face the men's bathroom and the other 2 faces the women's bathroom. Pools are of different depths-deep and shallow so it is kids friendly.
Aside from the pool, visitors can get to exercise at their outdoor fitness park and kids get to play at the slides too.
2. Mount Ophir (Gunung Ledang)
Mountain-climber enthusiast, a mild-trekker or someone wanting to get some fresh clean air- here's your favourite spot for you to spend some quality time with your family and friends.
Mount Ophir, or the locals called it Gunung Ledang, is one of the famous mountains in the country that perhaps is mostly climbed and has popular Malay folklore called the Legend of Gunung Ledang which are told in a few different variances.
Also read: 7 Captivating Hills in Johor For Weekend Hiking
Get away from the city and set yourself amidst the wonders of nature with rich flora and fauna. You can also get the chance to have an overnight stay in their chalets and cabins provided in their resort.
A less strenuous walking path is provided with stone steps for a family friendly path and a few meters ahead is a more rocky path that leads up to the popular Puteri Waterfall which is a definite worth to climb up for a swim.
3. Bantang River Amenity Forest (Hutan Lipur Sungai Bantang)
Cool yourself down on this tropical heat at Bantang River Amenity Forest with its natural pool, waterfall and trekking trails. The area is really small but allows quite a few leisure activities to spend your weekend afternoon;
Trekking
Picnic
Wading in the small pool
Camping
There are shops selling towels, drinks and floats, so you don't have to worry if you forgot to pack some water or a towel.
A small waterfall can be seen after a few minutes of trekking that is formed through a few boulders. This is more risker to swim in than the small pool at the bottom of the trail. Beyond the small waterfall has a rocky path that leads to more waterfall but is not advisable to go further.
11 Segamat Good Food
1. Ah Tee Kway Teow Kia Labis Johor (亚弟粿条仔)
A popular Teochew dish called Kway Teow Kia has been in operation for 3 decades is found here in Labis. This shop is a famous lunch or hangout spot for locals here and the food never disappoint them.
Also read: 15 Best Foods in Muar
The Kway Teow Kia is dip in dark sauce as how the locals loved it with the soft crunchy cartilage and springy intestines. The taste has a hint of sweetness with the underlying herbal savoury stock. You'll want more of it!
There are more than just the main pork dishes, there are other dishes that are equally as delicious as the pork;
Tau kwa
Braised eggs
Braised beancurd skin
Chicken claw
Spring rolls
Chicken pancakes
You won't say you visited Segamat unless you have a taste of this local dish! This food is to die for!
2. Tengah Chinese Roti Canai (登雅茶室)
You've seen an Indian, Mamak or even a Malay flipping roti but have you ever seen a Chinese man flipping one? Feast your eyes as this is arguably a rare sight to see Chinese making roti canai, hence the name of the shop.
This restaurant not only sells roti canai, although it is the highlight dish but they sell another famous food- fried noodle which almost every table can be seen with a plate. There's always a crowd, so is best to arrive early or stare at another customer till they finish their meal to get their seats.
The best thing about this roti canai is that it is crunchy on the exterior with soft fillings and the curry sauce dippings are thick in texture, hence it is a good combination. Plus with a good cuppa, this is a great place to start your morning!
3. Restoran McDota Segamat
Let's go back to yester years, to the 1980's where fast food was a real treat for special occasions and food was much simpler with basic chicken, nuggets and fries and burgers.
Also read: 12 Popular Food In Batu Pahat
McDota was one of the few fast food that was famous before KFC open its branch in Malaysia and this in Segamat, is one of the few surviving outlets! Holding its name and business throughout the years, they have also added new items in the menu to keep up with the latest food trend.
They did not alter the recipe as the crispy chicken still maintained its juiciness and tenderness after all this years. So, head on down to McDota to grab a bite of nostalgia!
4. Nan Yang Coffee Shop (南洋茶室)
Take another trip down memory lane of an old traditional kopitiam that has been the local's favourite spot for breakfast and tea time.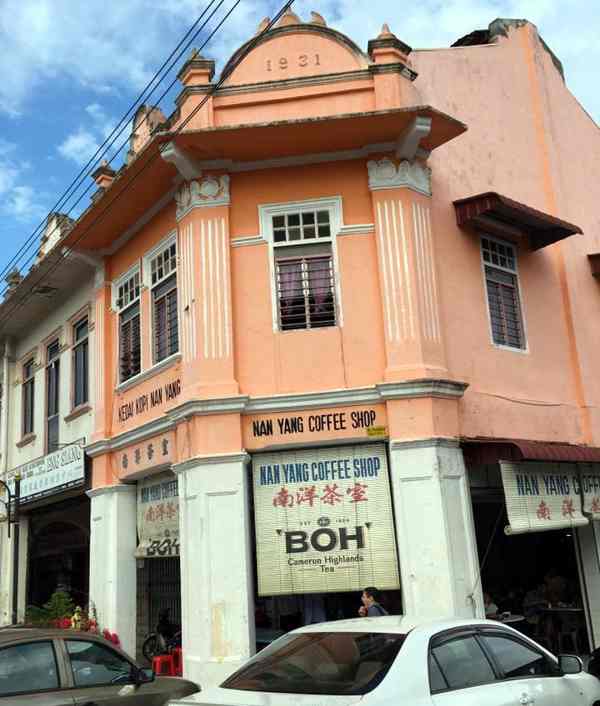 Nan Yang Kopitiam serves a variety of delicious, traditional Malaysian style food such as;
Kampong egg
Nasi lemak
Toast
Mee goreng
Mihun goreng
Curry puff
This shop has been operating since 1931 and has maintained its food and style as it was back then, with old classic stools, cups and tables- which were of sentimental value.
The toast and coffee is one of their highlights and if you're expecting something a little different- off the menu, there's a Chee Cheong Fun bike seller right outside the shop which you can add to your breakfast.
5. Selera Nasi Beringin
Selera Nasi Beringin serves fragrant rice that are mixed with spices with cucumber and veggies as side dishes.
This is all best combine with their mouth-watering main dishes such as;
Fish
Curry chicken
Red curry chicken
Mutton rending
The food is so tasty that it has earned a place at Istana Johor as the main menu to entertain its guests and was known as Rice King during the reign of 2nd Sultan of modern Johor, Sultan Sir Ibrahim.
The food wouldn't be complete without dipping into their delicious sambal that will spark your taste buds and leaves you wanting more!
6. Kedai Makan Chee Keng (金记芋头饭)
Couldn't get enough of the local food? Head on down to the next authentic traditional yam rice with pork meat and pork soup (bakkee), cook in a large stove that uses firewood.
Also read: 65 Best Food To Eat in Johor Bahru
The braised pork dishes and soup is made up of mainly pork meat and innards. The pork dishes is sweet, juicy and springy while the pork soup is just pork meat, pork intestines and tofu. The soup is definitely a must to try!
Mix all these pork dishes together with yam rice- the savoury flavour and aroma will smack you right on your tongue that will bring you to joy! A sense of wonderful deliciousness- all in one plate, don't miss out this food when you're in Segamat!
7. Labis Chicken Porridge (拉美士鸡丝粥六味汤)
Light meals are available like the famous Labis Chicken Porridge, which is a good way to spend your afternoon if you ever feel like munching something but want to leave some space in your stomach for dinner later.
The shop has been in operation for a very long time and customers are still loving their simple chicken porridge with turnip, spring onions and trickle with soy sauce. You can add the flavour by ordering extra dishes; boiled chicken and fried kway teow.
Don't forget to taste their unique dessert; 6 flavour soup that has macaroni in it. That is really an interesting flavour!
8. Hock Guan Labis (拉美士福源茶餐)
If you've never tasted this bun, then you're missing the best bun there is in Segamat! One of an old-school coffee shop that still uses a wooden fire stove brings its charm and nostalgic feeling,-the history of handmade bun (pao) has come a long way.
Also read: 10 Best Local Yong Peng Food
The bao is made in the shop itself and only 300 are made daily, hence it sold out really fast. Better arrive early to avoid disappointment! The bao comes in different flavoured fillings;
Char siew
Red bean
Vegetables
Peanut
Kaya
Pork filling
The skin of the bao is thick but soft and airy which is largely different from the other factory-made bao. Not to mention, the oozing of the filling once you bite on the bao- is fulfilling!
9. Fu Sean Biscuit Manufacturer
What other way to bring home food then packing delicious freshly made biscuits. You can bring home to your relatives or friends as a souvenir, or eat on your way home.
Fu Sean is one of the best bakeries that makes crispy and fresh out-of-the-oven biscuits. Once you entered the shop, you get a whiff of doughs in the making and the warm freshly bake biscuits. The biscuits comes in a few varieties;
Sweet lotus paste fillings
Yam fillings
Salty green bean paste fillings
They mostly sell their biscuits to retailers but welcomes walk-in customers too. So, get in the shop and buy a few packets, you won't regret it!
10. Kedai Makan Asam Pedas Sukaku
Spice up your life or just your taste buds with this tantalizing, hot and sour fish that is pretty spicy and also sweet and tangy.
Get ready to find a big crowd because this shop brings a lot of fame to its signature dish! Aside from the main highlights, there are other dishes that can make you scream for more. They make incredible seafood dishes and these are some of the best ones;
Otak-otak
Fried tongue sole
Fish head curry
Squid and prawn sambal with petai
You'll probably salivate just by looking at the dishes but once you bite into it, you might want to order second helping!
11. Leng Kee Bak Kut Teh
We all know Klang is famous for Bak Kut Teh (BKT), but why not give the southern side of Malaysia a little taste too. It is different in taste but still good overall.
Also read: 7 Best Bak Kut Teh 肉骨茶 in Johor Bahru
The taste of the herbal soup BKT is much lighter than the one in Klang but has greater peppery flavour. Aside from the main herbal soup, they have 'bakkee' which is also famous in this shop for the meat's smooth texture combined with innards in a soup.
Mix all these with their oily rice, and you get the perfect meal!
Top 4 Hotels In Segamat
1. Golden Lake Hotel Segamat
Comfort is key they say, and that's how Golden Lake Hotel Segamat live up to that expectations. Providing all the necessary amenities and being at a strategic location, this budget hotel is one of the top choices to stay in!
Price Starting From:
RM 77 @ SGD$25 (include hotel tax & service fee)
Hotel Highlight:
Complimentary Wi-Fi
Complimentary newspaper
Coffee & tea making facilities
Room service
Colour TV and astro channel
There are a few selections of rooms to suite your needs; Standard Room, Superior Room, Deluxe Room, Super Deluxe Room, Golden Suite
Spacious car park
Good To Know:
Near to KFC and Bilion Mall
Close to many eatery places
Room is rather small so avoid bringing big luggage
Ask for room with a view of the garden, even though is small but is pleasant
Choose the golden suite room or 2 adjoining deluxe rooms if you have a big group
The room at the end of the corridor is much smaller compare to others
2. The View Hotel Segamat
A long day of walking, sightseeing and touring Segamat, wouldn't you wish to just flop on the bed and relax? Here at View Hotel, provides the comfiest and luxurious beds for your aching muscles and you'll be refreshed in no time!
Price Starting From:
RM 95 @ SGD$32 (include hotel tax & service fee)
Also read: 13 Best & Cheap Hotels In Johor Bahru Under RM110 Per Night (SGD$35)
Hotel Highlight:
Complimentary Wi-Fi
5-star King Koil quality bed
Rain shower facilities
Meeting/ function spaces
Coffee & tea making facilities
Complimentary bottled drinking water
Spacious car park
Located in the middle of town, adjacent to Econsave and Bilion Mall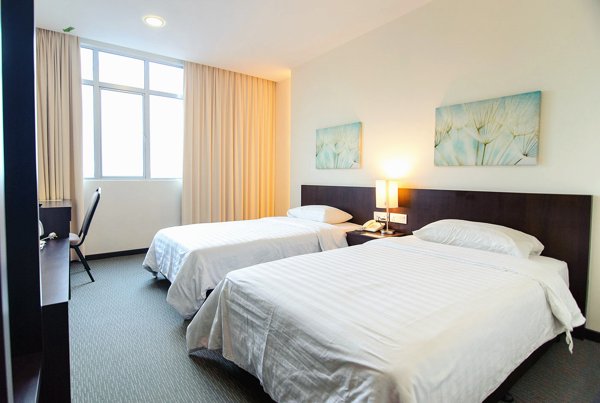 Good To Know:
About 200m away from main banks such as OCBC and RHB bank
Close to eateries such as Nan Yang Coffee Shop, McDonalds and KFC
Provide basic toiletries
Provide soft drink as complimentary
Convenient parking in the basement with lift leading directly to the hotel
Limited TV channel
3. VIP Hotel Segamat
Get that 5 star treatment at this luxury VIP Hotel with excellent services and amenities provided to pamper your every need. From hearty meals and high class facilities to relaxing rooms- this is definitely one of the best hotels in Segamat to check-in!
Also read: 10 Best Hotels In JB Under SGD$133
Price Starting From:
RM 170 @ SGD$58 (include hotel tax & service fee)
Hotel Highlight:
Dining at the Chef Restaurant with local and western food
Wining with relaxing music at V Club
V-Spa
Gym
Swimming Pool
Computer room
Laundry services
Event and meeting room facilities
Wedding plan packages
Good To Know:
Avoid the rooms at the end near the stairs as it will be noisy
The top floor has better view of the city
Only one lift so expect to have longer waiting hours during peak hours
Wi-Fi is slow but it keeps dropping when there's too many users
In-house restaurant has decent food
The pool is standard and no child/ toddler pool
4. Icon Hotel Segamat
Icon hotel can be seen nestled in the commercial area amidst the busy city and yet secluded so guest get a good night rest away from the noise. Everything you need; food, entertainment and necessities are within easy reach.
Price Starting From:
RM 110 @ SGD$37 (include hotel tax & service fee)
Hotel Highlight:
VIP rooms facilities
Wi-Fi available
Honeymoon suite
Facilities for disabled guests
Fitness centre
Complimentary newspaper
Baggage storage
Soundproof room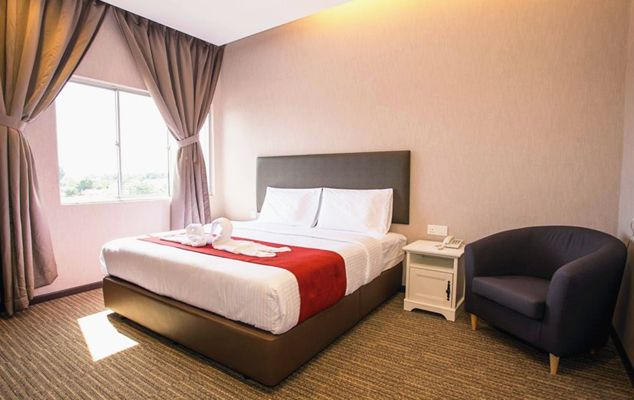 Good To Know:
Choose the room with river view to get a splendid view of the scenery
All the rooms are facing towards the quiet part of town
Walk-in guest may not have any rooms available
Ample parking space
Close to all the eateries; Starbucks, Pallet Café, Tsuki Japanese and Olive Arab Café
How To Get To The Places?
Want to get to these places but don't know how?
Worry not!
You can now travel smoothly with EK 168 Transport – a comfortable and trustworthy private car service that is renowned for its excellent service!
What's more, you wouldn't need to get off the vehicle when crossing the Singapore-Malaysia border for the customs check. Leave your passport to the driver and he will do the work for you.
Also, you'll be pick-up from any point in Singapore to these places in Johor at your desired time.
Our professional drivers ensure your safety with prompt and quality services to fit your needs.
Contact us or book online today, it's convenient with EK 168 Transport!