1. Gula Melaka Cendol
Origin from Indonesia, cendol has become the most-favoured ice dessert in Malaysia. Typically made from coconut milk, pandan flavour green rice noodles, shaved ice and palm sugar, the cendol is best to cool yourself down in a hot afternoon.
But in Malacca, the cendol is prepared by using gula Melaka (a kind of locally made sugar) instead of palm sugar. This cendol is called Nyonya cendol.
At Jonker 88, they serve a really thick gula Melaka. With the coconut milk coatings, the cendol looks exactly a big scoop of vanilla ice-cream. They serve durian cendol as well. Go for it if you love durian.
While at Christina Ee Nyonya Cendol Shop, the green rice noodles top the bowl of cendol. Jelly and peanuts are scattered all over the shaved ice. You can order a durian flavour too!
2. Chicken Rice Balls
A bowl of normal chicken rice would be chicken comes with a plate of rice. But here in Melaka, the rice is hand-shaped into a ball, offering a twist in terms of texture.
Hoe Kee is one of the best chicken rice ball in Melaka and always crowded for its authentic ping-pong size rice balls which is cooked by using the chicken stock. The Hainan chicken has a very distinctive taste compared to others. With slippery smooth skin, the meat is very tender and yet it comes with generous portion!
At Shui Xian, the rice ball is firm and it won't fall apart when you pick it up. It looks like a big dumpling and the taste is just right! The mock chicken is made from bean curd sheets and it goes very well with the rice balls.
3. Nyonya Assam Laksa
Assam Laksa can be found anywhere but how about the Nyonya version of Assam Laksa? Flavourful, spicy and tangy sum up the taste. If you love spicy, you should not be miss this when visiting Malacca.
Calanthe offers their own version of Nyonya Assam Laksa, which is also the signature here. With lashings of lemon grass, dried prawn paste, turmeric and coconut milk, the taste of broth cannot go deeper anymore. Fried fish balls and crispy bean curd are found in the dish too. It gives more texture to the bowl of assam laksa.
On the other hand, the assam laksa at Jonker 88 would totally blow you away. With the distinctive fish-based broth, it adds a little sweet taste to balance the sourness and spiciness. However, it is still very tangy and spicy in overall. Ingredients such as egg, bean curd and prawns are added in generous amount too!
4. One Bite Durian Puff
Another Malacca's signature dessert would be the durian puff. Imagine how a seasonal exotic fruit turns into a delightful dessert, it truly gives you the exploding taste that you will never ever forget in just one single bite!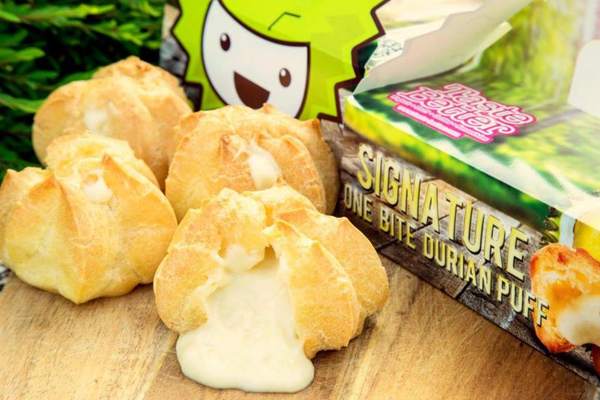 And if you wonder, Taste Better serves the best durian puff in town! They keep it refrigerated and the durian paste inside is fragrant and tasty. If you savour it slowly, the durian flavour overwhelms you in mouth.
Even though the size of the durian puff is quite large to fit a person's mouth, we still recommend you eat it all in one bite. Otherwise, you will find the durian fillings on floor!
5. Dim Sum
You can also enjoy authentic dim sum right here in Malacca. It comes with various type so we encourage you sharing with friends to savour more!
Lor mai gai at Low Yong Moh is very well-seasoned and the chicken are very succulent and soft. They even add some pepper to give a more flavourful taste.
For their char siew bun, it reminds us of the old school steamed buns. Unlike the normal char siew with red colour, they do not add any artificial colouring. It has the true colour of pork and it tastes great!
Other dim sum like steamed glutinous rice, siew mai, tai pau, corn custard pau and salted egg custard buns are very popular too.
6. Homemade Burger
The gourmet burger at Baboon House is often rated as the best burger in Malacca town. This is a truly a homemade burger because they even bake the buns on their own!
They offer diverse choices of gourmet burgers such as Oriental Chicken Burger, Spicy Lamb burger, Honey Mustard Chicken Burger, Egg & Bacon Cheese Burger and Baboon Beef Burger. All burgers are served with potato wedges and mini salad.
The meat-filled burger is very tender and juicy as the ingredients used are fresh and in high quality. Even the freshly cut tomato and cucumber has a very touching texture! Inside, the sauce is added to the right amount, making the burger a divine dish.
7. Pancakes
Pancake is great for a decent breakfast or even a late night supper. It's very simple to cook but to master it, it isn't that easy. And there are 2 places in Malacca that seem to master the dish.
At the Daily Fix, Pandan Pancakes are the most-sought after one. It is crispy on the outer but very fluffy inside.
Though it comes with Gula Melaka fillings, it is not overwhelmingly sweet. You can add some more Gula Melaka sauce beside to your ideal sweetness level!
While at Jonker Street Night Market, there are many choices for you. You can go for kaya pancake, durian pancake, corn pancake, chicken floss pancake, salted egg yolk pancake, smoked duck pancake and strawberry pancake. You can even mix any 2 flavours together.
8. Pork Lard Popiah
Popiah or the so called fresh spring rolls is a common food in Malaysia and Singapore. Filled with shredded vegetables, jicama and carrot, the nicely wrapped popiah is crunchy and gives a moreish taste.
At Poh Piah Lwee, the turnip inside their popiah is stewed in soy sauce to give a more flavourful taste. Also, they add more bean sprouts to contribute customers a fresh crunchiness.
What makes their popiah special is they add fragrant pork lard into it. Nevertheless, it only has little oily taste and the lard is pretty enjoyable. You can still enjoy the sweetness of jicama and turnip at the same time.
9. BBQ Corn
BBQ corn is yet another special snack in Malacca.  It only be found at Uncle Bing's stall, the first stall that introduces local to the delicious grilled corn.
The BBQ corn comes with 6 peculiar flavours, original, curry, black pepper, wasabi, spicy and mixed flavours. If you love to eat spicy, try the wasabi flavour that gives you an overwhelming yet exploding taste.
Using the high technology oven, the process of grilling is done within 2 minutes. It looks slightly burned but the corn still tastes juicy and sweet. After slathering with designated flavours, each flavour is powerful enough to give a tempting taste.
Besides, the grilled corns can be enjoyed by vegetarians too!
10. Nyonya Chang (Glutinous Rice Dumplings)
Nyonya Chang is a traditional cuisine created by Melaka Peranakan ethnic. With a distinctive patch of blue glutinous rice, the cuisine is literally a meat dumpling that has a savoury sweet taste with a little spiciness.
Actually, the blue patch of rice is coloured by a flower named Bunga Telang (butterfly pea). The glutinous rice is well-cooked to possess a firm texture. It is just a thin layer and there are lots of ingredients inside.
At East & West Rendezvous, minced pork, mushrooms, candied winter melon and spices makes up the ingredients. They are not stingy on the ingredients and this is why one or two Nyonya Chang is enough to leave you full.
11. Naan & Tandoori Chicken
Malacca serves excellent Indian food too. The most recommended one would be the naan and tandoori chicken from Pak Putra!
The naans at Pak Putra is so soft and it comes with a different flavour. The standard flavour would be garlic, butter and cheese flavour. If you want to try something new, they offer potato naan and Kashmiri naan that filled with many ingredients.
For the tandoori chicken, it is so well-marinated with unique herbs and spices and then baked to the right moisture and tenderness. The accompanied sauce adds more flavour to the chicken too.
A small reminder: Always request for the drumstick over the breast meat for juicier texture.
12. Coconut Dessert
You can have all kinds of coconut desserts at Bikini Toppings! Whether it is coconut drinks mixed with fruits, coconut shake, coconut ice-cream, coconut waffle or the real coconut, the stall could please all your coconut craving.
For the coconut shake, they use the fresh coconut water and add the coconut ice-cream on top. It is flavourful and milky in overall.
Try out their coconut jelly too. Served in a hug coconut husk, it is made from coconut flesh and the coconut juice. It is so rich in the coconut taste yet it tastes not overly sweet.
You can order the coconut ice-cream too. They have Oreo and chocolate chips toppings to give a crunchy taste.
13. Pineapple Sauce Satay
For those who have a passion for meat satay, Sun May Hiong is the stall that you shouldn't miss!
Despite offering meat satays like pork satay and chicken satay, the stall serves the innards of pork such as small intestines and live too. The aroma of these well-grilled satays could just simply blow you away.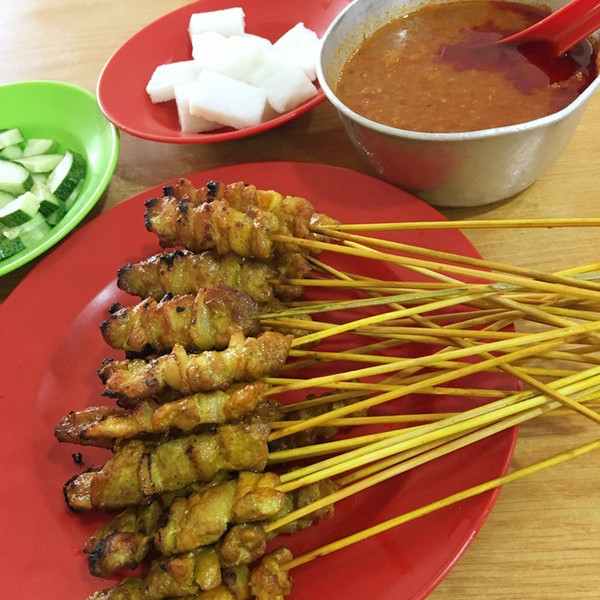 Besides, they serve a really special satay sauce – peanut sauce mix with pineapple. The sour taste from pineapple adds a little twist to the original spicy taste. The taste is unconventional but appetizing enough to make you crave for more.
Dip as many sauce as you want as the sauce is refillable with no additional charge.
How To Get To The Places?
Want to get to these places but don't know how?
Worry not!
You can now travel smoothly with EK 168 Transport – a comfortable and trustworthy private car service that is renowned for its excellent service!
What's more, you wouldn't need to get off the vehicle when crossing the Singapore-Malaysia border for the customs check. Leave your passport to the driver and he will do the work for you.
Also, you'll be pick-up from any point in Singapore to these places in Johor at your desired time.
Our professional drivers ensure your safety with prompt and quality services to fit your needs.
Contact us or book online today, it's convenient with EK 168 Transport!