1. Restoran Nyonya Makko
This restaurant, which is beautifully decorated to look like an authentic Nyonya house inside and out, has been around for quite some time and is loved by both locals and tourists.
Their prices range from RM12 to RM50 per dish, and are the perfect mixture of sweet and spicy. Their most popular dishes are the Ikan Asam and Pongteh. They also serve a delicious cendol as an after meal treat.
Also read: 13 Must-Try Foods In Jonker Street
2. Nancy's Kitchen
Nancy's Kitchen is a little difficult to find if you are a tourist, but any local can easily show you how to get there. It is a pretty popular place so you may end up waiting in line for a while or even sharing a table with strangers.
Their dishes range in price from RM6 to RM35 and tend to be on the spicier side. Their most popular dishes are the sweet and sour fish and the buah keluak ayam, and you can purchase cendol or kueh for dessert.
3. Amy Heritage Nyonya Cuisine
This authentic and traditional Nyonya restaurant is owned and ran by a sweet woman, Amy, who takes pride in her cooking. Her and her team work hard to make every dish perfect, which can lead to a longer than normal wait time.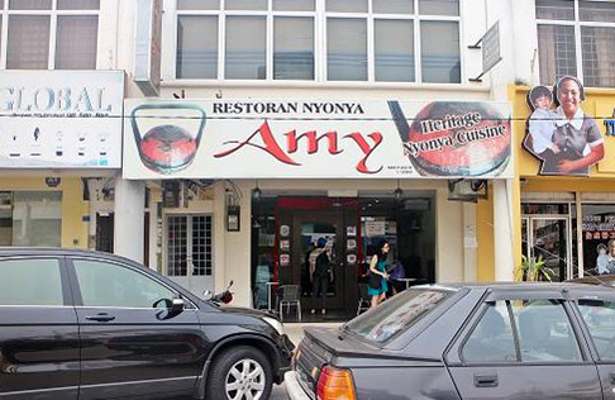 However, their food is highly recommended by locals and tourists alike. Their dishes range in price from RM12 to RM30.
Also read: 11 Best Cafe In Jonker Street
Their most popular dishes are the Ikan Cili Garam and the Kangkung Kobis Keledek Masak Titik Lemak.
The Ikan Cili Garam is a lightly seasoned fish that is deep fried and then topped with fresh chili paste, while the Kangkung Kobis Keledek Masak Titik Lemak is an original dish that is only found at Amy's.
4. Kocik Kitchen
Kocik Kitchen is Halal and is cozy and has a homey feeling to it. They use old and truly authentic family recipes that have been handed down from one generation to the next.
There is less of wait here as it is more of a local spot than a tourist attraction, which also means their prices are affordable; their dishes are between RM8 and RM30.
Their most popular dishes are their otak-otak, which comes as either hard or soft, and their large selection of kuehs.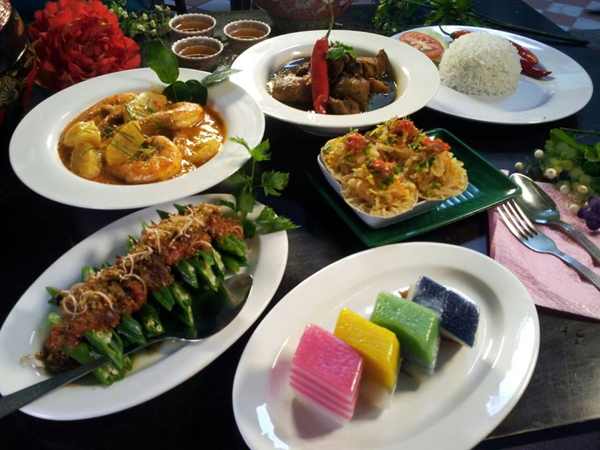 5. Seri Nyonya Peranakan Restaurant
This restaurant is inside a 5-star hotel and is an upper-class restaurant that is beautifully decorated. The prices are a little steeper here, ranging from RM15 to RM50.
They are strictly Nyonya and are not mixed with any other styles, so those seeking real Nyonya food should be happy here.
Also read: 5 Best Bak Kut Teh In Malacca
Their most popular dishes are Ayam Pongteh, Ikan Goreng Cili Garam, Ikan Gerang Asam, Ayam Buah Keluak and the dishes are served either a la carte or Nyonyan steamboat style. Their signature drink is Asam Boi and is a must try.
6. Cottage Spices Nyonya Restaurant
This restaurant is influenced somewhat by Northern cooking styles and you will need to plan ahead since the restaurant only has 10 tables.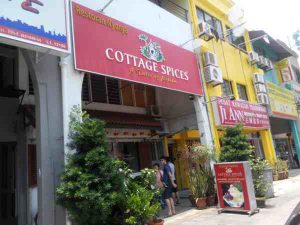 Their menu is simple yet flavorful, and their prices range from RM10 to RM 25 per dish. One of their most popular dishes is the Asam Pedas Fish.
Another popular dish in Cottage Spices is the Sambal Sotong with Petai, which is chilli-spiced squids with stink-beans, and it is both delicious and spicy.
7. Restoran Indah Sayang
The locals love this restaurant, which has a stained glass entrance outside and is decorated casually and earthy inside.
Also read: 10 Must-Visit Cafes in Melaka for Good Coffee
Their prices start as low as RM7.50 for a dish, which makes them somewhat cheaper than other Nyonya restaurants in the area.
The most popular dish is the Chap Chai, which is preserved vegetables, and the Asam fish.
Don' t forget to taste their chilli paste, which is served with the Asam fish, is spicy yet sweet, and very delicious!
8. Restoran Peranakan
This restaurant is an authentic, traditional Nyonya house with rare, traditional Peranakan décor, allowing you to fully immerse yourself in the culture and the food. It's one of the restaurants in Jonker Street, Malacca.
Their most popular dishes are their calamari fritters and sambal prawns, though they also have set menus which are great for both individuals and large groups.
They are reasonably priced, seeing as you can get a meal for two, including drinks, for around RM47.
9. Restoran Aunty Lee
You may want to make reservations, as this place is generally full of people and those without reservations may have to wait in a very long line, and may not get in at all.
You can even pre-order on their website so that your food is already ready when you arrive. It is owned by Uncle and Aunty Lee, who use generations of family recipes that are authentically Nyonya.
Their most popular dishes are the Ikan Geram Asam and Ikan Chili Gara, which are both fish dishes. Their cendol is also very highly recommended.
10. Kedai Kopi Juat Lye
This is another fairly secluded restaurant that serves exceptionally delicious Nyonya food that is mostly unknown to the outside world. However, it is worth to visit and experience the Nyonya food yourself.
It is a coffee shop and serves aromatic and delicious kopi. Despite being a coffee shop, the most popular dish here is the Penang Style Prawn Mee and Nyonya food.
The Prawn Mee is full of meat, toppings and noodles and can be purchased for only around RM4.50, making this café affordable.
11. Jonker 88
Jonker 88 is located on the extremely popular Jonker Street and is a self-service restaurant, meaning that you order and carry your food to your table yourself.
Also read: Jonker Street Night Market Food: The 19 Best Food In Jonker Street Night Market
The prices are very reasonable, ranging between RM4.50 and RM10 for the most popular items. The most popular main dishes are the Baba Laksa, Nynonya Asam Laksa and the Baba salad, which is great for sharing.
The most popular desserts are the Baba Cendol with Gula Melaka and the Baba Durian Cendol.
12. Donald and Lily's
Another crowded and popular restaurant, Donald and Lily's is a cute and charming little shop serving authentic Nyonya food in Malacca.
The locals love many different dishes there, as they serve a variety of Nyonya food, but their most popular dishes are the Ayam Pongteh, Mee Siam and Tauhu Goreng. Their shop is small but definitely worth the visit, and their prices are reasonable.
13. Restoran Ole Sayang
This is a widely popular and easy to find restaurant in Malacca. It is cozy and decorated in an old Nyonya style, adding to the authenticity and culture.
Their prices range from RM8 to RM 45 and the locals love their food. They are also Halal friendly, which is a plus. Their Asam Fish and Beef Rendang are very popular with customers.
How To Get To The Places?
Want to get to these places but don't know how?
Worry not!
You can now travel smoothly with EK 168 Transport – a comfortable and trustworthy private car service that is renowned for its excellent service!
What's more, you wouldn't need to get off the vehicle when crossing the Singapore-Malaysia border for the customs check. Leave your passport to the driver and he will do the work for you.
Also, you'll be pick-up from any point in Singapore to these places in Johor at your desired time.
Our professional drivers ensure your safety with prompt and quality services to fit your needs.
Contact us or book online today, it's convenient with EK 168 Transport!