Sri Tanjung Leisure Farm
Nestled within a picturesque setting of farm, Sri Tanjung Leisure Farm provides a great chance for all of us to appreciate the beautiful nature, get close with various wildlife and learn more about the local tropical plants.
They design various fun activities that bring out educational purposes and relaxation benefits. Besides lightening stress load, these leisure activities aim at sesame the bonding between families, friends and colleagues.
Up until now, the farm has been welcoming many primary schools for day trip tour. Students love the atmosphere here. They learn, have fun and most importantly, they gain knowledge which is beyond the teachings from textbook.
After all, a stay or even a day trip to Sri Tanjung Leisure Farm is rewarding and unforgettable. The memories shared are going to last forever, deep inside your heart.
Attractions in Sri Tanjung Leisure Farm Johor
1. Truck Tour
Upon arrival, the fastest way to get familiar with the landscape of the farm is by taking the truck tour.
There will be a tour guide with you, acknowledging you everything regarding the farm. Be prepared to absorb new knowledge!
Timetable of truck tour:
10:30am
11:30am
12:30pm
2:00pm
3:00pm
4:00pm
5:00pm (last trip)
2. Be Friends With Sheep
Have you ever feed a sheep? You will have lots of fun! Besides, you will learn about the breeding process of sheep too.
If you come a little bit early, you might be able to see the sheep milking process. Although the sheep farm is not as large as UK Farm Kluang but it is another memorable experience at the farm.
3. Mini Zoo
Mini zoo is a favourite place for children. It is rated as the highlight of the farm.
Though the zoo is quite small, it fits many adorable animals such as deer, horses, goats, ostriches, golden pheasant, swans, deers, hedgehog, peacock,  tortoises, rabbits and many more.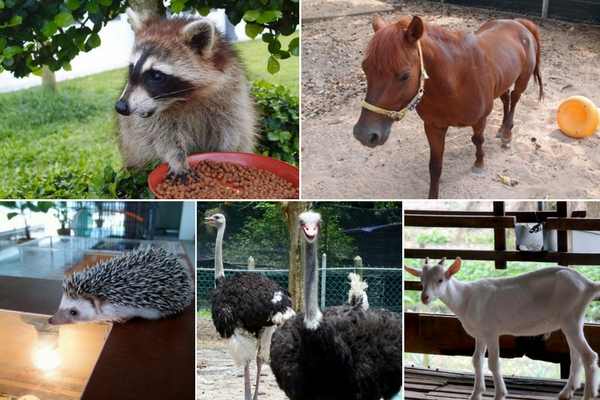 4. Sweet Corn Farm
Grab the chance to gain insights into the planting process and growth process of the sweet corn.
After the explanation from the staff, we can taste the sweet corn grown at the farm. During the harvest season, you can enjoy harvesting the sweet corn too!
5. Pineapple Farm
Be fascinated by thousands of pineapples right in front of your eyes.
The fresh and ultimate yellow pineapple is another highlight of the farm! If you want to learn more about the planting process, the tour guide is on hand to acknowledge all your problems.
6. Oil Palm Plantation
Take advantage of the golden chance to learn how to cultivate oil palms. As you know, growing quality oil palms isn't that easy.
It takes time and energy to look after the large field of oil palm. Hence, remember to appreciate the hard work of workers too.
7. Stone Mill
Instead of merely showcasing the traditional equipment – stone mill, the farm is dedicated to demonstrating us the correct ways to operate the stone mill.
The best way to learn is to do it. You are encouraged to give it a try after the demonstration.
8. Learn To Farm
Mainly designed for children, the farm combines the idea of education and entertainment to offer an ultimate fun learning activity. Using sweet potatoes as the medium, the children will learn how to plant, dig, and even cook the sweet potatoes.
Sri Tanjung Leisure Farm Package
Currently, there are 2 packages offered by the farm. They might come out with new packages from time to time. Stay tuned.
1. Company / Kindergarten / School Package
Price: RM15 per person (at least 15 people)
Package includes:
Ride the Devil Lorry
Animal Feeding (deer, duck, rabbit)
Visit to goat farm
Visit to sweet corn farm
Visit to pineapple farm
2. Family Package
Price:
Adults: RM20
Children (below 90cm): RM18
Package includes:
Ticket of Sri Tanjung Leisure Farm
Animal feeding (1 set/pax)
Truck ride tour
Visit to oil palm
Visit to goat farm
Goat feeding
Visit to mini vegetable farm
Tour guide
Travel Tips On Sri Tanjung Leisure Farm JB
Try the fresh seasonal fruits and fresh goat milk after the tour. It is originally produced by the farm.
The farm is only 15 minutes' drive from Pontian town. Explore the beautiful town if you still have plenty of time.
If you self-drive, the GPS Application on a smartphone – Waze is extremely helpful.
Ask the tour guide as many questions as you can. You will learn a lot from them.
For group visit, advanced arrangement can be made by contacting the person in charge.
How To Get To The Places?
Want to get to these places but don't know how?
Worry not!
You can now travel smoothly with EK 168 Transport – a comfortable and trustworthy private car service that is renowned for its excellent service!
What's more, you wouldn't need to get off the vehicle when crossing the Singapore-Malaysia border for the customs check. Leave your passport to the driver and he will do the work for you.
Also, you'll be pick-up from any point in Singapore to these places in Johor at your desired time.
Our professional drivers ensure your safety with prompt and quality services to fit your needs.
Contact us or book online today, it's convenient with EK 168 Transport!