Fill your holidays moments joy and fun with angling activities, seafood hunting experiences, karaoke party and a lot more in Kukup.
It has been proven as one of the favourite destinations among seafood lovers. Even though Kukup is developing rapidly in these few years, still, it remains its originality as a typical fishing village.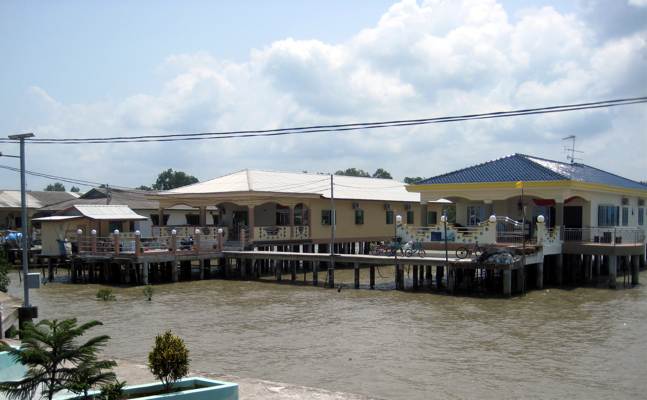 The resorts in Kukup are built over water. A long jetty is the only way that links the resort to land. Therefore, the accommodations offered are often called "On the Water Chalet Houses".
There are many chalets available with doors and windows that open onto the wide blue sea, thus offering unparalleled privacy and serenity.
Both the exterior and interior of the resorts are concisely designed to suit the simplicity of the village.
The rooms come with a television, en-suite bathrooms, complimentary toilet amenities, kitchenette, air conditioning and even karaoke system and mah-jong set for entertainment.
Also read: 15 Best Johor Bahru Homestays
Most of the resorts offer 2 days 1-night tour package which includes transport, lodging and food. However, some impose additional charges on a chartered car to and from Singapore.
For lunch and dinner, there'll be a fantastic seafood treat at the famous open-air seafood restaurant and at BBQ sites respectively. For breakfast, simple yet delightful local dishes are served.
You will be visiting the floating fish farms and experiencing fishing during the tour. At night, simply enjoy bonding time with family or friends through singing karaoke or playing mahjong in the chalet. Here, you will find time passing more gleeful than anywhere else.
1. Kukup Oceanic Sky Resort 海天渔舍
Well-equipped with fun facilities such as Ping Pong table, television (with ASTRO), Mahjong, hammock, karaoke, and automated fishing facilities!
Experience open-air bathroom.
Capture your memory at Mural Art Decoration.
Local Kukup "high tea": Crispy Prawn Fritters, Green Bean Soup, and etc. will be served once you arrive.
Enjoy delicious home cook barbecue/steamboat dinner at the resort!
Cycling in a scenic view in Kukup.
2. The Mangrove Floating Chalet 红树林
Comfortable and clean
Two multipurpose halls for parties and family events
19 rooms which can accommodate up to 80 people and 31 hotel rooms
Fishing is available at doorstep
Karaoke room with wide selection of songs
Boat trip to fish farm and mangrove forests
Seafood meals and seafood BBQ
3. Kukup Ocean Resort 海洋休闲屋
6 well-equipped bedrooms and 4 bathrooms
Meals offered: Breakfast: nasi lemak, malay kuih, mee and many more
Lunch: seafood lunch
Hightea: Homemade fried tofu and fried prawn
Dinner: BBQ seafood dinner or seafood steamboat
Island tour
Local products shopping
Boat trip to mangrove swamp forests
Fishing, playing mah-jong, singing karaoke and riding a bicycle
4. Kukup Seaview 海景休闲屋
Revel in the breathtakingly beautiful view of the sunset from their private balcony!
A lot of indoor activities are available such as toys for young children, ping pong table, darts machine, pool/snooker and etc.
Spacious space for indoor activities.
The meals are included in the package but do not hesitate to contact the boss for special requests.
Three types of units are available: sea view, small sea view and the new sea view.
5. Kukup Asina Resort 龟咯星海度假屋
A new, modern, tidy, cozy chalet at Kukup village.
Boat ride to the resort is included in the package.
Thoughtful amenities: Foosball, dart, mahjong and also karaoke system!
Sitting on their wooden roof furniture (table, chairs, and swing), rejoice yourself with the nice scene.
There is a mini bar in the living room.
Centralize air-conditional helps you to kick away the hot weather!
If you need more activities there, you can purchase Kukup Island Trip Ticket, massage service and also Manicure & Pedicure.
6. Sinar Laut Resort 在水一方冷气度假屋
Cosy and clean.
Suitable for friends and families.
Coffee, tea and mineral water are complimentary.
You are welcome to host a large party here!
Biggest room type can fit up to 32 pax of travellers, but it can fit up to 88 pax if you rent the entire resort.
Night times activities such as firework and release Kongming Lantern.
Ship transport from jetty is available if you are lazy to walk, the fee is RM10 per person.
7. Kukup Soh En Resort 龟咯咸水港全赢度假屋
Resort facilities are suitable for families or friends to get closer!
Seafood appetizing, refreshment, BBQ dinner, local breakfast are all provided to satisfy your taste buds!
Great owner, great accommodation, great service, and great foods!
The popular resort is usually reserved early, do book early to avoid disappointment.
8. Kukup Bay 咸水湾民宿
RM150 for adults and RM100 for children, kids below 4 are free of charge
Rooms are stylishly furnished and well-equipped with modern amenities
Staff are extremely nice and friendly
Special arrangements are made for disabled
Dartboard machines, pool tables and karaoke are available
The water dispenser is available
Wide space for families activities
5 meals per day
9. Kukup Hao Qin Resort 豪勤冷气度假屋
Modern bungalow with well-equipped room facilities
Transportation to the jetty is provided
The scenery offered is perfect for photoshoots
Ideal for family gathering and friends reunion trip
Provides evening BBQ, karaoke system, LCD TV with Astro channel, and mah-jong entertainment
Yacht visit to fishing grounds
Seafood meals provided
10. Kukup Xiang Holiday Home
Located near the end of Kukup
Comes with 8 rooms (4 sea view room & 5 standard room), bathrooms, shared kitchen and balcony
Plasma TV with Hi-Fi, leather sofa and special lighting in living room
Offer recreational facilities such as bicycle rental, fishing, massage and fitness center.
4 meals per day (seafood BBQ and seafood lunch)
Kukup Kelong Visit
11. Tan Castle 陈堡豪华度假屋
A new resort starts operating in the year 2018.
The resort has all good review from customers!
There is a total of 5 spacious and privacy units in the entire resort.
First-floor staying capacity is 48 pax, second floor 72 pax and third floor 26 pax.
Third-floor unlimited sea view unit is a perfect romantic place for you to purpose!
12. On The Sea Kukup Chalet 龟咯海上面度假屋
Located at the corner of Kukup
Transport service is available
Chalet facilities: KTV room, concourse, bedrooms, outdoor and indoor activities area and washrooms
Activities offered: Firework, Fish farm visit, Pulau Kukup National Park visit, karaoke, ping pong, mah-jong, pool game and playing bicycle
Boating sightseeing experience
5 meals per day
13. Starlight Bay 星光灣
RM150-180 per person
New, spacious, clean and comfortable
Can accommodate 60 people and more
Offers cartoon themed hotel rooms such as Hello Kitty, Doraemon and Mickey Mouse
Breathtaking sea views especially sunset
6 meals provided (2 seafood lunch, BBQ, breakfast, supper and hightea)
Kongming lanterns and fireworks
14. Sweet Home Holiday Resort
A few affordable packages include ferry transport to resort
Owns 4 stilt houses and a multi-purpose hall
Large space in front of the house for team bonding activities
Sunset view is extremely stunning
Breakfast, Seafood lunch, hightea, BBQ dinner, and supper
Body massage, foot reflexology, manicure and pedicure are available
15. Love Freedom Kukup Resort 爱自由度假屋
Near to the entrance.
Delicious and sumptuous meals until you will never feel hungry!
Bring your preferred DVDs for more karaoke songs!
Recommended for couples and small family.
Borrow the bicycle from the owner if you want to experience the local life! (Be careful while cycling around the walkway because the road does not has safety fence.)
16. Kukup Hello Homestay & 阿嬷家 Café 珊瑚海民宿
4 cosy and spacious rooms that can stay around 10-25 pax.
They pay extra attention to food and cooking hygiene!
Entertainment Facilities: Karaoke, Mahjong, and etc.
They also own a café at the homestay, is a unique and a special resort at Kukup.
17. Kukup Golden Bay Chalet 龟咯金海湾度假屋
Mahjong, Karaoke, finishing (remember to bring your own gear) and other fun games in the chalet are free of charge!
This chalet is located at the end of Kukup village (~25 mins of walking distance), do contact the owner before arriving at Kukup for them to arrange boat transfer services.
The spacious living hall suitable for company training, school bonding, organization activities or large group team building activities.
Enjoy the beautiful view of mangroves and floating fish farm.
Kukup Seafood
1. New Kukup Restaurant
Fronting the sea, New Kukup Restaurant is the oldest built-on-silts seafood restaurant in Kukup. It's clean, well-maintained and you can even enjoy the stunning sea views while dining in here.
Also read: Ultimate List: Top 65 Best Restaurants in Johor Bahru To Dine in
Whatever seafood you desire, be it plums, fishes, prawns or crabs, you'll find here. The seafood are cooked in various styles of your choice. Appetizing side dished can be ordered here too. Never forget to try their signature drink – iced lime juice with plum, which has a well-blended sour and salty taste.
What to Do in Kukup
1. Play Mahjong & Cards
Mahjong is provided for adults.
No additional charges are imposed at the mah-jong set and playing cards provided.
Feel free to request more sets of playing cards and mah-jong if it's not enough.
2. Karaoke
A cheerful activity which is good to enjoy for all no matter the age.
Can be enjoyed throughout the stay.
Most of the chalets come with VOD computerized Karaoke System.
3. Watching mudskippers & crabs during low tide
Watch mudskippers (walking fish) and crabs in a close distance and discover how they survive, how they move, how they eat and even how they feed on prey.
4. Kelong tour
Visit to Kelong (fish farm) by taking boat from jetty.
Boat arrangement will be made by resort.
Great to fish lovers as lots of fishes can be found here.
Fish eaten at restaurant or BBQ are normally from here.
5. Sunset watching
Sunset at Kukup is considered one of the best in Malaysia.
Numerous ideal spots are offered to watch sunset.
Never forget to take pictures of this beautiful scenery.
6. Fishing at your doorstep
It's possible to fish at the balcony as all chalets are built over sea.
Bring your own fishing rod or pay RM10 to rent one.
7. Visit Pulau Kukup National Park
Located at Kukup Island, the mangroves swamps here are one of the biggest in the world.
Different kinds of flora and fauna can be found.
Entrance fee is RM5 per person.
8. Kong Ming Lanterns
Get to enjoy at a very cheap price if wind condition is favourable.
Originated from China which were used by soldiers during wars.
Write down your wish on lanterns. Who knows, your wish may come true.
9. Seafood BBQ
Highlight dishes: Special Marinated Chicken Wings.
Fish, Otak-otak, Satay, Squid, Fishball, Sausage, Sweet Potato, Prawn Cracker, fruits…
Steamboat dinner is available as well.
10. Fireworks
Enjoy colourful and amazing fireworks with your dear ones at night.
It makes your trip a memorable one.
Enquire the staff to get the fireworks.
11. Body & Foot Massage
Helps you to release stresses.
Leaves you soothed, relaxed and restored.
Some resort does not include massage in their packages, so kindly inform the staff if you need it.
Also read: Top 13 Spa Massage & Wellness Center in Johor Bahru
12. Enjoy local home cooked food & seafood
All the seafood you desire, they can cook for you.
They will cater to your every culinary need.
Get to enjoy home-like dishes and it's extremely delicious.
Seafood can be cooked in various styles of your choice.
13. Nintendo Wii
Book with the resort in advance as they need to prepare for it.
Can be enjoyed alone or in a team based on the games.
Bonding time with friends and family.
Can be tiring as it requires a lot of movements. However, it is an interesting activities.
Kukup Golf Resort
Set within 312 acres of grasslands, Kukup Golf Resort satisfies your joy of golf with their 18 holes golf course.
Atsumi Kawase, an outstanding golf course designer from Japan has designed the panoramic golf course which was inaugurated in 1993. Exciting water hazards, bunkers and unlimited round of golf await you to challenge them.
Kukup Golf Resort is located in Pontian, Johor, which can be reached within 45 minutes' drive from Singapore. Stay at their villas enveloped in lush nature and is well-equipped with modern conveniences to complete your golf fun.
After full day of golfing, dine and rest in their Café Terrace Restaurant. It offers fine dining experience by serving exquisite tastes of local and western delights in its elegant atmosphere.
Besides golf course, Kukup Golf Resort features lap pool, spa, VIP lounge, fitness centre, playground, squash court, tennis court, tennis table and a lagoon pool. Take advantages and pleasure in enjoying the facilities offered. It makes your dream vacation becomes real.
How To Get To The Places?
Want to get to these places but don't know how?
Worry not!
You can now travel smoothly with EK 168 Transport – a comfortable and trustworthy private car service that is renowned for its excellent service!
What's more, you wouldn't need to get off the vehicle when crossing the Singapore-Malaysia border for the customs check. Leave your passport to the driver and he will do the work for you.
Also, you'll be pick-up from any point in Singapore to these places in Johor at your desired time.
Our professional drivers ensure your safety with prompt and quality services to fit your needs.
Contact us or book online today, it's convenient with EK 168 Transport!