1. Private Car from Singapore to AEON Tebrau City Shopping Mall
Want to get to these places but don't know how?
Worry not!
You can now travel smoothly with EK 168 Transport – a comfortable and trustworthy private car service that is renowned for its excellent service!
What's more, you wouldn't need to get off the vehicle when crossing the Singapore-Malaysia border for the customs check. Leave your passport to the driver and he will do the work for you.
Also, you'll be pick-up from any point in Singapore to these places in Johor at your desired time.
Our professional drivers ensure your safety with prompt and quality services to fit your needs.
Contact us or book online today, it's convenient with EK 168 Transport!
2. Public Bus from Singapore to AEON Tebrau City Shopping Mall
Step 1: Public Bus From Singapore to JB Sentral
Unfortunately, direct bus is not available from Singapore to AEON Tebrau City Shopping Mall. You need to take KTM train from Singapore to JB, or bus to JB Sentral and hire a taxi or bus BET6 at JB Sentral to AEON Tebrau City Shopping Mall.
Public transport duration: 2 hours, longer duration needed during the weekend.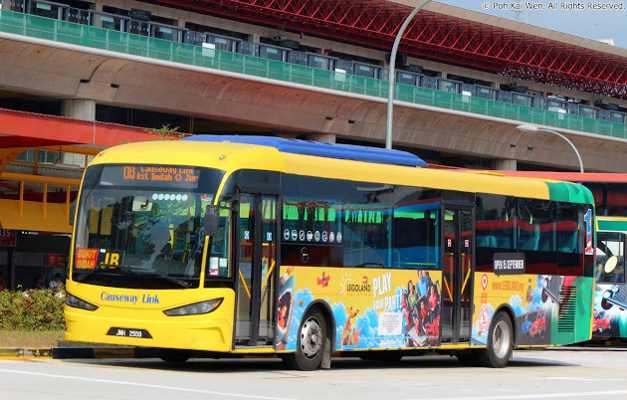 List of bus operator from Singapore to JB Sentral for your reference :
From Woodlands Temporary Interchange: SMRT Bus 950
From Newton Circus: Causeway Link Bus CW5
From Changi Airport: Transtar Bus TS1
From Newton Circus: Causeway Link Bus CW5
From Kranji MRT: SBS Bus 160, SBS Bus 170x, Causeway Link Bus CW1
From Queenstreet Bus Terminal: Causeway Link Bus CW2
From Resort World Sentosa: Transtar Bus TS8
Bus schedule for your reference: Singapore to JB Public Transport Guide
Step 2: Public Bus From JB Sentral To AEON Tebrau City
Once arrived at JB Sentral, you may take buses below to AEON Tebrau City Shopping Mall:
BET6: 6:00am-11:00pm. Interval of 30mins – 60mins
Fare: RM2.50 one way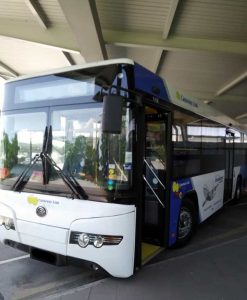 Bus route is not recommended for group travelling as you need to move all your bags and luggage from Singapore to JB checkpoints in the crowd during immigration clearance.
Sometimes custom clearance may consume few hours of your journey depending on the crowd.
Furthermore, if you lost your bus ticket, you will not be allowed to continue your bus journey after clearing Singapore custom.
3. Self-driving from Singapore to AEON Tebrau City
Self-driving is another option which takes about 50 minutes journey in smooth traffic. It may take up at 2 hours during weekend peak hours.
Ensure that you have filled at least 1/3 of your vehicle petrol tank, failure to do so will be fined $500 at Singapore checkpoint.
It will be good to spare RM50 for toll fare in Johor Bahru, and minimum $15 value of cash card. Click here for more info: Singapore and JB Checkpoint toll fees.
What To Do in AEON Tebrau City
1. Shopping in AEON
AEON offers variety shops and boutique which suitable for all age groups. For family shopping, you may find Kaison is a great shop to buy home décor and minimalist items at one stop. It's located very near to IKEA Tebrau Johor.
For ladies, you must not miss Sephora! For book lovers, spend your time in Harris and Popular book stores! Also, get a pair of new outfit at Zara, Dockers, Cotton On!
2. FanPekka Johor Bahru
Let your kids have fun in this huge Finnish indoor theme park, they will be able to explore occupational role play where they can experience how every job is done.
Parents can involve in some of the activities to create stronger family bonds too!
Multi entry is allowed where you can choose to dine out at suggested restaurants below and back to FanPekka after meal.
3. TGV Cinema
You must not be missed to have your favourite movie in AEON Tebrau TGV Beanie hall!
Instead of a common rigid chair, you can enjoy spacious beanbags seat and spend quality movie time with your loves one, each beanbag allows two, definitely a perfect place for a movie date.
Do check out TGV website to make sure your preferred timing and seats are available.
Best Family Leisure Near Tebrau City
1. LOST in JB
Looking for a mysterious and adventurous place to have fun with your friends? LOST in JB will satisfy your inner adrenaline junkie.
The crime scene in escape rooms will thrill you out, you can choose to find out the Bar Murder, Soulmate, Stealth, Legendary Swordman or Doraemon-Nobita's First love.
There is even Annabelle room for those who would want to experience extreme terror!
2. Austin Heights Water & Adventure Park
Austin Heights Water Park has varieties of rides equipment and pools. Scream out loud in the G-Force Alley, experiencing a few seconds of flying moments in the air!
You can also check out Yellow Wall, Rainbow Hood, Supersurf and Racer Bowl ride which will definitely get yourselves adrenaline rush!
Then, excite yourselves in Adventure Park trying the Zip Line and Rope Trapeze.
3. Mini Kuso Trick Art Gallery (Permanently Closed)
Mini Kuso Trick Art Gallery is definitely an insta-worthy spot! Visit this gallery in a group and experience the fun together!
The art pieces in Mini Kuso can trick your eyes. There is upside-down room where gravity seems doesn't apply.
You may also enter murder room where your body seems falling apart. Mini Kuso service is very friendly, the staff will also provide guidance on how to take marvellous picture upon request.
Best Chinese Food Near AEON Tebrau City
1. ZEN Taiwanese Restaurant AEON Tebrau City
Zen is popular with their braised pork rice set, which is the must-try Taiwanese cuisine. You can also try three cup chicken rice set, where the three cups represent sesame oil, Chinese rice wine and soy sauce each a cup.
The set meals come with variety choices of main course, soup, pickled vegetables and dessert.
You must also order a glass of authentic Taiwanese bubbles tea to pair with your meal!
2. Restaurant Gim Cheng (锦成茶楼)
Gim Cheng serves authentic dim sum at very affordable prices. The restaurant is operated in traditional way where all dimsum are served hot in push carts or on trays.
You can just sit back and relax and wait for your favourite dimsum to be serve to your table.
Check out their cantonese steamed custard buns and char siew bao, you will be amazed by the fillings!
3. Yummy Steamboat at Sky Forest
Yummy Steamboat at Sky Forest definitely worth a visit! Enjoy steamboat in the forest themed chilling environment, this is definitely an "atas" experience.
Plenty of food and sauces for your choice, including fresh picked seafood. Set meal for 4 started from RM98.80.
For parents with kids, you can have a relaxing meal here as there is also a children playground for your kids.
Best Thai Food Near AEON Tebrau City
1. Mookata Thai BBQ
Thinking of eating BBQ and steamboat?
You can get both in Mookata! This typical Thai style steamboat presenting food choices such as
marinated chicken and pork slices,
seafood, pork belly, which are grilled on top,
the essence of the BBQ will mix into flavourful tom yam broth at bottom!
Enjoy your meal in the wooden interior design, makes you feel like you are having meal in Thailand!
2. Black Canyon Restaurant
Black Canyon is well known restaurant for its Thai style rice sets and Thai dessert!
Apart of the food, you must also try out their coffee which made from 100% fresh imported coffee beans, including those grown in Thailand under royal patronage.
Do try out authentic thai food such as tomyam soup, pad thai, pad-krav-praw and thai salads too!
Best Japanese Food In AEON Tebrau City
1. Kinsahi Japanese Restaurant, AEON Tebrau City
Kinsahi Japanese Restaurant is well decorated to provide a calming environment for customers.
They have wide selection of Japanese cuisine, including Japanese vegetarian dishes, therefore no worries for those who have vegetarian diets.
In 2013, Kinsahi was awarded "the most distinctive Malaysian style Japanese ramen & creative Japanese restaurant" by Tokyo TV's Japanese cuisine television program.
2. Komugi Japanese Pastries
Komugi café will surprise you with creative bread, cakes, pudding and many more dessert. All pastries are handmade and baked fresh everyday with natural and wholesome ingredients.
Komugi uses bread flours from Japan to ensure the unique texture of their pastries.
The best thing is, Komugi breads are animal fats and derivatives free which is suitable for vegetarians too. Stepping into Komugi pastries and you will be wanting to try all the desserts!
Best Korean Food Near Aeon Tebrau City
1. Chicken Up Mount Austin
Most amazing chicken wings that you can find in Johor. You must try Ganjang chicken wings and Yangyum chicken wings, both fried chicken wings are the most popular dishes.
They are marinated for 12 hours and deep fried at controlled temperature to ensure the juicy and crunchy tecture. Besides, Snow Squid Topokki is also delicious, serving with huge portion of cheese, try it out with mouthful of Korean rice cake, kimchi corns and eggs!
2. Cheotnun Korean Dessert Café
Cheotnun is the best place for those who having a sweet tooth and extra stomach after the main course. They serve generous portion of dessert.
You should try out their most recommended green tea bingsu, mango bingsu and honey toast.
There are also addictive cheesy and spicy Tteokbokki (Korean rice cake) and cheesy sausages for cheese lovers!
3. KOBO Barbecue Mount Austin (烤霸工坊)
There are plenty of choices for Korean buffet BBQ, however KOBO is the few one who provides smoke-free, spacious environment which tops the environment factor.
Don't be surprised to see the restaurant has a very "atas" feel but irresistible price! Meat lover will be spoilt with countless choices from marinated chicken, beef, lamb chops to abundant of seafoods.
You will be happy to see the old school bottled soft drinks! Not to forget to mention ice-cream and chocolate fondue…  Eager to go immediately?
No fret, online reservation service is available at their website to save the hassle of queuing on the spot.
4. Dae Bap Korean Home Meal
A very homely feel Korean restaurant, Dae Bap will amaze you with their top notch food quality with unbelievable price.
Their signature Roasted Beef with Korean Sauce Bento Set, which packs in stainless steel retro container, requires you to shake the closed container to mix the gravy with Korean spicy sauce – some exercise before the meal!
Wide range of creative food selection from Fried Abalone Tomato Mushroom Bento Set to Korean Troops Pot will definitely craze the indecisive!
Best Western Food Near Aeon Tebrau City
1. Morganfield
Need not much introduction, Morganfield's signature American ribs and sticky bones are second to none.
Smoked to every inch of flesh and grill in coal fire into perfection, you will throw aside all the diet plans you have and decide instantly to chomp down the finger-licking-good full platter.
There are also burgers, steaks, seafood or chicken chop as your dining options. After the satisfying main course, do order a set of dessert to make it a perfect meal!
2. Nando's
The legendary flame-grilled chicken tops with signature Peri-Peri sauce needs no introduction.
Choose your desired size of grilled chicken and pair them with your choice of sauces and side orders.
For the brave souls, we challenge you to try HOT and EXTRA-HOT sauce – stay safe and may the chicken be with you. Do order the Sparkling Apple designer's drink to keep you sane.
3. Movida Kitchen + Terrace
Movida means "party" in Cuban street slang and "movement" in Spanish. They serve menu including Italian, Mediterranean, Cuban, Spanish Cuisine & more.
Do try their Clubbers Platter and Flaming Bean Can Chicken, you will never go wrong.
Get some finger foods like BBQ chicken boxing, chicken nachos, etc which gulping few pints of beers. This is how a weekend night should look like.
4. The Atlas Maison
The Atlas Maison features a bright and airy minimalist interior done by a Japanese designer!
You can pore over their impressive magazine section (in multiple languages) whilst you sip on their award-winning coffee by Malaysian Barista Champion, JH Yee.
If you don't know which coffee to order, a safe bet would be their Atlas Signature Blend coffee!
And you might as well, try one of their sumptuous Western-style breakfasts!
Best Dessert In AEON Tebrau City
1. Llao Llao Frozen Yogurt
Originated from Spain, Llao Llao has amazed us with their silky smooth natural frozen yogurt with wide selection of dried and fresh toppings.
We bet you would not leave the place without a cup of Llao Llao! Enjoy your customised cup of frozen yogurt with your choice of fresh fruits and granola!
2. Hokkaido Baked Cheese Tart
How can anyone resist the creamy feel of cheese melting inside one's mouth?
Hokkaido Cheese Tart has taken the crowd with massive long queue when it was introduced.
The pastry is so fragrant and crunchy, and the filling is so cheesy and smooth. You will have different experience of having it hot right from oven or icy cold right from chiller – both just taste heavenly!
Best Café Near AEON Tebrau City
1. Just Want Coffee, The Factory 30
Easily recognized in red building, with the menu is magazine like, it brings this café to another level of experience.
The 2 storeys café is designed with glass wall, creating cosy and relaxing teatime environment.
Coffee lovers will indulge into their house blend of Mandheling, Brazilian, Colombian, and Indonesian. Aside coffee, we like their butter caramel waffle too!
2. Uncle Tetsu Cheesecake
Uncle Tetsu cheesecake hourly fresh baked from their open concept kitchen where you can witness how this worldwide famous cake it prepared.
It was limited to 1 cake per person when during launching due to over whelming response.
Uncle Tetsu cheesecake is savouring when consumed freshly from oven. Taste the rich cheese, eggs and milk aroma at every bite, satisfied yourself with the melt-in-your-mouth texture of the cake.
3. Creamery Boutique Ice Creams Mount Austin
Founded in Thailand, Creamery Boutique is now operated throughout Thailand, Malaysia and Singapore, focusing on small batch production of premium handmade ice cream.
Instead of lava cakes, the ice cream is served with lava cookies. Pairing the fine quality ice cream with lava cookies and brownie at your choice, you will be amazed how the combination surprises you!
4. Missa Cafe
Specialised in French mille crepe cake, serving more than 12 types flavour, you can also choose them to form a 10 in 1 whole mille crepe cake.
Another signature dessert in Missa café is their puff, with crispy skin and tasteful filling of chocolate, match and original flavour.
Besides, you can also book customised fondant cake if you plan to celebrate special day in Missa Café!
Top 6 Hotels Near AEON Tebrau City Shopping Mall
1. JS Hotel
Situated right next to AEON Tebrau City, its location is superb for the shoppers.
Price Starting From:
RM 118 @ SGD40 (including hotel tax and service fee)
Hotel Highlights:
24 hours convenient store within hotel
Wi-Fi access in room
Free parking with securities
CCTV and Security guarded
Laundry services available
Good To Know:
More space in Superior Family room if you are bringing kids.
Request for high floor to avoid noise disturbance
AEON Tebrau, TESCO, and many eateries just a stone's throw away.
Online or call in reservation will be held until 5pm unless guaranteed by cash.
2. The Ardens Hotel
Located 3km from AEON Tebrau Shopping Mall, Ardens Hotel provides 20 tastefully designated rooms that makes your weekends retreats more relaxing.
Price Starting From:
RM160 @ SGD54 (including hotel tax and service fee)
Hotel Highlights:
In room dining service
All day dining area
Free laundry, clothes dryer and ironing facilities.
Games area
Free public parking
Secretarial assistance for faxing, printing and typing of documents.
Good To Know:
For those who love a large bathroom with bath tub, Luxe room is the choice to go.
Rain shower is available in all types of rooms
Luxe Honeymoon package and Honeymoon package are available for those who wants to celebrate their special days in Ardens Hotel
Perisan breakfast package is available starting from RM40 (including GST)
3. Austin Heights Golf Resort
It is located just 5km from AEON Tebrau Shopping Mall and 1.5km from Austin Heights Water & Adventure Park. It has 63 luxury suite rooms for your choice.
Price Stating From:
RM280 @ SGD94 including hotel tax and service fee
Hotel Highlights:
Free access to swimming pool, jacuzzi sauna and steam bath.
American Pool tables, board game room, theatre, gym room, football table, karaoke room at Level 1.
Complimentary breakfast included in every package
Good To Know:
Platinum family suite is 3 bedrooms suite perfect for a family of six.
Premium honeymoon suite, President suite and Platinum Family suite comes with spacious living halls.
4 restaurants available for your dining choices.
4. Midori Concept Hotel
It is situated 4km from AEON Tebrau City Shaopping Mall and only 200m away from Austin Heights Water & Adventure Park. Midori features greenery design in their 45 hotel rooms.
Price Starting From:
RM200 @ SGD67 including hotel tax and service fee.
Hotel Highlights:
Hotel restaurant and café
Airport transfer service
Luggage storage
Complimentary IT corner
Free parking
Security patrol
Laundry and dry-cleaning service
Good To Know:
Walking distance to Austin Heights Water Theme Park
Many eateries nearby
Midori Grandeur Suite, Splendour suites, Passion suite and Majestic suite come with bathtubs.
6 honeymoon and birthday packages with additional charges starting from RM150 if you plan to celebrate special day in Midori Hotel.
5. Hotel Tebrau CT
Hotel Tebrau CT is strategically placed behind AEON Tebrau City shopping mall, only a distance of 800m. 54 uniquely renovated rooms for you to experience different country designs.
Price Starting From:
RM120 @ SGD40 including hotel tax and service fee.
Hotel Highlights:
Variety themed rooms such as Balinese Style, Oriental Style, Malay Style, White Palace Style, Euro Style and Japanese Style
Hotel Café
Non-smoking room
Elevator
Free Wifi in all rooms
Room service
Good To Know:
There is no swimming pool in Hotel Tebrau CT.
Jacuzzi is available in Japanese suite and Euro suite.
Superior 5 rooms can accommodate up to 5 people, Superior Four has 4 single beds, Family suite and Superior three can accommodate up to 3 people, while other choices of rooms allow only 2 persons.
6.  Eight Days Boutique Hotel
It is located 2.6km from AEON Tebrau Shopping Mall and 1.7km from Austin Heights Water Theme Park. Offering 48 rooms over 3 floors, equipped with ionized air conditioning and free Wi-Fi.
Price Starting From:
RM100 @ SGD34 including hotel tax and service fee.
Hotel Highlights:
Event coordination
Bistro Café
Non-smoking room
Laptop friendly safety box
Free parking
24 hours security guard patrol
Good To Know:
For those who loves Jacuzzi, do go for the Platinum King room, available in single and double options.
Families can go for Tatami 4 in 1 room which provides ample space where they arrange the beds on raise floors, gives an exceptional homey feel.