1. Hotel Near Jonker Street
1.1 Moty Hotel
Distance From Jonker Street:
2.1km (12 minutes' drive)
Price Starting From:
RM143 @ SGD$48 (include hotel tax & service fee)
Moty Hotel Highlights:
Complimentary Wi-Fi
Indoor swimming pool complemented with children's pool & whirlpool
Steam and sauna facilities
Floor One Lounge
Fusion restaurant – Mo Tasty
Room Service
LED television in every room
Coffee & tea making facilities
Iron & ironing board
Hairdryer
Good To Know:
This is a fully non-smoking hotel.
The hotel is merely 2 minutes' walking to the shopping malls in town such as Dataran Pahlawan and Mahkota Parade.
Kids under 2 years old can stay for free.
Non-Malaysian who stay here will be charged RM10 for tourism tax per room per night.
Free buffet breakfast is provided.
For those who drive here, parking lot is quite limited but you can request for the parking scratch cards from the hotel staff.
2 minutes' walking distance to Nadeje Plaza Mahkota which serves the famous crepe cake.
1.2 DoubleTree by Hilton Hotel Melaka
Distance From Jonker Street:
4.6km (11 minutes' drive)
Price Starting From:
RM265 @ SGD$88 (include hotel tax & service fee)
DoubleTree by Hilton Hotel Highlights:
Kids club
Outdoor infinity pool
Fitness centre
Sauna and steam rooms.
Makan Kitchen – serves local favourite and international cuisines
Tosca Trattoria Italiana – features al fresco Italian dining
Axis Lounge
Wedding and event facilities
Meeting rooms
Complimentary Wi-Fi
Walk-in rain shower in each private bathroom
Good To Know:
Some suites offer great view of the Straits of Malacca. If you get higher floor rooms, the view is even more beautiful.
This hotel offers wheelchair-accessible rooms with additional amenities like emergency cord, roll-in shower and strobe light.
For big group of friends or family, the hotel offers 4 rooms which are interconnected with a private hallway.
The hotel is directly linked to the Elements Shopping Mall.
There are 3 on-site restaurants and children's menu are available.
You can choose to stay in smoking room or non-smoking room.
Ample parking spaces are available from levels 5 or 6.
1.3 The Rucksack Caratel – Jonker Wing
Distance From Jonker Street:
1.2km (5 minutes' drive)
Price Starting From:
RM182 @ SGD60 (include hotel tax & service fee)
The Rucksack Caratel – Jonker Wing Highlights:
Big Mamas – restaurant specialises in shakes and burgers
Complementary Wi-Fi
Free Continental breakfast
Daily room cleaning
Laundry service (chargable)
Flat-screen TV
Hairdryer
Good To Know:
Smoking is prohibited within the premise or you will be charged up to RM500 for cleaning fees.
The lobby area can cater for events like product launch party, corporate gathering or birthday parties. Just drop them an email and they will plan it for you.
This hotel is within 2 minutes' walking distance to the Christ Church. Private parking area is available here too.
There is a lane behind the hotel if you are looking for public parking space. Parking coupons can be purchased at the reception counter.
Early check in and late check out is available but subjected to availability. However, if you check out late without informing the front desk, a RM50 late check-out fee is charged per hour.
For those who wish to cancel their booking, you have to cancel at least 72 hours before your arrival date. Otherwise, you will be charged at the rate of your first night room.
If you book a room on promotional rate, cancellation is not allowed and the rate is non-refundable.
1.4 Ibis Hotel
Distance From Jonker Street:
1.6km (5 minutes' drive)
Price Starting From:
RM171 @ SGD57 (include hotel tax & service fee)
Ibis Hotel Highlights:
Fitness center
Web corner and Free Wi-Fi access
Bicycle rental
3 function rooms and 1 hall
Spa
Playground
2 on-site restaurants – Ibis Kitchen Restaurant & Lobby Bar Café
Good To Know:
For light sleeper, opt for rooms facing the car park and avoid staying in room facing the noisy road.
Buffet breakfast is provided.
The hotel is wheelchair accessible and they also offer facilities for disabled guests.
Kids menu is available at the on-site restaurant.
Smoking is strictly prohibited in the hotel.
Child below 12 can stay for free using the existing bed.
Extra bed is charged at RM80 per person per night. Maximum 1 extra bed per room.
Tourist tax of RM10 applies to all foreign guests. It is charged per room per night.
Huge parking spaces are available at the back of the hotel.
1.5 Nomaps
Distance From Jonker Street:
800m (3 minutes' drive)
Price Starting From:
RM55 @ SGD18 (include hotel tax & service fee)
Nomaps Highlights:
IT Area which offers computer desktops
Sun terrace
Shared Kitchen
Free Wi-Fi
Self-service laundry
Open-air courtyard
Luggage lockers
Entertainment room with TV and DVD player
24-hour CCTV surveillance
Good To Know:
Nomaps offers Mixed Dorm / Ladies Dorm for both budget travellers and solo travellers.
You need to share washroom and bathroom with other guests.
Complimentary breakfast is provided daily with free-flow tea and coffee.
This hotel offers ground transfer service like transport arrangement to and fro bus terminal and airport.
If you need a towel, it can be rented at the reception.
Only guests under 7 can be accommodated in the private room and stay for free using the existing bed.
Top 11 Hotels In Jonker Street
Plan the perfect holiday to Malacca without stress! We've listed 11 ideal accommodations for your next trip to Malacca! You will truly love the place due to its strategic location as the local eateries and attractions are all within walking distance…..
Top 11 Hotels Near Jonker Street
Looking for the best hotels located near Jonker Street? No worries, we have compiled a list of 11 hotels that are all within 15 minutes from Jonker Street. What's more? Most of the hotels have a spectacular, scenic view of the river and heritage town……
2. Attractions Near Jonker Street
2.1 Villa Sentosa (Malay Living Museum)
Located in Kampung Morten, Villa Sentosa is one of the last remaining traditional Malay houses in Malacca. Opened for visitation, this living museum is perhaps the best-preserved houses in the village.
Built on stilts to prevent flood, the house has a beautiful open-air courtyard to keep it cool all the time.
Inside, meet the old lady – Mrs. Fatimah or Mr. Ibrahim who are kind and friendly to show you around the house. Despite introducing you the historic arte facts, vintage photos and antique furniture, they have lots of stories to tell you.
Even though you can enter this museum for free, you can also make a generous donation in the box to help preserve it for visitation by the future generation.
2.2 St. John Fort
Sitting on the top of St. John's Hill, this fort was once a Portuguese chapel named after St. John the Baptist until it was rebuilt by Dutch into a strong fort, protecting them from local attacks. It has been declared as one of the heritage sites in Malacca.
Facing the sea, the fort which made of bricks and laterite stones features gun embrasures and cannon emplacements. There is only 1 entrance leading you inside the fort where you can find well-preserved cannons. For the walls, it's approximately 10 to 12 feet high and painted in white.
Besides, there are several signboards around which explain the history of St. John Fort. If you stand on the fort's ramparts, you can take in wonderful view of Melaka's skyline which looks extremely stunning during sunset.
2.3 River Walk
Stroll along the paths located on the both side of Malacca River to admire the beauty of Malacca River, well-preserved buildings and mural arts in a slow pace. You can cross the river to the other side via a bridge in the middle.
The whole area has plenty of mural arts which focus on the history and culture of Malacca. These street arts are very easy to get noticed from far, making the whole area a colourful yet attractive one.
Despite being the centrepiece of tourism in the town, river walk is also one of the best morning activities you can enjoy in Malacca. It is recommended to take a walk in the morning as the area will get very busy and noisy after late morning.
2.4 Queen Victoria's Fountain
Located right in the middle of Dutch Square, Queen Victoria's Fountain with more than 100 years history stands as beautiful as ever until the present day. It is said to be the only functioning colonial fountain ever found in Malaysia.
The purpose of building this fountain was to commemorate the Diamond Jubilee of Queen Victoria, with an inscription that reads "Victoria Regina 1837 – 1901". It also represents the glorious days of British colonization in Malaysia.
Since the place is very well-known, you won't have any trouble locating the fountain. Despite providing some cooling under the scorching sun, this fountain also serves as the perfect backdrop for taking photos. Be there early unless you want to get photobombed.
Top 11 Attractions In Jonker Street
Plan an escape to the historic town of Malacca with our list of top attractions. Get the most out of your trip by visiting the top attractions in Jonker Walk! We've listed the best places to visit and to learn more about the culture……
10 Attractions Near Jonker Street
Want to learn more about the unique history of Malacca? Visit the heritage and historic buildings in Malacca to gain cultural insights — the locals will give you a warm welcome! We have compiled a list of 10 essential tourist attractions near Jonker Street that you'll enjoy……
3. Café Near Jonker Street
3.1 Trois by navy
Trois by navy café is one of the hidden gems in Malacca. Featuring a beach theme, the café consists of 2 floors and it is said to the most wonderful breakfast and brunch in town.
Variety of coffees, juices, smoothie bowls, shaved ice are offered here. They also provide all day breakfast that comes with affordable prices. You can enjoy their delicious pasta that comes with different flavours too.
For matcha lover, their Matcha Snow is what you would die for. Topped with generous amount of fine Ujimatcha powder, it perfectly balanced by the sweetness of the milk flavour shavings beneath. At the bottom, it consists of matcha ice-cream which further enhances the combination.
If your group have more than 8 people, it is suggested make a reservation in advance.
3.2 Locahouz
Locahouz promises every diner a pleasant dining experience in a rustic old house – which has many stories to tell. The combination of decent meals, cosy ambience and its vintage decorations has made it one of the most sought-after cafes in town.
Even though the menu does not have plenty choices, they take pride in offering their very own recipes which cannot be find elsewhere. All these recipes are exquisitely created and tastiness is guaranteed. Sometimes, they might come out with hidden menu to give a surprise to you.
Their latte, Malacca coffee and teh are the most favoured drinks here. Their drinks are very creative and you really should try out their durian cheese cake which tastes fantastic. Don't forget to order their pumpkin pao and burgers too. You might be addicted to it and frequently return for more!
3.3 Root Patisserie Cafe
Root Patisserie Café is a humble café that has a simple exterior but the real charm lies at it aesthetic interior, selection of beverages and lovely desserts and cakes. It serves no main dishes but this place is great for tea time or a cool catch up with friends.
If you ask for their signature, their Croissant Bread & Butter Pudding is on the top of my list. The bread pudding itself is buttery and is warmed up nicely. Paired with the cherry compote, the heavenly taste will have your taste bud exploded!
Coffees, cold drinks and desserts offered at Root Patisserie Café:
Espresso
Cappuccino
Mocha
Latte
Americano
Passion Fruit Yogurt
Flower Tea
Warm Brownie
Tiramisu
Macaron
Crème Caramel
Waffle
3.4 Nadeje Cake House
Famed for the handmade Mille Crepe, Nadeje Cake House is definitely the must-go cafes in Malacca. Using only the freshest ingredients where most of them are imported from Japan, all their crepe cakes are preservative free and are freshly made of the day.
Their Mille Crepe are served in a slice and it has wide range of flavour. This French dessert boasts alternate layers of cream and crepe and you can even choose to have alcoholic ones or non-alcoholic ones. Best of all, it is not overly sweet in taste.
For lunch, the café also offers locals favourite dishes such as Fish & Chips and Japanese Curry Rice. Desserts like cup desserts, tarts and macarons are available too. However, don't get yourself too full, it is recommended to have Mille Crepe right after your lunch to add a little sweetness to your mouth.
11 Best Cafes In Jonker Street
Coffee-lover, café-hopper or just a lover of all café, you'll not want to miss the aromatic brew and delicious eats!  Experience the local cafés of Malacca with our list of the best cafés in Jonker Street. Each café offers a unique experience with different themes and concepts; from a rustic westernize style to a tropical rainforest-themed. Touring the local cafés will certainly be an unforgettable experience……
4. Restaurant Near Jonker Street
4.1 Bulldog Melaka
One of the best Nyonya restaurant in Malacca – Bulldog, serves exceptional pork free Nyonya dishes in a spacious yet comfy environment. The place serves alcohol too.
At Bulldog, a bowl of Nyonya Laksa comes with creamy base which is rich in the flavours of different spices. If you find the taste is very light, the accompanying chilli paste can add more flavour to the broth.
Not to forget their Pongteh – chicken stewed in soy bean sauce too. It has a very thick taste and a very unique sweetness which comes from the caramelized gula melaka. For the chicken, it was cooked to ideal tenderness and the portion is very big.
For side dishes, you can enjoy their popiah which has a soft skin and generous filling. Some of the customers find their desserts like cendol and ice kacang very delightful.
4.2 Botanist Veggie Cafe
If you want to find a restaurant in Malacca selling healthy and delicious dishes, Botanist Veggie Cafe is the right place for you. This is a vegetarian restaurant that offers myriad of Malaysia and western food. No artificial colouring, no preservatives and they only use organic ingredients in making all dishes.
The environment is fully air-conditioned and it features warm contemporary interior design. On the menu, never forget to order their signature Japanese fusion dish – Nyonya Curry Ramen. It comes with a spicy broth which is very saturated. Yet, it goes very well with the springy ramen.
Other than that, their veggie rolls are not to be missed. Packed with crunchy and healthy vegetables that wrapped by a thin skin, the dish is going to burst with tastiness in your mouth.
Other highlight dishes include Vege Bah Kut Teh, Vegetable Curry and Lei Cha Rice.
4.3 Pak Putra Tandoori & Naan Restaurant
Enjoy the authentic Pakistani cuisine in Malacca at Pak Putra – which offers delightful naan and tandoori. Both of these dishes are cooked using the special earthen ovens located at the outside of the restaurant.
For naan, they have garlic naan, potato naan, butter naan, cheese naan, onion naan and they can even combine some of these together. A secret for you, their garlic cheese butter naan has a heavenly taste and you would definitely long for more!
For the Tandoori Chicken which comes in red colour, the taste is simply awesome and the marinade is well-infused into the tender meat. The portion is quite big and you can dip it with the mint sauce provided for a more satisfying taste. It is best to be enjoyed with their nasi briyani.
However, expect a long waiting time as the restaurant is often crowded.
4.4 Manis J Nyonya
Here's another pork-free Nyonya Restaurant in Malacca – Manis J Nyonya. With the furnishing resembling the Peranakan house, it offers you a home feel that makes you feel like are dining in a real Peranakan's home.
Once you get your seat, you will be served a plate of crunchy keropok. When placing the order, do not forget to order their the most highlighted dish – Ayam Buah Kelauk. Stuffed with variety of Peranakan spices, it goes very well with white rice.Besides, the bowl of dish is enough for 2 persons.
Apart from that, many customers love their fried Chilli Fish which was generously lathered with tangy Nyonya chilli sauce. For seafood, you can have their sambai petai udang which boasts nature sweetness of prawns and perfectly paired with the little bitterness of petai.
After the meal, fill your second stomach for dessert with their cendol where your taste buds will be very pleased by the taste of fresh coconut milk and gula melaka mixing together.
4.5 Restoran Selvam
Searching for spicy South Indian food like banana leaf meal? Restoran Selvam which located at the Little India will never disappoint you. Set against a typical kopitiam setting, this restaurant might look simple but their food will leave you in awe.
If you are here for breakfast, the menu offers you great selection of roti canai that comes with different flavours. Nasi lemak is available too. It comes with small dry fishes, egg and big amount of spicy sauce.
For lunch, Delightful dishes are on display for customers to choose. For instance, mutton, chicken and different kinds of vegetable that cooked in spicy sauces. Then, the food you ordered will be served upon you on a banana leaf instead of a plate. You can also order Thosai, Chapatti and Idli.
12 Best Restaurants In Jonker Street
Malacca is a gastronomic town in Malaysia and looking for the ultimate delish can be strenuous. But no worries! We're here to help you decide where to eat! We've listed 12 different restaurants in the area that have earned top recommendations. Not only do these restaurants serve delicacies enjoyed by the locals, but there's truly something for everyone……
5. Jonker Street Food
5.1 Nadeje Cake
If you enjoy having Mille Crepe Cake that comes with endless layers, you will definitely fall in love with Nadeje Cake. This is actually a classic French cake which consists of many layers of thin crepes and each separated by pastry cream. It requires no baking process.
At Nadeje, all the Mille Crepe are handmade using the finest ingredients are imported from Japan. It also comes with alcoholic cakes and non-alcoholic cakes.
These Mille Crepe comes with selection of flavours, which include:
Original
Green Tea
Banana Chocolate
Royal Milk Tea
Orange Chocolate
Mango Yogurt
Café Matcha
Berry Berry Strawberry
Lemon Cheese
Rum & Raisin
Tiramisu
Double Chocolate
Strawberry Chocolate
5.2 Cheese Prawn Beehoon
Cheese inspired dishes always make us drool – and now there is one right in Jonker Street. Inspired by the Lobster Cheese Noodles in Hong Kong, this Cheese Prawn Beehoon was created and has successfully become the must-try dish in the town.
Crowned with big prawns which are plump and fresh, you can savour its nature sweetness together with the beehoon rich in creamy cheese and egg taste.
Even though the dish is rich in cheese flavour, the taste is not overwhelming even after a few mouthfuls. Besides, the cheese goes very well with the watery gravy and the overall creaminess is just at the right amount.
5.3 Nyonya Cake
Also called Nyonya Kuih by the locals, Nyonya Cakes are the traditional kuih made by the Peranakan ethnic in Malacca. There are endless types of cakes you can have and each offers you a unique and delightful taste.
Besides, all kuih comes with very cheap price. You can have several delicious kuih for less than RM10. It's great to bring them home as gifts to friends or family.
Below are some of the Nyonya Cake you can have in Jonker Street:
Lepat Kacang
Pineapple Tarts
Sambal Udang Kering
Nyonya Kaya
Nyonya Chang (dumplings)
Curry Puff
Kuih Kochi Putih
Pulut Tekan (Kaya)
Kuih Koo Merah / Hitam
Kuih Lapis
Ondeh-ondeh
Kuih Abu Sage
5.4 Roti Nachos
Roti Nachos is like a localised pizza which has roti canai as its base. For the toppings, it has minced chicken, raw purple cabbage, green, yellow and red capsicums and a load of mozzarella on top of all.
With the generous amount of cheese and minced meat, the plate of Roti Nachos even comes with a very cheap price.  Despite the cheap price, it tastes heavenly and if you are a pizza lover, you definitely fall in love with this creative yet innovative in Jonker Street.
5.5 Duck Noodle
If you want to have something simple but delicious at the same time, Duck Noodle is the one for you.
A bowl of Duck Noodle is very comforting and warm, and the nicely braised duck offers a tender meat to spruce up the meal.Just like a typical bowl of noodles in town, you can choose to have duck noodles in dry version or soup version.
No matter which you choose, you can still enjoy the braised duck broth which is nicely cooked with herbals.The taste is very comforting and somehow you will find the taste to the Bak Kut Teh.
Top 13 Food To Eat In Jonker Street
Looking for a yummy delight of alluring taste in Jonker Street? Our list got you covered with the most sought-after food in the area! There's something for everyone, from local delicacies and desserts to burgers and Indian food. Our list will help to satisfy every foodie's cravings……
6. Jonker Street Shopping
9 Places To Buy Souvenirs In Jonker Street
DO you wish to bring home mementoes of your precious travel? We're here to take the hassle out of souvenir shopping with our list of the most desired souvenir shops in Jonker Street. This is a great way to share your experience of your trip with your friends and family……
7. Jonker Street Nightlife
7.1 Barlacca Lounge Malacca
Take a sip of wine while enjoying the beautiful view of Malacca River in a tranquil environment at Barlacca Lounge Malacca.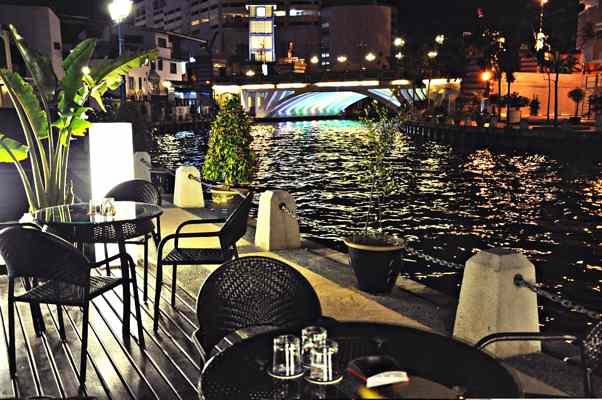 It serves drinks in 2 completely different atmospheres – the indoor air-conditioned area and the outdoor alfresco zone, both are the perfect place to escape from the hustling city for a little while.
For alcoholic goers, Barlacca Lounge serves selection of alcoholic drinks including spirits and beers. For guest who doesn't want to have alcoholic drink, you can opt for the in-house beverage.
If you have no idea what to order, their staff will be very friendly to recommend you some drink suggestions. You can also chat and make friends with them.
How To Get To The Places?
Want to get to these places but don't know how?
Worry not!
You can now travel smoothly with EK 168 Transport – a comfortable and trustworthy private car service that is renowned for its excellent service!
What's more, you wouldn't need to get off the vehicle when crossing the Singapore-Malaysia border for the customs check. Leave your passport to the driver and he will do the work for you.
Also, you'll be pick-up from any point in Singapore to these places in Johor at your desired time.
Our professional drivers ensure your safety with prompt and quality services to fit your needs.
Contact us or book online today, it's convenient with EK 168 Transport!