5 Best Attractions In Gelang Patah
1. Legoland Malaysia
Featuring both theme park and water park, Legoland Malaysia is going to hit you with ultimate fun with your loved ones!
Divided into 8 themed sections, the theme park itself has so much to offer. With different kinds of children-friendly rides and lego activities provided, children find it really exciting in exploring the theme park. They can be a small pilot or even the king of the empire at Lego Kingdoms!
While for the water park, there are over 15 water attractions where children can enjoy splashing fun to the fullest. From water slides, wave pool to lazy river where they can just drift around, it is truly a memorable experience which make their childhood a pleasant one.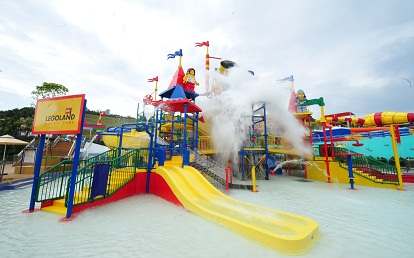 Take note that the water park is separated from the theme park by the Legoland Hotel. Both are accessed by different tickets.
2. Kuda House Equestrian Centre
The one and only horse riding centre ever found in Johor Bahru –Kuda House Equestrian Centre offers top quality classes approved by MEM/NCAS for both adults and children to learn horse riding in a friendly and relaxing atmosphere.
With merely 15km from Tuas Checkpoint, this is the nearest horse riding centre to Singapore. Set across 20 acre of multipurpose field, it provides a fun and safe environment to everyone regardless you are first timer or experienced rider.
From fun ride, riding class, lead trail ride, horse schooling to stable management course, KudaHouse offers all of them.The sport is a little bit challenging but you will learn how to take good care of the horse and the ways of creating bonding with them.
If you come as a large group, do notice the centre in advance for further arrangement.
3. Forest City Gelang Patah (森林城市)
Built with of 4 man-made islands, the development of Forest City has created a luxury and nature blend environment, making it a paradise of nature. Everything in Forest City is new and modern, which makes us feels like another small Singapore in Johor.
The charm of Forest City lies at its free admission to their large beautiful swimming pool and children-friendly water playground.
If you were here on weekday when there are fewer visitors, you own the entire pool! A kind reminder is to wear swimming suit or the staff will ask you to leave.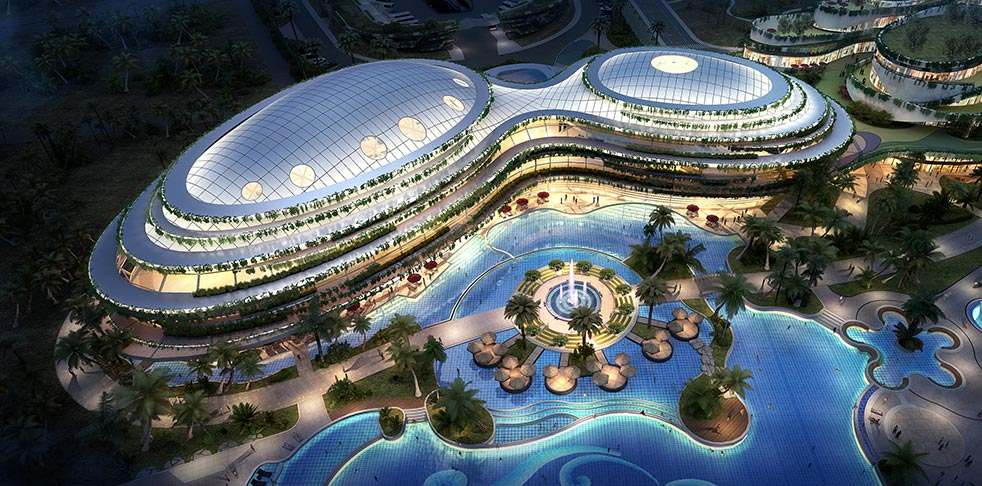 After having fun at the pool, take a shower and get ready to be fascinated by breathtaking view of sea. Take a stroll along the beach right beside the swimming pool. You can even go for adventurous ATV ride at the beach.
Water sports like stand-up paddling, water walking, jet ski and banana boat are offered too. Remember to take lots of pictures as remembrance!
4. Mall Of Medini
With the high street setting, Mall of Medini stands as the premier lifestyle entertainment and retail shopping centre in Johor, serving as a gateway to Legoland Malaysia.
Decorated with exquisite art works, the shopping mall is elegantly painted with graffities in a cosy atmosphere. It offers variety of brand outlets and establishments to offer a unique shopping experience.
Lots of food and beverages outlets can be found here. From KFC, Old Town Café, Burger King to Kenny Rogers Chicken, you are very encouraged to dine here instead of inside the Legoland because the food price here is much cheaper.
If you are staying at Legoland Malaysia Resort, this mall is very near to it. There's even a 24-hour convenience store to satisfy your midnight craving. However, do take note that most of the stores only accept cash. Do bring enough cash while you do the shopping here.
5. Sireh Park Iskandar Puteri
Sireh Park is a big scale leisure park consists of 7 small hills. There are over 150 different kinds of trees and over 500 roses around, decorating the park in the most beautiful way. With a gorgeous botanical garden, the park also attracts geographical experts as well as botanist to do research.
By offering variety of facilities for jogging and leisure sports, locals always spend their evening here jogging or cycling around through the jogging track. Children will always have lots of fun roaming around the park.
Besides, every place in the park turn out to be the perfect backdrop of an Instagram picture. Sometimes you find girls taking pictures or selfies non-stop. Remember to fully charge the phone's battery!
7 Best Food In Gelang Patah
1. Chua Kee Seafood (蔡记海鲜楼)
Stand as one of the oldest Chinese restaurant established in Gelang Patah, Chua Kee Seafood is truly a heaven for seafood lovers. Despite serving their most signature dishes – black pepper crab, the restaurant also serves pork, vegetables, seafood, chicken and noodles that cooked in various style.
The Black Pepper Crab is almost present on every table. Although coated with strong black pepper gravy, you can still enjoy the naturally sweet flesh once bitten. You can have them all very quickly as the chef already helped us to crack open the shell.
Never ever forget to order a big bowl of clam soup too. There are endless fresh clams inside the fish bones stock. The milky savoury taste is going to warm your soul and open your appetite.
If you want to order vegetables, their stir-fried assorted vegetables and string beans are highly recommended.
2. New Chua Kee Seafood Restaurant (新蔡记海鲜楼)
New Chua Kee Seafood Restaurant is the new branch of Chua Kee Seafood Restaurant opened in Gelang Patah. From fresh seafood like fishes, crabs and prawns, delightful pork, chicken to different kinds of vegetables, it has it all.
The dishes can be ordered in different sizes at your choice. Salted egg crabs and honey chicken wings are their must-try if you are dining here. Other highly ordered dishes include hot plate nyonya bean curd, butter pork and steamed fish.
For drinks, we recommend you their homemade herbal tea which has a very refreshing taste. Remember to ask the waiter for the recommended dishes of the season too!
3. Restoran 777
Restoran 777 is a big hawker centre serving authentic Malaysian cuisine in al fresco setting. Here, you can find endless stalls, offering variety of delicious food under one roof, which includes yong tau foo, rojak, bak kut teh, char kway teow, seafood fried rice and many more.
One of the recommended dish is the BBQ stingray which dipped in sambal chili sauce. They even offer delightful squid that baked in Portuguese style, making the hawker centre a great place for food hunting.
Every night, Restoran 777 is crowded with locals of all ethnics coming over for dinner. More tables are set up on the road to accommodate vast crowd.
4. Tea Garden Gelang Patah
Dedicated in serving Nan Yang dishes and beverages, Tea Garden Gelang Patah has successfully preserved the authentic taste of these delicacies, aiming at passing down the unique heritage of Nan Yang to future generations.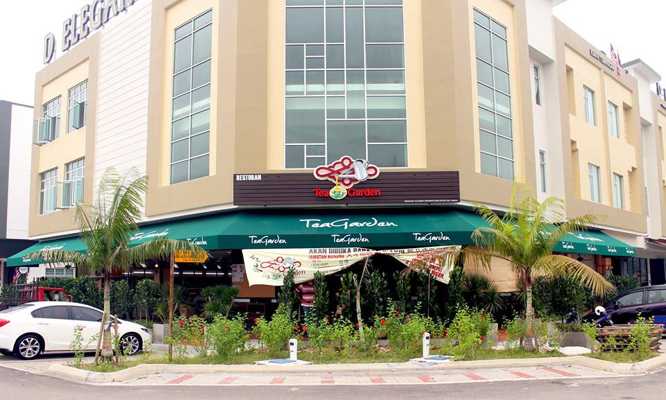 Despite serving Nan Yang dishes, with 37 outlets in total, Tea Garden serves over 200 dishes ranging from street food, western cuisines, dim sum, hot in wok to Malaysian's all-time favourite. With their own secret recipe, surely you will find one that meet your appetite.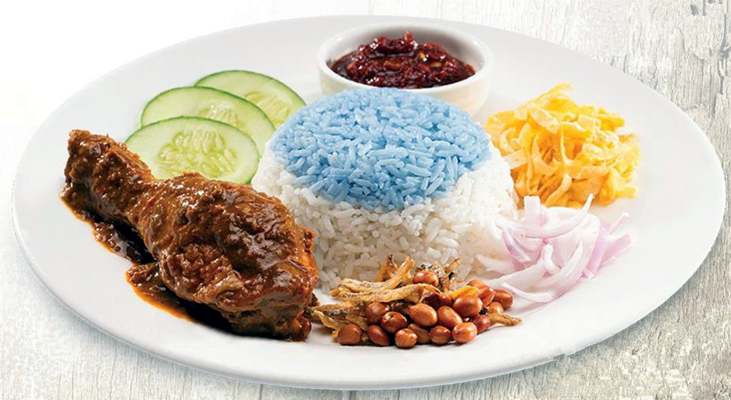 The place is suitable for either breakfast, lunch, dinner or even supper. Besides, the prices are affordable too!
5. Restoran Tian Lai (天来海鲜)
Another famous seafood restaurant in Gelang Patah falls on Restaurant Tian Lai. The restaurant is easily located because there will be crowd and cars at dining hours every single day.
Recommended seafood here would be their chilli crab with tangy and savoury sauce. It is a children friendly dish as it is not overly spicy and has a rich egg fragrance. Don't forget to try out their steamed Ikan Patin which comes with natural sweet flesh too.
For the sambal sotong, it is stewed with many ingredients and it tastes a bit likely Nyonya dish. What I can say is that you really can feel the freshness as the sotong is extremely elastic and rubbery!
6. Wee Hoi Kopitiam & Pau (惠海咖啡店)
Operated for 3 generations, Wee Hoi Kopitiam & Pau serves different kinds of homemade buns in a small humble shophouse. The business is extremely good because there are lots of pre-order takeaway every day.
With generous fillings, each snowy-white bun has excellent bite where you will feel a lively bounce in mouth. If you prefer meat bun, I'm pretty sure all locals will recommend you their braised pork belly bun which comes with a balance stuffing of fat and meat.
Together with their freshly brewed coffee that gives off a distinctive aroma and soft boiled kampung chicken eggs which offers better texture than ordinary eggs, it makes a perfect breakfast to kick start your day.
7. Kafe Rasa Ria Gelang Patah
Set against a cosy environment, Rasa Ria is a Malay café offering authentic Malay food, Indonesia food and western cuisine at cheap price. It also has an outlet at Pontian.
Many ordered their turmeric fried chicken rice as their signature turmeric chicken is extremely flavourful. Typical Malay food like rendang chicken and nasi lemak are well-cooked to perfection, while their fried mee and fried bee hoon comes with generous portion.
Pair your meal with some side dishes too. From breaded crispy prawn, steamed chicken dumping, fried octopus ball to steamed bun, Rasa Ria has it all.
Top 2 Gelang Patah Hotel
1. D Elegance Hotel
With a core aim to offer great night's sleep at great price, D Elegance Hotel features 56 spacious guestrooms well-fitted with modern amenities. Best of all, the hotel is merely 10-minute drive to Legoland, Hello Kitty Town & Puteri Harbour.
Price Starting From:
RM83 @ SGD$27 (include hotel tax & service fee)
Hotel Highlight:
Lift
Coffee shop
Game room
Airport transfer
Car rental service
Function room
Facilities for disabled guests
Lounge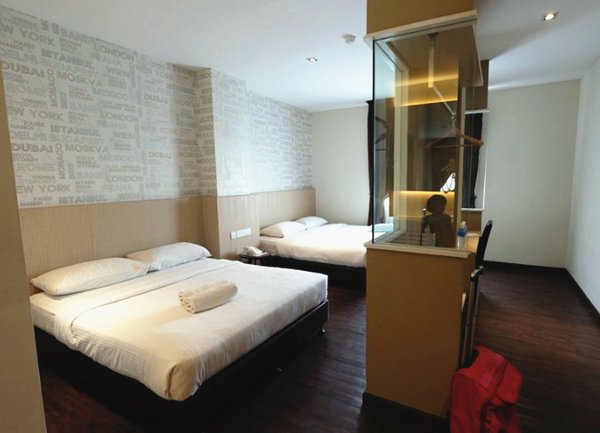 Good To Know:
The hotel is 15-minute drive from Tuas Second Link Singapore.
You will be charged if you make a cancellation within 7 days prior to booking date.
Some room which has no window is cheaper.
There is no shopping centre nearby but there are lots of eateries around.
Breakfast is not provided.
For light sleeper, avoid rooms facing the main road.
Safety is highly guaranteed because there are 24 hours CCTV and security patrolling. Besides, no one can enter the lobby without a key card after midnight.
2. Natura Hotel
Natura Hotel is an elegant boutique hotel offering 42 different guestrooms to meet your every need. Featuring green and wood concept, the hotel is simply relaxing and cordial for travellers. All rooms are very clean and beautifully designed in modern yet classic style.
Price Starting From:
RM96 @ SGD$32 (include hotel tax & service fee)
Hotel Highlight:
Facilities for disabled guests
Elevator
Car Park
Family room
Daily housekeeping
Free Wi-Fi
Good To Know:
Eateries, prominent landmark of Johor, Legoland Malaysia are within proximity.
Ironing facility is available upon request.
There is a car wash service opposite to the hotel. Rooms affected could be noisy.
Single room is available for solo traveller.
The hotel has a cancellation policy which is they will charge you the first night's rate if you fail to show up at arrival date.
How To Get To The Places?
Want to get to these places but don't know how?
Worry not!
You can now travel smoothly with EK 168 Transport – a comfortable and trustworthy private car service that is renowned for its excellent service!
What's more, you wouldn't need to get off the vehicle when crossing the Singapore-Malaysia border for the customs check. Leave your passport to the driver and he will do the work for you.
Also, you'll be pick-up from any point in Singapore to these places in Johor at your desired time.
Our professional drivers ensure your safety with prompt and quality services to fit your needs.
Contact us or book online today, it's convenient with EK 168 Transport!