2 Recommended Itineraries For Batu Pahat One Day Trip
 Route 1: Segenting Chong Long Gong Temple -> Lovers' Bridge ->Jalan Minyak Beku (Dinner) -> Old Street Commercial Area Batu Pahat
Route 2: Uncle Lim's Farm ->Batu Pahat Town -> Old Street Commercial Area Batu Pahat
10 Attractions In Batu Pahat
1. Batu Pahat Town
1.1 Lovers' Bridge (石文定情人桥)
Looking for an Instagram-worthy shot? The views at Lovers' Bridge in the evening will treat you a gorgeous sunset view. It is so serene and peaceful to have a romantic walk right here with your loved ones. Definitely a wonderful place where couples will fall in love with.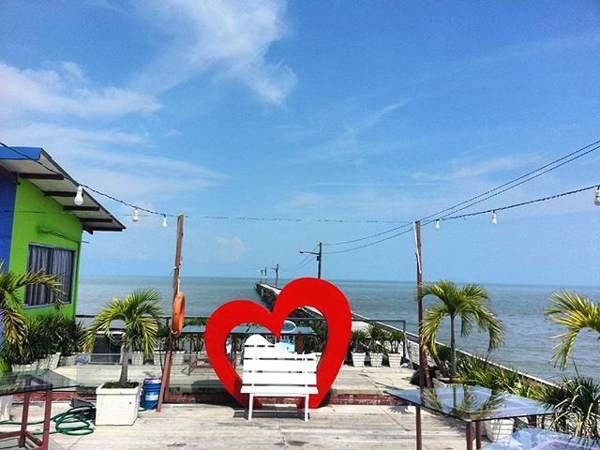 Located by the Lover Bridge Resort, the bridge was once a fishing pier where local fishermen catch seafood every day. Though the wooden bridge had renovated to lime bridge, the wooden deck still retained, offering a nostalgic ambience.
Some locals even believe that if a guy and a girl take a walk along the bridge, they would fall in love with each other. Though this is just a belief, the place is still a breathtaking spot for beautiful sunset.
1.2 Segenting Chong Long Gong Temple (石文丁崇龙宫摸鱼大伯公庙)
Segenting Chong Long Gong Temple a very famous temple that receives lots of tourists every year. In the past, most of the locals work as fishermen. They often come here to pray for safety before setting off to the sea.
The temple is home to many deities like Da Bo Gong, Mazu (goddess of the sea) and Dragon King of the sea. You can take pictures with the statues of deities around the temple.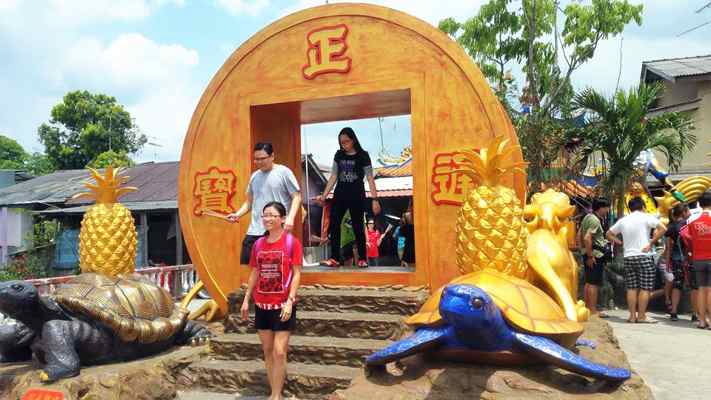 The main attraction of the temple would be the arapaima fish pond for fish-touching experience. Locals always believe that whoever touch them in temple, they will be blessed great prosperity and fortune throughout the year. Some also believe that the fishes will make you wish come true too!
2. Batu Pahat Street Mural Arts
Recent years, mural arts that pops up continually in Batu Pahat neighbourhood has become one of their main attractions. Despite beautify the old buildings, the mural arts have successfully turn the streets into a more scenic area for tourists.
All of them are depicted by local artists, showcasing their ultimate talent and creativity. Mostly, the arts boast about the culture and lifestyle of locals. Nostalgia takes over the locals that whenever they look at these mural arts, the drawings keeps reminiscing them about the good old days.
Location:
The Journey – Jalan Idrus/Jalan Pasar
Graffiti Art – Jalan Kelab
Old Tree Renovation – Nan Ya Kopitiam, Jalan Soga / Jalan Sultanah
Brother and Sister Ride Bicycle – Kou Foo Siang Siang, Jalan Rugayah Utara
BP Creative Cartoon Bus Stop – Jalan Bukit Pasir
Minions' Posts – Jalan Puteri Jaya 19, Taman Puteri Jaya
Grandpa & Grandma – Jalan Jelawat, Taman Banang
The Aroma of Grape – Jalan Penggaram
Little Girl Posts Letter – Jalan Setia Jaya Utama, Taman Setia Jaya 2
Go Green MPBP – Jalan Murni 10, Taman Murni
Aunty Picking Herbal Leaves – Kou Foo Siang Siang, Japan Rugayah Utara
Teh Tarik – Jalan Ibrahim / Jalan Engan
3. Batu Pahat DIY Playground (DIY 乐园)
Have you ever been to playground where all the recreational facilities were made of recycled materials? Bring your children to Batu Pahat DIY Playground and get fascinated by the creativity of locals. It's free of charge!
The DIY Playground boasts 20 types of typical recreational facilities, ranging from see saw, slides, pirate ships to slides. It even features a simple Flying Fox for children to enjoy.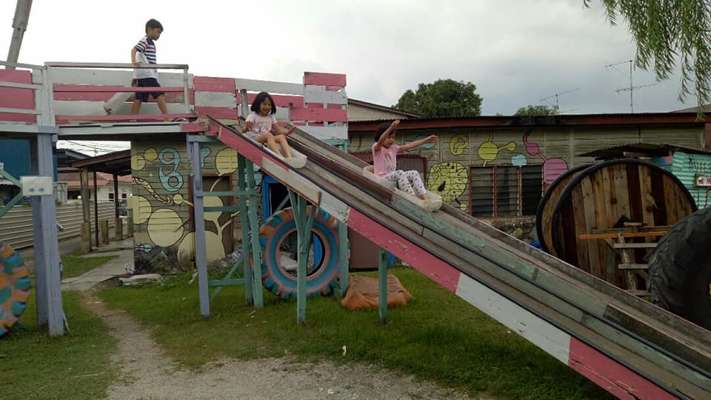 Aimed at bringing happiness to children, Tan Ching Swee, the major contributor of this playground, had used 8 years to design and build the recreational facilities that surely make every kid scream of. He even made the playground a perfect spot for to hold barbecue or birthday party.
4. Old Street Commercial Centre (老街坊)
Featuring a splendid skywalk where you can enjoy wonderful view, Old Street Commercial Centre is a specially designed building that serves as the landmark of this humble town. If you wonder, there are 2 entertainment places lie within the building.
4.1 The Creator Gallery (手动模式亲子概念馆)
The Creator Gallery is truly a place for family with kids. Set against a warm and safe environment, it provides inspiring yet creatives activities for family bonding time. They hope all parents can realise the importance of "company" while raising the kids.
The activities are mainly fun games where parents and kids can play together. By guiding and accompanying their children to complete the tasks given, the children will feel more loved and connected with parents.
There is also a creative gallery where participants can make simple DIY projects. In case the children feel tired, parents can bring their kids to leisure area to rest.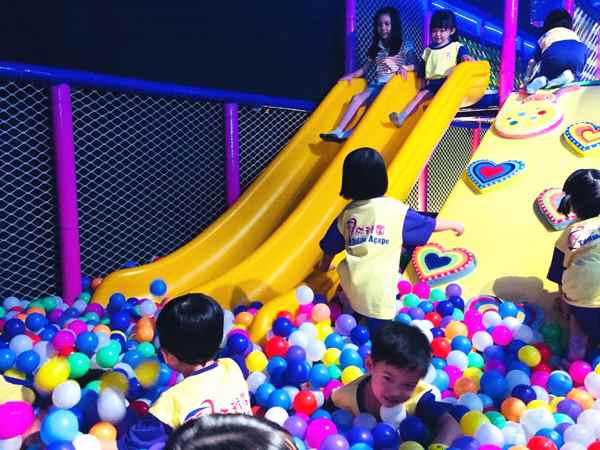 4.2 童话主题乐园
Straight out of fairy tales, this is the dream place of every little girl. With colourful and stunning LED lights, it transforms into a magical place at night, offering you surprise at every single corner.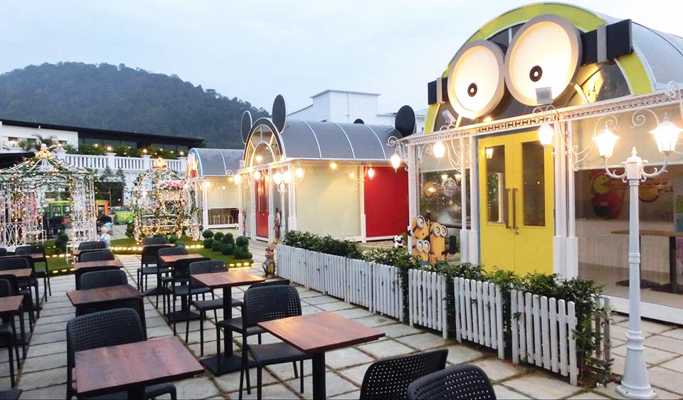 Once entering the park, you will see different kinds of cartoon-inspired shops such as Doraemon shop, Micky mouse shop and Minions shop. It even showcases Cinderella pumpkin car and Snow White and The Seven Dwarfs.
In addition, there is playground area where kids can enjoy playing merry-go-round, children's sports car and dolls. Surely they will have a wonderful time here.
You'll be eager to take pictures with all these cute cartoons around. Hence, don't forget to fully charge your phone before going here.
5. Wet World Batu Pahat Village Resort
Beat the tropical heat and be ready for splashing wet fun in Wet World Batu Pahat Village Resort! Set across 44-acre of land, it serves as the only water park in Johor. Featuring water play areas such as lazy river, wave pool, mini waterfall and many more, it is sure to offer you the most awesome water thrill experience.
Apart from water activities, fishing enthusiasts can enjoy fishing while others can enjoy boat paddling at the lake. Fishes available here are Rahu, Patin, Ketutu and Jelawat. Before leaving, remember to go to the Treasure Shop to shop for souvenirs for your special ones.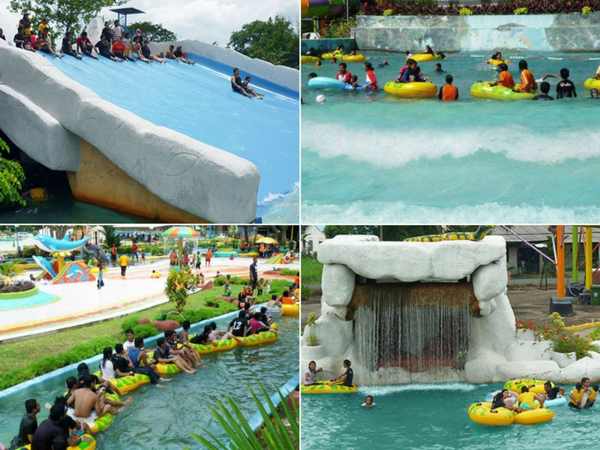 6. Wet World Glow Park (Permanently Closed)
After having splashing fun at the water park, consider relaxing yourself at the Wet World Glow Park, the first and only glow park in Johor. With the display of millions of colourful lights, a leisure walk here when sun sets truly offers you an amazing experience.
If you enjoy talking pictures, you definitely have to come here. When comes to light, the glowing animals and flowers looks extremely stunning in photos. Surely you will take pictures non-stop until the battery dies.
Besides, the glow park attracts lots of couples since its opening. Nevertheless, the place is loved by children too because the glimmering lights look so magical like those in fairy tales!
7. Dataran Penggaram Batu Pahat
Being one of the must-visit landmarks in Batu Pahat, Dataran Penggaram Batu Pahat is a big town square that depicts the origin of the name of Batu Pahat. The standing sculpture of hand chiselling the stone is the most prominent feature here
Every year, locals would come over to celebrate events like Hari Raya, National Day and Chinese New Year. While on normal days, locals will come over for an evening walk. Sometimes you will hear laughter from children who enjoy flying kites here.
If you are looking for a place to cycle and jog, this would be the most ideal destination in Batu Pahat.
8. Taman Rekreasi Tasik Y Batu Pahat(莲花湖休闲公园)
After a long tiring day exploring Batu Pahat, a visit to Tasik Y could help rejuvenate your mind, body and soul. Besides, a big refreshing bowl of cendol at the stalls beside is perfect to get your energy level boosted!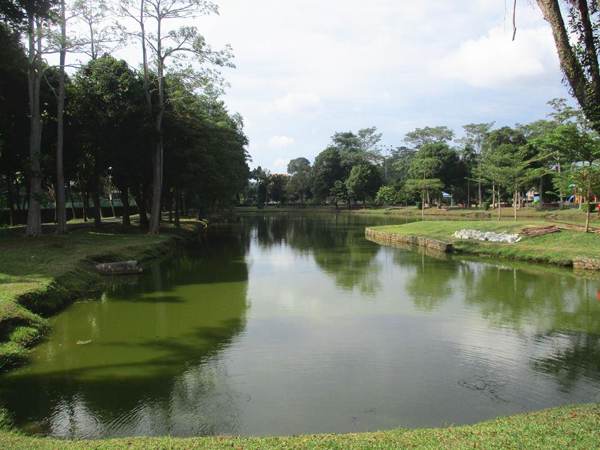 Imagine how a prime mining site could be transform into this beautiful recreational park that boasts a man-made lake at the centre. Despite offering playgrounds for children, it has several exercise facilities, stone walking path and rest huts for parents. Or, you can just sit by the lake and enjoy some leisure moment.
The mornings in the park are full of laughter and music. Groups of elderly will come over for aerobics, Tai Chi or belly dancing.Sometimes you will find tourists joining the fun too.
9. Minyak Beku Beach
With 20-minute drive from Batu Pahat, you'll arrive at this beautiful beach which is perfect for picnic, cool sea breeze and watching sunset. There is also a port where people would normally go for fishing.
Come over during weekdays to enjoy the most peaceful and serene moment. There are less people during these days and you can always climb onto the rocks by the seashore and watch over the horizon. Wait for the sunset and take in one of the most wonderful views in Batu Pahat.
Restaurants that serve local cuisines are around. Some of them serve seafood as well. If you want to spend a night here, there is a resort nearby.
10. Uncle Lim's Farm
Visiting Uncle Lim's Farm is an amazing experience to get closer to nature. Years ago, Uncle Lim opened his vegetable farm to public to let children and adults learn more about the agriculture work in Malaysia, with the hope that they will realize and appreciate the food more.
The visit is way too educational and entertaining for children and adults alike. They get to experience farming, explore the self-build vegetable garden and learn the correct ways of cooking them. Cabbage, eggplant and bitter gourd are just some of the vegetables grew by Uncle Lim.
If you want to enjoy the fun and simplicity of farm life, this is the place for you. And don't forget to make appointment before visiting the farm!
Top 5 Places To Eat In Batu Pahat
1. Riverside Foodcourt (Riverside Hawker Centre) (海边街饮食中心)
Widely known as "He Bian" or "Hai Kee", Riverside Foodcourt that frequented by locals lies lots of scrumptious local cuisines that makes us drooling.
Foochow Mee here is so rich in taste. Simmered in dark sauce, the egg noodles are cooked with vegetables, meat and prawns. One reminder, mix the noodles with black vinegar. It offers a more flavourful taste.
Try out their "wu xiang" that runs out very soon as well. It's a deep fried food with generous fillings.
Another must-try food is their fried oyster omelette that served in generous portion of oysters.
If you're looking for desserts, the highlight here would be Ah Lam's ice kacang filled with pineapple, jelly, red beans, sweet corns and topped with sweet chocolate.
2. Continue Café & Bistro
Continue Café & Bistro is a London themed café decorated with cast iron, hard wood and red bricks, offering a classic yet casual ambience. There's even walls showcasing the great collectibles of the owner.
It has to be started with their Mixed Salad. Using the freshest lettuce of the day, they add capsicum, pea sprouts, egg wedges, cherry tomatoes and dip with sesame sauce and mayonnaise. The best for vege lovers.
With slight ginger and garlic spiciness, seafood pasta here went so well with the sweet teriyaki sauce. Besides, their Salmon Fish Burger has the perfect blend of savoury, tangy and sweet flavours. The taste of salmon with tartar sauce between the pandan buns are just too right for a decent meal.
For drinks, fresh juices and coffees are all available at your choice.
3. La France Batu Pahat
Being the only France restaurant in Batu Pahat, La France prides themselves in serving the most authentic French dishes in a classy ambience.
Highlight French cuisines here are escargot, stewed lamb shank, French grilled fish fillet, foie gras and many more. Besides, they serve other western dishes like rosemary chicken and roasted salmon.
If you order snails, those in France were well-cooked with garlic butter while in La France, they cook it with cheesy and creamy sauce. Different flavour but the taste is wonderful!
La France also serves different kinds of dishes on special celebration such as wedding anniversary, friends gathering, marriage proposals and Christmas. You may call them to let them know your request.
4. K Fry Urban Korean Batu Pahat
It's time to take out your cameras in K Fry Urban Korean! The intense and long cheese pull of the mozzarella cheese mixed with fried chicken looks so mouth-watering to every one of us!
If you can handle spice well, the Spicy Cheesy Fried Chicken Bumbuk is right for you. Get ready to let your teeth thoroughly sink through the cheese layers before meeting the crispy fried chicken. It was when you will get a hit of spicy yangnyeom sauce.
Of course, if you cannot take spice, choose among the original cheesy, soya garlic, honey mustard and honey butter flavour of fried chicken. It offers you heavenly taste too.
Desserts like bingsoo comes with both big and small sizes and in different kinds of flavour. The iciness is very delightful after the satisfactory meal.
5. Rooftop Garden (Sky Garden)
Located on the rooftop of Old Street Commercial Centre, the restaurant offers an extremely wonderful ambience for families and even couples. It not only specializes in serving Western dishes but also creative delicacies, desserts and refreshing beverages.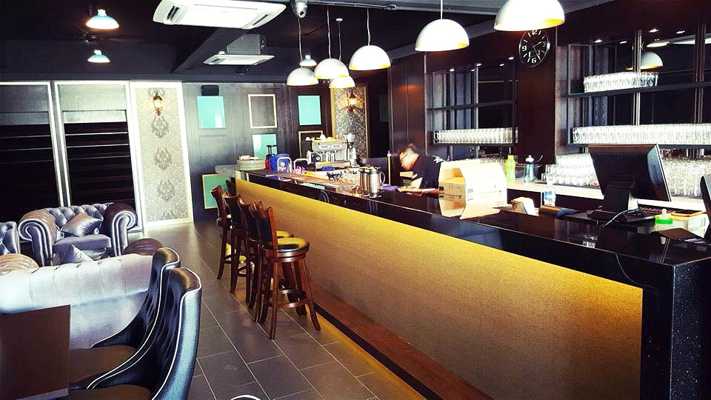 Various seating catered to different needs of customers. In night times, there's even live band music to add more of the romantic feel.
The restaurant caters to various events too. Whether it is marriage proposals or corporate gatherings, just give a call to them and they will do the rest perfectly.
2 Best Homestays In Batu Pahat
1. Lover Bridge Resort (情人桥度假村)
An exceptional resort where guests can enjoy leisure walk at the Lover's Bridge, exploring fishing village and flying sky lanterns at night. Best for couples who are looking for romantic getaway.
Price Starting From:
RM90 @ SGD 30
Homestay Highlight:
Shuttle Bus Service
Business Centre with Internet access
Children activities
Restaurant
Flat screen TV
Good To Know:
All rooms have sea views with modern design.
In the evening, remember to take a leisure walk at the Lovers' Bridge and catch the charming sunset.
Quite difficult to look for parking around resort.
Decent seafood restaurants nearby. But always ask for the price as the price difference are quite big.
Apart from tissue papers, other toiletries are not provided.
2. Kesuma Villa
This is a very comfortable accommodation located in the middle of Parit Jawa. Inspired and fully furnished in Balinese style, it combines the elements to create a very unique yet contemporary environment. Best-suited for people having meeting at UTHM as it's just 5 minutes driving distance.
Price Starting From:
RM114 @ SGD38 (include taxes and fees)
Homestay Highlight:
Free Parking
Free Wifi
Fully equipped kitchen
3-minute walk to the biggest supermarket in town.
Good To Know:
This is a non-smoking hotel.
No pets are allowed in the premise.
All rooms come with private bathroom and toiletries are provided.
There's a petrol station opposite to the hotel.
1-minute walk to Thai Restaurant nearby.
Cancellation is free of charge.
Extra beds depend on the room you choose.
6 Top Hotels In Batu Pahat
1. The Katerina Hotel
Specially designed for leisure travel and business, this 4-star hotel features interior designs combining both European and Asian elements. Upon entering, you'll be greeted with calm sound of water and beautiful chandeliers. Being one of the tallest buildings in town, the hotel is very easy to find.
Price Starting From:
RM236 @ SGD78 (include taxes and fees)
Hotel Highlight:
Poolside bar
Spazzo Café
Gold course
Facilities for disabled guests
Good To Know:
Breakfast is provided for free.
Ballroom is on second floor. Rooms on this floor could be noisy.
Parking lot is always full when there is event in the ballroom.
Always ask for a room away from the main road.
High floor rooms offer great view of mountains.
Rooms are likely fully booked during holidays.
They can set Kids Clubs to help take care of children.
2. Hotel Pintar
Featuring modern furnishing, Hotel Pintar is easily accessible to seafood restaurants and food stalls nearby. With only one-minute walk to UTHM, it's best for people who has business meeting or parents paying short visit to their children in the university.

Price Starting From:
RM117 @ SGD39 (include taxes and services)
Hotel Highlight:
In-house Café (150 seating)
2 function rooms (80 seating each)
On-site vending machine
Water dispenser
Microwave
One-minute walk to UTHM
Good To Know:
The hotel is without lift. Not so suitable for elderly.
Always approach the staff to assist you with airport transfer or car rental.
Ask for rooms away from the main road. Sometimes the locals are racing motorcycles in the midnights.
Payment is made at the hotel.
Free breakfast is provided.
Tour activities can be arranged.
3. RG Grand Hotel
Established as a friendly lifestyle hotel, RG Grand hotel is dedicated to offer home comfort to cater leisure and business travellers' needs. This hotel is also easily accessible to UTHM, with only 5-minute drive.
The hotel offers Standard Single, Superior Queen and Family Deluxe Room. It comes with full range of facilities and amenities to ensure utmost comfort.
Price Starting From:
RM78 @ SGD26 (include taxes and fees)
Hotel Highlight:
Free Wifi
Free parking
24-hour security
LED TV
Good To Know:
All toiletries are provided.
The workshop nearby could be very noisy during daytime.
No breakfast is provided but the hotel is very near to restaurants and McD. Walking distance to Tesco as well.
The hotel has no lift.
Electricity socket is limited. Not so suitable for many people staying together.
4. Pine Tree Hotel
Pine Tree Hotel, a high quality budget hotel that offers superior rooms, deluxe rooms and family rooms to meet the satisfaction of business or family travel. It is easily accessible to city's major attractions like Wet World Batu Pahat Water Park and Glow Park.
Price Starting From:
RM135 @ SGD90 (include taxes and fees)
Hotel Highlight:
Restaurant
Coffee Shop
Ballroom & Function Room
Ironing facility
Babysitting service
Free wifi
Free basement & outdoor car park
Swimming pool
Smoking area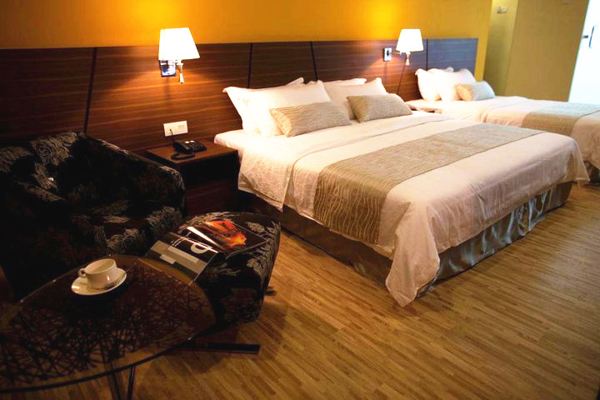 Good To Know:
For better views, ask for higher floors room. There are also some rooms without windows.
However, avoid rooms on 7th and 11th floors near to the ironing cupboard. It's quite noisy sometimes.
Standard toilet amenities are provided.
Breakfast buffet with decent choices are provided.
The hotel provides facilities for disabled and lift for elderly people.
There's a gold course within 3 km.
5. Summit Signature Hotel Batu Pahat
Whether you come to Batu Pahat for business travel, vacation or family trip, the hotel offers specially designed rooms for you to maximise comfort. By offering attentive services and amenities you need, they are sure to make your stay an unforgettable one.
Price Starting From:
RM120 @ SGD40 (include taxes and fees)
Hotel Highlight:
Next to Summit shopping mall
Facilities for disabled guests
Free parking area
Good To Know:
Easily accessible to attractions as it is located at the centre of the town.
Buffet breakfast serves wide variety of local dishes.
Stable and fast Wi-Fi connection.
Higher floor rooms have low water pressure but better views of the city.
The hotel shares parking area with shopping mall. However, feel free to request them to allow you to park at the reserved parking.
6. The Landmark Hotel
Established in 1991, The Landmark Hotel is highly accessible to many attractions due to its strategic location. Whatever purpose of visit, just experience their excellent quality room facilities while staying here.
Price Starting From:
RM201 @ SGD67 (include taxes and fees)
Hotel Highlight:
Restaurant
Coffee house
1 ballroom & 2 meeting rooms
Wedding event
Complimentary bathroom amenities
Breakfast buffet
LCD TV with Astro channels
Hot &cold water dispenser
Mini bar in room
Airport transfer
Good To Know:
Request for upgraded rooms for a more comfortable stay.
Food ranging from Western to Japanese cuisines served on room service menu.
Limited parking lot is available.
Rooms are very clean and come with big spaces. They have their own iron and ironing board too.
Avoid staying on third floor as there could be noises from the banquet hall.
Rooms will have traffic noise due to its location at town area.
How To Get To The Places?
Want to get to these places but don't know how?
Worry not!
You can now travel smoothly with EK 168 Transport – a comfortable and trustworthy private car service that is renowned for its excellent service!
What's more, you wouldn't need to get off the vehicle when crossing the Singapore-Malaysia border for the customs check. Leave your passport to the driver and he will do the work for you.
Also, you'll be pick-up from any point in Singapore to these places in Johor at your desired time.
Our professional drivers ensure your safety with prompt and quality services to fit your needs.
Contact us or book online today, it's convenient with EK 168 Transport!