Accommodation Available at A Famosa Resort
The A Famosa Resort Melaka offers very excellent rooms and accompanying facilities that ensure the comfort of all their guests. There is a wide range of rooms to choose from and these include the Standard Room, Superior Room and Suites.
All these types of rooms are tailored to meet the varied needs of their clients and which offer different experiences depending on the taste of the visitor.
Each and every room has a private balcony which creates a sense of privacy and comfort to any visitor. The balconies enable the guests to enjoy the pleasant surroundings from the comfort of their rooms.
There are also other additional facilities that are offered by the resort to make life more pleasant for the guests. These facilities include:
A bicycle
A wheelchair
A chess board
An iron and iron board
The Mahjong
Internet access
A baby cot, among others
1. A Famosa Resort Villa
With a large expanse of land covering over 13 acres, the A'Famosa Resort is able to provide more spacious villas.
These villas are roomy enough to cater for a group as well as family holidays.

Each villa within its large territory has its own swimming pool. The rooms are also accommodative enough and have between 3 to 5 bedroom units. The villas are modern and provide the much-needed comfort and security to the guests.
2. A Famosa Resort Hotel
The condotels, or condominiums as they are popularly known, are located in a very strategic location within the property of A'Famosa. Each of these modern and exclusive condotels has its own private balconies with a view of the whole resort.
Their rooms are well maintained, cosy and elegant. The condotels have between 1 to 3 bedrooms which, is sufficient enough.
Other additional features that increase the comfort in the rooms include:
A well-maintained air conditioning system
A spacious living room
Colour TV and other entertainment facilities
9 Fun Things To Do In A Famosa Resort Malacca
1. Bicycles for Rent
You can be able to have fun or do some exercises within the confines of the resort.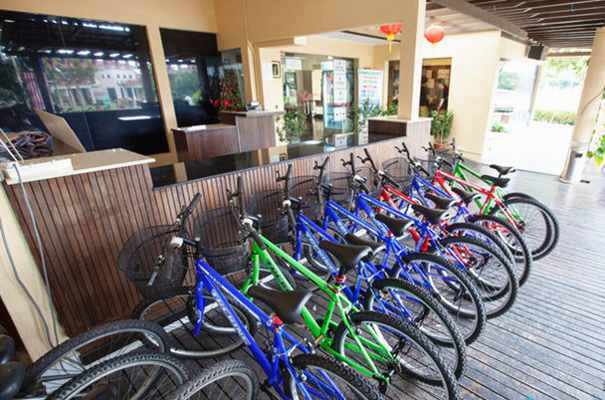 This can be enjoyable as you will be able to appreciate the beauty of the resort in the process. The resort rents out bicycles in terms of single and double rides whose cost is calculated on an hourly basis. The rental is cheap and affordable.
2. Equestrian Club
At the resort, you can also experience the thrill of riding around in a thoroughbred horse in the open countryside. The resort has quite a number of horses which are thoroughbred and are there at the disposal of the guests.
All these horses are provided by the A'Famosa Equestrian Club, which boasts of an impressive collection of thoroughbred horses.
If horse-riding is not your thing, you can as well jump onto a horse-drawn carriage with your loved one for a romantic ride through the resort. The club also offers Riding Lessons and Stable Management Courses for those who are interested.
3. Fishing Pond
A fish pond is available for passionate anglers who can try their angling prowess at the Fishing Pond facility. The fish pond is well stocked with fishes and it is part and parcel of one of the golf courses.
Among the various fishes that can be found here include the Patin, Haruan, Tilapia, Keli and Jelawat fishes which are found in abundance.
There are also other aquatic creatures which share this habitat with the fishes but the most recognizable one is the golf ball. Fishing enthusiasts will find fresh water pond an anglers' haven here.
One can choose to either use the fishing rods available or bring their own. Competitions are held each month.
4. Safari Wonderland
A' Famosa Resort also features the Safari Wonderland which has various key attractions that are fun-filled and exciting. The Safari Wonderland enables the interaction between people and the animal world.
The available animals include tigers, rabbits, horses, camels and elephants. It is in Wonderland Safari that you can be able to see the fangs of the tiger, be able to play with the rabbits or even ride on horses, camels and elephants.
5. Walk Through Area
There are also walk-through amongst the flamingoes, the dino ancestors and the racoons too. This is not to forget the emu and the ostriches.
6. Safari Adventure
There is also the Thrill of the Animal Safari whereby you ride on a secure truck in the midst of the giraffes and tigers as the Safari adventure ride cruises by.
The safari also visits the Monkey Island by the use of rafts to see the brown lemurs, capuchins, squirrels, monkeys and the white-handed gibbons.
7. Old West
It features a lot of entertainments which include discos, restaurants, beer gardens bowling alley, game centre, children theme park and funfair.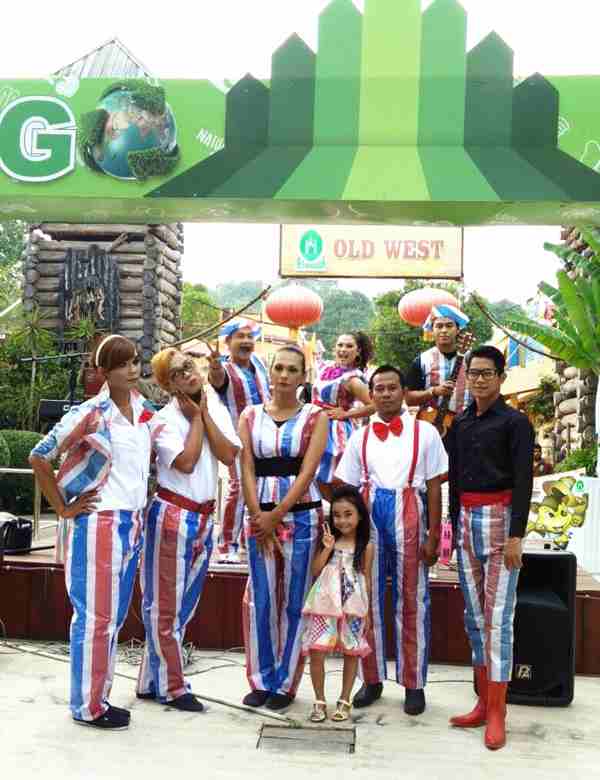 8. Red Indian Show
It includes the fire blowing acts which are very popular and also great performances and ceremonial dances. Some of these stunts are dangerous but also present a lot of humour.
9. Carnival
There is also the carnival which has been christened as the biggest and most happening event. You can also experience the most colourful parade that you have ever witnessed complete with colourful floats, beautiful dancers and exciting street parties.
What To Eat In A Famosa Resort
1. Golfer's Terrace
Golfers Terrace is situated in the vicinity of the international championship class golf course. It offers tantalizing local and western cuisines in an atmosphere of peace and tranquillity.
The cool breeze that is a dominant feature in this set up is really exhilarating. This is not to mention the ala carte and buffet prepared a variety of foods and beverages. The experience, coupled with a splendid view of the green serene golf course terrain, is truly remarkable.
2. Lakeview Restaurant
Also on the buffet list is the Lakeview restaurant that prepares appetizing delicacies while enjoying the view of the adjacent man-made lake. After the strenuous Water World activities, most visitors stream to this joint during lunch break to recharge their energies.
3. Huang Di Chinese Restaurant
This is one of the restaurants in A'Famosa that really has unique finger licking delicacies that are hard to resist. It presents a variety of authentic Chinese cuisines that will not disappoint. You can drop in for breakfast, lunch and dinner, and be treated to the uniquely Chinese foods which are a more welcome change from the more traditional delicacies.
4. Side Walk Cafe
This is a convenience café at A'Famosa Water World dining and leisure. It has a beautiful scene of the Water World features and greens, which gives it a very calm and serene ambience. It is indeed a relaxation and dining joint that will surely impress after engaging in the energy-sapping activities of the water world.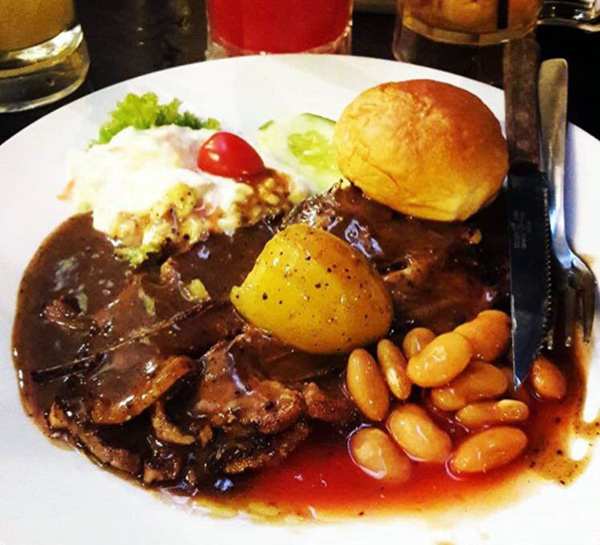 5. Bamboo Steak House
If you are in the vicinity of the Animal Safari, and you are probably waiting for the Elephant Show, the Bamboo Steak House is the perfect place to be. It is set out with the calming effects of the green and the fish pond.
6. Sunshine Cafe
This popular joint is partly hidden by the Condotel Clubhouse and is a place where everyone can dine and relax. It is a strategically located eatery that affords one the opportunity to unwind while savouring and sampling the various delicacies on offer.
A Famosa Resort Conference & Banquet
The A'Famosa Convention Centre is a well-renowned conference venue in the Melaka area because it is well equipped with an array of high tech facilities and services.
These facilities range from meeting rooms, high tech theatres, pillar-less exhibition space, professional and audiovisual services among others.
This shows the capacity that the A'Famosa Convention Centre has to host a wide variety of conventions and events which include but are not limited to:
Concerts and entertainments
Annual dinner events
Conferences and meetings
Exhibitions and weddings
Freeport A'Famosa Outlet
The Freeport A'Famosa Outlet is located in Alor Gajah, which is in the West Coast of Peninsular of Malaysia. It faces the Straits of Malacca that is about 147 kilometres from Kuala Lumpur. It finds itself between the states of Negeri Sembilan and Johor.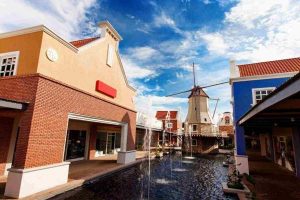 This outlet mainly deals with 70 different kinds of brands including fashion, sports and accessories. Its style of doing business is an open mall design which is characterized based on their Malacca Dutch heritage.
a fountain,
a lake carousel,
a windmill,
an architectural design
The outlet is a joint-venture between UK-based outlet specialist Freeport Retail Ltd and A'Famosa Resort. However, its brand originates from the US. It has a heavy presence in Europe and is expanding into the Southeast Asian region.
Free Port A'Famosa Outlet Activities
The most common brands which are featured here include brands like
Nike,
Cotton on,
Esprit,
Puma,
Carlo Rino,
Samsonite,
Folliefollie and many other well-renowned brands.
Its trade with these brands has attracted quite a number of buyers because they do offer good deals and bargains.
The outlet borrowed the concept from the USA and is known to be the first ones to bring the concept to Europe. Freeport actually opened shop in 1994 and since then has opened about 12 other village outlets either as a joint partnership or as a single entity.
It has also set its sights on the UK market and currently has 5 outlets which are up and running in this territory.
The other outlets are found in Europe and other countries such as:
Scandinavian countries
The Czech Republic,
Slovakia,
Portugal
The Freeport A'Famosa Outlet is currently planning to venture into the French market. Their first port of call in the French market is in Lyon.
In South East Asia, Freeport A'Famosa Outlet is the first of its kind in this region as things stand, it is expected to revolutionize the trading concept in this region. Things seem to be looking up as their activity indicates that they are planning to open even more outlets.
It has also identified a partner in Manila, Philippines and is also looking to expand its activities into Jakarta, Indonesia and Macau, China. It is headquartered in Pall Mall, St James London.
Freeport A'Famosa Outlet Services
Freeport A'Famosa Outlet does not only sell fashion brands and the other accessories but is also deeply involved with its customers by providing a variety of services that are customer oriented.
Ensured that their customers enjoy their shopping experience and come in handy to make shopping much easier.
Excellent customer-focused services have increased their ratings in the eyes of their customers.
They are very particular about their special customers like children and disabled customers.
Has parking spaces and toilets for the disabled, changing rooms for children and prayer rooms for their Muslim customers.
Runs a chain of cafes and restaurants which offer the much-needed convenience to their customers.
Provide financial services in terms of ATM and Cash Deposit Machines.
Has taxi and bus stand at their premises to make it easier for their customers to drop off and also to get transportation easily.
All these services are aimed at making shopping an enjoyable and easy task. This is indeed a new shopping concept that is unique and revolutionary
The Freeport A'Famosa Outlet Stores
The Freeport A'Famosa Outlet operates quite a number of stores dealing with different categories of products ranging from
fashion,
sports apparel,
food and beverages,
conveniences,
children,
optical and accessories,
shoes,
bags and luggage
beauty and fragrances.
All the products that they deal with are branded products which are a testimony to their quality. On fashion, they have so many different types of brands that offer variety to the customer.
The same goes for all the other products which show diversification. Over 90% of the stock comprises manufacturing overruns or unsold stock from full-priced stores and increasingly made-for-outlet product lines.
The best thing is that the outlet offers various bargains and discounts on their products and their deals are the best. The A'Famosa Freeport Outlet gives discounts of up to 80% which attracts many shoppers to this premium outlet.
A lot of outlet centres are open air because they want to be different from a full-price shopping centre. The single-level designs make the stores easily navigable because of their open mall concept, unlike other stores where shoppers actually got lost.