Fishing Kelong in Johor
1. Poseidon Oysterbay Resort
Poseidon Oysterbay Resort is one of the famous fishing kelong in Johor. It is a floating resort built almost entirely by Chengal Wood. The room rate is RM260 per night which includes transport from Teluk Sengat Jetty, breakfast and taxes.
Also read: Kukup Travel Guide: How To Go To Kukup From Singapore
With only 2 minutes boat ride from Teluk Sengai Jetty, you can get to Poseidon Oysterbay Resort that sits 1km off the village from Teluk Sengat. For Singaporeans, pick-up cruise can be arranged from Changi Ferry Terminal to Tg. Belungkor Ferry Terminal.
The resort boasts 2 floors. The ground floor has an oyster bar and a semi-open dining area. Air conditioned rooms are located at the upper floor and each features a private balcony overlooking the Senai-Desaru bridge, sunset, sunrise and Johor river.
The resort's highlight is their high grade oysters produced in their eco-farm, namely Gillardeau tw and Belon yw. Also, the prawns, fish, mussels and crabs which captured nearby are often rated excellent by their guests in terms of freshness and quality.
Besides that, you can fishing at Poseidon Oysterbay Resort. It is ultimate place for you with friends or with your family to enjoy a peaceful and relaxed weekend.
2. Kelong Acheh Mersing
Sometimes all you need is to escape from the city and all its modernism. A trip out of town to Kelong Acheh is just what you need. It is a fishing outpost that is widely known for its untouched charm where you will have a great time to relax and unwind in a serene off-shore resort of its kind.
The gently rolling waves, the beautiful views, the sea breeze and the amazing sunsets will make this a getaway to remember. This floating resort also offers you some of the best fishing in the whole of Peninsular Malaysia.
Apart from that, you can enjoy the rest of the best things to do in Mersing including the clean beach at Pulau Acheh.
How To Get To Kelong Acheh Mersing Via Penyabong Jetty
Coming from Singapore, cross the Straits to Johor Bahru, then take the Kota Tinggi highway to Mersing and on to Tg Resang. Proceed to Penyabong and head to the jetty which will be at the end of the road. Park your car there and a 7 minute's boat ride will get you to the resort.
3. Chia Soon Kelong
This Kelong is set towards the southeast of Johor just after Pulau Tekong. It is fully functional all throughout the year and visitors are always welcome. Due to its excellent location amidst sheltered islands, the Chia Soon Kelong is safe from the monsoons at all times.
It is just near the maritime border between Singapore and Malaysia. It is a wonderful getaway from busy city lives and a few days here will clear your mind and give your body the rejuvenation that it needs.
Also read: Top 19 Destinations For Weekend Getaways From Singapore
Here you will find magical experiences to relax your body. It is a good place to bond with family and friends as you dip your hooks over the Kelong's railings.
How To Get To Chia Soon Kelong Via Tg. Pengelih Jetty
You can opt to take a taxi to Changi Point Ferry Terminal. From there, you can take a boat to the Tg. Pengelih Jetty for customs and immigration processing and onward to Chia Soon Kelong. Alternatively, you can take the scenic route through Johor Bahru and onward to Tg Pengelih Jetty; a journey of about 80 or so kilometers and thereafter take a boat to Chia Soon Kelong.
4. Kukup Kelong
Kukup Kelong is a 100 year old off-shore fishing village. It inhabitants are mostly of Chinese origin as it has been for all these years.
Over time, people came to the Kelong for its fresh and delicious seafood and its off-shore location. Soon people came to spend weekends here and chalets to accommodate them were put up.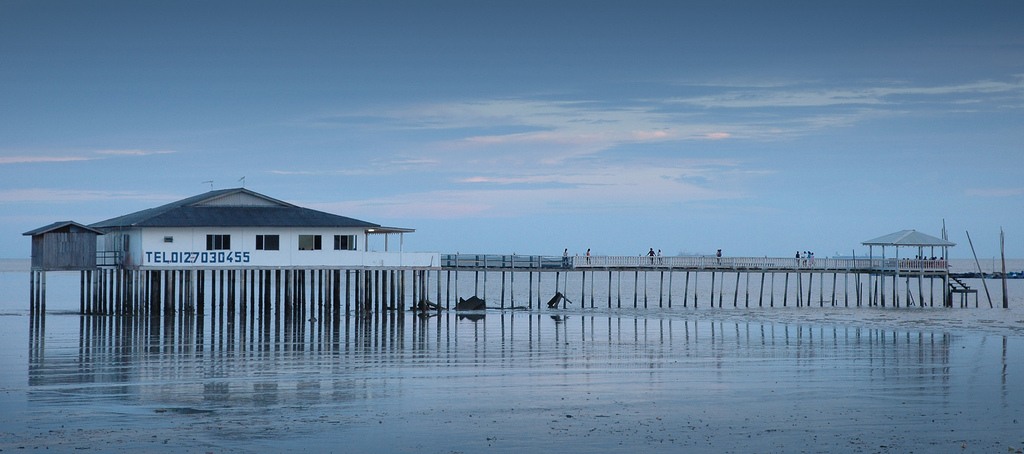 You can bring your family or friends here for some time away from their hectic lives. With great accommodation, exotic setting, splendid seafood and sea views to die for, the Kukup Kelong is one place you must visit this year.
How To Get To Kukup Kelong
Use the Johor Causeway to cross into Malaysia from Singapore and onwards to Johor Bahru. From this city, use the Lebuhraya Hubungan Kedua and join the Lebuhraya Pontian after 15 km. Drive on this road for up to where it joins Jalan Kukup. Drive into town and head for the jetty where a boat will take you to the Kelong.
5. Ah Fatt Kelong Fishing
This is one Kelong that is in Penyabong area. There is a rich variety of fish that can be caught at this site. Being a favorite for people who love to fish, it is usually has a sizeable crowd on weekends and public holidays.
The best thing about it is that you will always have a place to fish despite the crowds and that you can hire fishing equipment from the Kelong management if you did not bring your own.
There have been reports of people catching fish commonly caught by sport anglers here. You can try your luck too. Even if you are not an ardent fisherman, you will enjoy the experience of getting away from the city and all its hassles.
You will also enjoy the breeze from the sea as well as the great seascapes that are found there. Do not forget to come with your camera for the great pictures that you will take here.
How To Get To Ah Fatt Kelong Via Penyabong Jetty
From Singapore, use the causeway to get to Johor Bahru. From there you take the main road to Mersing to the northeast. From Mersing, drive on to Penyabong Jetty. This city is about 2 hour's drive from Johor Bahru. From here, it is a 26 kilometer ride to the jetty where you will take a boat to Ah Fatt Kelong.
6. Pulau Kelong Sibu
Pulau Sibu island is well known for its beautiful beaches and turquoise coves and bays. It is within a marine park. The corals are breathtaking as is the swimming and snorkeling. Another of Pulau Sibu's secrets is the Pulau Kelong.
This is a floating village built on wooden stilts. It was originally a fishing village but now most of what you will find there are visitor facilities.
Visitors come from Singapore and from all over Malaysia to enjoy the serenity that the Kelong provides. It is the perfect getaways for your family and friends. Accommodation is fine and so are the facilities for fishing, or for people who want to spend a quiet few days on the water away from noise and the daily grind of life.
How To Get To Pulau Kelong Sibu
After crossing the Causeway to Johor Bahru, take the Jalan Tun Abdul Razak road and link up with the 3/AH18 highway. Drive on this road towards Mersing but branch off to Jln Tanjung Leman after about 80 kilometers. From here, access the jetty and take a boat ride to Pulau Sibu and onwards to the Kelong.
7. VIP Fishing Resort
It is possible to stay overnight at this new resort via their RM120 day tours or their RM250-270 two-day, one-night package – which includes all meals:
Chinese-style lunch
Tea time
Yummy hot-pot or BBQ dinner (with fresh seafood, of course)
Breakfast the next day!
Or you can arrange group gatherings for friends and family, even the company functions as they have a large event space too with a maximum capacity of 50 pax!
In case you don't feel like fishing as much as the rest of your party, there are other activities like:
Enjoying their open Karaoke singing area
Playing billiards or PS4
Chilling at their lounge area – watch the sunset/ sunrise from the romantic decking
Having a game of mahjong
Catching up on your favorite TV channel (They have Astro)
The 2D1N package also includes transport to the resort (15 to 20-minute boat ride from Kong Kong terminal) and service charge.
Tip: Their first anniversary is coming up so you can take advantage of their promotions if you book in April! Large groups are applicable!
8. KK Sea Resort
A fairly new offshore resort, KK Sea Resort has a lot to offer!
Fun for the whole family – everyone can have a go at fishing! There is plenty of room aboard!
With a maximum capacity of 35 people, you will not have to knock elbows with the person fishing next to you!
Kick back with a beer to watch the sunset after a round of fishing. There are some large species of fish here!
Enjoy the Chinese-style lunch buffer that the in-house chef will prepare along with a wholesome steamboat and BBQ dinner when night falls.
Plenty of fresh seafood to go round!
Of course, you can continue fishing on through the night or you can:
Have a go at karaoke at their KTV lounge
TV and mahjong are available too
The 2D1N package includes:
Speedboat and ferry transfer (From Changi ferry terminal) to and from the resort
Wifi
Meals – High tea, breakfast, lunch, and dinner
Basic air-conditioned rooms for accommodation – for groups of 4 to 8 people
Contact the owner to get the price of 2D1N package now!
9. Ah Seng Fishing Resort (Permanently Closed)
2D1N packages are available at Ah Seng Fishing Resort. Package costs RM190 per person inclusive of accommodation and meals.
To get to the resort, it is a 20-minute boat ride from the pier at Pendas Sungai.
This journey to and from the Pendas Jetty to Ah Seng Fishing Resort is part of the package.
How To Get To The Places?
Want to get to these places but don't know how?
Worry not!
You can now travel smoothly with EK 168 Transport – a comfortable and trustworthy private car service that is renowned for its excellent service!
What's more, you wouldn't need to get off the vehicle when crossing the Singapore-Malaysia border for the customs check. Leave your passport to the driver and he will do the work for you.
Also, you'll be pick-up from any point in Singapore to these places in Johor at your desired time.
Our professional drivers ensure your safety with prompt and quality services to fit your needs.
Contact us or book online today, it's convenient with EK 168 Transport!