1. Johor Premium Outlet
Located at the Iskandar area of Kulaijaya district, Johor Premium Outlets stands as the very first luxury brand outlet in the Southeast Asia. You can get world's top brand like Michael Kors, Coach, Nike and many more at lower price.
With 130 premium outlet stores over the 2-storey high building, the upscale shopping centre has been receiving tourists from all over the world throughout the year, contributing to the tourism in Malaysia.
There's also an elegant food court offering cuisines of different country.
Featuring unique fountains and artificial greenery, Johor Premium Outlet offers a nature feel shopping experience in the city.
The green landscape blends perfectly with the modern architecture. All benches are shaded by palm trees, offering visitors a place to rest and recharge before heading to the next brand outlet.
2. Star Fish Leisure Farm (和星休闲渔场)
How long have you been staying far away from nature?
Star Fish Leisure Farm is specially designed for you to embrace nature and enjoy the simplicity of rural life.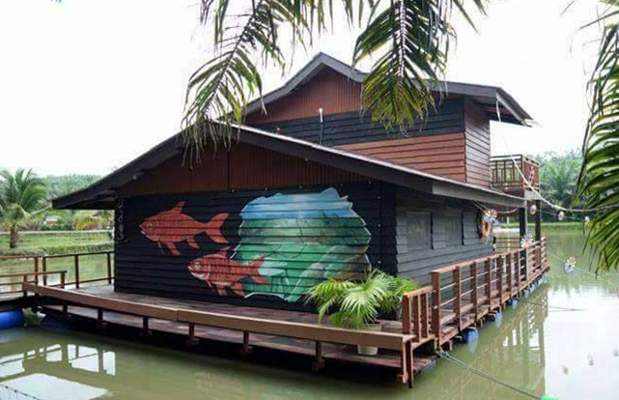 Located right next to the railway track, the farm offers beautiful water chalets and plenty of exciting outdoor activities to make your stay pleasant and memorable.
To experience sleeping under the starry night, there's also a campsite where you can build a tent and sleep with the nature.
During the day, team building activities like ATV ride, canoeing, pull-floating boat, ping pong, river tubing and cycling can be carried out at your choice. After all, you won't get bored while staying here.
If you come with more than 10 people, take either 2D1N or 3D2N package to enjoy your stay to the fullest!
3. Kelapa Sawit Mural
Kepala Sawit – the new village in Kulai boasts over 30 breathtaking murals by local villagers under the guidance of professional mural painters. Some of them are 3D where it looks like you were inside the world of that mural arts!
The origin of the mural arts is due to a campaign – "Let's Art at Sawit" held in conjunction with the National Day. Mural painters were invited to paint mural arts for the theme – Hakka Culture, adding some colourful elements to the village.
Surprisingly, the local villagers volunteered to take part in mural painting too. As a result, it came out that majority of the mural arts are created and depicted by local villagers.
Get ready your camera and be surprised and inspired by creative mural arts at every corner of the street!
4. Kulai Putuo Village (小菩提)
Kulai Putuo Village is not just a grand Buddhist temple. This serene place is set against green landscape, incorporating both Chinese culture and Buddhism and giving us a golden opportunity to learn about the local culture while appreciating the beauty of nature.
During the annual Spring festival which falls on January and February, unlimited exciting activities are rolled out to add colour and joy to the event. There will be a game – "Hit the Golden Egg" where you can bring the adorable mascot home if you win.
One of the must-dos here is to pray for health and prosperity. Purchase a ribbon which attached to an orange and have your wishes written down on the ribbon. Toss it high up to the tree to make your wish come true!
5. Mount Pulai (Gunung Pulai)
Hike to the summit of 654m high mountain – Mount Pulai and you will be rewarded with panoramic view of lush greenery which blends so perfectly with the skyline. There are 2 trails leading to the peak – Jungle Trail and Road Trail.
Along the trail, you will see a signboard directing you to Gunung Pulai Recreational Forest which homes to various wildlife and unique plants.
Remember to bring extra set of clothes because you might want to spend some time at the Pulai Waterfall! A dip in the cool water is very refreshing especially in the hot afternoon. However, don't climb too high and take good care of your kids because the rocks are very steep and slippery.
6. Temple Hwa Kuo Shan Sedenak (花菓山)
Dedicated to various Chinese deities, Temple Hwa Kuo Shan is always visited by locals and tourists to pray for wealth and prosperity. Some even come here to seek for luck to win a lottery.
This temple also homes to hundreds of monkeys where you can find them swinging and jumping all around.
If you want to experience being followed by a bunch of monkeys, just buy a pack of peanuts and feed them. It's quite satisfying and interesting!  However, always be careful if you want to get close to them as some monkeys are tame while some are hostile to human.
There is also a coffee shop beside the temple where visitors can have some refreshment and snacks before heading to the next attraction.
7. 5D Art Studio Kulai
Dare to risk your life standing on the edge of a cliff while clinging on the rope? Well, you don't really have to experience it in real life but in 5D Art Studio Kulai, they can make you act out all those risk-taking scenes which look so real in pictures!
Over 30 wonderful backdrops are there to challenge your mind and imagination. Optical illusion is created to let the pictures look dangerous but you are actually at the safe place.
Whether you are going with friends or family, surely you will have a great bonding time with them. Remember to fully charge your camera or smartphone because you are going to take a lot of pictures here!
8. Upside Down Warm House (Permanently Closed)
Want to experience how the world feels like when everything is turned upside down? Enter the Upside Down Warm House and be mesmerised by views of the world in different dimension!
Featuring both 3D and 5D arts in an upside-down environment, it seems like the world has thoroughly over turned.
At first, you really want to turn your head 180 degree to let everything falls in their right position. But believe me, you will get used to it in a short while and the place will gradually develop your interest to live inside.
This is truly a place for friends or family to take lovely and memorable pictures together. Wear comfortable clothes because you might need to lie down, kneel or jump to take the most unique picture!
9. Rainforest Tree House Kulai
Longing to get close to nature without compromising on comfortable living? Rainforest Tree House Kulai is the ideal place for you!
You get to live in the tree house equipped with mattresses, sockets, mosquito nets and attached bathroom and shower, offering a homey ambience. Overlook the window is the view of lush green nature which is so beautiful especially in the morning or during the sunset.
Here, guests are welcomed to experience cooking in the most traditional way – cooking on fire. If you want to learn more about the principles and ways of preserving the environment, then you can talk with Ah Yao – the founder of this rainforest.
Plenty of activities can be enjoyed during the day. Bird-watching, hiking or indulge yourself in the waterfall, you will never ever be bored while staying here.
5 Kulai Nice Food
1. Restoran Guo Tai Sdn Bhd (88国泰酒家有限公司)
Opened in 1981, Restaurant Guo Tai is a luxury restaurant serving exquisite Chinese cuisines and seafood in the finest environment. With over 200 tables, the restaurant mainly caters for big family gathering, corporate dinner and even wedding dinner.
Highlight dishes include fried prawn with spicy sauce, fried special homemade bean curd, braised dry seafood and stir-fried pork ribs with honey sauce.
You can find different kinds of vegetables, meat and seafood cooked in various style, each offers you a unique taste without losing the original sweetness.
2. 老彭家鱼丸面
If you ask the locals what to eat for breakfast, most of them will recommend you this nostalgic coffee shop which opened decades ago.
Sprinkled with minced pork, their black sauce lou shu fan or noodles has a very delightful taste. The bowl of loushu fan also comes with a bowl of soup with their homemade fish balls and fried bean curd generously filled with pork.
Both are the signature dish here which add to the flavour of the soup, making it a perfect meal for breakfast.
Try out their specially made chilli sauce too, it goes very well with the fish balls and fried bean curd.
3. Kedai Makan Ke Jia (秀花菜板)
Famed for the homemade Hakka dishes – 秀花菜板, the coffee shop lies humbly in one of the shophouses at Kulai. According to many locals, although there are many stalls out there selling the same dishes, none of them tastes better than the one sells at Kedai Makan Ke Jia.
This dish looks very likely a dumpling, but the outer layer is stickier compared to it. A colour dot at outer layer is used to differentiate between different flavours.
Inside, the fillings consist of different kinds of vegetables mixing together. Freshly made every day, this dumpling-like dish tastes very fragrant and flavourful. It is best to be enjoyed while it is still hot.
4. My Liberica Kulai
Hop to the trendy café in Kulai – My Liberica café where all coffees sold are from their own plantations, delivering an authentic yet fragrant flavour which can be found nowhere else. This is one of the most trendy and finest coffee shops in Johor.
Inside, the setting is very spacious and comfortable. Customers get to enjoy their cakes and coffee quietly in a lazy afternoon. Some of the must try here are civet cat coffee and latte with elegant art.
Lean yourself against the counter to watch how the baristas making the coffees professionally. They use different system in making different coffees, be it coffee machines or siphon system.
5. Broovies Café Kulai
With a dark blue signboard that welcomes your arrival, this British concept café is beautifully designed and decorated by many lovely ornaments which add to its warm atmosphere. Every single corner can be the perfect backdrop for your Instagram pictures.
Attractive yet delightful cakes are well-displayed inside the glass cabinet and numerous choices of coffees, fruit drinks and waffles can be ordered at the counter.
One of their specialities is the Banana Nutella Waffle topped with chocolate ice-cream. Fans of chocolate will definitely fall in love with this as the combination is way too fabulous. You can also order their special drink – Buah Long Long juice to add a little sourness in your taste.
3 Best Homestay In Kulai
1. House Of My Eternal Love Kulai Homestay
House of My Eternal Love Kulai Homestay is exquisitely built to offer home comfort to guests. The environment is very serene and there are many decent food within walking distance.
Featuring a beautiful garden, this homestay comes with special rooms, family rooms and standard rooms with furniture handmade by workers.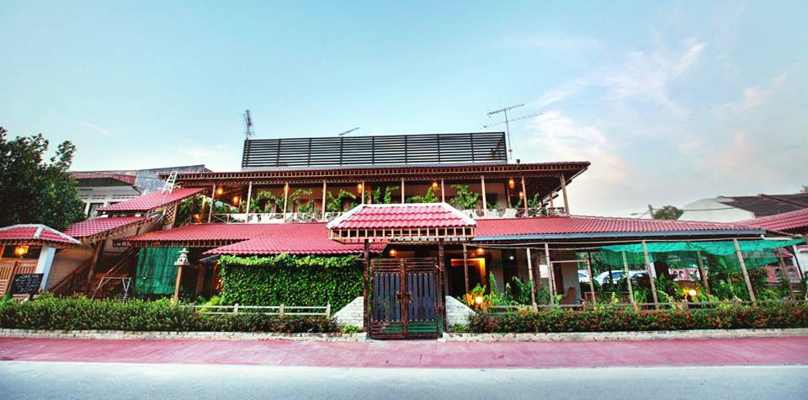 Price Starting From:
RM95 @ SGD$31 (include hotel tax & service fee)
Homestay Highlight:
BBQ Facilities
Free Wi-Fi
Coffee Shop
Garden
Airport Transfer
Free bottled water
Car Rental Service
Good To Know:
Upper floor rooms are quieter.
7-minute drive from Senai International Airport.
Need to pay RM50 for security deposit upon arrival. It is refundable when you check out.
Foreign guests need to pay additional tourist tax at RM10 per room.
Easily accessible to Johor Premium Outlet.
The place can be rent for birthday party.
Their baristas made extremely good coffee. Enjoy it at their coffee shop.
2. Durian Guesthouse (流连宿)
Reconstructed from a 70-year-old traditional Chinese cottage, Durian Guesthouse aims at delivering the feel of simple life to every guests. The guesthouse features 6-people mix dorm and double rooms with private bathroom. Modern amenities and simple breakfast are provided.
Draw the curtains wide and you will be rewarded with refreshing view of plantations grew by the owner. The wooden furniture even adds some nature elements to the living.
Price Starting From:
RM100 @ SGD$33 (include hotel tax & service fee)
Homestay Highlight:
Free Wi-Fi
Air-conditioning room
Free parking on premise
Free breakfast
Good To Know:
The guesthouse offers many homemade bread, drinks, jelly, cakes and jam. Try them all!
You can learn faming knowledge from the host.
Ask the host for some tips on the local area.
Parties or events cannot be carried out here.
3. E-Homestay Kulai (古来 E 家民宿)
Ideal for celebration event, E-Homestay Kulai is best for those wants to experience local living. All rooms come with flat-screen TV, private bathroom and a seating area like living room. Some rooms even feature a balcony too. Asian or continental breakfast is offered every morning.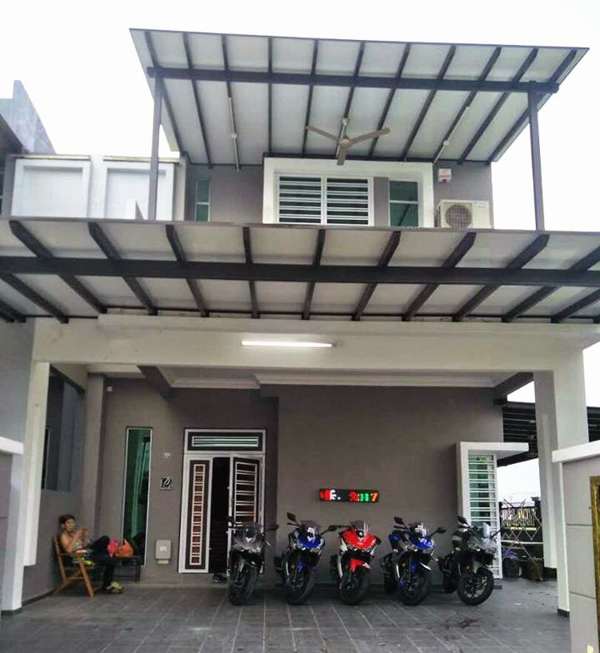 Price Starting From:
RM138 @ SGD$46 (include hotel tax & service fee)
Homestay Highlight:
Bicycle rental
Free Wi-Fi
Free breakfast
Free shuttle to airport
Garden
BBQ facilities
Good To Know:
Warm hospitality from host has made lots of returning guests.
11km from Senai International Airport.
Extra bed is charged at RM50.
Pets are allowed to enter the premise as long as you inform them in prior.
The homestay only accepts cash payment.
6 Best Kulai Hotel & Resort
1. Carlsun Hotel
Featuring 15 rooms in total, Carlsun Hotel offers standard twin room, standard double room, deluxe double room, deluxe triple room, deluxe king room and family room. All rooms are well-equipped with desk, flat-screen TV and attached bathroom with shower.
If you are looking for a budget hotel, Carlsun Hotel is surely at your top choice.
Price Starting From:
RM72 @ SGD$24 (include hotel tax & service fee)
Hotel Highlight:
Gift shop
Mini market
Free Wi-Fi
Cold and hot water dispenser
Comfortable bed and pillow
Good To Know:
Merely 5km to Senai International Airport and 3.1km to Johor Premium Outlets.
Eateries are within 5-10 minutes' drive.
Hair dryer is not provided.
There are many public parking spaces around. To ensure safety, ask the staff to keep an eye on your car.
2. Corsica Hotel Kulai
Corsica Hotel Kulai connects you to shopping malls, Senai airport, food districts and numerous premier landmarks of the city. With the façade portraying contemporary design, the hotel offers luxury yet comfy rooms to all guests, catering either leisure or business needs.
Standard rooms, deluxe rooms, executive rooms and family rooms are offered. Some room even comes with a jacuzzi room where you can bask in and recharge all the night.
Price Starting From:
RM178 @ SGD$59 (include hotel tax & service fee)
Hotel Highlight:
Lift
Conference room
Free Wi-Fi
Restaurant
Free newspaper
Good To Know:
Be early for breakfast because there's not much left in late morning.
Complementary snacks like chips and Oreoare provided in room.
AEON mall is just behind the hotel where you can find lots of eateries inside.
3. Castello Hotel Kulai
Why do you want to pay more if you can enjoy staying in luxury at cheaper price? Being a luxury budget hotel, Castello Hotel Kulai offers comfortable lodging at affordable room rates. Whether you are here for business trip or leisure shopping, the hotel caters all under one roof.
The 5 types of rooms offered are superior twin room, superior queen room, executive room, deluxe room and family room. All are spacious, clean and well-decorated with classic vintage wallpaper of British feel.
Price Starting From:
RM135 @ SGD$45 (include hotel tax & service fee)
Hotel Highlight:
Lift
Air-conditioned, clean and well-designed room
Free Wi-Fi
Warm reception service
Very near to Aeon
Good To Know:
Some rooms have no window. Request for other room if you get it.
Limited parking space around the hotel.
Fridge is only available in selected room.
4. Palazzo Hotel Kulai
Established in June 2015, Palazzo Hotel offers 35 contemporary guestrooms to provide a comfortable lodging experience. The hotel is very close to Senai International Airport and just next to the IOI mall, which is very convenient for all travellers.
Superior room, superior deluxe room, superior twin room, family deluxe room and family room are offered. All are very clean and comes with a private bathroom with shower.
Price Starting From:
RM94 @ SGD$31 (include hotel tax & service fee)
Hotel Highlight:
Airport transfer
Free Wi-Fi
Daily housekeeping
Gift shop
Elevator
Wheelchair accessible
Shuttle service
Free bottled water
Good To Know:
There is a gold course within 3 km.
Children can stay for free if they use the existing bed.
Only certain rooms have window.
Bottled water is available upon request.
Room service is not provided.
5. Zenz Hotel Kulai
Zenz Hotel Kulai is yet another budget hotel which offers 6 different room in the most comfortable way. There are a lot of beautiful arts lining on the walls of the corridor, offering a feeling that you are staying inside a museum.
Price Starting From:
RM89 @ SGD$29 (include hotel tax & service fee)
Hotel Highlight:
Airport shuttle (chargeable)
Room service
Daily housekeeping
Luggage Storage
Free Wi-Fi
Free parking
LED TV
Good To Know:
For light sleeper, sound from the main road may wake you up. Ask for room at the back instead.
There is a golf course within 3km.
Very near to IOI mall, Aeon Mall Kulaijaya and Johor Premium Outlet.
The hotel has no elevator to carry luggage to upper floor.
Vending machine is available at the hotel.
Water dispenser is at the end of the corridor.
6. Le Grandeur Palm Resort Johor
Le Grandeur Palm Resort Johor is an all-in-one 4-star resort that sits away from the hustle and bustle of city life. With just 3-minute drive from Senai International Airport and you will arrive at this elegant resort.
A lot of outdoor and indoor activities are available at the resort. In addition, their gracious hospitality together with luxurious accommodation makes your stay a memorable yet pleasant one.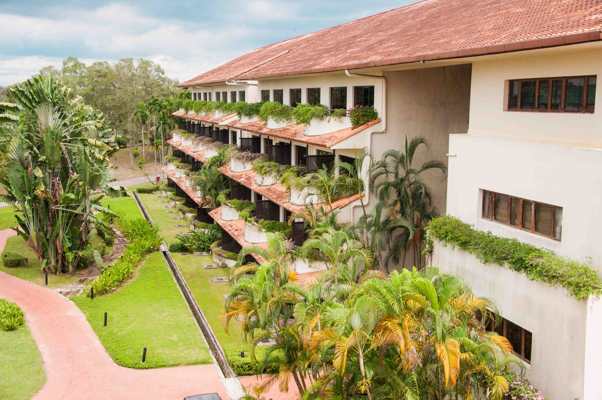 Price Starting From:
RM198 @ SGD$59 (include hotel tax & service fee)
Hotel Highlight:
Xin Shan Long Chinese Restaurant
Sobashei Japanese Restaurant
The bar
The Grill at Cocomo
Torquoise Poolside Bar
Golf course
Le Spa
Swimming pool
Good To Know:
You can enjoy riding bicycle or riding an ATV at their tropical garden.
At the shoppie mart, you can buy snacks, souvenirs and sweets for little ones.
Dartboards, snooker, table tennis and board games are available here.
How To Get To The Places?
Want to get to these places but don't know how?
Worry not!
You can now travel smoothly with EK 168 Transport – a comfortable and trustworthy private car service that is renowned for its excellent service!
What's more, you wouldn't need to get off the vehicle when crossing the Singapore-Malaysia border for the customs check. Leave your passport to the driver and he will do the work for you.
Also, you'll be pick-up from any point in Singapore to these places in Johor at your desired time.
Our professional drivers ensure your safety with prompt and quality services to fit your needs.
Contact us or book online today, it's convenient with EK 168 Transport!