1. San Shu Gong (三叔公)
With eye-catching red building, San Shu Gong is an all-in-one souvenir shop where you can grab all local goodies for friends.
Wide range of food items are offered here. Mostly they will provide samples in a small container. Try it first and decide your purchase later.
For durian lovers, a very unique food recommended for you is their durian jam. The taste is exotic and amazing. They also sell many authentic Nyonya pastries for those who enjoy Nyonya food.
If you want to take a break, just head to the Lao Qian Ice Café at second storey to enjoy heavenly cendol and white coffee. Then, you can continue shopping at anytime!
Things you can buy:
Gula Melaka
Biscuits
Buns
Jams
Durian Cendol & Gula Melaka Cendol
White coffee
Instant teh tarik
Candies
Packaged pastries
Dried fruits
Cooking ingredients
2. LW Nyonya Pineapple Tarts House
Pineapple tarts can be found anywhere over the Malaysia but if you want to have the authentic Nyonya Pineapple Tarts, you should go to the LW located in Malacca.
You know you have come to the right place when you see a giant pineapple tart displayed in front of the store. In 2004, this giant tart has been awarded the largest pineapple tart baked in Malaysia Book of Records.
Made from margarine, their pineapple tarts come with different flavour such as original butter flavour and pandan flavour. The pineapple jam inside has a very strong pineapple flavour and it is slightly fibrous.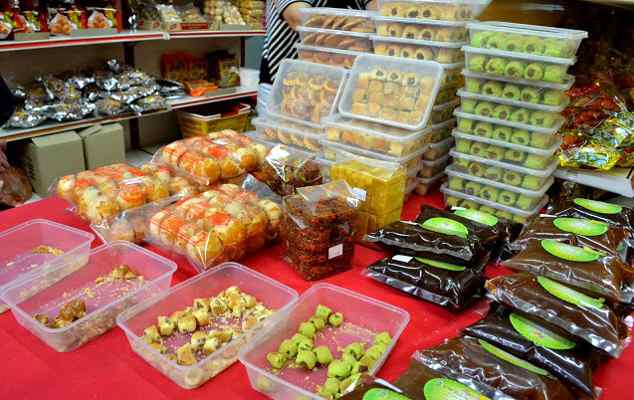 Besides pineapple tarts, they sell variety of aromatic pastry which gives you the moreish taste.
3. Nyonya Story Enterprise
With more than 20 years of pastry making experience, the master chef at Nyonya Story Enterprise makes plenty of cookies and local delicacies for sale. The best part is, they offer samples for most of the pastries.
Pineapple tart is their signature. With a unique buttery taste, the sticky-sweet pineapple jam inside could just melt inside your mouth yet it still retains its thread-like fibre.
Sometimes, you might be able to catch the samples right from the hot oven. And most of the time, you probably want to finish the whole box just after one bite.
You can pre-order the pineapple tarts here for Chinese New Year.
4. Orang Utan House
Opened in 1992, Orang Utan House is established by a famous local artist named Charles Cham. Originally this is a studio gallery showcasing all his art work but now, it transforms into a shop selling souvenirs and his lovely canvas artwork.
This shop is highly noticeable by the huge orang utan mural on the exterior wall of the building. Many visitors love to take photographs here.
Inside, there is a collection of contemporary paintings for sale. However, most people are here for their creative and one-of-a-kind T-shirts.
Well-designed and well-printed by the artist, the T-shirts boasts quirky taglines or inspirational quotes on it. The quality of these T-shirts are excellent too!
Customers are not allowed to take pictures in the shop.
5. Jonker Gallery
To shop for exquisite and inexpensive souvenirs for your loved ones, Jonker Gallery is the ideal spot for you! Featuring locally-made handicrafts, Jonker Gallery is one of the largest retailers selling souvenirs in Malacca.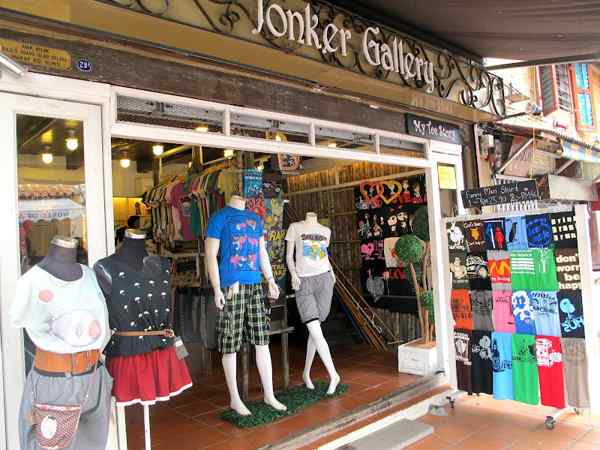 There are several Jonker Gallery outlets scattered all over the Jonker Street. Some items are only sold at certain outlets.
Jonker Gallery is also a boutique selling pretty clothes for ladies. The blouses and shirts with cute flower prints received lots of love from the girls. Besides, they sell unique and quirky tees which are nowhere to be found in other shops.
Things you can buy:
Handicrafts
Fashion accessories
Footwear
Cute tee
Retro bags
Home decorations
Trinkets
6. Jing Yuan Biscuit & Bakery (京园食品)
Jing Yuan is a humble bakery that sells pastries for many years. Once stepping at the entrance of the bakery, you instantly smell the aroma of the pastries they made.
Wide array of tasty biscuits is sold here. Among all, Chicken Floss Tou Sar Kok tops the list of customers' favourite. It gradually becomes the signature snack at Jing Yuan.
Chicken Floss Tou Sar Kok is fresh made every day and manually packed by the staff. With a layer of tasty chicken floss on the top, it boasts a very crunchy outer but a big twist in inner texture. Inside, the sweet fillings are very smooth and soft. It feels like a sweet melting in your mouth.
They sell delicious Tau Sar Piah (bean paste pastry) as well. If you are a fan of it, grab a pack home!
7. Tan Kim Hock Product Centre
With over 100 food products sold within the premise, Tan Kim Hock Product Centre is an immensely famous souvenir shop among the locals and tourists.
Some of the food products are considered rare products because they can only be found in Malacca. But if you wonder how they taste, samples are available for customers.
All food products here are made from the raw materials that are grown at the estate of the company. Then, the food is processed at the company's factories. This is to ensure the authenticity of food products.
Outside the shopping area there is a cendol stall operated by the store. You can have the durian cendol to cool yourself down in the hot afternoon.
Things you can buy:
Coconut candy
Gula Melaka
Medicated nutmeg balm
Cincalok
Dodol
8. Sweet Summer Cottage
Featuring beautiful white furniture and floral decoration, Sweet Summer Cottage offers many beauty products made from natural ingredients. It truly sells the perfect souvenirs for ladies!
The most significant beauty product of Sweet Summer Cottage is the homemade soap. Using the traditional European method, the soap does not contain any chemical elements that harm our skin.
If you have sensitive skin, don't worry because the homemade soaps are formulated to suit the weather in Malaysia and sensitive skin too. Just ask the staff to recommend the soap that suits your skin.
Things you can buy:
Homemade soap
Shampoos
Hair conditioners
Insect Repellents
Makeup
Lip Balms
Perfumes
Mask
9. Ah Lan Beaded Shoes & Accessories (娘惹鞋专卖店)
Established in the 80's, the shop sells handmade Nyonya beaded shoes and accessories which the owners seem to expertise in making it. They have been making hand-craft shoes for more than 30 years before the establishment.
The Nyonya beaded shoes are made from either leather materials or silk materials. Apart from that, they offer many kinds of beaded shoes such as tiny beads, cross strap, open toes and closed toes. All are delicately made by hand.
Sometimes, you will see them working on the beaded shoes in the shop. You'll truly be amazed at their artwork.
Besides beaded shoes, they sell dancing shoes too. However, this is only available under special requests.
Things you can buy:
Nyonya beaded shoes
Ladies' scandals
Bound feet shoes
Beaded bags
Nyonya sarong kebaya
How To Get To The Horse Riding Places In Johor
Want to get to these places to learn or experience horse riding in Johor from Singapore but don't know how?
Worry not!
You can now travel smoothly with EK 168 Transport – a comfortable and trustworthy private car service that is renowned for its excellent service!
What's more, you wouldn't need to get off the vehicle when crossing the Singapore-Malaysia border for the customs check. Leave your passport to the driver and he will do the work for you.
Also, you'll be pick-up from any point in Singapore to these places in Johor at your desired time.
Our professional drivers ensure your safety with prompt and quality services to fit your needs.
Contact us or book online today, it's convenient with EK 168 Transport!