Best Chicken Rice Ball in Jonker Street
1. Hoe Kee Chicken Rice (和记鸡饭团)
Hoe Kee is probably the most famous restaurant in Malacca offering the significant chicken rice ball Malacca.
Every day, the restaurant is crowded with tourists and even locals for a delightful meal.
The unique thing about their chicken rice is, the chicken is drenched with soy sauce, hence offering a flavourful yet tender meat. Remember to pair the chicken with the chicken rice ball which is fragrant and tasty!
At the entrance, there is a price list which shows you the ideal portion for your group. The staff will help you with the order before you enter the restaurant.
2. Chop Chung Wah (中华茶室海南鸡饭)
Chop Chung Wah offers the famous chicken rice ball Malacca too! This humble coffee shop has a concept of open kitchen where you can see how the meals are made.
Together chilli sauce, the plate of steamed chicken is served together with the soft rice balls. I must say they offer one of the best rice balls in town. Despite the fragrance, it comes with a moist and slightly sticky texture – perfect in mouth!
For the steamed chicken, the meat is very tender and juicy. Poured with the soy-based sauce, it offers a delicately salty taste too. Best to pair with the chilli sauce.
Best Vegetarian Chicken Rice Ball Melaka
3. Shui Xian Vegetarian Restaurant (水仙素食园)
The chicken rice ball Malacca can be enjoyed by vegetarians too, right at Shui Xian Vegetarian Restaurant! Even if you are non-vegetarians, you will enjoy eating their vege chicken rice ball.
No other restaurant can duplicate the taste of chicken rice offered by Shui Xian. It gives you a twist from the typical taste of chicken rice.
Besides, the vege chicken is served together to complement your meal. The dish also comes with their specially made chilli sauce and some cucumber.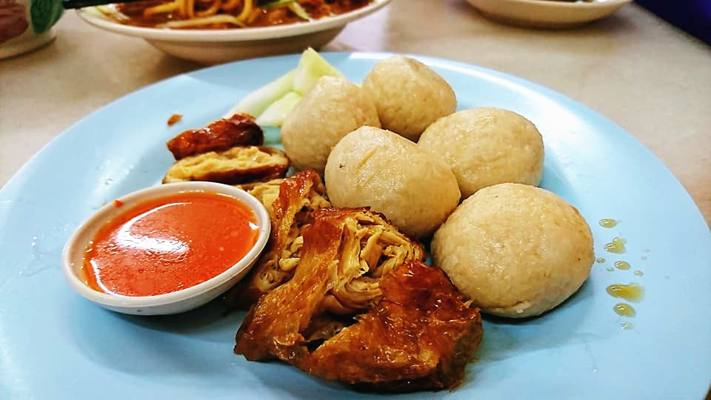 The chicken rice ball comes with reasonable price. Remember to come early as it is often sold out by 9am.
Best Halal Chicken Rice Ball Melaka
4. Ee Ji Ban Chicken Rice Ball (一级棒鸡饭粒)
Bring your Muslim friends to enjoy the Malacca's chicken rice ball at Ee Ji Ban!
Here, you must at least order 10 rice ball or the rice will come in the normal version. Slathered with soy sauce, the rice ball offers you a salty yet flavourful taste!
And you really can't image how yummy the chicken is. Both the roasted chicken and steamed chicken appear to be fleshier and bigger than it usually is. But many prefer the roasted chicken for their crispy skin and tender meat.
It is possible to pair your meals with vegetables or other dishes if you want. The restaurant offers authentic Nyonya dishes which is extremely delightful!
Best Chicken Rice Ball Melaka
5. Ku Loong Kee Chicken Rice (古龙记鸡饭)
Ku Loong Kee is another restaurant the offers the famous chicken rice ball Malacca, even crowned as one of the best in Malacca. Their chicken rice is quite similar to the Ipoh style chicken rice.
Plain and tasty are the 2 words that fully describe their chicken rice. Even though the chicken is dipped with soy sauce, you can still enjoy its nature sweetness. Plus, the meat is very soft and succulent!
Even if you are not a chicken breast lover, you will find it having a nice texture to chew. A plate of bean sprouts is added to complement your meal too.
6. Old Town Chicken Rice Ball (古元鸡饭粒)
The chicken rice served at Old Town has attracted diners with their special secret recipe. They serve the famous chicken rice ball Malacca too.
The chicken is marinated using 13 different kinds of spices and deep fried until it looks golden yellow. It has a crispy skin and the tender meat is perfect to be savoured down!
The owner also put a lot of effort in making the chicken rice ball too. All of them are handmade into a perfect ball shape.
Besides, a lot of customers also enjoy their black bean soup, Taiwan fried chicken chop and fried kuew teow. They like to pair it with the chicken rice too.
7. Hainan Kitchen (海南小厨)
If you want to avoid the crowd but still want to try out the delicious yet famous chicken rice ball Malacca, Hainan Kitchen is perfect for you.
Compared to others, this restaurant is less crowded and there are many parking lots available. Plus, the environment is spacious and comfortable!
Their steamed chicken is perfectly cooked and accompanied by the warm soup which offers a well-balanced flavour. Together with the chilli, their sublimely tender chicken tastes fantastic.
Infused with chicken stock, the rice balls also have a lovely taste too. Some might think that it's a bit salty but in overall, it goes very well with the chicken.
8. Huang Chang Chicken Rice (煌昌海南鸡饭)
Away from the busy Jonker Street lies a hidden gem – Huang Chang Chicken Rice which sells one of the best chicken rice ball in Malacca.
Here, the rice balls look creamier and smaller but it comes with a strong ginger taste. The texture is firm and it does not crush easily using fork.
On the other hand, their steamed chicken is very juicy, soft and the add of soy sauce is just at the right amount. The portion served here is quite big too.
Last but not least, they offer chilli sauce which burst with spiciness! It's totally different from the watered-down sauce offered in others restaurant.
9. Family Soya Bean (豆奶家乡鸡饭粒)
Located in Ayer Keroh, Family Soya Bean is another place to enjoy the famous chicken rice ball Malacca in a not-so-crowded restaurant.
This restaurant offers ping-pong ball size chicken rice ball which is moist and comes with ginger flavour. The plain flavour goes very well with the flavourful chicken!
Roasted chicken and steamed chicken are both available. You really can enjoy the nature sweetness of the chicken because they don't put much ingredients and spices in cooking the chicken.
Many customers are here not only for chicken rice, but also their highlight dish – soya bean. It only sells after 10am.
How To Get To The Places?
Want to get to these places but don't know how?
Worry not!
You can now travel smoothly with EK 168 Transport – a comfortable and trustworthy private car service that is renowned for its excellent service!
What's more, you wouldn't need to get off the vehicle when crossing the Singapore-Malaysia border for the customs check. Leave your passport to the driver and he will do the work for you.
Also, you'll be pick-up from any point in Singapore to these places in Johor at your desired time.
Our professional drivers ensure your safety with prompt and quality services to fit your needs.
Contact us or book online today, it's convenient with EK 168 Transport!