1. Endau-Rompin National Park
Endau Rompin National Park is one of the top places to visit in Malaysia. It owes its name to the two water-bodies that cross the park. The Endau river and the Rompin river run across the park in the south and north directions respectively. The flora and fauna of the park are one of the rarest in the world.
The Sumatran Rhino, found in the national park, is an endangered species found only here because of the artificial habitat created for it.
The park is also home to some of the most beautiful and spectacular waterfalls in the country like Batu Hampar and Buaya Sangkut. The best thing is that you don't have to wander too far to see them. Don't forget to bring a camera with you when you visit the natural park.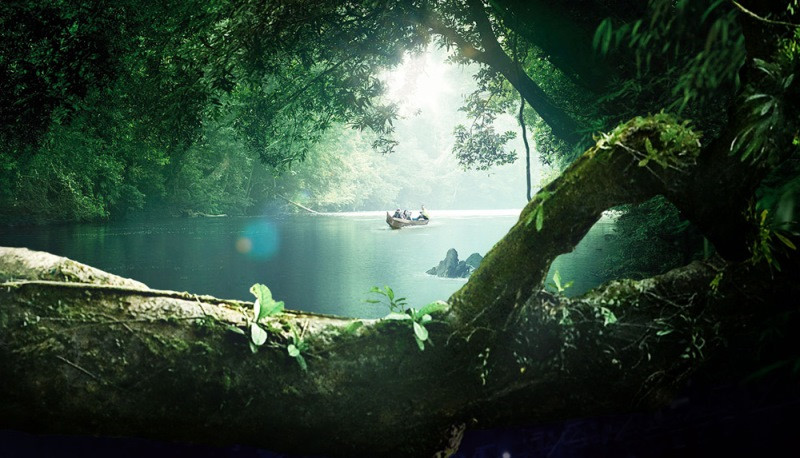 The park is home to such a vast treasure of fauna and flora that you would require 3-4 days to completely ingest the beautiful sights the park has to offer.
The forests and waterfalls are so exciting; you might consider spending the rest of your life here!! Be sure to take a local guide with you unless you want to lose your way in the labyrinth of fun the forests offer.
Also read: Guide: Kota Tinggi Waterfalls
The only flip side to a visit to Malaysia would be its weather. Malaysia has a tropical climate. Throughout the year, it is hot and humid. There is simply no relief from the heat and sweat.
Temperatures range between 25 and 33 degrees Celsius. There are going to be a lot of tropical insects, so be ready for them with long pants and full-sleeved shirts.
2. Gunung Ledang National Park
Gunung Ledang National Park is located atop the mountain, Gunung Ledang, which is one of the high mountain peaks in Malaysia. It is only a couple of hours drive away from Singapore.
It is incumbent to hire a guide for the purpose of being on the top of the mountain, which is a journey of 5 -6 hours. The path is crossed only with the help of ropes, so a fit and agile guide would be a big help.
The Puteri Waterfalls are probably the most mesmerizing waterfalls you would have witnessed in your life, so be prepared for it with some cameras to capture the moment in photographs.
There are legends and stories of a lot of wealth and treasures buried in and around the area, but you should not let them hinder with your plans of enjoying the serene beauty. The park is home to about 160 different species of birds, so if you are a bird lover, you are in the right place.
3. Niah National Park
Located in Miri, Sarawak, the site is known to have discovered the oldest human remains in the cave proving that this cave was inhabited by humans at least 40,000 years ago!
Niah National Park is also popular for its largest cave entrance- an amazing sight to behold, Iban experiences, jungle walks, swiftlets, bats and cave paintings.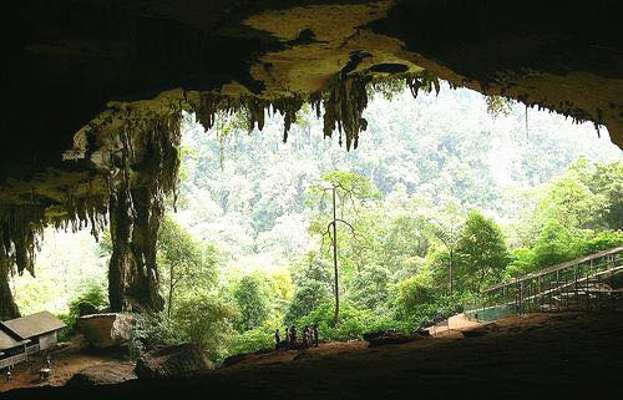 There are 3 caves to visit and they are so large that you will need to overnight at their hostel or chalets to fully explore the amazing site.
The Great Cave is where you'll have the opportunity to see the locals collecting birds nest situated high in the cave walls built by swiftlets. Wonder in an unlit Moon Cave to view the remarkable rocks and their weathering effects. Lastly, look at the drawings of human figures on the wall and other artefacts in Painted Cave.
Best of all, during the evening sunset, you can get to witness the 'changing of guards' where thousands of swiftlets will return to the cave to rest while the bats will fly out into the forest to forage.
4. Penang National Park
The Penang National Park is a natural-rain-forest is the smallest national park in the whole world. The Penang island can boast of only a few natural forests, and this is one of them.
Also read: Tanjung Piai National Park
The park is a home to several rare species living in an ecosystem of hills, beaches, rivers and forests. The government of Malaysia has significantly contributed to its protection and conservation since it came under the purview of the National Act of 1980.
For those who love nature, there are is a plethora of biodiversity on the island like Green turtles, Ridley turtles, Leatherback turtles and Hawksbill turtles. The island is the home to several species of other reptiles, birds, and amphibians.
There are several mammals like flying lemur, slow loris, tree shrews, sea otters, pangolins and civet cats. And don't get excited if a snake crosses your path when you are on the island. All snakes are non-poisonous.
For those enthusiastic about using the water-system, there are always boats that could take you to Kuala Sungai Pinang, in the park.
5. Taman Negara National Park
The Taman Negara found itself on the Titiwasngsa Mountains of Malaysia in 1939. Originally, it was called King George V National Park. Spread over 1,677 square miles, it occupies a prominent place on the tourist-map of Malaysia.
The tropical rainforest here is believed to be 130 million years old. The Malayan Tiger, Crab-eating macaque and Asian elephant are some of the rare species found here.
It is believed to be the point where the Malaysian mahseer is preserved in its natural habitat. But a visit to the park requires a permit from the Department of Wildlife and National Parks.
Getting to the park was never an ordeal, especially if you are in Singapore. Trains connect the national park with Singapore and stop at Kuala Tembeling station.
Also read: 19 Best Weekend Getaways From Singapore (Recommended Short Trip's Itinerary & Transportation)
This is only a walk away from the park. The most popular way of getting into the park is through Jerantut, Pahang. This is from where a taxi-service would take you to Kuala Tembeling Jetty.
One could choose to travel by train or one could use a bus or there could even opt for a flight between the two countries, or you could choose to drive to your destination using your car.
6. Mulu National Park
Located in Sarawak, Mulu National Park is a protected rainforest known for its thrilling caves and peaks allow for adrenaline climbers to trek the summit and go on caving expeditions and also an escape to the natural tranquil of the rainforest.
It has been awarded Malaysia's First World Heritage Area in 2000 famous for the world's longest cave (Clearwater Cave) and world's largest cave passage (Deer Cave) in SouthEast Asia.
The park main attractions are the show caves. Get a great visual treat of the natural formation of minerals, bats, swiftlets, rock corals and the unique beauty as you make your way to the caves.
For a more fantastic view of the caves, there are a number of sites suitable for the adventurous that wants to do caving trips.  Here are the 4 exciting sites to explore;
Lagang Cave
Racer Cave
Clearwater Connection
Sarawak Chamber
There are trails and treks available together with a Park Guide too.  There are 3 types of adventure treks which required a certain degree of physical fitness; The Pinnacles, The Headhunter's Trail, Gunung Mulu Summit Trek.
Also read: Gunung Lambak (Climbing Tips From My Own Experience!)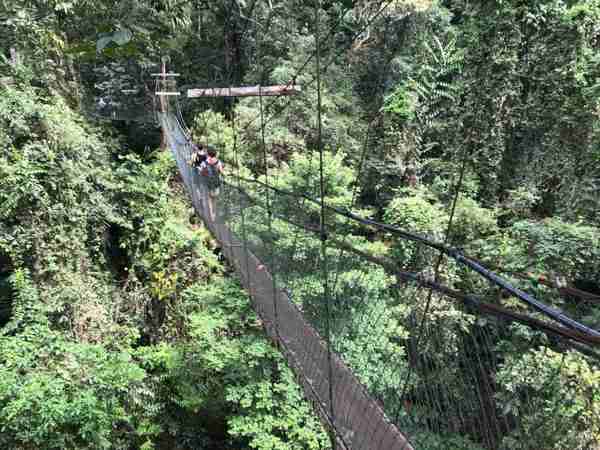 Dive into the wonders of nature as you walk on the longest tree based canopy "Mulu Canopy Skywalk" at 480m long. Walk among the vines and ferns to get closer to the life in the rainforest and bird-watching at their partly hidden Tree Top Tower.
The park's ecosystem is home to thousands of ferns, flowering plants, orchids, various of mammals, insects, snakes, and even fish. The park has a vast array of flora and fauna that many species may still be unknown to man.
7. Tunku Abdul Rahman National Park
Tunku Abdul Rahman (TAC) National Park is situated off the coast of Sabah that compromises a group of 5 islands; Pulau Sulug, Pulau Gaya, Pulau Mamutik, and Pulau Sapi. This marine national park is a famous tourist destination that is only a 15 to 20 minutes boat ride from Kota Kinabalu.
Pulau Gaya is the largest islands among the others which boasts amazing beach resorts such as; Gaya Island resort, Gayana Eco Resort and Bunga Raya Resort. This island is known for its famous beach at Police Bay with a 400m stretch of crystal blue sea.
The second biggest island, Pulau Manukan is the most popular island with great stretches of beautiful beaches and coral reefs, that is ideal for diving, swimming and snorkelling. Pulau Mamutik (smallest island) and Pulau Sapi are the other two islands great for snorkellers and scuba divers.
Also read: 10 Best Haven Islands off Mersing, Johor
If you prefer a quieter environment, choose to stay at Pulau Sulug which is more remote and undeveloped. The island still has stunning beaches but less crowded and lesser facilities compare to the other islands.
Aside from the usual diving and snorkelling, you can go kayaking, BBQing, sailing and other water sports activities. You may even encounter interesting animals while trekking in the jungle;
monkeys
wild boar
snakes species
hornbills
monitor lizards
How To Get To The Horse Riding Places In Johor
Want to get to these places to learn or experience horse riding in Johor from Singapore but don't know how?
Worry not!
You can now travel smoothly with EK 168 Transport – a comfortable and trustworthy private car service that is renowned for its excellent service!
What's more, you wouldn't need to get off the vehicle when crossing the Singapore-Malaysia border for the customs check. Leave your passport to the driver and he will do the work for you.
Also, you'll be pick-up from any point in Singapore to these places in Johor at your desired time.
Our professional drivers ensure your safety with prompt and quality services to fit your needs.
Contact us or book online today, it's convenient with EK 168 Transport!