Top 9 Muar Attractions
1. Muar River
Flow through states of Johor, Pahang and Negeri Sembilan, Muar River was a short-cut route from the east to the west coast of Peninsula Malaysia in the ancient time. Let's move on for the popular attractions which can be found along the scenic river!
Aslo read: Best 31 Things To Do In Johor Bahru (JB) Travel Like a Local Tour Guide!
1.1 Tanjung Emas
Overlook the Muar River, Tanjung Emas is a pleasing recreational park that offers adventures for people who love getting close to nature. No worries if you come in the hot afternoon because they had built plenty of shaded rest stops around the park.
The park houses a 9-hole golf course. Featuring a decorative walkway, it's really relaxing and enjoying if you come here for jogging. The park even offers a 45-minute cruise ride where you can take in the wonderful sight of Muar town from the river.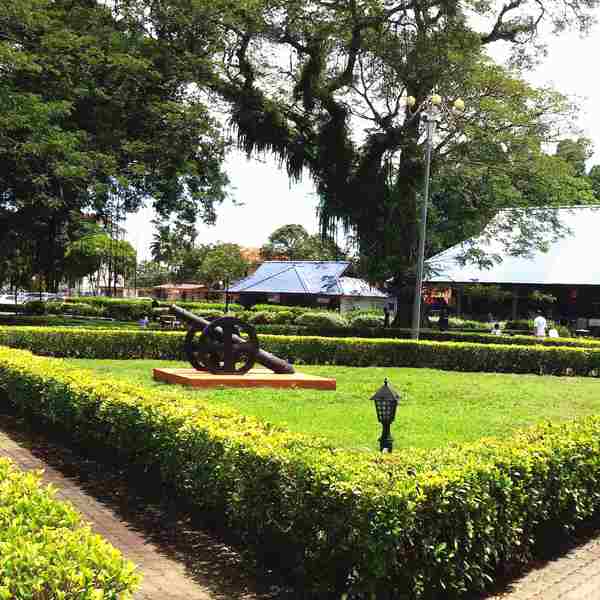 This is also a popular spot during the weekend, where families love bringing their children here to have a walk. Besides, the playground inside always keep the kids amused.
After the adventure, head to the on-site food court for some local delicacies. One of their signatures is "Ikan Asam Pedas' and o-chien which made from the freshest oysters daily.
1.2 Sultan Ibrahim Jamek Mosque
Located close to Muar River, Sultan Ibrahim Jamek Mosque is going to amaze you by its Western & Middle East architecture that perfectly blends with traditional Malay design. The construction of this historical mosque was completed in 1887, making it the oldest mosque in Muar.
Sulaiman Ilyas is a local artist who drew the blueprint of the mosque. The most outstanding feature was the minaret, truly a sight for sore eyes. Porticoes and balconies were elegantly adorned by Romans column too. Within the premise, there is even an ancient sundial where Muslims used to inform prayer items.
A fountain sits right in the centre of ablution pool. If you view it from the top, the whole building was beautifully painted in white and blue, offering a peaceful yet serene atmosphere.
1.3 Muar Clock Tower
If you go to Muar by public bus, consider Muar Clock Tower as your first destination because the location is just in the middle of "Padang Nyiru", which is so near to the Muar Bus Terminal. Being the famous local landmark, this is yet another famous attraction where tourists love to go.
Painted in yellow and white, the tower that features old England architecture makes it so unique and different from the building beside.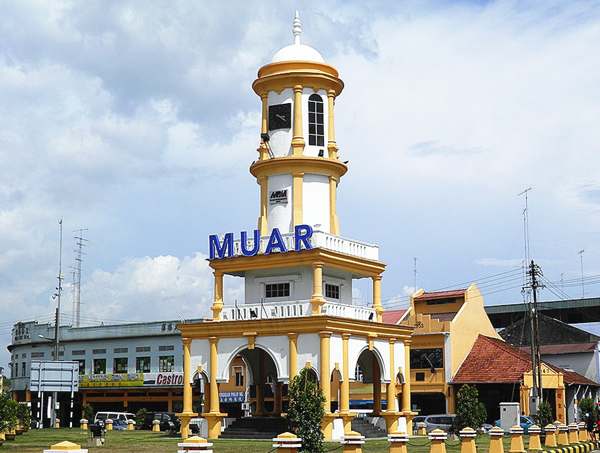 But due to safety concern, the government had padlocked all the stairs inside. Even though you cannot enjoy the town view from the top, taking pictures with the beautiful tower is quite satisfying too.
1.4 Sultan Ismail Bridge
Opened in 1967, Sultan Ismail Bridge is built to link Muar town with Tanjung Agas. It can take you to Batu Pahat, Johor Bahru, and even Melaka. Initially, this was a toll bridge but due to objections by locals, the toll collection is abolished so now, crossing the bridge is free of charge.
Being one of the iconic landmarks in Muar, you really should stop by here and admire its distinctive architecture. When all the lights on at night, the bridge offers you a magnificent view in a romantic ambiance.
Before construction, people must depend on ferry services to cross the river. Due to rapid development which the services cannot meet the demand, they decided to build this bridge to replace the ferry ride. Besides, the ride is time-consuming and dangerous during flood season too.
2. Wetex Parade
Integrated with Classic Hotel which situated on top, Wetex Parade stands as the biggest shopping mall and serves as the prominent retail destination in Muar town. It has lots of parking spaces around the mall.
This is truly a place for shopping lovers. From shops, supermarket to entertainment, it has all under the sole roof. If you feel hungry, just look for the directory and choose your favourite restaurant to dine in.
Many visitors spend the afternoon time here to escape from the heat. They even grab the chance to shop for souvenirs or beautiful clothes. All are offered at reasonable prices.
3. Don Hu Jurassic Park Garden
Here comes a place in Muar where you can spend time with "harmless" dinosaurs!
Don Hu Jurassic Park Garden is so amazing that it owns more than thirty dinosaur sculptures includes the Tyrannosaurus Rex species. Once entering the park, you really feel like you were in Jurassic Park in those Hollywood movies.
This is a great place for family bonding where children will have lots of fun. The park is educational too as children can learn more about the species of the dinosaurs.
Realising that there are not much entertainment options in Muar, the owner did not charge any entrance so that children can come here anytime to have ultimate fun. Get ready to be awed by the realistic and big dinosaur sculptures!
4. Grisek Hot Spring
A clean and well-maintained hot spring is for free in Muar! Soak into the 3-ring-pool with water temperature below 70 degree Celsius will truly eliminate fatigue and get your body, mind, and soul regenerated after a tiring day.
Surrounded by greenery landscape, Grisek Hot Spring is always crowded with locals and visitors during the weekend. They believe that hot spring can provide relief to some skin ailments and soothe muscle ache. Besides, it is quite photogenic to have your pictures uploaded on social media.
Featuring children's hot spring and children's playground, parents who feel a bit tired after a long day journey can bring little ones here for fun while they themselves relax in the hot soothing water. Clean bathing facilities and parking lots are provided too.
5. Pantai Leka (Parit Jawa)
Pantai Leka is a beach located in Parit Jawa, a fishing village where you can see many colourful fishing boats dotted the quay. This is the best place in Parit Jawa to view the sunset.
It also serves as a bird sanctuary that provides shelter and food for migratory birds. The best bird-viewing season falls from June to August. Sometimes, you will see birds searching for food during low tide or birds flying in front of you, which is simply an awesome experience.
Tired of walking along the beach? Just head over the Malay restaurant located at the corner. The seating is specially arranged for guests to enjoy the sights.
The simplicity here is nowhere to be found in the urban area. Time spent with your loved ones at Pantai Leka is worthy and it truly deserves the 10km drive from Muar.
6. HS Farm / HS Farmstay 农场民宿
Make your trip to Muar a colourful one by visiting HS Farm, a country-style farmhouse where you can enjoy the happiness of simple lifestyle with animals. To explore more, you can even spend a night here!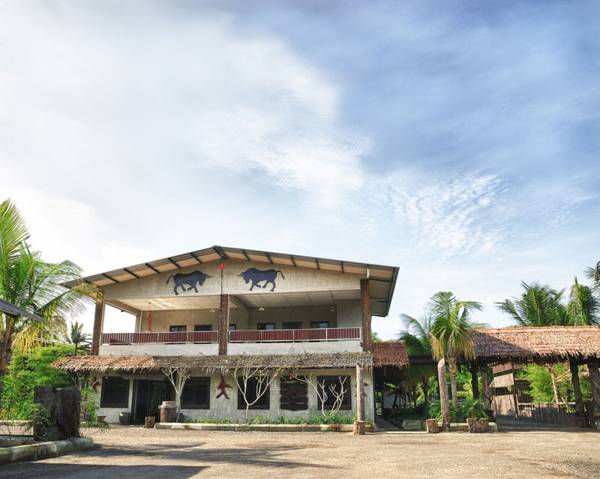 The farm offers a unique learning experience to all visitors. You will surely gain precious knowledge about conserving and preserving the environment. Besides, it is a great chance for you to enjoy the fresh air and get extremely close to nature.
Get on an adventure at the on-site waterpark to release all stresses. Other activities offered include horseback riding, fishing, cycling, riding on the carriage, and a massage pond. At night, you can have BBQ dinner here and some indoor activities such as karaoke, indoor playground, and board games.
After all, the farm has too much to offer. I bet you will have an unforgettable experience here!
7. Muar Mural
Muar may be quite small, but great things always come in small packages. The mural art in Muar is considered one of the best in Malaysia. Displaying convincing cultural influence, lots of foreign and local tourists come over just to capture these outstanding arts.
There are many murals in Muar and the most significant one would be "The Loving Sisters". Painted on wall of the 4-storey building, this is now the largest mural ever found in Malaysia. Besides, Muar boasts the "Bangsa Johor Mural" that depicts the unity of different ethnics in Malaysia.
Hidden in black alleys is the "Ferry Pier Mural" that presents the development of the town. Displaying the development of furniture industry in Muar is the "Roots of World Furniture" mural.
The murals in Muar are mostly gigantic, fully occupy the wall of multi-storey building. Hence it is quite easy to find them all.
8. Nan Hai Fei Lai Temple
The oldest Chinese temple in Muar, Nan Hai Fei Lai Temple is a Buddhist temple located in between 2 shophouses and opposite to the Bentayan Express Bus Station. Many locals come here to pray for family peace since they were young.
During the old times, this historic temple serves as the major worshipping place for both immigrants and locals. It is also called Goddess of Mercy Temple.
If you drive here, it's quite difficult to find a parking space at there will be lots of cars on the road. But who knows if you are lucky enough to grab a parking lot?
9. Gunung Ledang
Nature lovers out there, let's capture the splendid moments of mountain adventures and discover the wonders of nature at Gunung Ledang this weekend!
Located in Gunung Ledang national park, this is the highest mountain as well as one of the most popular climbed mountains in Johor. It even offers scenic nature views and diverse faunas and floras.
With carved stones as a walking path, the mountain is very safe and family friendly. It simply means children and elderly are welcomed too.
Around 20-minute hike from the entrance, you will arrive at the Rocky Mountain where lots or boulders and big rocks are found. This scene adds to the beauty and it also tells you that you are very near to the elegant waterfall – Puteri Waterfall.
Moving up again, you will see the second waterfall which is more majestic and wider than the first one. It has a bigger pool too.
3 Popular Café In Muar
1. Jenna Rose Boutique & Café
Every girl's dream is to combine fashion with food. And Jenna Rose did it so well. Despite serving lip-smacking dishes, they even sell gorgeous clothes which could hardly resist!
Jenna Rose boasts a cosy environment where Fine Italian coffee, exclusive homemade cakes, chocolate, and tea are served. While waiting for the food, girls can do shopping here. Targeted the women who love modern fashion, they offer elegant styles of clothing for women including belts, jewelry, and apparel.
Walnut Brownie and Flaming Cheesecake are their signatures. There also serves various toast topped with ice-cream and fruits that are way too nice. Definitely, the desserts that you shouldn't miss out!
In short, this is the perfect place for girls to have a relaxing high tea or girls talk session. Fast get your besties here!
2. 1988 Florist & Café
Just having a decent meal is not enough. We must have a nice environment and a little flower.
Cafe 1988 is a very unique place where florist and café combined in one. It is a family-own florist café where people not only come here for scrumptious dishes but also fresh flowers, flower ring, bouquets and flower basket for their loved ones.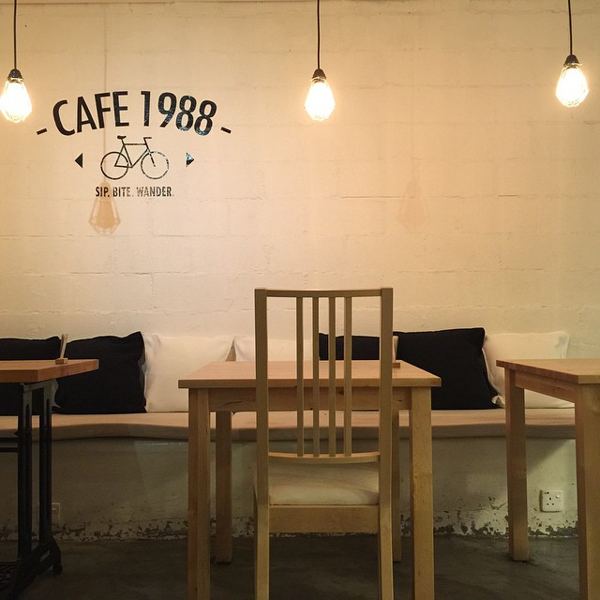 The café offers various flower teas such as lavender tea, rose tea, roselle tea, and bamboo leaf tea. You really feel the refreshing scent of flowers while having the tea, and this is very healthy for the body.
Lots of healthy meals offered here too. "Lei Cha", oat noodle, petai fried rice and cabbage cake, all are made and cooked using the freshest ingredients without adding any artificial flavouring.
3. Black Tree
Renowned for "Bomb desserts", Black Tree is yet another special café that offers exclusive Western dishes and desserts!
Chocolate Bomb is the top ordered dessert here which is going to blow you off. The ball-shaped is just the outer layer and when you pour the warm chocolate over it, it immediately melts and splits out. Then, you can enjoy the waffle, fruits, and ice-cream inside.
For the Fire Bomb, heated alcohol will be poured over to melt and collapse the white chocolate ball. The taste is not too sweet and the portion is bigger than expected. Normally it can be shared with 2 to 3 people.
Get ready for an Instagram post as it is way too pleasure to watch the ball breaking up!
Best Muar Food
1. Muar Jit Fat Hainan Chicken Rice 日发鸡饭粒
A trip to Muar is never a complete one without visiting this humble coffee shop to have their Hainan Chicken Rice.
Like Malacca, they sell the chicken rice in ball-shaped. The rice balls are very soft and not overly oily. Most of all, the size is much bigger than the Malacca one. Drizzle their specially blended soy sauce over and it tastes just right!
At the very first bite, the chicken might have a firm texture. But after you have more of them together with the sauce splattered on the plate, you really feel yourself having a great meal. The flavourful sesame sauce enhances the overall taste of the chicken.
Try out their braised tofu too. The soft savoury tofu is nice to go with dishes above.
2. Otak Otak Char Kway Teow乌达来炒果条面
Char Kway Teow is Malaysian's all-time favourite but have you ever try Otak Otak char kway teow before? Let's try it at the hawker centre in Medan Selera 33!
Like normal, char kway teow here is nicely fried in wok and served with cockles and fried egg. The special thing is slices of otak-otak are added too to light up the dish. The noodles offer you greasy and moreish flavour while the otak-otak occasionally provide spice hit.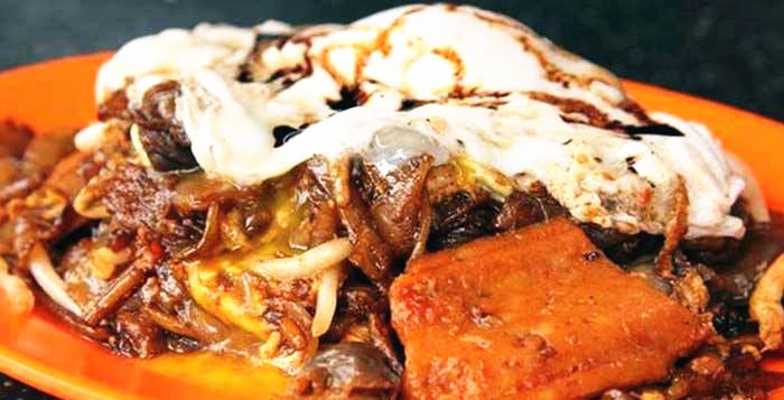 When the most famous food in Muar – otak otak combines with char kway teow, this genius pair really makes you want to have more and more!
Actually, Muar boasts plenty of excellent local delicacies and above are just 2 of them. To find out more, kindly refer to this article – 15 Best Local Food in Muar.
5 Recommended Homestays In Muar
1. Tanjung Villa
Enjoy a pleasant vacation at this Balinese style villa – Tanjung Villa. It is a 2-storey villa that comes with 7 rooms with attached toilet. With so many facilities provided to keep you entertained, you will never feel bored here. Besides, it makes you feel at home.
Homestay Highlight:
Big swimming pool
KTV rooms
Meeting room
Free Wi-Fi
Ample parking space
Good to Know:
This villa is the best choice for throwing a birthday party, family outing, group retreat and private ceremonies. The host can arrange everything for you.
The villa is easily accessible to nearby places.
Live band services are provided. Request to them if you want.
In the evening, ride a bicycle to the tanjung near to the river. You will be rewarded with a beautiful sunset view.
2. Homestay Muar Warni Villa (Secret Garden) 彩虹民宿
This minimalist and stylish homestay features colour theme of white and grey, which offers visual comfort and a sense of fashion to every guest. It comes with 7 guest rooms and 9 washrooms and the villa is very easy to access to city's attractions.
Price Starting From:
RM822 @ SGD274 (include taxes and fees)
Homestay Highlight:
Swimming pool
Beautiful garden
Banquet hall
Karaoke
On-the-spot registration
Photography service
LCD TV
Free Wi-Fi
Good to Know:
The hall can accommodate over 100 guests. It has a big stage, fully equipped lightning, and PA system.
Wedding ceremony, friends gathering or corporate retreat can be organized here.
The villa does not provide check-in counter. So, the host will arrange a time for key handover and to let guests familiarise with the property.
For infants, a blazer can be requested with additional charges.
3. WakaLily Hostel
Offering clean and cozy dormitory rooms, WakaLily is sure to offer you a pleasant stay. With 5-10 minutes' drive to Muar town, the hostel is great for budget travellers or small groups of friends who plan their trip in Muar.
Price Starting From:
RM36 @ SGD12 (include taxes and fees)
Homestay Highlight:
Free parking
Free Wi-Fi
Washer
Laptop friendly workspace
Kitchen
Board games / Puzzles
Books & music for children
Good to Know:
Sometimes, the owner will have dinner with guests in the hotel. Grab the chance to enjoy nice food and meet new friends!
The bus stop is just located right in front of the hostel. Very accessible to other places.
Kitchen is equipped with refrigerator, water dispenser, stove, and toaster. Show your chef skills here.
Local food stalls are within walking distance.
Bicycle is available for rent. You can cycle around to take in the view of this beautiful village.
4. Sabak Awor Resort
An ideal resort for those who want to feel and experience the nature surrounding Muar. With 8-minute drive to Muar town, Sabak Awor Resort offers 50 stylish rooms that are well-equipped with complimentary amenities.
Price Starting From:
RM111 @ SGD37 (include taxes and fees)
Homestay Highlight:
Free Wi-Fi
Multi-functional hall
On-site seafood restaurant (built by the riverside)
Free car parking
Front desk reception service
24-hours security
Good to Know:
Expect beautiful nature all around as the resort is located right at the shore of the Muar River.
Muar River Cruise, Muar Town Night View, otak-otak making, sunset viewing, Kampung Cycling Eco Tour and Tarzan jungle parks can be enjoyed here.
The resort offers team building, corporate training, and travel, student tour and wedding party.
5. Bococo Homestay Muar
This is a comfort homestay which is perfect to create bonding among guests. Featuring stylish and modern interior décor, this is an open concept homestay that can accommodate 10-13 guests at once. It is located on the first floor of the shop lot and without elevator.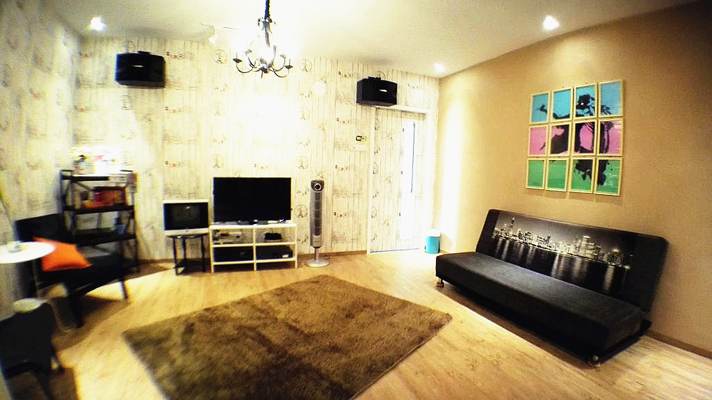 Price Starting From:
RM555 @ SGD185 (include taxes and fees)
Homestay Highlight:
Kitchen
Meeting room
Game console
Table corner guards
Steamboat accessories
Filtered water
Good to Know:
Bococo is about 10-15 minutes' drive to Muar town.
If your group have only 6 persons or below, request for a special discount.
A tourist tax of RM10 is imposed on all foreign guests upon check-in. The tax excluded from the room rate.
Entertainment like karaoke, Mahjong, and board games are provided.
Hypermarkets and coffee shops are just near to the homestay.
5 Best Hotels In Muar
1. Muo Boutique Hotel
Overlook the majestic Muar River, Muo Boutique hotel brings the sense of retro for guests. All rooms come with flat screen TV that offers satellite channels.  The hotel is just 500m away from the bus terminal.
Price Starting From:
RM120 @ SGD40 (include taxes and fees)
Hotel Highlight:
Rooftop garden
Free parking
Free Wi-Fi
Indoor glass house
Muo Concept Store
Lift
Luggage storage space
Good to Know:
Request for a room facing the river. It has better views.
If you come during the festive season, avoid staying in the room facing the road because there will be loud noise.
Extra bed is not available here.
Go to the rooftop garden in the evening to take in the splendid sunset view.
For foreigners, the tourism tax of RM10 will be charged per room per night.
2. BEI Boutique Hotel
BEI Boutique Hotel is a unique concept hotel that redefines for guests who love living and life. 44 appointed suites and rooms are available and come with complimentary amenities. Local coffee shops and 7-Eleven are within walking distance.
Price Starting From:
RM186 @ SGD62 (include taxes and fees)
Hotel Highlight:
Boutique Café
Seminar Hall
BBQ courtyard
Express Buffet
Free parking
Flat screen TV
Good to Know:
Ask for rooms at the end to avoid noise at the corridor.
Guests can relax in their lounge by reading books or having an espresso.
The on-site café serves meals from breakfast, lunch to dinner.
The seminar hall can accommodate up to 100 people. Seminar Packages are available upon request.
Theme events and wedding function are available here.
Sound insulation might be poor for light sleepers.
Free breakfast is provided.
3. Golden Lake Muar Hotel
Standing 3-storey tall, Golden Lake Muar Hotel is yet another hotel close to Muar River. The rooms are furnished in a modern way where you can feel comfortable at home. The Wi-Fi connection here is very strong and there is a supermarket within walking distance.
Price Starting From:
RM81 @ SGD27 (include taxes and fees)
Hotel Highlight:
Colour TV (Astro channels)
Telephone and message service
Free-Wi-Fi
Free parking
Coffee and tea making
Good to Know:
Parking in front of the hotel is safe as there is night security.
Night view from the hotel is extremely beautiful.
Bar bridge is available for RM10 upon request.
The hair dryer is not provided in the hotel.
Soundproofing is quite good here.
They offer an online reservation system where the booking is just one call away.
4. PTT Container Hotel
Painted in orange, it is hard to miss out this building if you are around. PPT Container Hotel offers 3 types of rooms, which are a classic room with a double single bed, family room with double queen size bed and an executive room with a king size bed.
Price Starting From:
RM99 @ SGD33 (include taxes and fees)
Hotel Highlight:
Free parking
24-hour security
Free Wi-Fi
Good to Know:
No breakfast is provided but there are restaurants nearby.
Request from the counter if you need a hairdryer.
2 bottles of drinking water will be provided. The water dispenser is just outside some of the rooms.
The car park will be guarded by a security guard.
Soundproofing in the room is not that good.
The hotel is multi-storey building but not lift is provided.
5. 52 The Grace Hotel Muar
Designed for travel leisure, business, and boutique, the hotel is located very near to the city centre. With its strategic location, lots of Muar's must-visit destinations are very easy to access. Besides, the rooms in this budget hotel are furnished in a Japanese theme, offering a very pleasant stay to guests.
Price Starting From:
RM90 @ SGD30 (include taxes and fees)
Hotel Highlight:
CCTV
Free Wi-Fi
Free coffee and tea
Lift
Hair dryer
Indoor swimming pool
Good to Know:
If you want to plan an event or meeting here, the hotel will arrange it for you.
Catering is available here too.
McD and restaurants are within walking distance.
How To Get To The Places?
Want to get to these places but don't know how?
Worry not!
You can now travel smoothly with EK 168 Transport – a comfortable and trustworthy private car service that is renowned for its excellent service!
What's more, you wouldn't need to get off the vehicle when crossing the Singapore-Malaysia border for the customs check. Leave your passport to the driver and he will do the work for you.
Also, you'll be pick-up from any point in Singapore to these places in Johor at your desired time.
Our professional drivers ensure your safety with prompt and quality services to fit your needs.
Contact us or book online today, it's convenient with EK 168 Transport!