1. Low Yong Moh Restaurant
Opened in 1936, Low Yong Moh Restaurant stands as the oldest and first dim sum restaurant ever existed in Malacca.
It is one of the best places to eat dim sum in Melaka.
Up until now, it keeps holding thousands of loyal customers for the warm atmosphere, generous serving and reasonable prices, ranging from RM1 to RM4.
Once succeed in grabbing a seat, never expect a menu served upon you. But do expect large, piping hot dim sum tray beside and the waiters will feast your eyes with their signature dim sum.
Of course, you can order any dim sum by pointing out the one that caught your fancy.
Low Yong Moh is famed for their big pau which is big in fillings instead of the size. With soft fluffy skin, the gravy inside will flood your hands once tearing apart. The meat fillings taste sweet, well-seasoned and remind us of the old school steamed buns.
Char siew buns, lava custard buns, lor mai gai, steamed glutinous rice are some of the highlight dim sum here too!
2. Long Feng Chinese Restaurant
Eminent for authentic and classic Cantonese cuisines, Long Feng welcomes customers exquisitely in an inviting and stylish atmosphere. You'll dine in a beautiful surrounding and enjoy a high level of luxury and service.
The restaurant is located inside Ramada Plaza Melaka and offers weekend dim sum buffet, business set lunch and "All you can eat" – the lunch dim sum buffet.
As Long Feng is of a very high standard restaurant, the dim sum here is quite expensive as compared to others. Nevertheless, the taste never disappoints.
Soup dumpling and shark fins siu mai are flavourful and is full of gravy once bitten in the mouth. If you wish to enjoy a more filling dim sum, go for the "lo bak gou" – turnip cake. The chef will only pan fry it upon order. After having dim sum, you can always enjoy the desserts offered to help you create a sweet.
The restaurant serves best halal dim sum in Melaka (no pork). Hence, Muslims friends are welcomed to dine here too!
3. Ban Hong Xiang Tea House (萬鴻㴡茶楼)
Occupying 3 consecutive shophouses, Ban Hong Xiang is so popular with dim sum melaka that is always crowded especially during weekend.
The reason beside the great fast services and reasonable prices, is the tea houses serves the quality dim sum that could compete with the authentic one in Hong Kong.
It serves wide array of piping hot dim sum such as siew mai, char siew pao, chicken feet and fried carrot cake. Many customers come here for the juicy big pau that comes with flavourful fillings. Sometimes, they even buy the unsteamed pau back home to steam and enjoy it at home. You can do that too.
No matter how big the group of friends or families come, they always left happy, full and promises to return in the future.
However, Ban Hong Xiang has one limitation. It has less parking space and the parking space is quite small too. Best if you can go earlier to grab the parking space.
Be there as early as you can as some might run out of stock in the blink of an eye.
4. Dim Sum Garden Restaurant Melaka (园林点心屋)
Since the establishment in 2008, Dim Sum Garden Restaurant has been welcoming customers from all over the world. It is spacious, clean, has free WI-FI, air-conditioning and the waiters have a good manner.
The restaurant makes homemade dim sum at the pavement outside the restaurant. They even had their dim sum featured in local newspapers and TV food programme named Ho Chick for several times.
Yong Tau Hu, Chee Cheong Fan, fried carrot cake and Liu Sha Bao, nyonya dumpling are the highlight dim sum here. The congee has a nostalgic taste and the wu gok (yam dumpling) is excellent. Besides, they make delicious wantan too. The crispy prawn wrapped inside makes you long for more.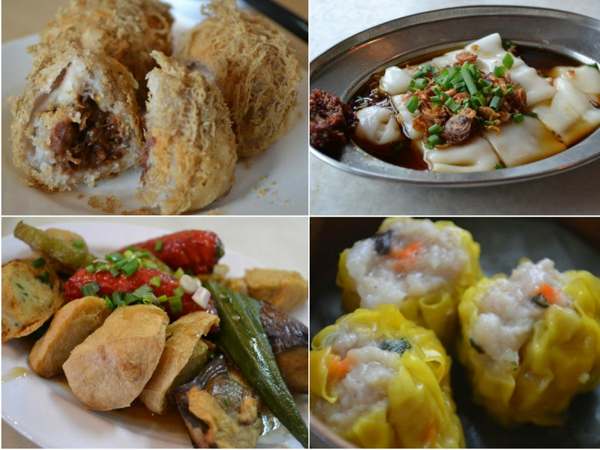 In overall, the dim sum here is not overly salty and tastes good. If you want to try new dim sum, the waiter will always be there to recommend you the finest one.
5. Restoran Tim Sum How Her Siang (好和香点心茶楼)
Mr. Low Kim Lam, the founder of Restaurant Tim Sum How Her Siang, has been running the dim sum business for decades. He establishes his first restaurant in Segamat, Johor and in 1994, his establishes his second outlet in Malacca, which is currently the main branch.
Their signature – "Emperor Pao" or the so called "Chicken Nest Pao", is highly recommended by the founder and many loyal customers for it has got the true heavenly taste.
Marinated with secret ingredients, the chicken is mixed with salted egg yolk, mushroom and Lo Mai before pouring into their homemade sauce for steaming.
Next would be their "Lo Mai Kai", the steamed glutinous rice with chicken that is marinated in 5 ingredients. It tastes so wonderful! And not to forget the "Da Pao" which brings out a sweet yet flavourful taste.
Besides, Siu Mai, Fried Yam Puff, roasted Char Siew and Mushroom Chicken Feet are the dim sum that shouldn't be missed out too.
How To Get To The Places?
Want to get to these places but don't know how?
Worry not!
You can now travel smoothly with EK 168 Transport – a comfortable and trustworthy private car service that is renowned for its excellent service!
What's more, you wouldn't need to get off the vehicle when crossing the Singapore-Malaysia border for the customs check. Leave your passport to the driver and he will do the work for you.
Also, you'll be pick-up from any point in Singapore to these places in Johor at your desired time.
Our professional drivers ensure your safety with prompt and quality services to fit your needs.
Contact us or book online today, it's convenient with EK 168 Transport!