Every town in Johor boasts unique native food products which are the ideal gifts for friends, colleagues, and relatives.
This food always remains in our hearts as we grew up with them. So, the food always makes us reminisce about the "feeling of home".
And so, we now ease your burden by compiling a list of local native food products in Johor.
You need not worry about what to buy in JB for your loved ones or relatives after reading this article.
Scroll down to check it out!
1. Hiap Joo Bakery & Biscuit Factory
2. Otak-Otak Cheng Boi (麻坡阿梅乌达)
3. Sai Kee Kopi Serbok Sdn Bhd (434 咖啡馆)
4. Yuen Fatt Biscuit Sdn Bhd (源发饼家)
5. Kluang Coffee Powder Factory Sdn Bhd (居銮电视机咖啡厂)
6. Tong Huat Confectionery (东发饼家)
7. Layang Food Sdn Bhd (拉央 (薯片) 食品)
8. Family Pastry Shop Sdn Bhd (芳邻蛋糕店)
9. Sin Sin Foodstuff (新新包粿食品)
10. Perusahaan Makanan Hock Bee (福美饼家)
11. YOYO Native Food Products Sdn Bhd (YOYO 出产店)
12. Eng Hin Kedai Membuat Kuih-Muih (永兴福州饼面厂)
13. Hua Bee Bakery (和美饼家)
14. Nictar Pineapple House (旺梨屋)
15. Kedai Biskut Pandan (班兰豆沙饼)
16. Mr Sotong (鱿鱼先生)
17. Kedai Kopi Tang Chuan (东泉包店)
18. Ming Ang Confectionery Sdn Bhd (明安特产专卖店)
What To Buy In JB: 18 Native Products To Buy In Johor
1. JB Banana Cake At Hiap Joo Bakery & Biscuit Factory
Hiap Joo serves the best banana cakes in JB! Since 1919, the traditional bakery has been operating to serve the locals. To your surprise, the bread they made even met Johor Sultan's satisfaction.
Also read: 10 Best Food & Cafe Near Johor Bahru Checkpoint
Even though they sell many heavenly bread, the customers are mostly here for their banana cakes. Their cakes are much spongy, more fragrant and moist.
They differ from other bakeries by insisting on traditional baking – using wood-fired oven.  Hence, you can enjoy the heritage, tradition and mouthwatering cakes together.
2. Muar Otak-Otak At Otak-Otak Cheng Boi (麻坡阿梅乌达)
At Glutton Street, a local delicacy that you probably wouldn't want to miss out is the otak-otak from Cheng Boi! According to locals, Cheng Boi is the best otak-otak in Muar and we can say that the otak-otak here are the most authentic and genuine ones.
Also read: 15 Famous Foods in Muar
Despite offering freshly grilled otak-otak, Cheng Boi offers packets of uncooked otak-otak that can be stored in refrigerator for months. Their otak-otak comes with wide array of flavours and all are reasonably priced. Besides, many said that their otak-otak have unique smell and taste.
3. 434 Coffee At Sai Kee Kopi Serbok Sdn Bhd (434 咖啡馆)
Sai Kee is dedicated to present you a good cup of coffee in a warm ambience. The serve coffee with pride and passion. Most importantly, the coffee they served are the most authentic one in town.
Sai Kee is also the favourite hideout place for most of the coffee lovers. Most of them prefer aromatic Italian espresso and authentic Malaysian Kopi-O.
If you are addicted to their coffee, kindly buy their coffee products under "434" brand. Every sip of their coffee makes you long for more.
4. Mooncakes At Yuen Fatt Biscuit Sdn Bhd (源发饼家)
Hunting for the best mooncakes in town? Look no further than Yuen Fatt! The bakery that based in Kluang is famous for its Shanghai Mooncakes and it often attracts long queues during the mid-autumn festival.
Different from typical mooncakes that has round shape, Shanghai mooncakes looks like a rugby ball. Some say it looks like a fish or even a mouse.
Flavours available are pandan, black sesame paste and lotus paste. All these mooncakes have aromatic fragrance and not overly sweet. The best part is, the pastry even melts in mouth!
5. Kluang Coffee At Kluang Coffee Powder Factory Sdn Bhd (居銮电视机咖啡厂)
Visiting Kluang Coffee Powder Factory would definitely bring you back to childhood days! With over 40 years' establishment, this factory has supported the coffee culture in Kluang. The coffee brand they produced even received approval from the Sultan of Johor.
Their coffee combines three kinds of coffee beans such as Liberica, Arabica and Robusta. Appropriate amount of sugar is added to leave you a smooth and wonderful taste.
Besides enjoying the freshly brewed coffee, you get to see the grounding, roasting and packaging process of coffee beans here.
6. Tau Sar Piah At Tong Huat Confectionery (东发饼家)
Tau Sar Piah is the most significant biscuit at Tong Huat Confectionery. It is crispy, spherical and has a scaly pastry. Besides, the sweetness is just about the right scales. All the Tau Sar Piah are man-made at the back of the confectionery.
So, if you are Tau Sar Piah lovers, make sure to put Tong Huat Confectionery in your must-visit list. Sometimes, you may need to call in advance as the Tau Sar Piah are usually out of stock. Biscuits are best to be consumed in two weeks.
7. Homemade Snacks At Layang Food Sdn Bhd (拉央 (薯片) 食品)
Looking for snacks that are prepared in healthy cooking methods with less MSG? Layang Food Sdn Bhd could be your best option! The company has a big land in town to grow Tapioca in organic way.
Founded in 1990, Layang aimed to deliver the best homemade snacks to all and since then, it has become the snack of town. All kinds of delicious Topioca Chips can be found here. Their BBQ Chicken Topioca Chips is the most sought-after one. Many said that their chips have the "taste of home".
8. Ogura Cake At Family Pastry Shop Sdn Bhd (芳邻蛋糕店)
Ogura Cake from Family Pastry Shop is a must-try if you are hunting good food in Batu Pahat! With just RM8.00, you can get a big slice of original Ogura Cake. Isn't it worth?
As the cake is sold in pre-packed, it is ideal for tourists to take away as gifts for loved ones. You can't imagine how delicious and the cake is. The light fluffy cake offers little cream and the sweetness is just to the right amount. It offers several flavours but many prefer the original one.
9. Nyonya Cakes & Kuih At Sin Sin Foodstuff (新新包粿食品)
Specialised in making kuih and other native food products, Sin Sin stands out from other shops by offering their highlight – Nyonya cakes. The food quality and tastiness here are guaranteed as it has been operating for many years.
They offer many flavours such as pandan, red beans, green beans and lotus. All kuih are packed individually and are priced ranging from RM1.10 to RM1.30. You can also opt for low-sugar kuih here.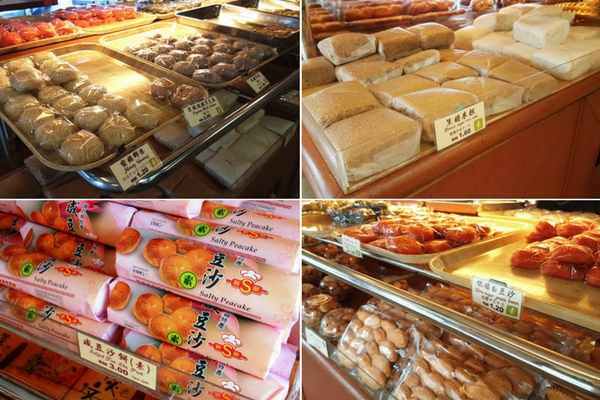 All the cakes and kuih are freshly made daily at limited amount. Hence, be an early bird to avoid disappointment.
10. La Piah At Perusahaan Makanan Hock Lee (福美饼家)
Hock Kee is a small and humble bakery in Segamat. All food products here handmade at the back of the bakery to ensure freshness and tastiness.
They are proud at serving their signature food – La Piah that makes the locals long for more after every single bite. La Piah costs only RM0.70 each here, so many locals prefer to take it as snacks as it is very cheap.
Besides La Piah, Hock Lee also sells many tasty handmade biscuits too. You can also call them in advance to place your order.
11. Ma Ti Su At YOYO Native Food Products Sdn Bhd (YOYO 出产店)
YOYO presents you with excellent local food with a decent café. Besides selling a wide array of tasty local products, they are dedicated to serve you the best they can. Their highlight biscuit is the Horse Hoof Biscuits, or so-called Beh The Soh and Ma Ti Su.
Many tour guides will bring overseas tourists here for nice local food with beautiful packaging. Locals who travel far also prefer a quick stopover here for meal breaks and to go for toilet. Up until now, they have many customers who visit here again and again.
12. Foochow Biscuit At Eng Hin Kedai Membuat Kuih-Muih(永兴福州饼面厂)
In Yong Peng, Eng Hin is one of the two noodles factories that attracts many tourists all over the world. They are expert in making noodles, meehun, and their most sought-after food – Foochow Biscuit. The biscuits are freshly made daily at Eng Hin.
According to the Foochow dialects, Foochow Biscuit is also called "Kompia". There are a few kinds of "Kompia", the original one has a small hole in the centre with no fillings while others are with different fillings. Fillings available at Eng Hin include sesame and peanuts.
13. Pastries At Hua Bee Bakery (和美饼家)
Hua Bee Bakery (also called Kedai Biskut Hua Bee) is a family run business and the biscuit making process involves every family members. They are good at making traditional Chinese cakes and biscuits and become extremely busy during Chinese New Year.
Variety of traditional pastries is offered here. The biscuits are wrapped in paper wrapping before sold. Many like the pastries here for their crispy crust and the generous amount of fillings.
Overall, biscuits from Hua Bee are ideal gifts to friends. Some Singaporeans even order wedding biscuits from here for gifts to relatives and colleagues.
14. Pineapple Product At Nictar Pineapple House (旺梨屋)
Specialised in making pineapple products, Nictar Pineapple House aimed at bringing back the lost "real food" to the world.
The shop sells variety of pineapple products from their plantation in Pontian too. For instance, they sell pineapple juice, pineapple tart, pineapple jam, raw honey and honey apple cider.
No preservative is added to their pineapple juice. So, you can enjoy the 100% pure pineapple juice here. Especially when the weather is hot, one bottle of pineapple juice helps to refresh your mind and body! In overall, satisfaction guaranteed.
15. Pandan Red Bean Cake At Kedai Biskut Pandan (班兰豆沙饼)
This is a humble bakery that sells the most famous pandan red bean cake in town and it has been established for more than 10 years. Since then, the owner insists on serving the biscuits that are freshly baked with agreeable sweetness.
The biscuits show a shiny golden colour and the fillings are smooth with slightly sweet taste. And we love how the owner always offers us biscuits with thin wrappings and think fillings. Plus the not-too-heavy taste has always left us feel so full and satisfied.
If you're having it during afternoon tea, do complement the biscuits with some drinks. It goes so great with a cup of tea or coffee!
16. Mr Sotong (鱿鱼先生)
Mr Sotong is a shop full of warmth and memories. Lots of local food products that you eat since young are sold here. They wish to pass on the food culture to future generations. Hence, they don't merely sell food, they sell memories.
Their significant local product – "Sotong", not only attracted locals but also overseas tourists. Tourists like to bring them back to their hometown as gift to their friends and colleagues.
Be prepared to squeeze and turn as Mr Sotong is often overflooded during Chinese New Year.
17. Big Bun At Kedai Kopi Tang Chuan (东泉包店)
Tang Chuan has many loyal customers for their Big Bun (pau) over the past 50 years. According to the owner, they sell over a thousand freshly made pau every single day.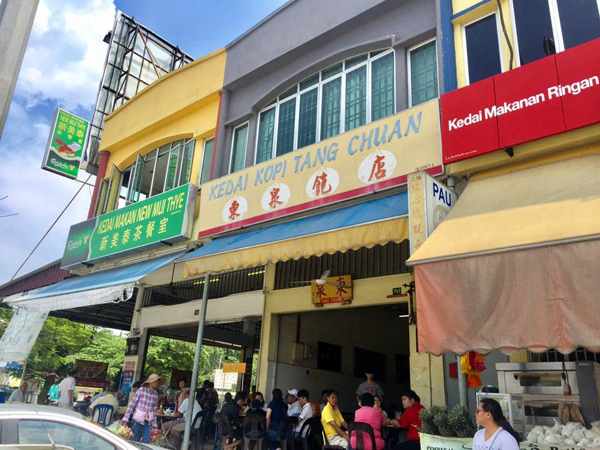 The white and fluffy big bun has generous amount marinated pork fillings. It tastes even better if you have it with chilli sauce.
Besides big bun, different kinds of mouth-watering yet reasonably priced dim sum can also be enjoyed. Do not forget to try their "lo mai kai" too, it is also way too delicious!
18. Mini Bean Paste Bun & Tau Sar Piah At Ming Ang Confectionery Sdn Bhd (明安特产专卖店)
Ming Ang Confectionery is the place where you can find the best mini bean paste bun and mini Tau Sar Piah in town. Other pastries such as Hong Piah, Chicken Floss Puff, Portuguese Egg Tart are also available for sale. It is just a walking distance from KSL City mall.
Also read: 15 Cheap & Good Food Near KSL City Mall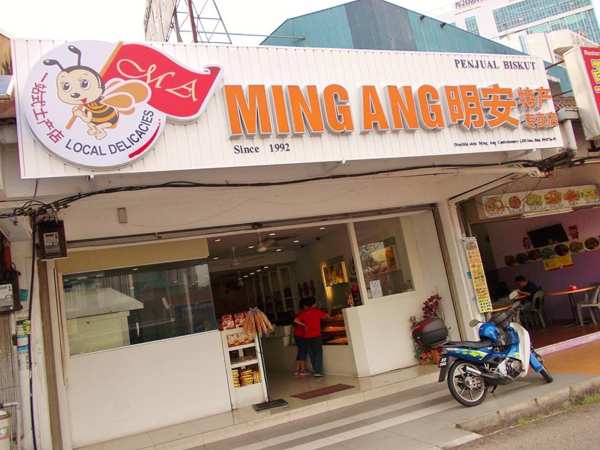 Entering from back door, you can see the baking process in action. The ovens are constantly operating to bake fresh pastries as they will be sold out in the blink of an eye. As the pastries are beautifully packaged, you can buy it as gift to your loved ones too.
How To Get To The Places?
Want to get to these places but don't know how?
Worry not!
You can now travel smoothly with EK 168 Transport – a comfortable and trustworthy private car service that is renowned for its excellent service!
What's more, you wouldn't need to get off the vehicle when crossing the Singapore-Malaysia border for the customs check. Leave your passport to the driver and he will do the work for you.
Also, you'll be pick-up from any point in Singapore to these places in Johor at your desired time.
Our professional drivers ensure your safety with prompt and quality services to fit your needs.
Contact us or book online today, it's convenient with EK 168 Transport!