Malaysia has been growing coffee for centuries and today, coffee is grown over large acreages mainly in the province of Kuala Lumpur, Johor Bahru, Penang and Ipoh.
This has in turn come with a vibrant coffee culture which has seen the number of coffee houses in Malacca increase rapidly.
Café-hoppers may indulge in their favorite past time in Malacca city that teems with old shop-lets which are steeped in prodigious cultures and customs.
Below are the 15 must-visit cafes in Malacca and the best part is; they're all within walking distance of Jonker Walk meaning you won't stray too far from the tourist action.
1. Justberrys Dessert House
Freshest ingredients that practically melts in your mouth, Justberrys Dessert House makes one of the best dessert cafes in Malacca and don't just take my words for it, you have to try it to believe it!
The ambiance is petty relaxing and the menu has a great selection of options to satisfy your taste;
Pancakes
Ice shavings
Cendol
Coffee
Toast
If you're a durian lover, then this is the place for you! They have different style of desserts just on durian flavoured alone where some comes with a real durian pulp.
Durian cendol
Spiky durian snow
Durian king
Freezy durian coco
Milky king
Kurimi durian
However if durian is not to your liking, there are of course mango, chocolate and strawberry flavoured desserts. There are so many kinds you'll be spoilt for choice!
Highlights: Try korean Bingsu, Lavarich with tasty and not too sweet cocoa flavoured shave-ice dessert. Not forgetting Bitter Durian that comes with durian flavoured ice cream and real durian pulp.
2. Alley No.5 Café 
A hidden gem amidst the small shops in Malacca lies a beautiful petite cafe that serves a great cuppa and a delicious homemade cheesecake.
Located a bit further away from touristy hotspot- Jonker Street, grab a lunch and relax in the afternoon, if you don't mind the heat as there is no air-conditioned inside the cafe. This is definitely a good place to chill with its chic, bohemian vibe after a long day of sightseeing.
Do check out their facebook page as they regularly update with food, interesting parties and art exhibitions. Alley No.5 is a holy grail for coffee lovers that will get your daily morning fix.
Highlights: Of course, the coffee and their homemade cheesecake! You have to try it!
3. Mods Café
This is a quirky rustic coffee joint that is an unusual find in Malacca. It's located near one of the oldest functioning temples in Malaysia. Right behind a garage door stands a full size 1978 Volkswagen Combi Campervan which was restored and converted into a mobile coffee shop.
The Campervan serves as a cash register, a fridge, and coffee machine – not quite the most practical of decor but pretty nifty nonetheless.
A pioneer of gourmet coffee, Mods Café deals primarily with Western variety coffee classics like espresso and cappuccino, but also stocks an exotic offering of latte and Americano blends with a unique styling and hip aesthetics.
If you are looking for a hit of caffeine to boost your exploration of the old town, this is a worthwhile pit stop.
Highlights: Mods Cafe serves great coffee blends with a small offering of coffee related bites such as a cheese cake and crème brûlée.
4. The Daily Fix Café and Restaurant
A peppy Coffee shop which has styled itself as a breakfast and brunch restaurant, The Daily Fix is located in a homely heritage site inside a batik shop right in the middle of Jonker Street.
The interior is subtly done, with one wall turned into an artsy mosaic of Chinese antique plates which gives it a vintage feel while adding a new dimension to the heritage stature.
With its oriental ambience and great coffee, The Daily Fix is a welcome alternative to the identical-looking coffee places prevalent in many big Cities.
Here, you will get to enjoy brownies, ice-creams, sandwiches, pancakes, etc, while admiring this creative and nostalgic setup. So, be it for yummy desserts or caffeine cravings, this is certainly the place at which to get your daily fix.
Highlights: With coffee blends from as far afield as Brazil, Guatemala and Tanzania, The Daily Fix Café will most assuredly give your palate a rich caress. You may also want to try the yummy Durian cheesecake or some classic pancakes with your mug of hot coffee.
5. Root Patisserie Cafe
Looking for some yummy sweet desserts and thirst quenching beverages, then here is your ultimatum source for  your sweet tooth. Root Patisserie Cafe has something for everyone- even if you're not into desserts, they have pastries and really good cuppa for that energy boost to start a great day.
The interior are not like what you see of other cafe with antiques and collectibles but more of the current style with metal fixtures and lighting, wooden chair and tables, mural painting on the wall and a bouquet of baby breath on each table. It gives off the charming, quaint vibe of a lazy afternoon.
Inside, you'll come across a beautiful display of desserts in their cold refrigerator:
cakes,
truffles,
macaroons,
cake pop,
citrus cheese tart,
eclairs
If you prefer something warmer, why not try a 'dry' type of desserts like:
quiche,
cupcakes,
breads,
cookies,
chicken pie,
muffin
tart
lava cake
brownie
waffle
To top it off, they even customized cakes for any kinds of events, birthday, full moon baby, company, anniversary- anything that has a cake in mind! Of course, the cakes are wonderfully crafted and taste delicious too. So, you can share the greatness to everyone even for those who have not visited the cafe.
Highlights: Try out apple crumble pie and blueberry pie, and not forgetting the sweet macaroons.
6. Backlane Coffee Shop
Backlane Café is trendy coffee house tucked inside a souvenir shop on the ground floor of the Fomecs Boutique Hotel (other travellers recommend hotels list, click here: Best Hotel in Jonker Street) , just next to the Jonker Street stage and behind Kwong Ho Tong herbal jelly.
Backlane Coffee Shop is a warm friendly café whose large windows look out to, well, the back lane. It is a welcome oasis free from distraction of the busy streets outside.
The ambience is very welcoming and relaxing with a nice interior set-up of ragged walls and wide furniture rounded off by comfy armchairs and beautiful pendant lights on the ceiling.
Backlane Coffee Café accommodates large or small crowds and there's a raft of board games for patrons to occupy themselves with as they sip on their hot chocolate.
This is for sure a great place to put your feet up after a long day of walking and shopping.
Highlights: If coffee is your drink of choice and you're looking for something markedly different, the do-it-yourself Mr. Owl's iced latte is right up your alley.
The drink is presented with three components — hot milk, syrup, and owl-shaped coffee cubes — which you stir all together to give you a unique taste of the Backlane Coffee latte blend.
7. The Huskitory 
You've heard of a cat cafe but what about a dog cafe- better yet a cafe with huskies only! Located 20 minutes drive away from Jonker Street, lies a cafe filled with lovable, cute and playful companion.
The crowd is always immense and the cafe is only able to accommodate a few people, so best is to make a reservation through their facebook. You get the chance to cuddle, take selfies, play with them, get their attention and also feed them.
The huskies are all around the cafe- inside and outside, with outdoor feeding time at 6:00pm – 7:00pm and 9:00pm – 10:00pm. Outdoor feeding time will be canceled if it rains.
Highlights: You get to buy a doggie snack at only RM2 to feed the huskies. There are also pet food in the menu.
Entry price:
Adult: RM18
Child: RM15 (<90cm)
8. Khaki Coffee Bar
A coffee bar and very probably the first on shop coffee roasteria in the whole of Malaysia, Khaki Coffee serves the best espresso blends in town.
Though it's housed in small premises and the seats are limited, Khaki still roasts and grinds its own coffee. Pundits have it that this is the only coffee house that lets you in to see how their coffee beans are roasted firsthand.
Khaki Coffee Bar also boasts of not only being the best supplier of coffee roasters and coffee makers of the best quality, but also the best coffee beans from around the globe.
And if you're interested in training as a coffee barista, then here is a great place for you to hone your roasting and brewing skills.
With a warm and fuzzy ambience filled with the heady aroma of brewing coffee, you are sure to be served with awesome coffee topped off with exquisite coffee art and served at just the right temperature.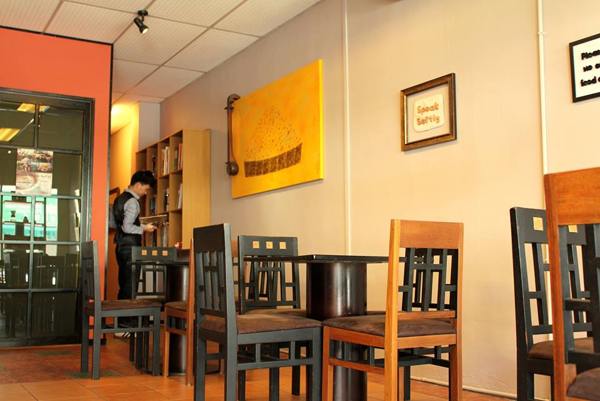 Highlights: Treat yourself to a nicely torched crème brûlée with a smooth glass caramel topping and pudding, or solid brûlée filled with nice little vanilla seeds.
Here, you'll find friendly and knowledgeable baristas who are willing to share their coffee making experiences with customers. They also sell the latte art milk pitcher for coffee aficionados who love to practice latte art.
9. Locahouz Breakfast and Brunch Restaurant
Get away from tropical heat and duck into Locahouz, a café cum art gallery. This cool air-conditioned coffee house spots vintage paraphernalia stacked into bright corners in a righteous mix of chaotic order.
A great sense of collaboration with local artists can be seen here, and if you are a lover of art, you will love the colorful pieces exhibited inside.
The huge paintings furnishing the white walls plus the vintage decorations all around the Locahouz Café are bold proponents of an unabashedly rusticated simplicity.
The art display by local artists will certainly be a feast for your eyes as you sip on the reasonably priced coffee, tea, juice, or the anti-aging and fat-fighting homemade infused water.
A simple quiet café located near an ancient temple, Locahouz is a convenient café with a relaxed atmosphere. Soft jazzy music floats through the cool atmosphere while you enjoy the ultra-friendly service.
Decked in antique furniture, this hip artsy cafe also sports a modern décor design while still keeping aligned to the authentic traditional Malacca style.
If you are looking for a fabulous and tranquil place to have a sip of genuine Malacca coffee, this is pretty much the place to be- they serve a great brew of Sin Sing coffee with a touch of petite cream cracker on the side.
Highlights: For you caffeine addicts, there's the authentic Malacca coffee blend, a pleasantly mild pick-me-up from all the sight-seeing you will inevitably be doing.
Locahouz Restaurant also stocks local soda in strawberry, apple, cream, and cola flavors. The cola tastes like an organic, more natural version of the commercial kind – it is less fizzy and sweet.You may also want to try their homemade steam soya sauce rice, or homemade infused water.
10. Calanthe Art Café and Restaurant
Sitting inside a small quiet alley, the Calanthe Art Café delights its customers with coffee from all the 13 states of Malaysia. A hidden gem in Jalan Hang Kasturi, this Asian fusion café is located just down a side street in the heart of the old quarters of Jonker walk, Malacca.
Surrounded by lush greenery, it is popular with locals and tourists alike, and the cool décor evokes a beach theme with pebbled floors twinned with wooden boardwalks.
Once you step inside, get ready to delve into a whirlwind of random artifacts and elegant decorations from the ancient past – from old television sets converted into impressive aquariums, to fine antique furniture, to quirky witty quotes, this art cafe will blow your mind.
The staff will even offer to adjust the lighting for you to click away on your camera. Offering an amazing range and types of coffee, refreshments and ice cream, it is a perfectly suitable place for a cup of your favorite beverage as well as being a serene place for relaxing.
Highlight: If you're slightly more adventurous, delve into the art of coffee with the Eunice; a mix of jasmine tea and coffee, it strikes the perfect balance between the two pleasantly bitter drinks.
You can choose to have your paired coffee or java chip milkshake and the Calanthe's mean Kaya butter toast with crispy cuttlefish, bread sandwiches, fluffy and a thick slab of butter.
Should your palate want to sample a special taste of indigenous Malacca, the Nyonya Laksa dish is available to get your taste buds cooing with satisfaction.
11. Navy Café 
Right across one of the famous café is this hidden gem that you'll soon find the exquisite taste of coffee. Navy Café, a cosy two-floors shop with an interior decor that make you feel like you're at the beach.
Their menu offers a simple set of All Day Breakfast, Smoothie, Coffee and Juices with prices ranging from MYR5.90 to MYR 17.00, depending on the type of food you're ordering. Not to mention, they have an interesting blend of coffee flavour such as Purple Sweet Potato Butterscotch, Beetroot,  and Toffee Nut that you don't see everyday.
The staff are always ready to provide their very best to accommodate to your request. Plus the quick service, large portion, relaxing ambiance and their dedication in the food presentation are worth every bite and dime. This cafe should be on your cafe-hopping list!
Highlight: Salted egg toast is one of the specialty that you shouldn't miss. If you're a green tea (matcha) lover, don't miss out the ever loving Matcha Snow, similarly as ice shaving but with added matcha ice cream at the bottom layer. Now that's a sweet surprise!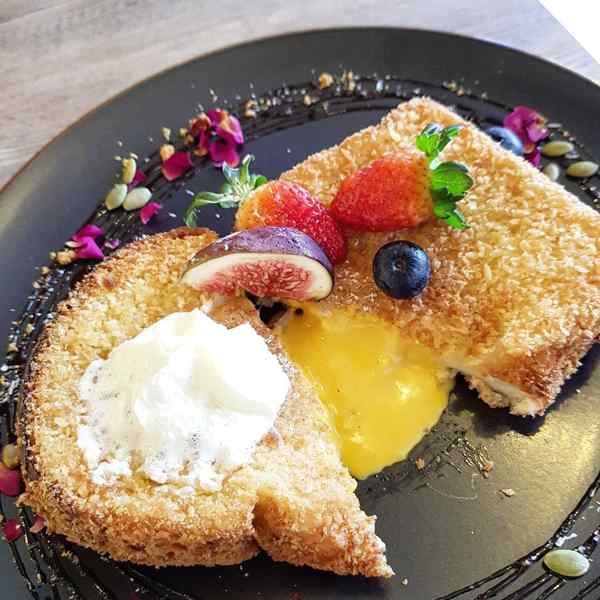 12. Kaya- Kaya Café 
Get send back to the past like Marty Mcfly but minus the time travel device as you stumbled across all the original artifacts, faded red brick walls and wooden furniture!  Kaya-Kaya Cafe exude that feeling when you step into the vintage cafe filled with antique memorabilia.
The large murals and interior decoration is the thing that attracts visitors, so don't be shy to look around the explore the entire shops. It is Instagrammable-worthy for that OOTD or POTD shot!
While the ambiance has already given a nice effect, let's not forget the true purpose of this shop. Their scrumptious menu has a whole range of food from all day breakfast to desserts and of course coffee!
Highlight: Opt for 'Melaka Elvis' that is pancake stacked with banana and homemade kaya, topped with peanut butter and chocolate sauce. Also, try out their blueberry french toast.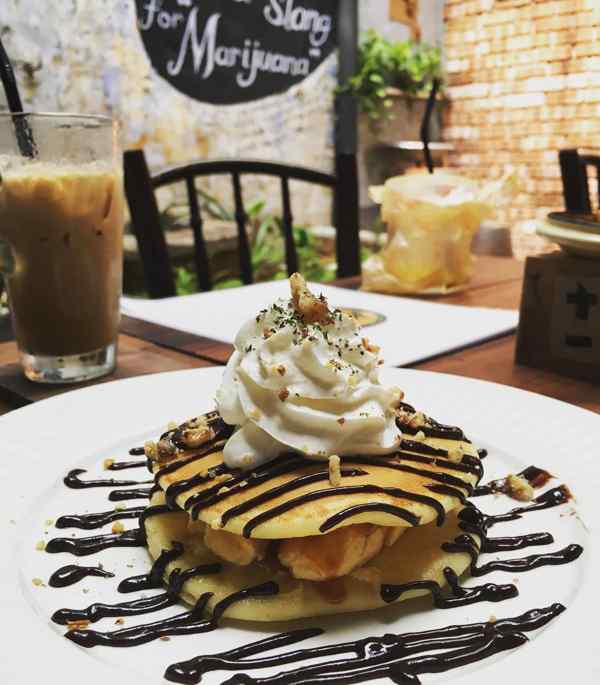 13. The Coffee Jar 
Attention to all coffee-lovers, this may be your salvation for your caffeine addict because this is the greatest cuppa you can find in Malacca, maybe even Malaysia!
A quaint little café, within minutes walk from Jonker Street will give you a sense of calm from the chaotic tourist sites but still within the old historical charm. The designs are not overly packed with decorations nor is it too bland. You can find old-cassettes and books hanging on the shelf which are part of their vintage collection.
The mini roaster sitting by the windowsill is definitely eye-catching for passerby and one may get lured in to get a taste of coffee that is made by that machine. This café is managed by a young couple, the owner has great experience in brewing coffee while her partner makes great pies.
Highlight: Try their specialty dish-Jar of Pie, similarly to shepherd's pie but uses smash potato as the crust with chicken or mushroom fillings.
14. The Stolen Cup
Want a convenient go-to stop coffee at any time of the day? Here at The Stolen Cup serves quality yet affordable cuppa with ingredient coming from all over the world. Best of all, it still retained its local ingredients such as palm sugar into the coffee making it a unique taste.
Smack right at the touristy hotstpot, this café is a sure-fire way to offer great thirst-quencher for locals and foreigners. The small space that can only accommodaye up to 10 people is greatly designed in hipster vibes of colourful walls and rugged decor.
Aside from coffees, you can enjoy waffles, pizza and other great pastries that can delight your afternoon appetite.
Highlight: Try their specialty coffee of Gula Melaka Coffee with homemade pandan syrup.
15. Eat at 18
This little hidden gem is located at the ground floor of 'Opposite Place Melaka Guesthouse' that is quite hard to find at first, but once you get there, you'll find a beautiful front yard that concealed by foliage. As you enter, you're invited by a calming courtyard filled with artsy books, chandeliers and artworks.
They specializes in using organic ingredients for freshly baked breads, cookies and offers a wide selection of cakes and pastries. Relish in the serene moment from delicious sandwiches, fresh juices to aromatic fresh cup of coffee at their espresso bar.
Highlight: Lavazza Coffee Machiato is a must-try in this café and the Portobello mushroom soup, that you can still taste the mushroom bits.
How To Get To The Places?
Want to get to these places but don't know how?
Worry not!
You can now travel smoothly with EK 168 Transport – a comfortable and trustworthy private car service that is renowned for its excellent service!
What's more, you wouldn't need to get off the vehicle when crossing the Singapore-Malaysia border for the customs check. Leave your passport to the driver and he will do the work for you.
Also, you'll be pick-up from any point in Singapore to these places in Johor at your desired time.
Our professional drivers ensure your safety with prompt and quality services to fit your needs.
Contact us or book online today, it's convenient with EK 168 Transport!