1. Otak Otak Cheng Boi
Locals who live up with otak otak often recommend their friends from other places to try otak otak at Cheng Boi as they think that this is the best among all.
Made by fresh mackerel fish, squid and prawn, all of them are wrapped thoroughly in coconut leaves and are later grilled in the shop. With a mild curry flavour, it's pleasing to taste the thick and meaty otak otak when they are just off the grill.
2. Muar Bakri Laksa
Knowing that Muar Bakri Laksa was renowned as Top 50 Best Laksa Outlets in Malaysia, as a food enthusiast, you should not give it a miss if you happen to be around Muar.
Seethed for 3 hours, the broth is the complex of many spices and flavourful ingredients, bringing an enjoyment to the taste buds of customers. The bowl of laksa even contains generous amount of side ingredients. You can also request to maximise the spiciness – if you're able to handle it.
3. Kedai Makanan Hai Sing (巴冬厝仔亚参鱼)
Parit Jawa (15 km south off Muar) lies a humble restaurant which serves exceptional seafood and are always occupied with diners. It shows no signboard but you can locate it by its big blue attap under a big tree.
Hai Sing is just too perfect for seafood lovers. Their signature, Asam Pedas Fish, has the right savouriness, spiciness and tanginess.  "Dragon's Tongue", a fried fish, is also the must-try dish at Hai Sing. Need not worry about the prices as all dishes here come with reasonable price.
4. Rojak @ Sg. Abong
Rojak, the local delicacy in Malaysia, can be easily found in any stalls but the one that served at Sg. Abong is considered one of the best. You might need to wait for long time but your patience will be rewarded with a big plate of rojak.
Here, the vegetarian rojak has the perfect blend of pineapple, yam bean, water spinach, bean sprout, cucumber, crushed peanuts, bean curd puffs and fried breadstick. Try the enticing rojak in either original flavour or spicy flavour.
5. Jalan Hashim Prawn Noodle (Ah Niu Fried Noodles)
Along Jalan Hashim you can find an unassuming stall that serves fried prawn noodles, fried rice and other noodles. The cook has many experienced in cooking local delights as he used to cook in school's canteen for a long time. It is a very traditional place with only a few seats.
The fried prawn noodles here are cheap and delicious. One plate of fried prawn noodles costs only RM4.00 and it comes in a large serving with generous amount of prawns and slices of meat. Overall it's a great place for breakfast.
6. Mee Bandung Abu Bakar Hanipah (华山茶室)
Originated from Muar, Mee Bandung is truly a must-try local delight in Muar for its unique and mild spicy taste. Several food stalls are serving this special dish but most of us believe that the cook at Abu Bakar Hanipah have mastered the art of Mee Bandung.
Their Mee Bandung has a rich and thick prawn flavour. The combination of their specially made sambal, shrimps, cuttlefish and beef results in this savoury and a little overpowering taste that will linger long in your taste buds.
7. Merlin Restaurant Muar
Finding the best "Dragon Tongue Fish" in Muar? Restoran Merlin is your best solution! The restaurant serves wide array of Chinese cuisines and this one is their signature dish.
Actually, "Dragon Tongue Fish" is just a sole fish and people believe that its shape looks like the dragon tongue. Fried to perfection, Restoran Merlin offers you the tender flesh at the right balance of sweetness.
Most importantly, they cook only the freshest ones to maximise deliciousness and offer you a wonderful culinary experience.
8. Ah Teck Chwee Kueh
Ah Teck is one of the must-go roadside stalls in Muar that serves you the conventional breakfast – Chwee Kueh. This is the locals' favourite roadside stall that has been running for over decades.
Serving you the most fluffy steamed rice cakes that topped with salty "choy bou" (preserved radish), it is hard to stop after taking the first bite. People often take away to give them to their colleagues or take them as their breakfast snack.
9. Muar Soup House
Occupying 3 shop houses in Muar, it's hard to imagine that Muar Soup House was once only a small pedicab stall selling various soups at the roadside. However, what's not changing is that beef and mutton soup are still their major draw.
The humble bowl of soup is overloaded with mutton or beef according what you order and you wouldn't find any gamey taste of raw meat. Robust, thick and giving off a slightly herbal smell, the soup will definitely exceed your expectations.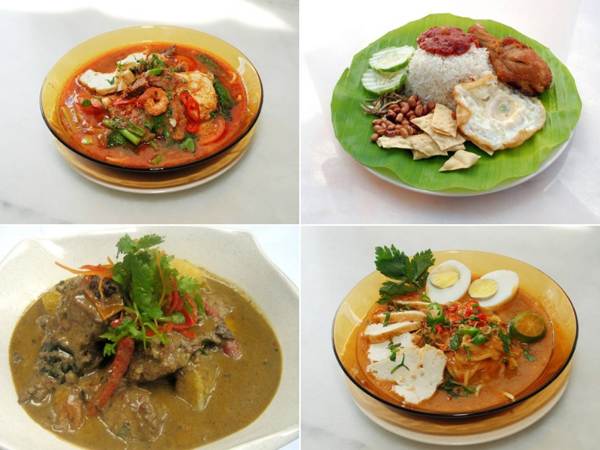 10. Kedai Kopi Lu San (卢山茶室)
Hainan Chicken Rice or Hainan Chicken Chop are common sight in Malaysia but have you heard of Hainan Chicken Curry Rice? If no, then you should give Kedai Kopi Lu San a try.
The curry is not too spicy and not oily for masses of patrons. Instead, they find the curry giving off a fragrant and pleasing smell. The meat of chicken is tender and a separate version of gravy is provided to "flood" you rice with curry.
11. Han Thoy Coffee Shop
Finger licking and tantalizing Fresh Water Prawns are now serving in Han Thoy Coffee Shop! You can find this modest coffee shop in Panchor, a small town in Muar and is within close proximity to the river.
Various cooking styles are available for the water prawns. But, if you wish to enjoy the natural flavour of prawns to fullest, opt for the steamed water prawns. It gives you the sweetness of prawns in a firm and springy taste.
12. Chun Hui Restaurant Muar (全妃亚叁鱼)
Popular in serving local delights especially Asam Pedas Parit Jawa Fish, the owner of Chun Hui Restaurant has been specialising the art of asam fish for over 10 years. The sambal chilli which tastes different from other stalls is identified and made by them every day.
Poured over the well-cooked fish head, the asam fish gives off a pleasant smell and the gravy enchants the natural flavour of the fish. At Chun Hui Restaurant, the robust gravy is prone to sour taste instead of typical asam pedas that offers more spicy flavour.
13. Sai Kee Coffee 434
Producing their own brand, Elephant brand coffee, Sai Kee Coffee 434 serves only their own coffee since its establishment. If you like their coffee, grounded beans that packed in bags can be bought at the shop to enjoy them at home.
The coffee at Sai Kee is made in traditional way – pouring boiled water over grounded beans in muslin. Fragrant, robust and bitter are the simplest describe of this marvellous coffee.
14. Muar Glutton Street 贪吃街
Flooded with plentiful of food stalls along the street, Muar Glutton Street is a place that foodies should not miss out.
Tong Shui (a kind of watery dessert), Bubur ChaCha, Green Bean Soup and peanut soup are some of the local delights offered along the street.
Most of the food stalls are serving local food and though some of them are serving the same food, each gives a slightly different taste and you can compare them by your own.
15. Jie Chun Restaurant Muar (家春海南鸡饭粒)
The founder of Kedai Jie Chun, Mr.Wong is come from Hainan, China and after he came to Muar, he opened this restaurant and thus, the authentic Hainan Chicken Rice is served here.
Chicken rice balls are their main draw. It's moist, soft and savoury and you can blend it with soy sauce. Generously lathered with sesame sauce, the chicken's meat is a bit firm but it tastes excellent overall.
You can also order the braised tofu, it's good to pair up with the chicken rice.
How To Get To The Places?
Want to get to these places but don't know how?
Worry not!
You can now travel smoothly with EK 168 Transport – a comfortable and trustworthy private car service that is renowned for its excellent service!
What's more, you wouldn't need to get off the vehicle when crossing the Singapore-Malaysia border for the customs check. Leave your passport to the driver and he will do the work for you.
Also, you'll be pick-up from any point in Singapore to these places in Johor at your desired time.
Our professional drivers ensure your safety with prompt and quality services to fit your needs.
Contact us or book online today, it's convenient with EK 168 Transport!