1. D&C Hot Pot Shabu
If you like to have a healthy steamboat, go for D&C Hot Pot Shabu!
They serve MSG-free herbal soup, the herbs and species can warm up your body and good for blood circulation.
Don't worry about the food portion, there are different kinds of hot pot packages and ala cart to choose from.
Remember to taste their traditional claypot chicken rice!
Warm your tummies at D&C Hot Pot Shabu!
2. Just Want Coffee (JWC), The Factory 30
Just Want Coffee has been the talk of the town since its opening and it is by far a really cool place to hang out with friends or family.
The refurbished factory to an all-new trend-setting café serves really good coffee, which many coffee aficionados will fall in love with this place.
They are really serious when it comes to coffee as the source for the best coffee beans there is.
The menu is pretty limited but they serve hearty breakfast and other desserts that will leave you wanting more! Also, not forgetting the bagels and freshly baked waffles that are made only during an order and the signature classic tiramisu. They are to die for!
3. Grandma Kitchen Mount Austin
Grandma kitchen serves modern and old style Chinese food in Mount Austin that is tasty and cooked with details at its finest which may make you reminisce your grandmother's cooking. The dishes will make you feel at 'home'!
Best of all, they introduce new dishes quite regularly which the next time you visit this restaurant again, you may get to try new flavours and not get bored with eating the same old dishes again and again.
While you're at Grandma Kitchen, don't forget to try out their attractive specialty, but not limited to:
Grandmother salted kampung chicken
Garlic with roasted pork and fried bean curd
Crispy pork
Yellow wine ginger duck
Sesame chicken
4. People & Places Café (Permanently Closed)
People & Places Café is a slice of a typical Melbourne café scene right in Johor Bahru! Price-wise, it's very attractive when you consider the gorgeous environment and the delicious fusion food!
Sit down in the spacious cosy café with one of their seasonal coffee blends and creative brunch meals (including vegetarian options) while you take in the industrial windows and high ceilings!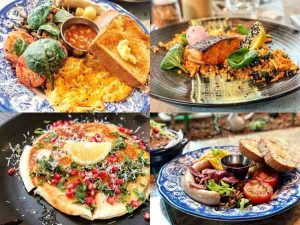 Menu items to try include the infamous Quesadila Brekkie at ~SGD $8.30 which is a welcome Mexican and Thai fusion featuring tom yum eggs!
5. Atlas Coffee Embassy
Either for a morning big breakfast, brunch, a relaxing afternoon tea or a quick cuppa, Atlas Coffee Embassy has something for everyone.
The interior design with a wood finishing of white concept gives the aura of serenity and overall soothing feeling. Customers will feel relax and stress-free when they dine to their delicious cup of coffee and try out the best food on the menu.
This place isn't called coffee embassy without having the best coffee in town. Best of all, the coffee is created by an influential barista who has won 3 times champion in latte art competition! You will be tasting coffee by the artfully skilled master!
6. Morganfield's Mount Austin
Craving to have a chow down on some juicy meat? Maybe the finest pork ribs in town? Look no further as Morganfield's has opened its door in Mount Austin! It's one of the best western food in Mount Austin.
Morganfield's most desirable and popular dish is the "Sticky Bones", a pork rib that is slowly cooked to its finest where the juice will literally melt in your mouth and send you to cloud 9.
There is a variety of choices in the menu aside from their signature dish and of course, they are equally tasty too! Drinks are not to be missed either as they serve pretty good alcoholic drinks, especially during happy hours. You can spend your TGIF here!
7. Vege Coffee Johor Bahru
Vegetarians can rejoice over this amazing dishes they serve here in Vege Coffee and what's more the price is really reasonable and worthwhile especially for their great customer service and tasty food. This is definitely a place to have that scrumptious and healthy eating.
They offer a range of dishes, not just plain vegetables of course. They serve vegetarian food in Mount Austin from pizza, rice to bread and also a good cuppa, all healthy vegan-friendly.
Not to mention, you can also choose to browse through the menu on their Facebook as they usually upload them there so you get to know what food they serve.
8. AnMour Café Mount Austin
What has a good western meal, good quality customer service, affordable prices and fine portion serving that can satisfy not just your stomach but also your wallet?
AnMour Café is the place to be at, either for lunch or even dinner, the meals will be served with delectable dishes ranging from appetiser, main course to desserts. You'll be spoilt for choice!
The ever-attentive server will try their level best to bring you the best service while introducing the food and explaining them in details. Also, if you love taking pictures and posting them online, they provide free Wi-Fi so you can instantly upload them.
9. Restaurant Uncle Pou Wok Mount Austin
Restaurant Uncle Pou Wok serves Malaysian-style Chinese cooking with fresh produce and delicious meal that customers will love to come back here again.
One of the specialty is the Steamed Fish Lips, where it is delivered to the shop fresh every day. It sold out rather fast, so best to get to the restaurant early to avoid disappointment.
They provide catering and delivery services. So, if you need to host a party or just too lazy to get out of your comfort zone and doesn't know where to get good food, give them a ring and the food will arrive at your doorstep!
10. Lemon Tree Restaurant Mount Austin
A family friendly restaurant with cosy ambience and casual seating, Lemon Tree Restaurant is a great place for an outing with your family or friends.
The food comes in various flavours ranging from western to local dishes that will make you salivate. One does not forget the infinite taste of their special Chicken Chop that has been on the menu since the very beginning and also a heart-throb to Johoreans.
The portions are also in a great serving size where you don't have too much to feel bloated or too little to be asking for second helping, which is definitely worth the price you pay for the food.
11. Basilico Restaurant Mount Austin
Craving for pizza and pasta? We've found an authentic Italian restaurant that is worth every bite and cents! Basilico actually means Basil in Italian, the strong, aromatic herbs that is an essential seasoning in Italian cuisine.
This restaurant helmed by two Malaysian chefs who have come from a long way of working in Singapore International hotels have finally made their dreams come true to introduce Italian cuisine for Johoreans.
They hold onto the tradition of the meal so close by even getting their fresh produce air-flown from Italy! So, you'll be tasting Italy without leaving the country. How incredible is that?!
12. M2Escape Cafe Mount Austin
Disney lover, be glad! Now, you can have a good meal in a highly decorated Disney themed cafe- especially Mickey and Minnie mouse decorations along with games to keep you entertained for the entire day!
As you enter M2Escape, the whole café looks really adorable with walls filled with stickers, plushies pilling on the cushions and even the mugs and teapot are shaped like Mickey! You will feel like a kid again!
There are several board games to play while you enjoy the ambience of the café unless you prefer a more adventurous game that allows you to use your wits to race against the clock, the escape room is your next game to try!
13. Noodleface A Meatless Cuisines
Another vegetarian restaurant that should be on our top list as they come up with really interesting recipes, fusing western and eastern food while creatively bringing out the aromatic flavour in vegetarian food.
Noodleface A Meatless Cuisine makes a splash of many choices where even though it is a meatless place, they manage to create burgers and pork chops entirely from toufu, mushroom and other food that are really vegan-friendly!
Aside from the unique food they offer, the services are wonderful along with the relaxing environment, you will not regret eating here! Non-vegetarians are of course welcome to eat here because where can you find meatless burgers? It will bring a whole new taste to your tongue!
14. Wafu Kitchen Mount Austin
Wafu actually means Japanese-style which is what Wafu kitchen is representing in their culinary. The restaurant serves up cheap Japanese food at Mount Austin with casual dining environment by breaking the stigma that "Japanese cuisines are expensive".
In this restaurant, you can fill your stomach without breaking your wallet. Not to mention, the variety of choices they offer in their menu, from curry rice, ramen to octopus balls and other delicious snacks. You can opt for set items which are definitely value for money!
There are always a boundless amount of people even during the non-peak hour. Hence, this is a great place to have a hearty meal or even an afternoon snack for family and friends!
15. Meng Meng Roasted Duck Mount Austin
We all know and love the traditional Chicken Rice, but there are not many Roasted Duck Rice stalls around. Here at Meng Meng Roasted Duck is where you will not forget the taste of their delicious signature platter of wonder.
They serve up a glistening treat of perfectly roasted duck with crispy tender skin with chewy gamey texture of the duck meat beneath it. You will be drooling just from looking at it! The taste itself will be a euphoric experience!
Aside from roast ducks, they prepare delicious barbecue and roast pork and chicken as well. If you feel too full from all the meat, side dishes like vegetables, soup and tofu are available too.
How To Get To The Places?
Want to get to these places but don't know how?
Worry not!
You can now travel smoothly with EK 168 Transport – a comfortable and trustworthy private car service that is renowned for its excellent service!
What's more, you wouldn't need to get off the vehicle when crossing the Singapore-Malaysia border for the customs check. Leave your passport to the driver and he will do the work for you.
Also, you'll be pick-up from any point in Singapore to these places in Johor at your desired time.
Our professional drivers ensure your safety with prompt and quality services to fit your needs.
Contact us or book online today, it's convenient with EK 168 Transport!