1. Todak Seafood JB
It isn't always that you get to find a seafood restaurant providing quality finds for such an affordable price. If you're fond of seafood-based meals, then you should try this out.
The space for the restaurant is definitely big, however, it can get pretty crowded during dinner and past it.
This place is ideal to enjoy the nighttime breeze while chowing on a seafood meal of great quality!
Also read: Top 11 Seafood Restaurants In JB
Highlights:
Wide variety of fresh seafood is available
Crab runs out quickly and is considered a crowd favorite
Tip: The seafood is served to customers on a first come first serve basis.
Location: 1, Kg. Orang Asli, Kampung Teluk Jawa, 81750 Masai, Johor, Malaysia
Contact: +607-386 3696
Opening Hours: Daily: 11:30 am to 11:30pm
2. Skyscape At Menara Jland
Introducing the first-ever aerial entertainment space in Johor, Skyscape. It features lots of unique and fun activities for you to try that would leave you at the edge of your seat.
Also read: 16 Fun & Memorable Outdoor Activities In Johor
Highlights:
Sky Bridge where you can see the whole town of JB from 149 feet high
Skyscape's Virtual Reality Games and Floor Interactive Games
Other funky features such as a Mini Theater and LED Tunnel
Tip: The night-time view from the Sky Bridge is definitely worth catching.
Location: Level 34, Menara JLand Johor Bahru City Centre (JBCC, Jalan Tun Abdul Razak, 80000 Johor Bahru, Johor, Malaysia
Contact: +6019-677 7766
Opening Hours: Daily: 9:30am – 5:30pm
Closed On: Saturday
3. JWC, The Factory 30
For a quick recharge on your caffeine, The Factory 30 is worth stopping by. This cafe in Mount Austin, Johor is said to be one of the best places to grab your coffee.
The location is rather odd since it's inside a former factory.
Although, this does add to the vibe of the café with all the industrial décor which is a rather unique theme.
Highlights:
Good for coffee at night and breakfast in the morning
Must try: Flat White, Classic Cold Brew, Tiramisu, Smoked Ham and Egg Sandwich Bagels
Tip: Their latte art is very pleasing to look at!
Location: 30, Jalan Mutiara Emas 5/3, Taman Mount Austin, 81100 Johor Bahru, Johor, Malaysia
Contact: +607-350 7508
Opening Hours: Daily: 12:00pm – 12:00am
4. HW Wanton Mee
A place for night owls looking for a good snack in the middle of the night is HW Wanton Mee. When you're wondering what to do in JB at night, you can't miss this out!
Though they open up during the wee hours of the day, they still get so many customers!
They offer wanton mee that is less spicy, making it a comfortable meal to have even when it's after midnight.
Highlights:
Comes with char siew, crispy fried wanton skin, and other special toppings to add to taste
Must try: Black sauce, White sauce
Tip: Their wanton mee hits differently when you come at odd hours of the night.
Location: 68, Jalan Abiad, Taman Maju Jaya, 80400 Johor Bahru, Johor, Malaysia
Contact: +6019-755 9355
Opening Hours: Daily, 9:00pm – 5:00am
Closed On: Monday
5. Cedar Point Food Centre
Satisfy your cravings for local comfort food by heading to the Cedar Point Food Centre.
Here, you can indulge in a variety of meals and snacks bursting with flavor, popular with locals and tourists alike.
Also read: 15 Cheap & Good Food Near KSL City Mall
Highlights:
Century Curry Fish Head for curry with fish head
Drink Stall – Sugar Cane for a big cup of sugar cane good
Tampoi Satay for juicy satay
Hong Kee's BBQ Chicken Wing for the best chicken wing
Ikan Bakar Sin Kee for BBQ seafood grilled with sambal chili
Tip: Most stalls tend to open during the evening and stay open until late night.
Location: 10, Jalan Musang Bulan, Taman Abad, 80250 Johor Bahru, Johor, Malaysia
Contact: +6012-788 5080
Opening Hours: Daily: 6:00pm – 12:00am
6. Restoran Woon Kiang
What brings people to Restoran Woon Kiang is their famous Kuey Teow Kia, which locals claim is served here the best in Stulang Laut & all of Johor Bahru.
It's made with secret recipes passed from generation to generation and aims to give you a refreshing feeling from just a bite.
Highlights:
Great variety of side dishes to accompany your main dish
Must try: Braised Duck, Braised Pig Ear, Braised Pork Intestines, Pig Skin, Pork Tongue
Tip: Wait time could take a while since many night owls tend to visit the restaurant.
Location: Jalan Pandan 2, Taman Stulang, 80300 Johor Bahru, Johor, Malaysia
Contact: +607-220 0310
Opening Hours:
Monday to Saturday: 5:00pm – 4:00am
Sunday: 5:30pm – 4:00am
7. Bazaar Karat Night Market
Your trip to Johor Bahru isn't complete without a trip to JB night market!
If you're curious on where to go in JB at night, night markets are a must!
From pre-loved items and bargains to handbags and decorative goods, you're likely to find a purchase for anything you could possibly think of.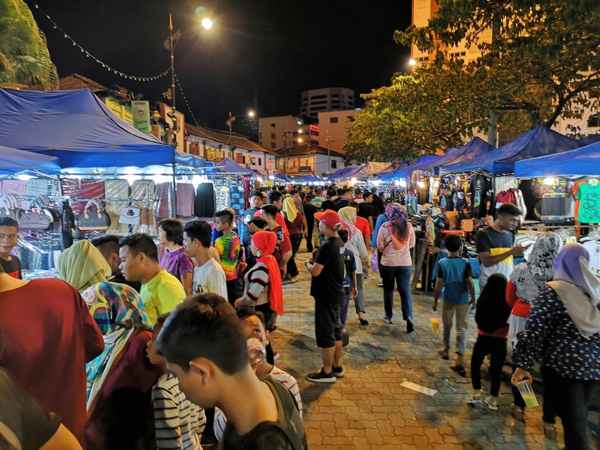 Highlights:
Variety of good stuff for great deals
A live band performing occasionally
Tip: Often crowded like most night markets are.
Location: 26, 20 Jalan Segget, Bandar Johor Bahru Johor Bahru, Johor, 80000, Malaysia
Contact: +6012-700 5009
Opening Hours:
Saturday & Sunday: 7:30 pm – 12:00am
Monday: 5:00pm – 12:00am
Tuesday to Friday: 6:00pm – 12:00am
Facebook
8. Food Street At Meldrum Walk
If you're the type who likes to talk strolls, the Food Street at Meldrum Walk is a great place for you to start your trip.
Find various delicacies of different Asian cuisine throughout the whole walk.
There's a wide variety of food choices to find each having their own aroma and comfort quality.
Highlights:
Located closely to the checkpoint
Must try: Fried Chicken Wings, Fried Oyster Omelet, Char Kway Teow, Apam Balik Pancake, Ikan Bakar Popiah, Laksa
Tip: Most stalls open at night so it's best to go at night!
Location: 23, Jalan Meldrum, Bandar Johor Bahru, 80000 Johor Bahru, Johor, Malaysia
Opening Hours: Daily: 5:00pm – 11:00pm
9. Sky 26 Holiday Villa
Get a lovely open-air panoramic view of the city as you feel the cool breeze with a drink in hand at the Sky 26 Holiday Villa.
Along with a wonderful view, Sky 26 offers great food and drink choices that you can have while you take in the sight of the city.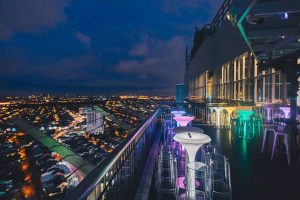 Highlights:
Popular place to drink with a wide collection of wine
Must try: Cheese Katsu Sushi, Asari Pasta, Fresh Oysters
Fame KTV Lounge for extra entertainment
Tip: Head over to Sky 26 as early as 6pm to catch the sunset.
Location: 26th Floor Holiday Villa, No, 260, Jalan Dato Sulaiman, Taman Abad, 80250 Johor Bahru, Johor, Malaysia
Contact: +6010-288 2626
Opening Hours:
Saturday to Wednesday: 6:00pm – 1:00am
Thursday & Friday: 6:00pm – 2:00am
Facebook
10. Freedom Ultimate Club
Experience nightlife entertainment like you've never before at one of the most popular nightclubs in the city. Here, you get to dine, play and club all in a single place.
The club features lots of activities, unique food meals, and live bands and DJs to perform all throughout the night!
Highlights:
Outdoor Arena where you can play different games over drinks
Must try: Live crab, Sesame crispy chicken, Salted egg yolk pasta, Thai style BBQ pork cheeks, Tom yum seafood fried rice
Tip: Simply place an order for drinks at the door and enter the club, no entrance fees needed!
Location: Berjaya Waterfront, E1-E4, 88, Jalan Ibrahim Sultan, Taman Stulang Laut, 80300 Johor Bahru, Johor, Malaysia
Contact: +607-222 6933
Opening Hours: 9:00am – 3:00am
Facebook
11. Mid Valley JB
From food to shopping outlets, the Mid Valley JB becomes a past-time for locals and tourists.
It becomes a place for people to shop for new looks or to grab a quick snack as well as other activities.
With the variety of shops and eateries to choose from, you wouldn't be able to come home empty-handed.
Highlights:
Family Mart convenience store
Check out restaurants like Din by Din Tai Fung, HeyCha, Penang Road Famous Teochew Cendol
Shop and groom over at SOGO, Say Nails Services, Voga Vita Hair Salon, Village Grocer
Tip: Come early to avoid peak hours!
Location: The Mall, Mid Valley Southkey, No. 1, Persiaran Southkey 1, Kota Southkey, 80150 Johor Bahru, Johor, Malaysia
Contact: +607-336 9288
Opening Hours: Daily: 10:00am to 10:00pm
12. GSC Paradigm Mall Johor Bahru
Up for a movie?
Catch onto the latest releases of blockbusters at the Golden Screen Cinemas at the Paradigm Mall and experience the largest cinema screen in Johor Bahru.
Also read: Paradigm Mall JB vs Mid Valley Sogo JB (Which One You Should Go!)
This is also the first cinema in Malaysia to have 4DX experiences in a cinema. It includes lots of realistic effects such as motion-activated seats and other environmental effects.
Highlights:
Unique cinema experience with 4DX
Large movie screen allowing you to appreciate the movie even more
Tip: To get to the cinema, you would have to ride up a really long escalator!
Location: Paradigm Mall, 7F-01 & 7F-02, Jalan Bertingkat Skudai, Taman Bukit Mewah, 81200 Johor Bahru, Johor, Malaysia
Contact: +607-244 8271
Opening Hours: Daily: 10:00am to 10:00pm
13. Loud Speaker Family Karaoke Taman Sutera Utama
One of the best bonding experiences is casual karaoke night with friends or family.
The Loud Speaker Family Karaoke is the ideal place for this activity.
With affordable rates and a friendly crew to assist you, the experience is sure to be something you would definitely enjoy the most!
Highlights:
Happy Hours from 11 am to 3 pm to get a free meal and drinks!
Spacious and cozy KTV rooms
Unlimited refill for drinks
Tip: Get the most of the experience by coming in big groups.
Location: 135, Jalan Sutera Tanjung 8/2, Taman Sutera Utama, 81300 Johor Bahru, Johor, Malaysia
Contact: +607-559 9998
Opening Hours: Daily: 10:30am – 10:30pm
14. Bangkok Spa JB, Thai Odyssey JB
Relax after a day of sightseeing by heading to the Bangkok Spa or Thai Odyssey in Johor Bahru.
Massages are a must to include in your list of things to do in Johor Bahru at night.
They offer authentic Thai massages that had gathered the approval of lots of people making it grow in popularity all over!
Their massages come at a reasonable price.
Also read: Top 13 JB Massage
Highlights:
Massages available range from short shoulder and leg massages to aromatherapy full body massage
Free pick up transport service from the Johor Bahru checkpoint
Tip: Book with them in advance to get the special pick up service.
Location:
Bangkok Spa JB: 58 – 62B, Jalan Abiad, Taman Pelangi, 80400 Johor Bahru, Malaysia
Thai Odyssey JB: Johor Bahru outlets
Contact: +607-333 3333
Opening Hours: Daily: 11:00am – 5:00am
15. Blue Ice Skating Rink
Gear up for a unique and special experience at Johor Bahru's first and largest ice rink.
With about 20,000 square feet of real ice, you can showcase your skills in skating and balance.
Of course, there's no need for you to be an expert to have the best time. The ice rink is open to the public which makes it beginner-friendly.
Highlights:
Get an all-day pass for a whole day at the rink.
Special academy courses on figure skating, ice hockey, and speed skating.
Tip: Trainers will be around to assist and teach you on the rink.
Location: 3F-30 Paradigm Mall Johor, Jalan Bertingkat Skudai, 81200 Skudai, Johor, Malaysia
Contact: +6011-6230 0366
Opening Hours: Daily: 10:00am – 10:00pm
Facebook
After going through this list of things to do in Johor Bahru at night, you won't be complaining that there's nothing to do anymore! As the saying goes, the night is always young!
How To Get To The Places?
Want to get to these places but don't know how?
Worry not!
You can now travel smoothly with EK 168 Transport – a comfortable and trustworthy private car service that is renowned for its excellent service!
What's more, you wouldn't need to get off the vehicle when crossing the Singapore-Malaysia border for the customs check. Leave your passport to the driver and he will do the work for you.
Also, you'll be pick-up from any point in Singapore to these places in Johor at your desired time.
Our professional drivers ensure your safety with prompt and quality services to fit your needs.
Contact us or book online today, it's convenient with EK 168 Transport!