1. Wet World Batu Pahat Village Resort
Looking for some things to do in Batu Pahat that the whole family can participate in?
Wet World Batu Pahat Village Resort is a colorful water park with plenty to keep the kids busy while the parents relax!
Popular rides and attractions in the 44-acre park include a wave pool, Swan Boat, Big Splash, Lazy River, Dino Land and lots more!
You can even go fishing at the scenic lake of the water park if you want to!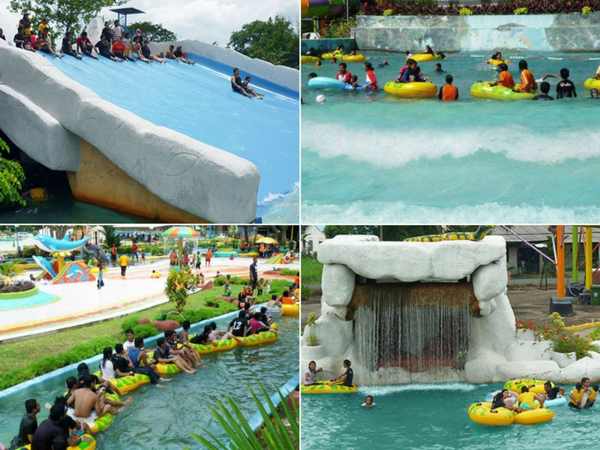 Why not treat your kid to a birthday party here? Fast food and local dishes are easily available at Wet World.
2. Segenting Chong Long Gong Temple (石文丁崇龙宫摸鱼大伯公庙)
Local fishermen visit this temple in Segenting fishing village to pray to the sea deities, Da Bo Gong and Mazu for a safe voyage.
Tourists and locals visit this temple to touch the giant fish! Locals believe that if you touch the fish, you get a year's worth of good luck!
The fish are arapaima – this is arguably the largest freshwater fish in the world! So if you have not seen one up close before, this is a good opportunity!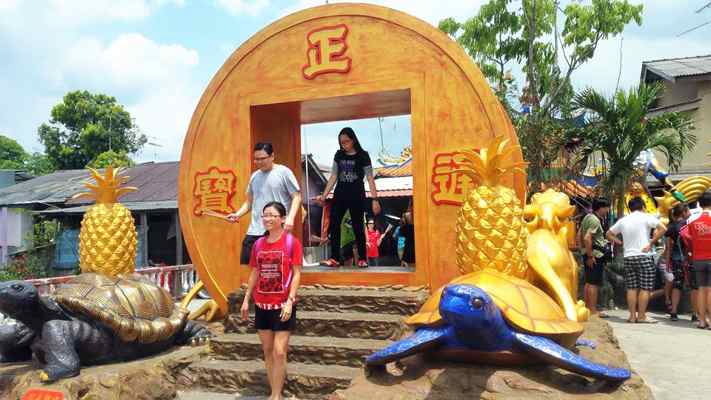 Tip: You can see this temple on the same day together with Lovers' Bridge and Minyak Beku (beach).
3. Lovers' Bridge (石文定情人桥)
This Batu Pahat attraction is actually a jetty that is close to a seaside accommodation, Lover Bridge Resort. The modern rooms feature floor to ceiling windows that face the open sea.
The wooden jetty stretches pretty far out into the water and has an amazing view of the dreamy sunset colors.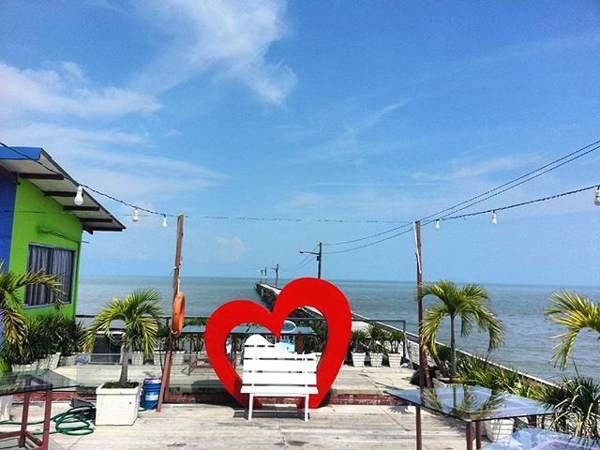 With such a romantic atmosphere, it is no wonder why this place is popular among couples!
There is also a Thai restaurant together with the resort where you can have some authentic Thai food!
4. Batu Pahat Street Mural Arts
Not exactly a conventional Batu Pahat attraction but if you have time, there are a couple of hidden but adorable street paintings scattered around the Batu Pahat town.
The simple paintings feature quintessential scenes in day-to-day Malaysian life. But some of them also carry a message about the environment.
See if you can spot any during your trip to Batu Pahat!
Hint – they are usually close to a cafe or petrol station!
5. Old Street Commercial Centre (老街坊)
It is clear why this beautiful colonial-style building is one of the Batu Pahat tourist attractions you must visit in Batu Pahat!
Because if not for the Insta-worthy appearance of the centre (including the interior) itself, then the vast selection of cozy cafes and eateries is reason enough to come here.
You can find anything from Korean, European, Italian and Chinese cuisines here! There's a good old Subway as well!
Besides food, there are some quaint boutiques to browse through, a convenience store, a nail salon, and even a gym and spa!
Don't forget to check out the rooftop too (see next item)!
6. Roof Top Sky Park (童话主题乐园)
At the top of the Old Street Commercial Center is their "Sky Park" on the 3rd floor of the building.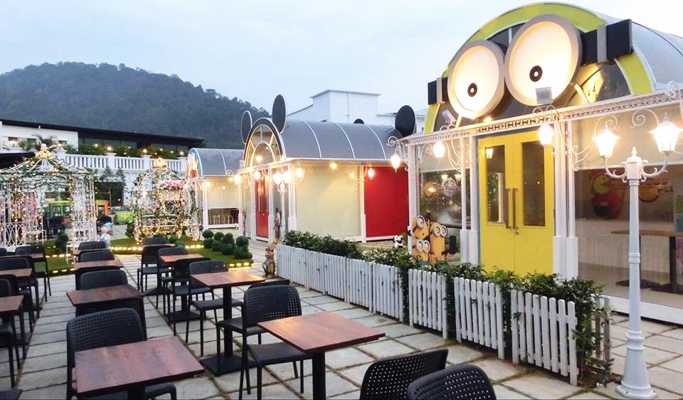 There's no entrance fee to come up and admire the enchanting fairytale-like decor which includes Cinderella's pumpkin carriage and a couple of romantic gazebos.
Children will enjoy finding their favorite Disney characters throughout the "park". Like a rainbow hut for Snow White and the 7 dwarves!
Not a bad place to take some photos, too!
You've definitely got to come to check it out in the evening and night when all the lights are on!
7. Minyak Beku Beach
Other than the temple further up this list, this is one of the historical places to visit in Batu Pahat – Minyak Beku Beach.
There is an unusual man-made feature (Perigi Batu Pahat) by the police station and at the edge of the beach.
Back in the 15th century, Siamese soldiers made a well out of this rock (10ft in size).
You can take your time to read the complete history of the well based on the inscriptions there. In Malay, English, Chinese and even Korean!
And if you feel up to it, you can go fishing or take a boat out to Pulau Silju and back.
8. Batu Pahat Mall
Probably not at the top of your list of places to visit in Batu Pahat, but it's a great place to stop by if you need something in a pinch!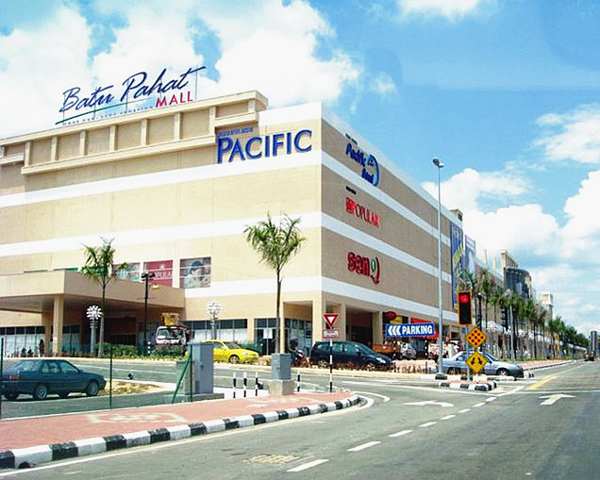 As the biggest (and oldest) shopping mall in the center of Batu Pahat, there are 250 plus retails shops inside. Not bad for a small town, eh?
Of course, there is a supermarket, a cinema, a bowling centre, a pharmacy, a food court, and some restaurants. That includes KFC, Chicken Rice Shop, Pizza Hut, etc.
On a weekend, expect to see swarms of people in this mall!
9. Taman Rekreasi Tasik Y Batu Pahat (莲花湖休闲公园)
At the center of this former mining site and now the recreational park is Tasik Y. Which directly translates to Lake Y.
Why Lake Y? For the shape when seen above. Although it looks more like a V!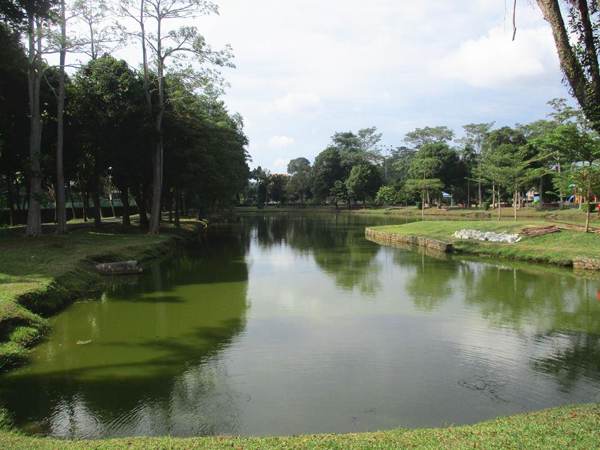 You can see all the typical activities you might expect in any public garden – more so in the early morning and evenings! Like aerobics, jogging, Tai Chi, etc.
There are children's playgrounds, exercise equipment, and recreation areas.
Food stalls that are open from morning to night are well known here.
Grab some authentic local snacks like rojak, roti canai, yong tau fu and ais kacang while you are here!
10. Batu Pahat DIY Playground (DIY 乐园)
This is an extra special Batu Pahat attraction that deserves a look-see. Especially if you have little ones with you! Free entry too!
The unique attractions in this DIY amusement park are made from recycled waste materials like old tires, and wood planks.
You can feel the strong community spirit here!
Attractions include slides, swings, see-saws, a watchtower and more!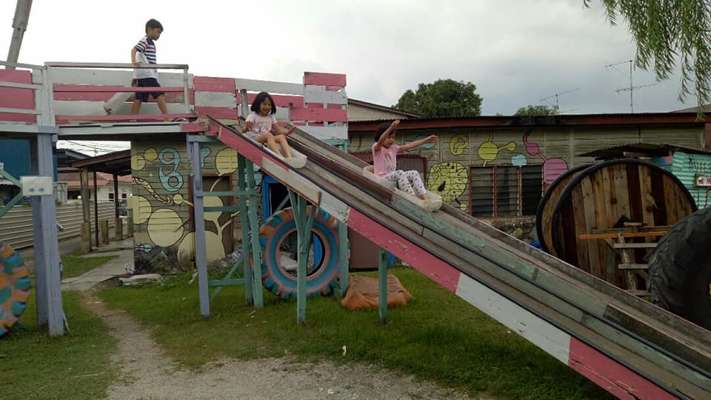 Most of it (if not all) is the work of one 58-year old – Tan Ching Swee. He spent a total of 8 years to create this one-of-a-kind wonderland for kids and the young at heart!
11. Penggaram Square Batu Pahat
An obvious Batu Pahat attraction, Penggaram Square Batu Pahat is the official town square.
Celebrations for Chinese New Year, Hari Raya and Merdeka occur here.
Prominent features of the square include the purple and gold clocktower as well as a fountain with a sculpture on top of a pair of hands chiseling a rock.
The actual famous rock is close to Minyak Beku beach and plays a huge part in how Batu Pahat town got its name.
The square is also a popular spot for jogging or flying kites in the morning or evening.
12. Soga Perdana Amenity Forest
Out of touch with nature? Feel like going for a hike? Then head on over to Soga Perdana Amenity Forest. Less than 5km from the town.
Locals frequently come to this nature reserve of approximately 49 hectares for some exercise.
Presume to run into monkeys here! Maybe do a little bird-watching!
If you're fit enough, you can go up to the lookout tower to have a look of the town from above! Otherwise, there are a lot of other trails to explore.
You can even camp here overnight if you dare!
13. Galeri Dato Onn
Learn more about Johor's local hero and former Menteri Besar, Dato' Onn Jaafar at this Batu Pahat attraction – previously his official residence during his time in Batu Pahat.
The gallery has some of the UMNO (United Malays National Organisation) founder's personal possessions, photos and other artifacts on display.
A highlight in the memorabilia collection is the Buku Selamat Johor (The Safe Book of Johor). It is Dato' Onn's own historical record of Johor.
It is without a doubt that some of Dato' Onn Jaafar's contributions are why Malaysia is what is it today!
Come see why locals respect this Malaysian politician enough to devote an official gallery to his memory!
How To Get To The Places?
Want to get to these places but don't know how?
Worry not!
You can now travel smoothly with EK 168 Transport – a comfortable and trustworthy private car service that is renowned for its excellent service!
What's more, you wouldn't need to get off the vehicle when crossing the Singapore-Malaysia border for the customs check. Leave your passport to the driver and he will do the work for you.
Also, you'll be pick-up from any point in Singapore to these places in Johor at your desired time.
Our professional drivers ensure your safety with prompt and quality services to fit your needs.
Contact us or book online today, it's convenient with EK 168 Transport!