13 Things To Do In Desaru Coast Adventure Waterpark
Set across 21 acres of land, Desaru Coast Adventure Waterpark  (also known as Desaru waterpark) consists of both dry and wet rides which are best for thrill-seekers to get their heartbeat racing high.
However, for younger children, there is a restriction on some rides where you need to achieve the minimum height requirement in order to enjoy.
But don't worry as the water park has play areas for kids too. Scroll down to see the 13 things to do in Desaru Waterpark & attractions inside this amazing Desaru waterpark!
1. Tidal Wave Beach
Catch a wave and swim at one of the world's biggest wave pools which hold over 4 million gallons of water.
The wave is generated regularly and it's best if you sit inside a tube. If you are getting tired, you can always take a rest at the seating areas provided at the shoreline.
2. Kids Ahoy
Specially designed for toddlers, children and early teenagers, Kids Ahoy features 13 unique water slides for ultimate splashing fun.
Besides, this water play area is full of exciting water play equipment that will have them giggling and bursting into laughter. Truly a heaven on earth for younger guests!
3. Riptide
Sweep at the fastest speed and at the steepest angles at Riptide.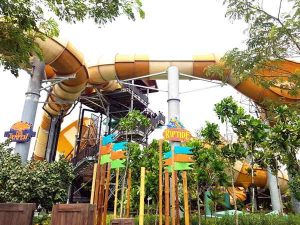 The raft of 4 will first travel downhill into the very first twister that will have you sliding back and forth then followed by the second and third twister. Along the ride, you may feel an unparalleled feeling of free falling.
4. Kraken's Revenge
The only roller coaster ride in this water park – Kraken's Revenge is ready to deliver you thrilling fun!
Sitting in a rolling boat, the ride will have you spinning and swooping through a 360-degree horizontal loop then followed by a 27m plunge down and splash into the pool of water. In overall, the speed is up to 70km per hour.
5. Beachside Cabanas
The 170m long shoreline of the Tidal Wave Beach lies plenty of Beachside Cabanas for guests to sit back and relax.
This is also a place for parents to relax while watching over their children playing or swimming at the wave pool.
6. Surf Wall
Make your way to the Surf Wall to experience surfing in a safe environment.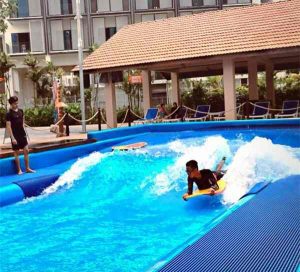 Suitable for both beginners and experienced surfers, you can enjoy catching and riding the artificial wave generated by the high-energy surf simulator.
It can accommodate 2 stand-up surfers and 5 boarders at once.
7. Wild Whirl
At Wild Whirl, ride on a raft of 2 and hurtle down the steep channel at high speed.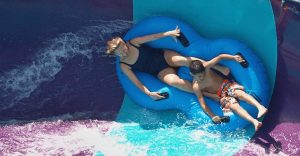 After shooting into the giant bowl, you will be glued against the wall, experience several turns and finally drop into the centre chute. A splash pool will be awaiting you at the exit.
8. Super Twister
Enjoy several twists and turns on a tube while cruising down the slides.
In the middle of the ride, expect a drop into a tunnel which will have you oscillating back and forth then end up splashing into the water.
9. The Tempest
Raft down the slide and get ready to be propelled to high-energy funnels that will have you screaming in the air.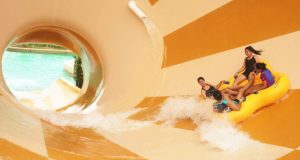 Then, experience an unexpected 24-foot drop before it sends you down into the tunnel to experience a splashdown.
10. Penawar Falls
The giant Penawar Falls consists of 3 separate waterfalls cascading down the rising cliffs into the big pond below. This place is great for taking pictures as it is truly a sight to behold!
11. Penawar River Huts
Take a rest and have some private moments at the Penawar River Huts which spread across the Penawar River. Here, cabanas are available for rental.
These private seating areas are sure to recharge your energy before hopping for another splashing fun.
12. Penawar River
Grab a tube and float the afternoon away at Penawar River. It serves as a 350m long lazy river that set amidst the lush greenery of riverside fishing village and riverbank.
Here, you can find 4 exciting water slides which are The Tempest, Riptide, Super Twister and Wild Whirl.
13. Swinging Ship
Swinging Ship aka Pirate Ship is everyone's all-time favourite ride. It is the only one ride in this water park where you will not end up getting wet.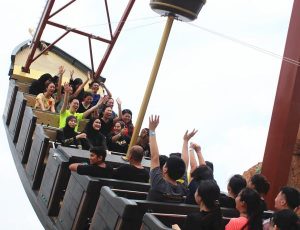 This exciting swing ship which swings back and forth will reach an angle of 180 degrees on either side – offering great fun for all ages.
Desaru Coast Adventure Waterpark Useful Tips
Please use Touch 'n Go card to enter the car parking.
Small locker rental is RM20 & Large locker rental is RM40.
The water park is fully non-smoking and there is no smoking area provided as well.
You need to take off spectacles or sunglasses while playing the water slides. It's best if you can wear contact lenses here.
There are restaurants inside the park but if you are on a budget, we recommend you to have your breakfast at other Desaru food restaurant in advance as the food price is quite expensive.
You cannot bring your own food and beverages inside. There will be security checks conducted on your bags.
Cabana is available for rental but on first come first serve basis.
All-day tickets and annual passes sold are non-refundable.
The water park provides no refunds for bad weather, attractions or rides closure for maintenance or any other circumstances.
The annual pass – Johor Splash Pass is only applicable to residents in Johor. It must be redeemed within 3 months after the purchase date.
Besides, this annual pass is not valid on the first and second days of Hari Raya Aidilfitri and Chinese New Year. From 15th December to 31st December, it is not valid too.
Desaru Coast Adventure Waterpark Ticket Price
Ticket Price:
Adult (Age 12-59): RM75
Child (Age 3-11) & Senior Citizen (Age 60+): RM56
Infant & Toddler (Below 3 years old): Free
How To Get To The Places?
Want to get to these places but don't know how?
Worry not!
You can now travel smoothly with EK 168 Transport – a comfortable and trustworthy private car service that is renowned for its excellent service!
What's more, you wouldn't need to get off the vehicle when crossing the Singapore-Malaysia border for the customs check. Leave your passport to the driver and he will do the work for you.
Also, you'll be pick-up from any point in Singapore to these places in Johor at your desired time.
Our professional drivers ensure your safety with prompt and quality services to fit your needs.
Contact us or book online today, it's convenient with EK 168 Transport!