1. Muar Murals
Prepare to spend some time to admire the giant murals (or street art) in Muar!
Especially make it a point to see the "The Loving Sisters" by Russian artist, Julia Volchkova. You might have seen her other gorgeous works in Penang!
And the 3D ferry mural or Mural Penambang Feri – which is what it sounds like!
There are also 2 large murals (by 4 different artists) on Komplex Legenda including "Root of the World's Furniture" – a tribute to the Muar furniture industry.
See the Bangsa Johor Mural at Taman Sri Tanjung, Muar. This is a mural on the Tanjung Emas clock tower which portrays racial unity in Malaysia.
2. HS Farm/HS Farmstay (农场民宿)
The great outdoors and a myriad of fun activities await you at HS Farm in Muar!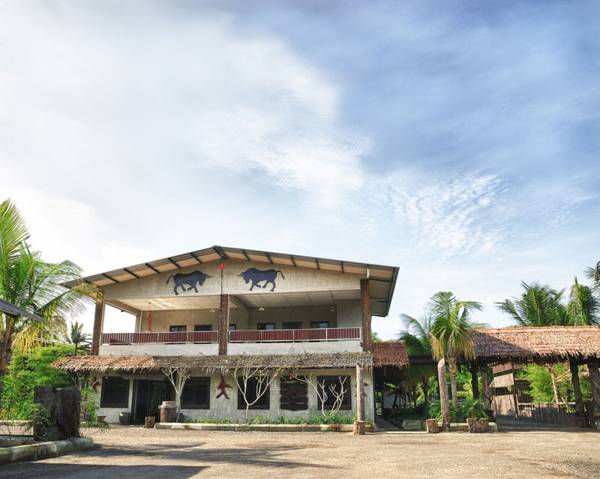 Taste fresh honey at their bee farm
Visit their mini zoo
Pick your own coconuts at their plantation
Go cycling, fishing or swimming
Ride a horse
Have a barbeque
And plenty more!
They even have their own water park there!
Want to bring your whole family to stay overnight at this local eco farm?
Not a problem!
HS Farmstay has basic but comfortable accommodations to suit large groups.
3. Gunung Ledang National Park
Here's another wonderful place to visit in Muar – Gunung Ledang!
Gunung Ledang (Mount Ophir) at a height of 1,276m, is the setting for a local Malay legend involving a fairy princess and Sultan Mahmud Shah.
The hike up to Mount Ophir is not for everyone. You need to be fit and take a guide with you.
It will cost you around RM150. More if you are a foreigner. Book ahead!
Other than scaling up the mountain, you can explore the park. There are walking paths and waterfalls here. Like the Puteri Waterfalls.
4. Glutton Street
Glutton Street (or Food Street Jalan Haji Abu) as the name implies, is a food street.
For some excellent local coffee, try a cup at Sai Kee Kopi 434 Muar. Fair warning – there is a crowd during the weekends!
Other things you don't want to miss include:
There are a couple of stalls selling a local dish called otak-otak (oyster omelet)
Chicken or pork satay – try the ones at Ah Kaw Satay (亚九美味沙爹)
Fresh seafood. Try 99 Hawker Center (for lunch) or Bentayan Hawker Center (for dinner)
Wan tan mee at Ah Choy Wan Tan Mee (亚才云吞面)
If you rack up a thirst, you can get some herbal tea too!
5. Don Hu Jurassic Park Garden
For something a little different, you can venture to this new Muar attraction!
This unusual park (or tree nursery) has 30 realistic-looking dinosaur sculptures in it. Including some species from the internationally famous, Jurassic Park franchise.
But the amazing thing is, there is no entrance fee! All thanks to Heng Chiang Hwee who just wants the public to enjoy the park. Big surprise – he happens to like dinosaurs!
So you can stroll among the dinosaurs at your leisure.
6. Muar Clock Tower
Of of the popular Muar tourist attractions includes the Muar clock tower. Which happens to be near the Muar Bus Terminal too!
Although it is not possible to go up the tower, you can still admire it from the outside.
The white and yellow clock tower features British colonial architecture.
Take a selfie with the clock tower if you wish!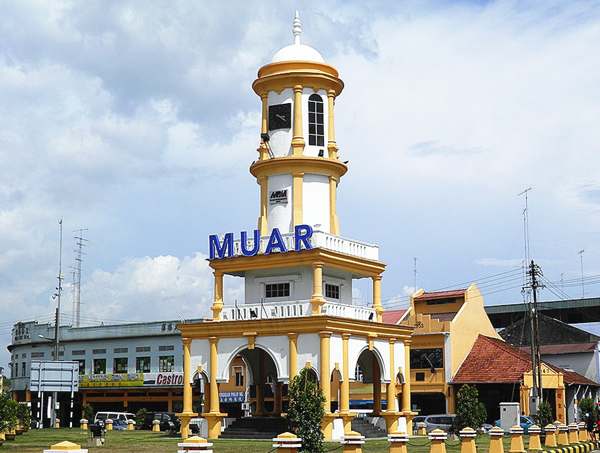 Afterward, you can explore the garden, Padang Nyiru.
For another perspective of the clock tower, why not head over to Sultan Ismail Bridge?
7. Tanjung Emas
Next to Muar river is the Tanjung Emas park. Joggers frequently visit this park for its riverside walkway that overlooks the Straits of Malacca.
Dataran Tanjung Emas field (or padang) is occasionally a spot for ceremonies and other festivities.
This is a good place to come if you're not sure what to do in Muar.
There is a playground here for the kids. Or you can take a stroll around the park and picnic with your loved ones.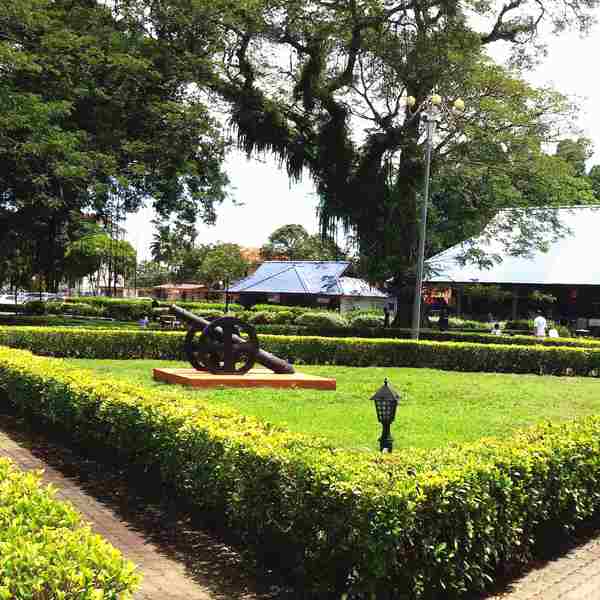 Some people even fish here! Or play golf at the 9-hole course!
Besides this, there is a 45-minute boat you can take to cruise along the river for another view of Muar.
8. Sultan Ibrahim Jamek Mosque
Located at the mouth of Muar river, this beautiful white mosque with a blue roof and sky-blue pillars has its origins in the late 1930s.
Its external appearance is very unusual because of the blend of Western (like British and Roman) and traditional Malay influence.
The main building resembles a British mansion while the minarets retain their middle-eastern elements.
You can see the mosque from Tanjung Emas park.
Fun fact – this mosque has its own twin across the river. Masjid Sultan Ismail (sometimes known as Masjid Jamek 2) has a very similar appearance to Sultan Ibrahim Jamek Mosque.
Both look great at night too!
9. Nan Hai Fei Lai Temple
This next Muar attraction is an ancient Chinese temple date back to 1913 and is between two shophouses.
The Buddhist Goddess of Mercy (or Kuan Yin) is the main patron that people come to worship.
Which you will notice right away because the main statue of the deity features a thousand hands!
Visitors can enter the temple through a very unassuming archway to the temple courtyard and the actual temple.
The peak of activity at this temple is during the goddess' multiple birthdays (these include her enlightenment and renunciation dates).
10. Grisek Hot Spring
You know what they say, the best things in life are free!
Here is a natural sulphuric hot spring that is free for the public (including foreigners) to use. The spring is very popular among locals who believe in the wonders of a good soak!
Just the thing if you have some sore muscles from exploring Muar!
The water temperature varies between 50 to 70 degrees Celsius depending on which pool you choose. There's a pool just for the kids, too!
Facilities include toilets, a prayer room, and the car park – all free of charge!
Tip: If you want to get away from the crowds, come on a weekday!
11. Wetex Parade
Wetex Parade is the place to visit in Muar if you want to get some serious shopping done!
Or maybe you just want to escape from the heat for a while!
Being the town's biggest mall with four levels, Wetex Parade has everything – shops, supermarkets, ATMs and a selection of restaurants including fast food options like good old McDonald's.
Maybe you can even pick up an unexpected souvenir from here!
Classic Hotel has recently done some renovations and shares a link to this mall too.
12. Pantai Leka (Parit Jawa)
Avid bird watchers will want to take note of this next Muar attraction!
Pantai Leka (Parit Jawa) is essentially a beach but its mangrove forests shelter and provide for many birds.
Since it is quite far (10km) from the town, it is a suitable place for the migratory birds to rest and recover from their long journeys.
It is common to see birds of a migratory nature here. If you are lucky, you might see even see a Chinese egret or a great knot.
Stop by and see if you can spot some rare species!
13. The Sultan Ismail Bridge
The last Muar attraction on this list is a bridge which dates back to the 1960s.
River crossings by ferry are no longer necessary today because of this bridge.
Sultan Ismail Bridge serves as a link between Bandar Maharani of Muar and Tanjung Agas.
What does it take to make a bridge this size? Special steel from Germany, lots of cement, 130 people and a few million ringgit!
But luckily for us, the previous toll no longer applies (since the 1980s).
If you don't have time to see the Muar clock tower up close, you can see it from this bridge!
How To Get To The Places?
Want to get to these places but don't know how?
Worry not!
You can now travel smoothly with EK 168 Transport – a comfortable and trustworthy private car service that is renowned for its excellent service!
What's more, you wouldn't need to get off the vehicle when crossing the Singapore-Malaysia border for the customs check. Leave your passport to the driver and he will do the work for you.
Also, you'll be pick-up from any point in Singapore to these places in Johor at your desired time.
Our professional drivers ensure your safety with prompt and quality services to fit your needs.
Contact us or book online today, it's convenient with EK 168 Transport!