1. The Baboon House
The Baboon House is a restaurant where tranquil environment meets with decent food. Greeny surrounding, big portion of food at affordable prices, scenic spots, everything about the restaurant is outstanding.
The restaurant is famous for their homemade burger. One of the most ordered dishes is their highlight, Baboon Beef burger that comes with tender and juicy beef. Served with vegetables and potato wedges, the burger is best with the sauce that adds a little spiciness to the taste. It is one of the famous food in Jonker Street.
Baboon Green Salad is another must-try too. Topped with chicken and pork bacon, the massive portion of salad is enough for 2 persons!
To quench your thirst, the restaurant offers you beverages ranging from smoothies, fresh juices, coffee, hot tea to alcoholic beverages. Each coffee and hot tea comes with Danish cookies to complement your afternoon tea.
2. Salud Tapas
Being the only Spanish Restaurant in Malacca, Salud Tapas serves incredible Spanish food with nice food presentations. It is housed in an ancient heritage building and the beautiful interior creates a cosy yet romantic ambience for diners.
The restaurant features open kitchen where diners can see how the chef cooks while enjoy the delicious food. With the western environment, it makes you feel like having a dinner in Europe.
The food offered are very authentic. Every bite come with huge flavours. Whether it is paella, gambas (prawns) or calamari, the restaurant offers all of them. If you dip them in their special made black garlic sauce, it tastes even more flavourful!
Upstairs, the restaurant transforms into a casual bar filled with fun and warm atmosphere. They offer variety of drinks for you to socialise with friends.
3. Hoe Kee Chicken Rice Ball (马六甲和记鸡饭)
As the name suggested, Hoe Kee sells poached chicken in Malacca. With marble tables and wooden chairs, it offers a nostalgic ambience of traditional Chinese restaurant. For better lightning, head to the middle area with open roof.
Like the normal chicken rice we eat, the rice ball is cooked by using the chicken stock. The only difference is it is shaped into balls. It is firm and it won't break up while picking it up.
The poached chicken is incredibly succulent, flavourful and moist! The serving is enough for 2 persons and it tastes really different from the chicken rice in KL and the bean sprouts chicken in Ipoh.
Chili sauce and dark soya sauce are available at each table. It simply just adds the chicken more flavourful.
4. Poh Piah Lwee
Serving the Malaysian's all-time favourite – Po Piah, the humble restaurant is perfect for a decent breakfast to kick start your day. They also serve Nyonya cuisines that will make you long for more.
The unique thing about Malacca's Po Piah is they add delicious fried pork lard oil. Though they add it into Po Piah, it still comes with right texture and is not overly oily.
The jicama inside is well-marinated and boiled to the right moisture. Best of all, the amount of sweetness is just right! It is fresh, crunchy and mixes so well with other ingredients in Po Piah.
Other recommended breakfast would be Nyonya Dumpling and Nyonya Laksa. The Nyonya Dumpling that has generous fillings is very tasty and sweet while the Nyonya Laksa that comes with fragrant smell is creamy and not too spicy in taste!
5. Straits Affair
Straits Affair was established to preserve authentic Peranakan food. Although the ethic has been living in Malacca for over 200 years, the restaurant prides themselves in serving contemporary Nyonya delicacies and keeping old favourite at the same time.
Despite Nyonya delicacies, the restaurant is also a patisserie offering all kinds of Peranakan kuih including pastries, biscuits, cakes and cookies. Their fine kuih are made from their secret family recipe and freshly made of the day.
Fried ang koo kuih, Pang Susie, ondeh-ondeh and apom berkuah are the signature kuih at Staits Affair. Nyonya food like pai tee, Nyonya laksa and mee siam can be found here too. Besides, their Peranakan pancake with banana and Gula Melaka has a heavnly taste.
For beverages, opt for the coffee or tea with gula melaka. If you prefer something cold, their chendol is best recommended.
6. Wild Coriander
Set in the picturesque riverside, Wild Coriander is a restaurant combining both Malaysian and Asian food and it offers exceptional Nyonya dishes too. The restaurant serves no pork so you can bring Muslims friends around.
Wild Coriander is in a traditional Malay house with beautiful interior design. The decorations on walls such as traditional plates throw you back to old Malacca times.
Both Laksa and Beef Rendang here are superb in taste. As the Beef Rendang goes very well with biryani rice, remember to pair them up while having the dish.
Other Malaysian favourite like Nasi Lemak, mutton curry and bok choi are offered here. Each has distinct flavours and all the produce are fresh.
Don't forget to opt for their Cameron Highland tea which has a wonderful taste!
7. River View Cafe Melaka
Located away from the hustle and bustle of Jonker Street, River View Café Melaka is one of the Jonker Street cafe that best suited for those who enjoy some quiet moments. Especially in the evening, it offers customers an amazing sunset view of Malacca River.
Even though the cafe offers both local delicacies and western cuisines, they are known for specialising in Malaysian classic food.
Beef rendang is their signature. The serving is great and the tender soft beef could just fell apart in plate. For the gravy, the taste is rich and full of spices. It is well-accompanied with pickles, cucumbers, chilli paste, fried anchovies and rice.
Other recommended dishes are chicken curry, calamari and fried rice.
For beverages, you can have their mango lassi- their highlight smoothies made with yogurt. It is extremely fresh and fruity.
8. Shui Xian Vegetarian Restaurant (水仙素食园)
Jonker Street caters to vegetarians too! At Shui Xian Vegetarian Restaurant, a variety of dishes are offered and they will come out with 1 or 2 local specials each day as the day's highlight. Ala carte dishes are available here as well.
The Melaka chicken rice ball is their signature and it is almost sold out around 9am daily. Some people said that it tastes better than the non-vegetarian one.
It is a twist on the normal chicken rice we taste. Instead of serving a plate of rice, the chicken rice is made into big ball shape and the chicken is served separately as accompaniments.
Their Wan Tan Mee tastes good too. Customers can choose from 3 different sizes at different prices. However, there is no wantan in the dish. Instead, they serve fried wan tan skin with no fillings.
9. Seeds Garden Bistro
Seeds Garden Bistro presents the best of nature food. Featuring hearty Asian and European dishes using the freshest ingredients, herbs and spices, the restaurant gives your body a healing experience in the modern city.
We have been eating meat burger for a long time but have you tried the mushroom burger before? This is the signature of Seeds Garden and it tastes delicious! The burger is quite healthy because there is not much seasoning inside.
We recommend you enjoy their Japanese Curry and Nasi Campur too. If you prefer western dishes more, you can always try their pizza and spaghetti. No worries to vegetarians as they don't even use mock meat in preparing these dishes.
They offer fresh fruit juices as well. Carrot and apple juices are recommended here.
10. Hard Rock Café Malacca
Almost everyone who love music will fall in love with Hard Rock Café Malacca. The restaurant is a place where classic hits and authentic cuisines mix in one.
They decorate the restaurant with musical instruments, autographed albums and costumes. And with the memorabilia and modern design, you feel cool and trendy while dining here.
Their homemade Original Legendary Burger is the dish that makes them so famous. Generously filled with cheddar cheese, smoked turkey bacon, crisp lettuce, tomato and fried onion ring, you can imagine how big the portion is!
Not to forget about their Caesar Salad too. Topped with fresh parmesan cheese and garlic croutons, the delicious romaine lettuce is tossed with their homemade dressing.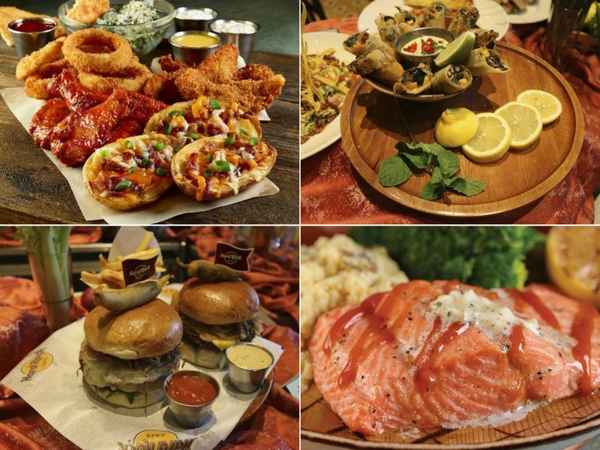 Last but not least, their giant Jumbo Combo! It consists of Tupelo Chicken Tenders, signature wings, onion rings and many more. The big plate is served together with barbecue sauce and honey mustard that goes perfect with the meat!
11. Geographer's Café
Located at the corner of Jonker Street, it is hard to miss out Geographer's Café that has green panels and striking yellow wall. With live band performance every week, it has been attracting many tourists come over for a decent meal.
The restaurant is very famous in Jonker Street, Malacca. A popular Hong Kong movie, Summer Holidays filmed some of the scenes here.
Many people order their Chicken Satay that comes with peanut sauce. The Indonesian bean curd, Tempeh Curry which is the chef specialities are available here. Another recommended dish would be the curry ramen that mixes with Malay culture. It tastes as good as laksa.
If you enjoy drinking beers, they offer cocktails and iced beers to relax yourself. It is also one of the best nightlife spot in Jonker Street. If you come here in the afternoon, a coconut drink could beat your heat!
12. Pin Pin Hiong (品品香茶室)
Featuring an open kitchen, Pin Pin Hiong is a humble restaurant serving home style Chinese food with consistent quality.
It only has a simple one-page menu with few selections. But the food served is definitely what you will die for.
Oyster omelette here wins most people hearts. The fried egg is looks crispy outside but once bitten, it tastes extremely fluffy! The best part is it is not salty and oily yet gives off the egg aroma.
Unlike other restaurants serving flavourful Mee Suah, Pin Pin Hong's version seems tasteless without much seasonings and ingredients. But if you keep eating, the flavour of ingredients and noodles start coming out.
Their pork chop tastes great too. It has a very crispy skin and the pork is very juicy. A few tomato and vegetables topped the dish.
How To Get To The Places?
Want to get to these places but don't know how?
Worry not!
You can now travel smoothly with EK 168 Transport – a comfortable and trustworthy private car service that is renowned for its excellent service!
What's more, you wouldn't need to get off the vehicle when crossing the Singapore-Malaysia border for the customs check. Leave your passport to the driver and he will do the work for you.
Also, you'll be pick-up from any point in Singapore to these places in Johor at your desired time.
Our professional drivers ensure your safety with prompt and quality services to fit your needs.
Contact us or book online today, it's convenient with EK 168 Transport!