12 Best Food In Batu Pahat That Will Keep You Returning For More
1. Chop See Kee (local people called Ah See Wanton Mee)
In early 1950s, Chong's family set up their first roadside stall along Jalan Jenang and was later transferred to shop lot.
Since its establishment, they pride themselves in serving self-identified wantan noodles recipe with homemade ingredients. The egg noodles and wantan are made by hands daily to ensure freshness and springiness.
Chili or without chilli wantan noodles is how people order at Ah See. Topped with roasted char siew (barbequed pork) and wantan, it makes the sauced egg noodles look even more tantalizing.
2. Restoran Swee Kee Tonic Soup (水记炖汤)
Famed for serving inspirational healthy tonic soups, Restaurant Swee Kee offers variations of tonic soups to cater for different needs. All the tonic soup comes from Swee Kee's home recipe that requires 3 hours steaming process.
Steamed with over 10 Chinese herbals, tonic soups are good in improving blood circulation. To name a few, they offer Frog Tonic Soup, Ten Herbals Duck Soup and Turtle Tonic Soup that served in a small bowl. It's perfect too if you pair the soup with rice.
3. Batu Pahat Da Bei Shui @ 大杯水
Ta Bei Shui means big glasses of water in English. The kopitiam has this unique name merely because it offers big glasses of juicy drinks that enough for 2.
The kopitiam also serves mouthwatering "Mee Jian Kueh" under the same roof. "Mee Jian Kueh" looks like a big pancake that has ground peanuts, melted margarine and sugars as its filling. This savoury snack can be ordered in customised thickness and sweetness based on your preferences.
4. Yong's Steamboat Batu Pahat(泳池生锅)
People come to Yong's Steamboat Garden for their steamboat meals at reasonable prices. All the food they served are fresh and taste good if you cook them well.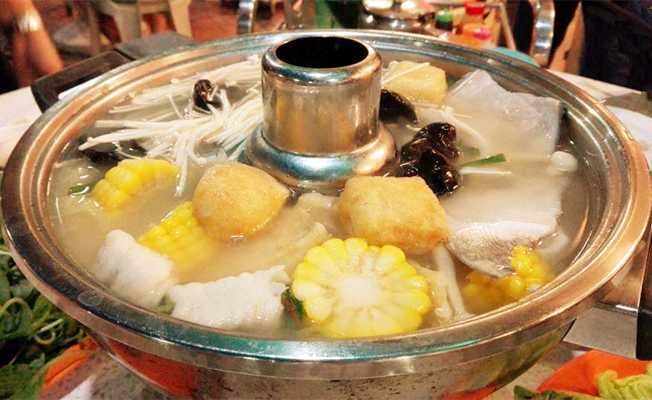 A trolley that contains uncooked dishes such as pomfrets, squids, fried soy bean, pork, fresh prawns, and fish ravioli will be brought to your table. These are your steamboat ingredients later so you need to choose a few from them.
After choosing the dishes, you can start cooking yourself and, enjoy your meal!
5. Kedai Makanan & Minuman Ah Soon (阿顺猪杂汤)
Every morning, the seats in Ah Soon are often fully occupied and sometimes you can judge a restaurant based on its crowds.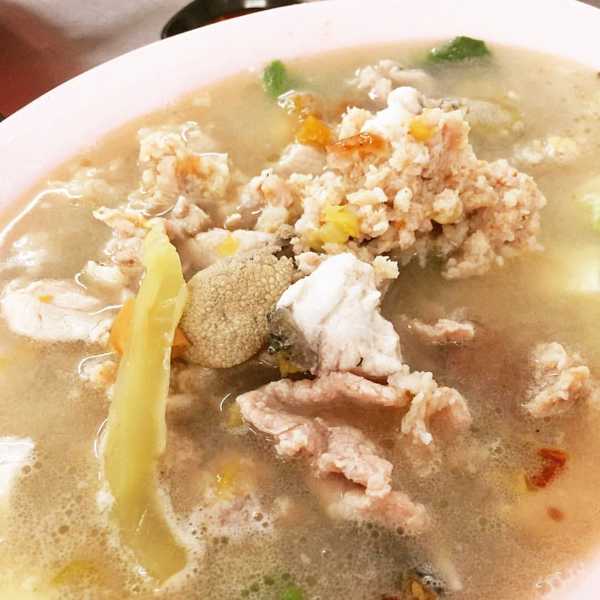 The dishes served here come with an alluring smell and are good in taste. Their pork slices and pork organs are well-cooked and served together with noodles in a big portion. Their broth has a lighter tasting to give more focus on the pork.
Give their Fish Head Bee Hoon and pork organ soup a try and you'll know why the kopitiam is often crowded.
6. Kedai Makan Soon Lai (顺来粿汁‬)
Started off as a roadside stall, Soon Lai's Kway Chap is now one of the most popular ones in Batu Pahat. If you wonder, Kway Chap is a Teo Chew delicacy that consists of flat rice noodles and pork drenched together in savoury broth.
The Kway Chap's broth is truly worth trying. Mixed with herbs, pork's' offal and meat, the soy sauce based broth is simmered done to a turn. It has a pleasing herbal smell and it tastes good too.
7. Han Kee Cake & Cafe (汉记面包西果屋)
Han Kee combines bakery, coffee shop and confectionary under the sole roof. It offers variations of pleasing coffee and other enticing light food such as puddings, cakes and pasteries.
The cakes here have many flavours and all of them are showcased in fridge for customers to choose for.
With only simple furnishing but emphasise on deliciousness of food and drinks, it is often a popular food hunting place and gathering place among friends. They even organise special events for their customers.
8. Ah Fei Spicy Noodles (阿肥辣面)
"Ah Fei Spicy Noodles" at Miao Huang Restaurant is now well-known to every household in Batu Pahat. Spicy food lovers will definitely fall in love with this local delicacy that offer intense flavour and unique spiciness. According to the owner, it takes a long time to prepare the curry chilli broth.
One of the highlights here is that the owner insists on serving stencil-wrapped noodles to bring out the "old-time flavour" in Batu Pahat. It always makes the locals recall to old times dishes while enjoying this spicy noodles.
9. Asam Pedas Mak Limah (Kedai Makan Rasa Idaman Asli)
Asam pedas dishes, or literally "sour spicy dishes" are the ones that you should not miss out while coming over Malaysia. It is one of the traditional Malay dishes and Asam Pedas Mak Limah offers you the most authentic one in Batu Pahat.
Asam Pedas is a kind of gravy that made from shallots, garlic, and various spices and has an aromatic smell with hot flavour. At here, Ikan Parang and Ikan Pari are the best fishes to be topped with Asam Pedas.
10. Nasi Baryani Mohd Shah
Fill your astronomical sensation at Nasi Baryani Mohd Shah while travelling to Batu Pahat. Here, you get to enjoy the pleasant Nasi Baryani at the most reasonable price.
Nasi Baryani is an enjoyable dish that cooked with wide array of spices, vegetables and meat, giving off a hot yet tantalizing smell. At Mohd Shah, they serve mutton rendang which are so tender and soft. The rice comes in big portion and patrons often finish all with relish.
11. Restoran BP Bariani Power
Restoran BP is popular in offering Indian Muslim cuisines but they focus more in serving Briyani Rice cuisines. They also pride themselves in serving one of the best Briyani Rice in Batu Pahat.
For Briyani rice, they offer original one and other styles. Customers can enjoy Briyani Rice together with a few side dishes such as chicken curry, dhal curry and eggs. Too spicy for you? Then order their standout drink, sirap bandung to cool you down.
12. B.P. Cendol (Pak "O")
Pak "O" Cendol is a small roadside stall located opposite to the bus station in Batu Pahat. Sometimes, you may need to stand while enjoying cendol as there are only few seats offered.
Traditional cendol is rich in coconut milk and shaved ice. Green "noodles" that made from four and juices of pandan leaves are served together in a bowl. Nowadays, there are over 10 variations of cendol at Pak "O" and each of them contributes to different flavours.
How To Get To The Places?
Want to get to these places but don't know how?
Worry not!
You can now travel smoothly with EK 168 Transport – a comfortable and trustworthy private car service that is renowned for its excellent service!
What's more, you wouldn't need to get off the vehicle when crossing the Singapore-Malaysia border for the customs check. Leave your passport to the driver and he will do the work for you.
Also, you'll be pick-up from any point in Singapore to these places in Johor at your desired time.
Our professional drivers ensure your safety with prompt and quality services to fit your needs.
Contact us or book online today, it's convenient with EK 168 Transport!