1. Nomaps Hostel
If you want to find a cheap place to stay in Melaka without compromising on cleanliness and comfort, Nomaps Hostel is highly recommended for you. From solo travellers to a family of 4, the hostel offers different types of rooms to cater your need.
Price Starting From:
RM55 @ SGD$18 (include hotel tax and service fee)
Nomaps Hostel Highlight:
Sun Terrace
Complimentary Wi-Fi
Open-air courtyard
Luggage lockers
24-hour CCTV surveillance
Entertainment room with DVD player and TV
Self-service laundry
24-hour pantry with water dispenser, microwave, fridge and cutlery
IT Area which provides computer
Washing machine and dryer
3 minutes' drive to Jonker Street
Good To Know:
For solo travellers as well as budget travellers, this hostel offers Ladies Dorm or Mixed Dorm for you.
There is no private bathroom and washroom. It has to be shared with other guests.
Free breakfast will be provided during your stay. Free flow of coffee and tea are available.
If you need transport, the hostel can provide transfer service to fetch you from airport or bus terminal.
Towel is not provided but it can be rented at the counter.
2. Ohana House 
Ohana House is located in central Melaka. It offers unique comfort for guests who want to relax fully, unwind and recharge. It is furnished with antique Maleka inspired décor. It is a minute's walk from Christ Church. The Sam Po Kong Temple and Jonker Street are close by.
Price Starting From:
RM 130 @ SGD$44 per room (include hotel tax & service fee)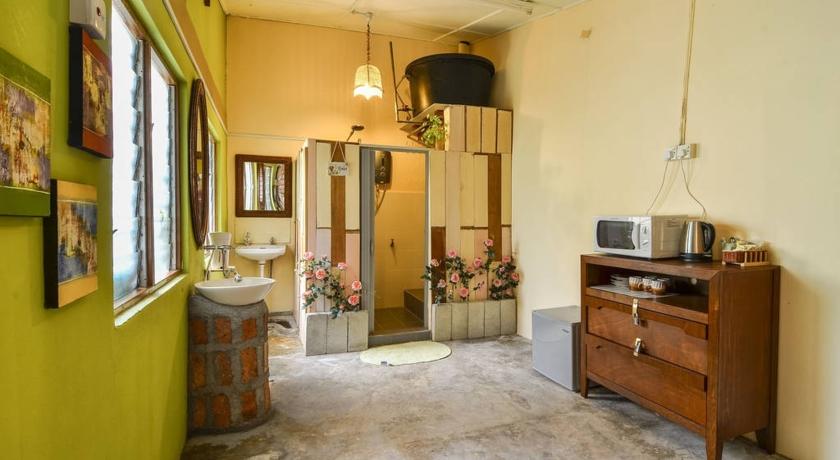 Ohana House Homestay Melaka Highlight:
Its comfort is derived from its location, its décor as well as its furniture and amenities.
The cosy rooms are all tiled, air-conditioned.
Comes with a clothes' rack, a desk and cable television.
You will also have access to a fridge as well as tea and coffee making facilities.
The bathrooms are equipped with a shower, slippers and toiletries.
For the purpose of exploring around, Ohana House rents out bicycles and cars for an additional cost.
You will also enjoy free Wi-Fi and free parking.
There is also a sun terrace with great views.
Good To Know:
Ohana House is 87 kilometres from Kuala Lumpur International Airport.
Located in Jonker Street Night Market.
The Ohana House is behind Christ Church Malacca
Prepare lots of mosquito coils and mosquito repellent
Rooms on the ground floor tend to be noisier as the building is close to Jonker Street
3. PLAY Residence at The Wave Malacca
PLAY Residence at The Wave Malacca is an apartment which boasts 3 homestays which are Exclu Suites Malacca, Icon Stay and Symphony Suite. All offer room that come with living room, private bathroom, kitchen and dining area. Some even offer you pool view or sea view!
Price Starting From:
RM179 @ SGD$60 (include hotel tax and service fee)
PLAY Residence at The Wave Malacca Highlight:
Free parking
Fitness centre
Garden
Tennis court
Outdoor swimming pool
BBQ facilities
Free Wi-Fi
Balcony
Hair dryer
Children's playground
Good To Know:
10-minute driving distance to Malacca town.
Pets are now allowed within the premise.
Smoking is prohibited in rooms too.
Since there is elevator in the residence, this place is highly recommended if you travel with elderly. The rooms are new and very comfortable.
4. Vista Rio Melaka
Centrally located in Maleka, Vista Rio Melaka is a large 2-storey house containing 3 separate bedrooms. These bedrooms are decorated with wooden and tiled flooring. It is just 3 minutes away Jonker Walk and not far from the other attractions In Jonker Street has to offer.
Price Starting From:
RM342 @ SGD$115 (include hotel tax & service fee)
Vista Rio Melaka Homestay Highlight:
Vista Rio Melaka located in the heart of Melaka.
Has a living area with sofas and flat-screen TV.
The rooms are air-conditioned and they have fans too.
One of the bedrooms comes with an en-suite bathroom while the others share another bathroom.
The Dataran Pahlawan Shopping mall is a 12-minute walk away.
Close to Chinatown and the Stadthuys House- only three minutes away on foot.
Guests will enjoy free Wi-Fi as well as a sun terrace.
Good To Know:
Good parking spaces.
Prepare with mosquito repellent.
Centrally located to all the famous sight-seeing attractions.
The house is next to Melaka river, so you'll get a nice view of it.
There is no gas cooker in the kitchen.
Can fit up to 7 people in the house.
5. Sunflower Villas Melaka
The Sunflower Villas Melaka is a cluster of 25 double storied houses in Melaka. They are fully furnished 4-bedroomed holiday houses which can comfortably hold a group or family of eight.
As a group, Sunflower house can accommodate a group of more than 150. One can also hire the house for special occasions.
Price Starting From:
RM248 @ SGD$84 (include hotel tax & service fee)
Sunflower Villas Melaka Homestay Highlight:
Set in serene and pristine grounds, Sunflower holiday houses are what will make your holiday worthwhile.
You can rent a house here and you will not be far from famous Malacca attractions including renowned eateries that serve authentic Malay food.
Enjoy free Wi-Fi in public areas as well as in your rooms.
There is a family room, shared kitchen, BBQ facilities, restaurant.
Airport shuttles are provided.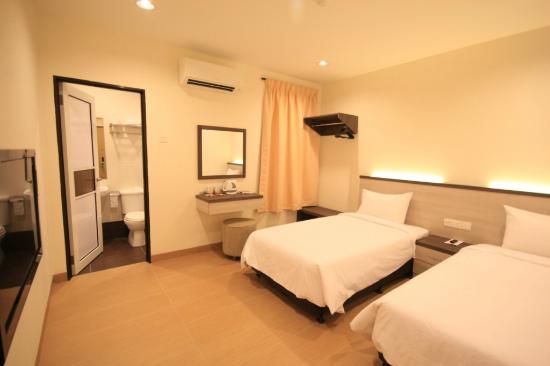 Good To Know:
Sunflower house is located 5 kilometres from the city centre.
87 kilometres from the Kuala Lumpur International airport.
There is no soundproofing, so noises from outside can be heard quite clearly.
Need to take a cab for about RM20 just to get to town.
Only up to 3 users allowed to use WIFI for free.
Able to cook own meals with cooking utensils provided.
The water pressure isn't strong enough.
6. Three Little Birds Home
Three Little Birds Home is a simple guesthouse offering dormitory rooms and double room which can accommodate up to 16 guests at once. Be quick as the hostel is often booked out!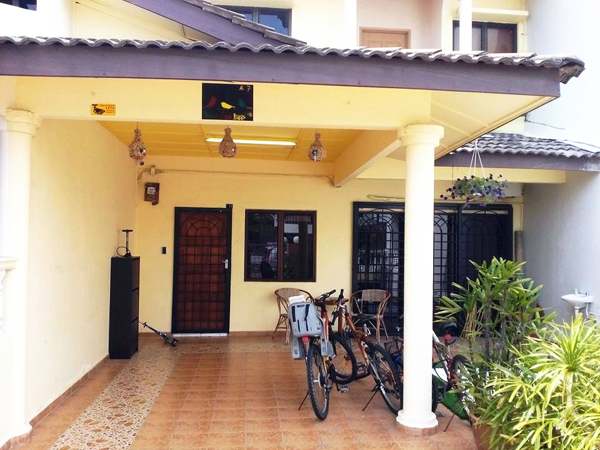 Price Starting From:
RM27 @ SGD$9 (include hotel tax and service fee)
Three Little Birds Home Highlight:
Dart board
Garden
Shared kitchen with refrigerator and microwave
BBQ facilities
Bicycle rental at no charge
Ironing facilities
Washing machine can be used at no charge
5 minutes' walking distance from Jonker Street
Good To Know:
If you book the dormitory rooms, you need to share bathroom with other guests.
Free breakfast is provided. Snacks like biscuits, coffee and tea are available to guests at all time.
Their staff are really friendly and they are ready to help or recommend you some good food in town.
Since there will be other travellers staying in the guesthouse too, it's great to meet new friends from different countries.
Light cooking is allowed at this guesthouse.
You need a card scanner or security code to enter the house. Make sure you don't lose your card.
7. Jetty Suites Apartment
Located in the centre of Melaka city, Jetty Suites have serviced apartments with great views of the Straits of Melaka and of the historic city itself. You will have a choice of one, two or three bedroomed apartments.
Price Starting From:
RM123 @ SGD$42  (include hotel tax & service fee)
Jetty Suites Apartment Homestay Melaka Highlight:
The Jetty Suites are suitable for long or short term stay whether it is for an individual, a couple or a family.
The suites are just 10 minutes away from A' Famosa
A few minutes' walks from Jonkers Walk, and St. Paul's Hill and Taming Sari Rotating Tower.
The rooms are air-conditioned and they are also equipped with remote controlled fans in all rooms.
Guests will enjoy free Wi-Fi as well as a 42 or 32 LCD TVs, and electric room safes.
The kitchens have an electric hob and hood, a fridge, microwave and electric kettles as well as crockery, cutlery and glassware.
Parking is free.
Good To Know:
The Jetty Suites is located in Melaka city.
Mahkota Parade is right across the homestay.
Getting to Mahkota Parade might be slightly dangerous as the street don't have a pedestrian crossing.
Lots of parking space provided.
Toiletries and towels are provided.
The lift is rather slow and small which only allow occupancy up to 11 people.
8. Modern Cave Boutique Stay
A space where art meets shelter. The beauty of modern design combines with comfort creates this wonderful place for anyone, regardless of play, work or chill and stay. It is the epitome of leisure and boundless fun!
Not to mention, they offer nap bars for anyone who wants to take 40 winks! Guests can have a quick energy-booster to recharge for another tour in town.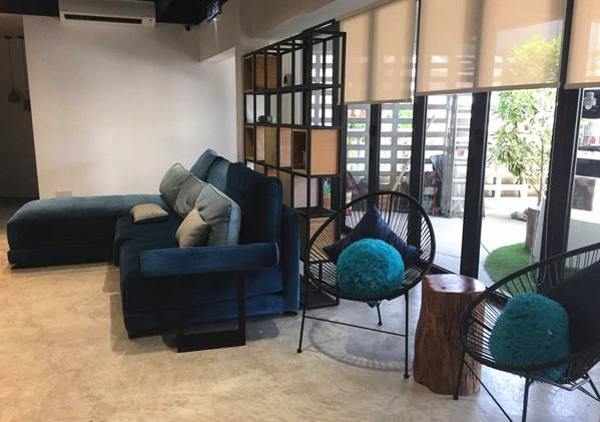 Price Starting From:
RM 128 @ SGD$43 (include hotel tax & service fee)
Homestay Highlight:
 There are rooms for the whole family, dormitories for solo travellers and double rooms for couples.
24 hours snack bar pantry
Kitchen to eat your meals
Lounge at the terrace garden
Watch movies in the lounge area
Take a 2 hours nap at their nap bar
Host a private event or BBQ party (pre-booking required)
Get yourself a light breakfast with toast and coffee or tea
Within 1km away from Baba & Nyonya House Museum, The Royal Press and Jonker Street
Other attractions near Jonker Street like Christ's Church, A Famosa, St. Paul Hill and Stadthuys House are easily accessible from the guesthouse.
Excellent wifi services
Public parking spaces
Surrounded by restaurants and nightlife
Good To Know:
Do note shoes are to be left outside the house and guests have to wear the slippers provided by the homestay
The double bedroom is pretty cramped
Modern Cave Boutique Stay Malacca is located in a more quiet neighbourhood which is good for a good night rest
Guests are allowed to use the kitchen to cook
Shower and bathroom sink do not have hot water
Some rooms do not have windows, while some are frosted glass or it face the wall.
10 minutes walk to the city centre of Malacca
9. D'Laksamana
D'Laksamana is a simple double-storey guesthouse featuring both single room and double room that can accommodate up to 11 guests in total. It can be booked as entire house or just individual rooms.
Besides, it offers you touches of Peranakan's home feel – which serves as one of the best Melaka homestay to experience the culture and living style of locals in Melaka.
Price Starting From:
RM63 @ SGD$21 (include hotel tax and service fee)
D'Laksamana Melaka Homestay Highlight:
Sitting lounge
Garden
Water dispenser
Motorbike rental
Bicycle rental
Transfer service
Curated tour package
Free Wi-Fi
5-8 walking distance to the UNESCO World Heritage Site of Malacca
Good To Know:
There is no check-in counter. The owner will arrange a time to meet and pass the key to you.
Those who drive here can park at their gated car porch.
Extra mattress is charged at RM20 per night.
Check-in is available anytime 24/7.
Children who are 3 years old and above must use the extra bed. Only infants below 2 years old can stay for free.
Baby cot is available upon request.
10. The Bliss Malacca
From group of 2 persons to 16 persons, The Bliss Malacca offers comfortable accommodation to cater your need. Spread across 3 floors, some of their rooms even come with Balinese theme, Baba Nyonya theme, romantic Santorini theme and Victorian theme which are extremely beautiful.
Price Starting From:
RM181 @ SGD$60 (include hotel tax and service fee)
The Bliss Malacca Homestay Highlight:
Complimentary Wi-Fi
Well-equipped kitchen
Bicycle rental
Reading corner
On-site car park
Airport transfer
Daily housekeeping
Good To Know:
You can bring your pets here. This homestay is pets friendly.
Free snacks, coffees and tea are provided at all time.
There is a wheelchair friendly room located on the ground floor.
Only children who are 5 years old and below can stay for free.
Extra bed depends on the room you choose.
As elevator is not provided, higher floor rooms are preferable for adults and are not suitable for elderly.
This homestay is less than 10 minutes' drive to Jonker Street and Dataran Pahlawan Megamall.
11. The Pillohouzzze Melaka
The Pillohouzze Melaka is a guesthouse which has living room, dining room as well as kitchen. There is nothing to complain about the comfort and its convenient location. Besides, the owner is very helpful and friendly and she can even help out with your tour around Melaka!
Price Starting From:
RM60 @ SGD$20 (include hotel tax and service fee)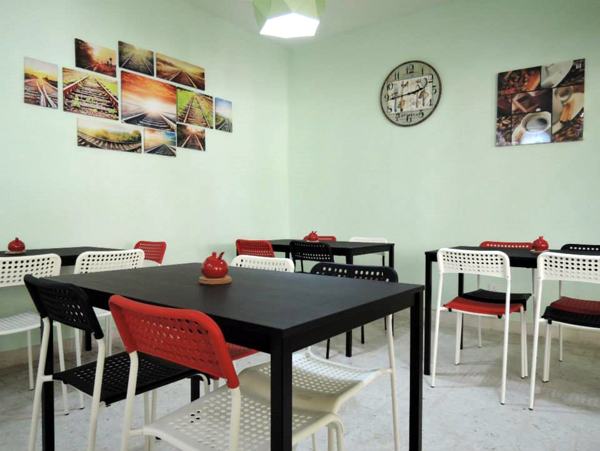 The Pillohouzzze Melaka Homestay Highlight:
Complimentary Wi-Fi
24-hour coffee and tea
CCTV Surveillance
Television
Ticket or tours assistance
10 minutes' walking distance to Jonker Street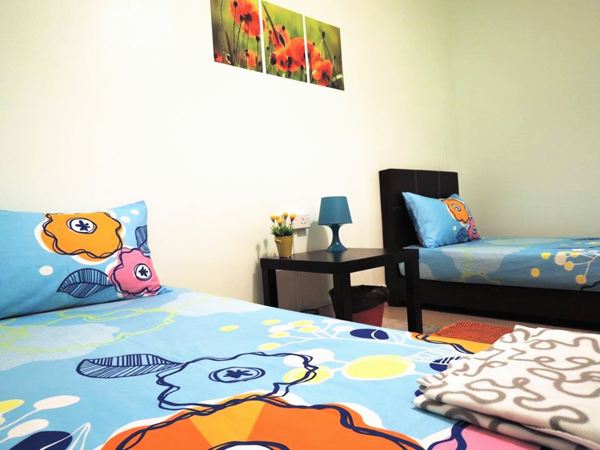 Good To Know:
Smoking and pets are strictly prohibited within the premise.
This homestay accepts both cash and credit card payment.
Free towel is not provided during the stay.
Free breakfast is provided. It is self-service and only light food such as toast is served.
Some rooms come with no window. Request for window room if you are afraid of stuffy room.
You need to share bathroom with other guests but don't worry as the bathrooms are very clean.
12. Mori Vegetarian Tea House and Residence
Have you heard of any Malacca homestay that combines healthy lifestyle with arts? It is right located in Melaka!
In this pure vegetarian homestay, everything is clean and carefully taken care. Its peaceful and tranquil environment makes it a big contrast to the busy Joker Street. Highly recommended to vegans around the world.
Price Starting From:
RM120 @ SGD$40 (include hotel tax and service fee)
Mori Vegetarian Tea House and Residence Highlight:
Complimentary Wi-Fi
Garden with water features
Bicycle rental
Ticket services
Vegetarian restaurant
Hairdryer upon request
Shared pantry with free biscuits, tea, coffee and alkaline water
Washing machine (charges apply)
Less than 10 minutes' walk to Jonker Street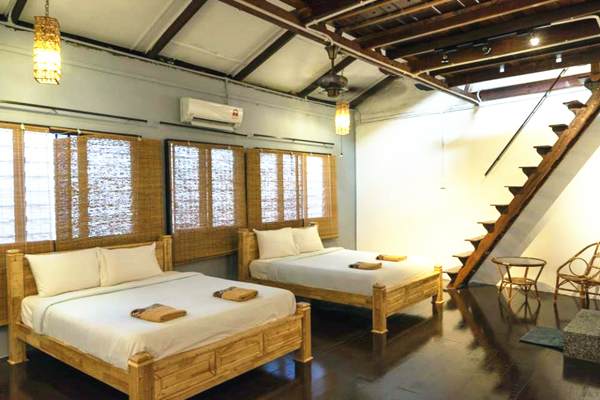 Good To Know:
Free breakfast is not provided in this homestay.
Infants can stay for free using the existing bed. Crib or baby cot are available upon request.
There are many public parking lots along the narrow street outside the homestay. You can purchase the parking coupons at the front desk.
If you check in after 10pm, additional charge is imposed at RM20 per hour.
This homestay does not accept any booking from non-married couples. The booking will be rejected or you need to request for second room. For married couples, your valid marriage certificate must be presented upon check in.
Credit card payment is not available here. All have to be paid by cash.
How To Get To The Places?
Want to get to these places but don't know how?
Worry not!
You can now travel smoothly with EK 168 Transport – a comfortable and trustworthy private car service that is renowned for its excellent service!
What's more, you wouldn't need to get off the vehicle when crossing the Singapore-Malaysia border for the customs check. Leave your passport to the driver and he will do the work for you.
Also, you'll be pick-up from any point in Singapore to these places in Johor at your desired time.
Our professional drivers ensure your safety with prompt and quality services to fit your needs.
Contact us or book online today, it's convenient with EK 168 Transport!