1. M2escape (Mickey Mouse Cafe Mount Austin)
M2escape Cafe is a first Mickey Mouse themed cafe established in Mount Austin, Johor Bahru where tonnes of Mickey Mouse items and decorations can be seen around the cafe.
Mickey Mouse draw arts can be seen all over the cafe and Mickey Mouse lovers would definitely fall in love with this place.
Due to the Mickey Mouse decorations, all the Mickey Mouse lovers would chill and gather around the cafe and play board games themselves. Public can also participate in their escape room game, which brings more challenge to them.
The food is served in Mickey Mouse decorated plates and glass. Not only good food is served in Mickey Mouse Cafe, Mount Austin but also Mickey Mouse items can be purchased at the cafe. People can organize party at the cafe and the cafe also provides catering service for everyone who is interested.
2. Just Want Coffee, The Factory 30
Specialty coffee is currently one of the most avid coffee culture currently at Johor Bahru, one of those specialty cafe at Mount Austin is Just Want Coffee by the Homies.
The cafe has a modern retro interior design, with beautiful wallpapers, selective themed lamps and furniture to suit the mood. You can have your coffee on the sofa or on a table, indoor or outdoor.
JWC's specialty as their motto "Brewing with abundance" is of course coffee making, with their sophisticated coffee maker and large variety of coffee types.
As you wait for your coffee you are more than welcome to watch the barista perform their trade as they skillfully prepare your special cup of signature cafe latte.
Dishes to come with your coffee are western food, which are Smoked Ham and Egg Sandwiches, Bagels and Nachos with cheese sauce and Norwegian Smoked Salmon.
For all coffee enthusiasts out there, JWC is a highly recommended cafe in Mount Austin, Johor Bahru.
3. My Liberica Coffee Mount Austin
The perfect coffee shop has to be one that harvests the coffee up until it is served at the shop and into the warm cup of the customer. My Liberica Coffee is one of them, special Coffee Liberica pods are produced at their very own plantation at Bukit Batu, Johor.
The coffee is then roasted, blended, varied and specially brewed with elaborate equipment at the cafe. The spotlight of the espresso equipment is the La Marzocco Fratelli Bambi 80, which is an Italian made machine for the best of baristas.
The cafe experience is superb, the soft music echoes your ears while you strike a lively conversation with your friends comfortably.
If you're curious at how your coffee is made, a bar table which oversees the baristas will give you a welcoming experience while showing their skills as they brew your favorite coffee.
The list of coffee available is long, among them Luwak coffee, single origin, blended, espresso roast. It will definitely cure your caffeine cravings. If you're around Mount Austin, be sure to drop by My Liberica Cafe for the perfect coffee shop experience.
4. Vege Coffee
Are you vegetarian and looking for the café which serves fully vegetarian dishes to come with your favorite coffee? Look no further as this café serves all the vegetarian needs. The food ranges from western dishes to Asian cuisines.
Having a pizza, tom yam fried rice or a bowl of vegetarian curry with your warm cup of coffee has never been better than this.
Buffet style food is also available at the café. Rest assured all your food cravings will be fulfilled while you're at this café.
Wood and bright soft lighting makes this café a very warm and lively place to hang-out with your friends and family. It gives a very natural and peaceful impression to have your coffee.
The ambience of the café is also perfect for family gathering or friend re-union as it is quite spacious and inviting.
Kind and friendly staff will certainly makes you comfortable and want to come again for another cup of delicious coffee.
5. Atlas Coffee Embassy
Atlas Coffee Embassy is one of best cafe at Mount Austin, why?
First, this is because it has a unique and special interior which is designed by a famous Japanese interior designer.
Its fluffy white ambience brightens up the atmosphere and gives you a sense of calmness, cleanliness and purity.
Second, its chief barista, JH Yee has championed in barista competitions in the year 2010 to 2012. He is also crowned as the most influential barista in year 2013. If you having a barista king making your coffee that is absolutely superb.
Aside from the superb signature coffee, the food is also remarkable, from a selection of eggs, vegetables, sliced meat, sausages, tomatoes, bread and many more, have it grilled, scrambled or fried just the way you like it.
For desserts, there are mouthwatering waffles dipped in chocolate with fruity elements and ice cream or pancake with blue berry jam, ice cream toppings with strawberry sides.
If you're around Mount Austin area, be sure to not miss Atlas Coffee Embassy.
6. Creamery Boutique Ice Creams JB
Fancy a café with ice cream instead of your usual coffee treat? Then this is your place. This Café has its roots from Thailand and it is the first franchise opened up in Malaysia right at Johor Bahru.
Ice cream lovers come here just to savor the specialty ice cream which are made in the shop itself, thus the unique taste such as Guinness, Baby Milk and Banofee to name a rare few.
As the name implies, the Guinness has a strong Guinness Stout beer taste to it, while the Baby Milk taste is made fully out of real baby milk and the Banofee is not a mix of coffee and banana but actually caramel and banana instead. It is very unique.
The cafe's signature dessert is their molten lava chocolate cookies and lava matcha cookies. When you devour the cookies, you can see the lava like innards flowing out.
The chocolate has a very sweet taste while the green tea will have a more green tea like less sweeter after taste. So which one will you pick?
This café will certainly fulfill your ice cream cravings so be sure to stop by if you're around Mount Austin.
7. Patisserie De Charme
Patisserie De Charme is a boutique cafe which sell unique cakes and artistic pastry based desserts. If you fancy a tea party with cakes and pastries then this is the place to be.
As the name implies, the cafe's interior and food has strong touch of French culture. The cafe has a very classy European feel to it and certainly a nice place to hang out in.
Among the favorite delicious food and signature dishes served in the café are:
Lemon Cremeux,
Red Velvet with Cream Cheese,
Crust less Quiche and more,
Le-Royale,
The Charme of Black and
Lemon Meringue Tart.
Each of the food served here has a sense of art to it and it's certainly look to good to be eaten.
The ambience of the café is filled with romance, which makes it perfect for a date out with family and friends. The next time you want to have a tea party, then be sure to have it at Patisserie De Charme.
8. Belly Bar Mount Austin
A cozy cafe which feels warm and just like home. Belly Bar Mount Austin is one such cafe offering a very homely and comfortable place to spend time while enjoying your coffee.
The cafe staffs are very friendly and welcoming. This will make you want to visit the next time over. This spirit is cultivated by the owner herself, whom treats the staffs as one of her own guests.
The café serves a wide variety of western foods, desserts and cakes. It is presented in a very detailed meticulous way and simply tastes awesome.
Among the delicacies of the café is the Spicy Special Noodles which simply super super spicy!
Other food and desserts worth tasting are, the Lor Ba Rice, Shi-Lin Fried Chicken, Signature Flaky Scallion Pancakes and more.
Be sure to come to Belly Bar Mount Austin of an awesome cafe experience with a touch of home.
9. The Hare By Sugar On Top
If you're around Mount Austin and looking for an awesome cafe to hang out and have your lunch, tea or dinner, then The Hare might be one of your best bet.
The café has an impression of cleanliness due to the color white, sunflower décor, simple decor and bright lights. This makes for a very vibrant and happy café which is both inviting and comfortable.
The food ranges from western food, dessert, tea and your favorite café latte. You can start by having the Signature Truffle Mushroom Soup, and have a full English brunch or order the signature Chili Crab Pasta which makes for an interesting treat.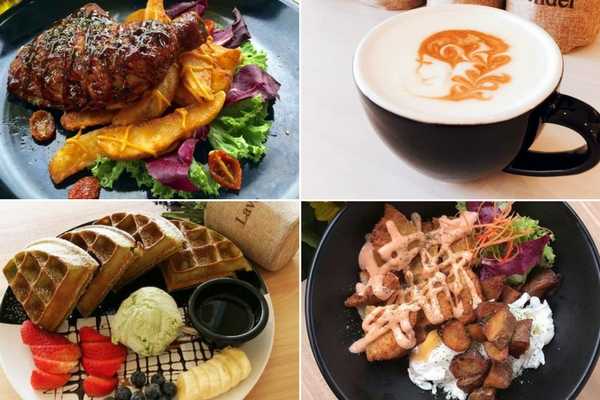 As for the main course you might want to try Mum's Chicken Pot Pie. As for desserts, you might want to try the Signature SOT Charcoal Waffles or the Hokkaido Matcha Hotcake.
All in for an interesting treat at The Hare by Sugar on Top.
10. The Sugar Pantry
If you fancy going to one of those Japanese cafe but currently not in Japan, then look no further because The Sugar Pantry is just the place for you to have your favorite cup of coffee.
The Sugar Pantry's interior is neatly Japanese design and the wall panels and cupboards are using the light color woodworks. This makes the cafe looks very nature-like and has that Japanese cafe ambience.
The furniture and decors are kept in a simple minimalist way and gives a very clean impression.
Now onto the main course, it's a mix of French and Japanese desserts, Earl Grey Chocolate cake, Mont Blanc, Paris Brest, Nutty Putty, Matcha Sundae, Hokkaido Cheese Tarts and Ichigo to name a few.
Be sure to have it with your favorite cup of café latte, cappuccino or green tea. It will make your experience in this beautiful cafe a memorable one with your friends and family.
11. The Workshop Cafe & Bar By Grand Fiesta (Permanently Closed)
The moment when you walk into this cafe, you will be amazed of the cafe's environment. It is light industrial themed cafe, with black colored metal and glass around the cafe.
The cafe also lighten up by the awesome lightning and cozy chairs around the cafe. People can chill with their friends at the second floor of the cafe where they can drink and play darts game together.
The Workshop Cafe & Bar By Grand Fiesta offers good main course food such as The Awesome Platter with the cafe's special sauce and cream, where all the friends can share the food together. Besides that, the desert such as Wonderland Waffle is also highly recommended.