After arriving in Malacca, presumably safe and sound, the next thing is to get a shower to drive away the kinks of the journey, get on your sandals and set off to town for some fun.
Malacca is a UNESCO Heritage Site, there is no shortage of amazing Malacca attraction places to visit. In fact, there are so many places to visit and so much to see that you won't even be able to see it all.
1. Visit the Museum in Malacca
The museums around here are arguably the best ways to get to know more about this ancient town and there are several you can visit. Here are a few must-visit museums!
1.1 Baba and Nyonya Heritage Museum
The Baba and Nyonya Heritage Museum is one of them and has quite an interesting past. This privately owned museum is located in Chinatown and showcases the traditions and culture of the ethnic Chinese-Malays commonly known as Peranakan.
They were among the first to inhabit the town and embraced both the Chinese and the local cultural beliefs and customs, creating an interesting blend of culture that you will not find anywhere else.
Going through the Museum, which usually has some guides, you will find the display of ancient antiques and traditional regalia very interesting coupled with the eloquent guides explaining to you whatever you need to know.
1.2 Straits Chinese Jewelry Museum
The Straits Chinese Jewelry Museum is located on the same Jalan Tun Tan Cheng Lock Street as Baba and Nyonya Museum. It is host to a wide selection of cheap to very expensive jewellery used by the ancient Peranakan families that lived in Malacca decades ago.
Classic local furniture and photos showing the life of the early Chinese-Malays are also displayed here.
1.3 Cheng Ho Cultural Museum
It is believed to be a warehouse building built by Ming Dynasty Admiral Cheng Ho. This museum offers an intimate glimpse into the vintage Chinese way of life with some little patches of local culture evident by the furniture, jewellery and photos taken at different times over more than 200 years of history.
2. Go For Best Food Trails In Malacca
Malacca with its cultural diversity, has numerous eateries and restaurants, each offering its own version of the local and sometimes international cuisines.
Before ordering some of the local Malacca foods, be careful and actually ask what they are as most of them are very spicy and you may have difficulties eating them especially if you are not used to.
Malacca is also well-known for mouth-watering food that it is an adversary to miss tasting them all!
The foods range from those offering local delicacies such as Melaka Nyonya food, Chicken Rice Ball, Duck Noodles and Curry Chicken Rice, to the spicy food of Asam Pedas Fish, Sambal Delicacies and not forgetting some sweet desserts such as Cendol, Popiah and Klebang Coconut Milkshake!
Of course, foreign fast foods like coffee and pasta are found anywhere too.
Apart from the awesome food, restaurants such as Amy Heritage and The Geographer Cafe offer great and relaxing atmosphere with soft groovy music and classy lighting.
2.1 Amy Heritage Nyonya Cuisine
Serving the best, if not probably the most delicious and authentic Nyonya cuisine in Malacca. The place is usually crowded with hungry customers all waiting to taste the food, especially during lunch hour and it is a must to make a reservation!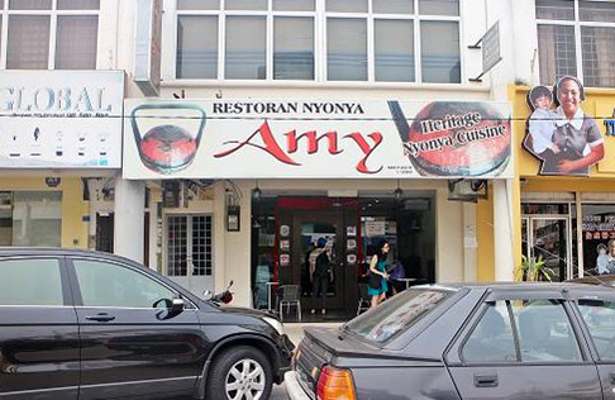 2.2 The Geographer Cafe
If you're into something lively and having a drink or two to party the night away, Geography Cafe is the place for you! The building still maintains its pre-war beauty as it set in between other timeless traditional shop-houses in Chinatown.
With live bands, friendly bar services and laid-back and warm atmosphere, no wonder people from far and wide keep coming back for more!
3. Historical Malacca Tour
There is no denying that Malacca is truly a historical town with hundreds of beautiful ancient sites, many Malacca attractions places and a rich history dating back over 200 years that enabled it to be listed as a World Heritage Site.
3.1 St Paul's Church Malacca
A hike up to St Paul's hill will afford you a complete and beautiful view over the town. Besides that, you can also visit famous ruins of St Paul's Church, built some 500 years ago. The place is an awesome location for a group photo or even better a selfie.
3.2 The Stadthuys
Whichever way you're heading in Malacca, remember to pass through one of Malacca's most enduring buildings, the Dutch Square.
It is clearly distinguishable with the 17th Century terracotta-red imposing Dutch buildings.
The biggest and most conspicuous building in the square is The Stadthuys which was built more than 500 years ago and is regarded as one of the earliest forms of Dutch architecture there is.
Also on Dutch square is Malacca's oldest Protestant church built by the Dutch a few centuries ago to celebrate their takeover of the town from the Portuguese. The church will awe you with its ornate of 200-years-old pews made from the hardest and most enduring wood.
3.3 A' Famosa Malacca
A'Famosa is a 16th-century fort with quite a history. The original builders of A'Famosa were the Portuguese, who ruled Malacca in the early days.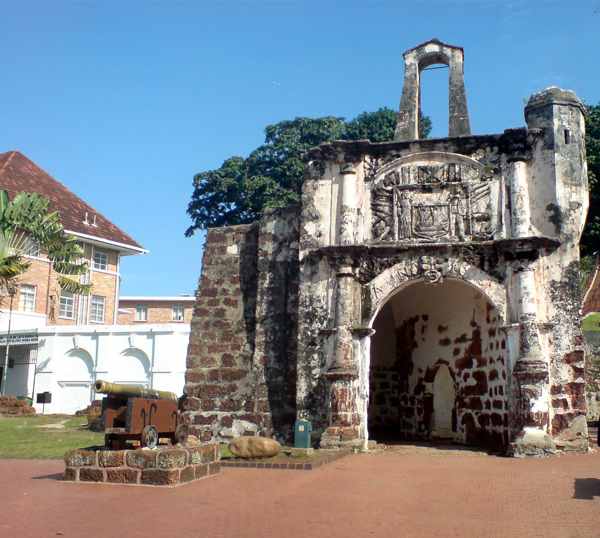 It was basically an administration center complete with armoury, churches and hospitals and an office center with several officers' houses.
It was taken over by the Dutch sometime later who were then overrun by the British. The original A'Famosa was largely destroyed in the Dutch-Portuguese war and what you will see now is mainly the Dutch reconstruction.
4. Malacca River Cruise
Another way to experience Malacca is from the river which offers some incredible sights of the old town.
Malacca River flows across the town, separating the main district at the foot of St. Paul's hills with the commercial street of Jonker. Small boats which can hold up to 20 people are found here, the cruise usually last 45min-1 hour and is awesomely eye-opening.
5. Encore Melaka
Encore Melaka is a one-of-a-kind show you do not want to miss when you're in Malacca!
Specially curated by none other than Wang Chaoge who was responsible for the world-famous 2008 Beijing Olympic Games Opening Ceremony!
The show uses an engaging combination of high-energy choreography, clever lighting techniques and other effects to achieve a new level of storytelling covering 700 years of Malacca history!
Not to mention, the theatre itself is beautiful with views of the Straits of Melaka!
6. Malacca Jonker Street
Who said you have to walk all around the town? Hail one of the many trishaws plying the street and tour the town in style.
Jonker street night market is where the magic happens!
Throngs of tourists crowd the market with an array of stalls that sell all kinds of things, from food, clothes, souvenirs to antique ornaments, friendly hawker of appetizing street food and also live music for a happening atmosphere.
7. Enjoy The Breathtaking View of The Town From Shore Sky Tower
The Sky Tower, being more than 43 stories high, is the tallest building in Malacca and offers an amazing view of the City and its surroundings within a 50km radius.
The breathtaking view of the scenic landscape of Malacca is a sight to behold! Remember to carry along your camera to capture the memories with your family or friends.
8. Visit Antique Market
They say some things are old but gold! Which is true when you come to this place that sells all sorts of second-hand goods.
About 25 stalls are selling a collection of antiques such as coins, paintings, storybooks, dishes, clothes, paintings and ornaments dating back from hundreds of years ago. This is another market aside from Jonker Street that you mustn't miss!
9. Rent A Bike and Tour Malacca on Two Wheels
You can rent a bike or join one of the cycling groups touring Malacca and experience the historic Chinatown with its attractive streets and murals. There are a couple of companies hiring out bikes and also some hotels, be sure to check.
Similarly to the famous OFO Bike, Melaka Bike Share is a bike sharing system that allows individuals to borrow a bike from point A and return to point B. There is a step-by-step procedure on how to rent and return the bike in their website too.
10. Don't Forget The Renowned Bound Feet Wah Aik Shoe Shop
The shop, Wah Aik Shoemaker established to cater for the shoe needs of upper-class women with lotus (small) feet is as historical as it gets, tracing its history back to old China a couple of centuries ago.
These days, there are no more bound feet ladies in Melaka and the shoes are made for tourist. The shop is still a nice place to visit, take pictures and (maybe) shop for bound feet shoes.
5 Things To Buy In Malacca
1. Food Souvenirs
Malacca is famous for its tasty local cuisines which also make for amazing food souvenirs.
Along Jonker Street, you will find a large number of shops selling food souvenirs such as Palm Sugar which is extracted from freshly harvested palm and boiled.
Melaka Pineapple tarts are basically small pastries with Pineapple jam toppings with a great taste. LW Nyonya Tarts house has the best Pineapple tarts in Malacca and awesome prices.
Dodol is typically a candy locally produced with rice flour and palm sugar and is cheaply available around the town. Also, sample the handmade coconut candy (and buy some too!) which is made of coconut palm sugar and coconut milk.
The Belacan, prepared from shrimp skrill, is a basic ingredient in many Melaka houses and should be in yours too. So remember to bring some home to spice up your favourite meal! Chinchalok, made from fermented krill, is also a favourite local condiment with great taste.
All these foods and many others are available at Tan Kim Hock (Jalan Bendahara) and San Shu Gong along Jalan Hang Jebat.
2. Paintings & T-Shirts From Orangutan's House
Orangutan House is an art gallery with several outlets around Malacca, along Jonker Streets, Temple Streets and Lorong Hang Jebat.
It houses a large collection of Paintings and other artwork for sale in addition to funky souvenir t-shirts at great prices.
Orangutan's one of the oldest art galleries/ shops in Malacca, having been established over 20 years ago and showcasing work from the owner and various local artists. And the t-shirts would serve as absolute evidence of your trip. Not to forget the learning experience.
3. Collectibles From Melaka House Museum
Don't be fooled by the name though, Melaka house is more like a shop fully stocked with precious collectables, antiques and sculptures depicting the long and wonderful history of Malacca town.
The place certainly feels like a Museum in that you can walk around admiring the exemplary artefacts and getting to learn more about them from the friendly staff.
The asking price of the artefacts is pretty high but the owner is warm and down to some haggling. What about showcasing your great bargaining skills in exchange for some priceless decades-old antiques?
Not bad. And what more, photography is allowed in the house which is not the case with most museums and antique shops around here.
4. Antiques From Abdul's Antique Shop
The shop is also another wonderful place and has been around for quite some time, and is actually pretty popular with tourists and some locals too.
The shop has several other outlets around Malacca, evidence of a large collection of valuables and rare items such as classic porcelain plates and grandfather clocks some decades old.
5. Handmade Nyonya Attire at Nirvana Collection
Nirvana is where you will find the largest collection of local attire including the traditional batik, silks and satins, embroidery and classic beadwork influenced by the different cultures in Malacca like Chinese-Malays, Indonesian and modern Western culture.
You can also order custom-made attire for your exact body shape and liking.
Malacca One Day Trip
Want a quick trip to Malacca but couldn't take too many days off from work? Although there are numerous attractions in Malacca, this heritage town is good for one day trip too!
We have listed out the 'essence' of all the attractions specifically for those who are going for a day trip. Here's what you shouldn't miss! Click here: Malacca One Day Trip: Where You Must GO and Selfie
4 Recommended Itineraries for ONE Day Trip in Malacca
Option 1: The Dutch Square –> Stadthuys –> Air Keroh Lake –> Malacca River –> Jonker Walk (Night Market)
Option 2: A'Famosa Resort –> Dutch Square –> Shore Sky Tower –> Malacca River
Option 3: Melaka Wonderland Theme Park & Resort –> Air Keroh Lake –> Jonker Walk –> Shore Sky Tower
Option 4: Dutch Square –> Stadthuys –> Air Keroh Lake –> Malacca On Bike (Day Tours) –> Jonker Walk (Night Market)
Note: Jonker Walk for night market is only available from Friday to Sunday.
Malacca is, for the most part, a safe place but it is advisable to take care of your valuables as you would in any city, be careful in overcrowded places and always leave your car doors locked if you are driving.
If you are not driving your car to Malacca from Singapore, you can reserve an MPV car from SGMYTAXI. Their experienced drivers will pick you up at the desired location in Singapore and bring you to Malacca, all hassle-free!
Just sit back, relax and enjoy the memorable trip to Malacca. What are you waiting for! Contact us now for more info and details!
How To Get To The Places?
Want to get to these places but don't know how?
Worry not!
You can now travel smoothly with EK 168 Transport – a comfortable and trustworthy private car service that is renowned for its excellent service!
What's more, you wouldn't need to get off the vehicle when crossing the Singapore-Malaysia border for the customs check. Leave your passport to the driver and he will do the work for you.
Also, you'll be pick-up from any point in Singapore to these places in Johor at your desired time.
Our professional drivers ensure your safety with prompt and quality services to fit your needs.
Contact us or book online today, it's convenient with EK 168 Transport!